If you're in the real estate business, then you're probably familiar with Multiple Listing Service (MLS) portals and Internet Data Exchange (IDX) software. Furthermore, if you have a real estate website built on WordPress, being able to pull listings using IDX software will make your work a lot easier.
In this article, we're going to talk about what IDX software is. Then we'll introduce you to the best IDX plugins for WordPress, and discuss their key features, pricing, and who should consider using them. Let's get to it!
What Are IDX Plugins?
To understand what IDX plugins are, we need to talk about the software itself. IDX is software that enables users to look through real estate listings in a specific area. The software pulls those listings from MLS platforms.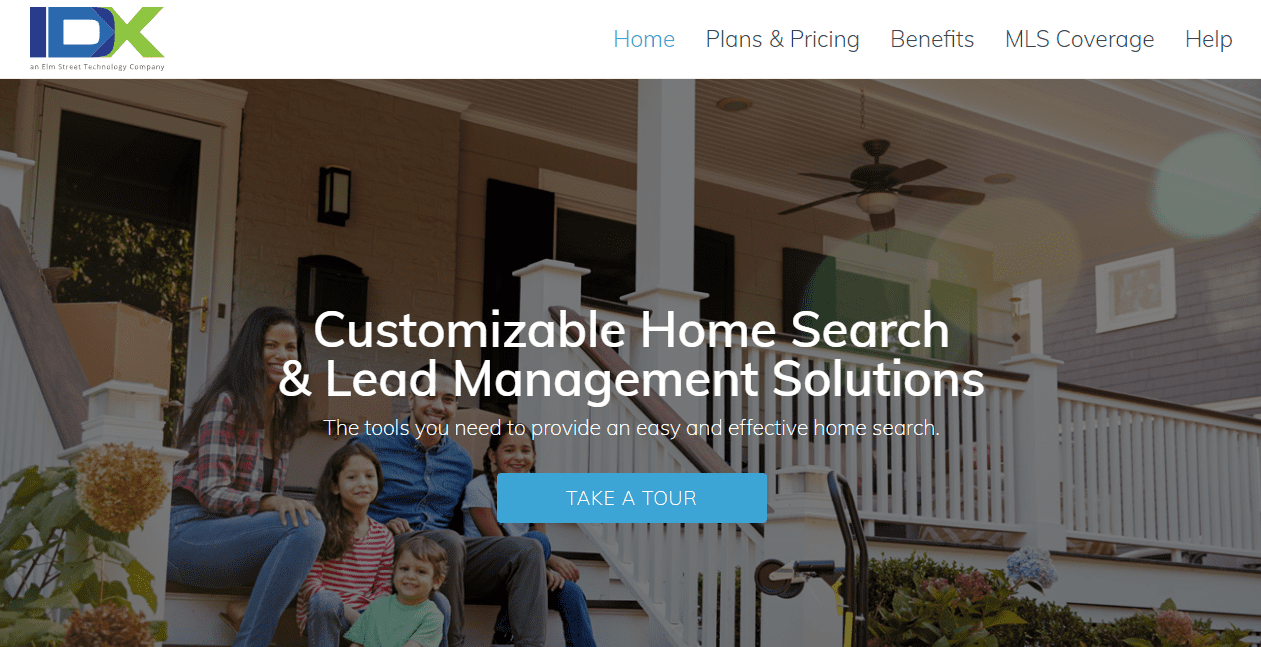 In turn, MLS platforms are local portals where realtors can share information about their listings. Realtors are required to keep that information up to date, which makes MLS listings much more comprehensive than what you might find on platforms such as Zillow or Redfin.
However, MLS portals are for realtors only. What IDX software does is enable you to pull information about listings from those portals and display it on your website. In other words, you can use IDX to start your own listing site.
IDX plugins for WordPress allow you to display listings from MLS portals and manage them directly within WordPress. IDX plugins are similar to other popular real estate plugins for WordPress. However, this family of plugins focuses solely on IDX integration.
4 Best IDX Plugins for WordPress
In this section, we're going to look at a some of the best IDX plugins for WordPress that will allow IDX integration for your real estate website.
1. Realtyna WPL

Realtyna WPL is developed by Realtyna and is one of the most popular and powerful real estate plugins for WordPress. With this tool, you get to use a listings system on your website and the ability to upload new properties manually. And the free version comes with many powerful features to add and customize listings to build a real estate website.
Realtyna WPL can pull information that includes listing features, appliances, address maps, neighborhood details, images, videos, and more.
If you pay for their pro version and their Organic MLS Integration add-on, you'll be able to host all the MLS/IDX data on your own server. This is great for real estate agents or agencies that want an independent solution with complete ownership of MLS data on their website. This type of control is also great for Search Engine Optimization (SEO).
Divi Integration
The plugin integrates with the Divi Builder making it easy to add listings using custom Divi Modules.

For more, check out how to add real estate listings with Divi.
Key Features for WPL Real Estate:
Supports organic MLS/IDX integration for WordPress
Pull data from the MLS provider of your choice
Tons of add-ons for more flexibility
Publish imported listings or pull them organically
A property/listing management system within WordPress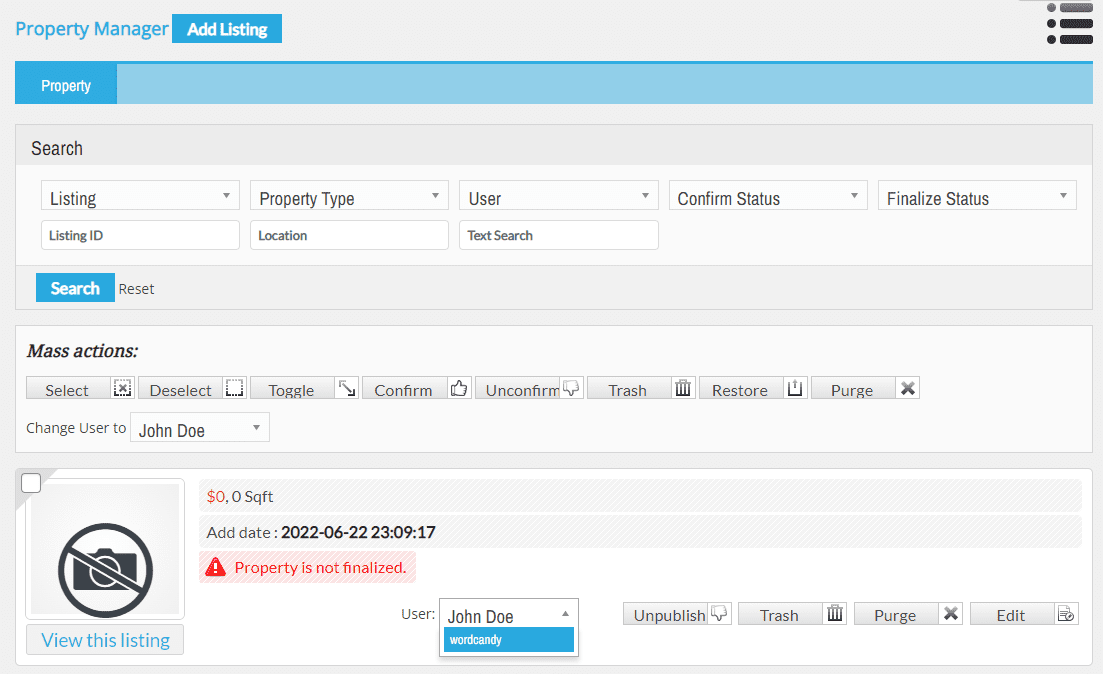 After importing properties using IDX, you can edit their information with the WPL property manager. This manager enables you to add any missing information and edit property descriptions using a simple interface.
Realtyna WPL is for you if…
You want more control and ownership of property listings on your site.
You want Divi integration and custom modules to add and customize listings on your site.
You want to be able to customize the listings that you import using IDX
You want options for organic MLS/IDX integration
You are a real estate agent or agency that want's an independent listing website.
Pricing: IDX integration is available with WPL Pro, starting at $199 | Learn More About WPL Real Estate
2. Estatik Real Estate

Estatik Real Estate is a plugin that adds a listings system to WordPress. With this plugin, you can create listings manually, including a broad range of information about each property.
Listings that you create can use over 50 unique shortcodes, and they can include image slideshows. That's all available with the free version of the plugin. However, if you want IDX integration for Estatik, you'll need to pay for a premium license.
Key Features for Estatik Real Estate:
Add a property listings system to WordPress
Use shortcodes to customize the style of your listings
Include image slideshows alongside listings
Import MLS listings with the premium version of the plugin
A powerful fields builder for organizing your listings
4+ Themes to jumpstart your listings website
Multi-lingual support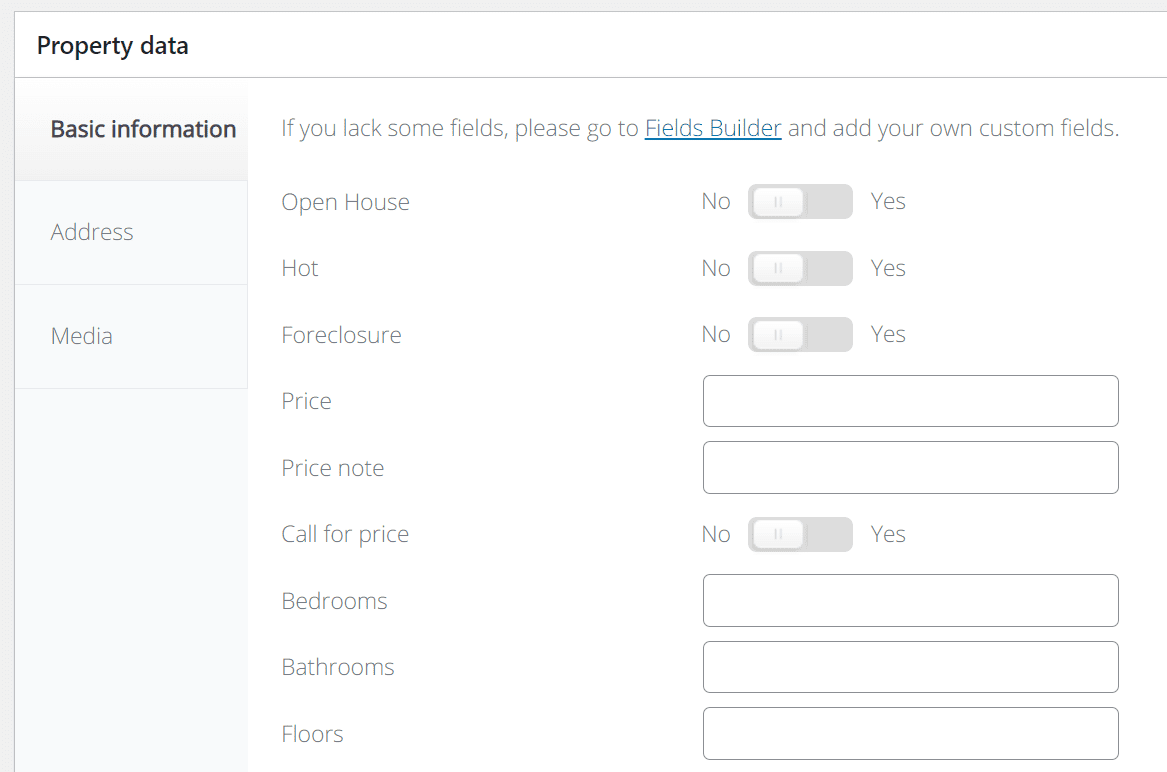 The Estatik property editor is fairly intuitive, and it integrates with the WordPress Classic Editor. You can also use the editor to update the information for any properties that you import using IDX.
Estatik Real Estate is for you if…
You want a full-featured listing solution that includes IDX integration from multiple MLS providers
You want access to premade themes
You are an real estate agency that doesn't want to spend extra money on web design
Pricing: The Estatik Real Estate premium pack supports MLS/IDX imports for $489 | Learn More About Estatik Real Estate
3. MLS Import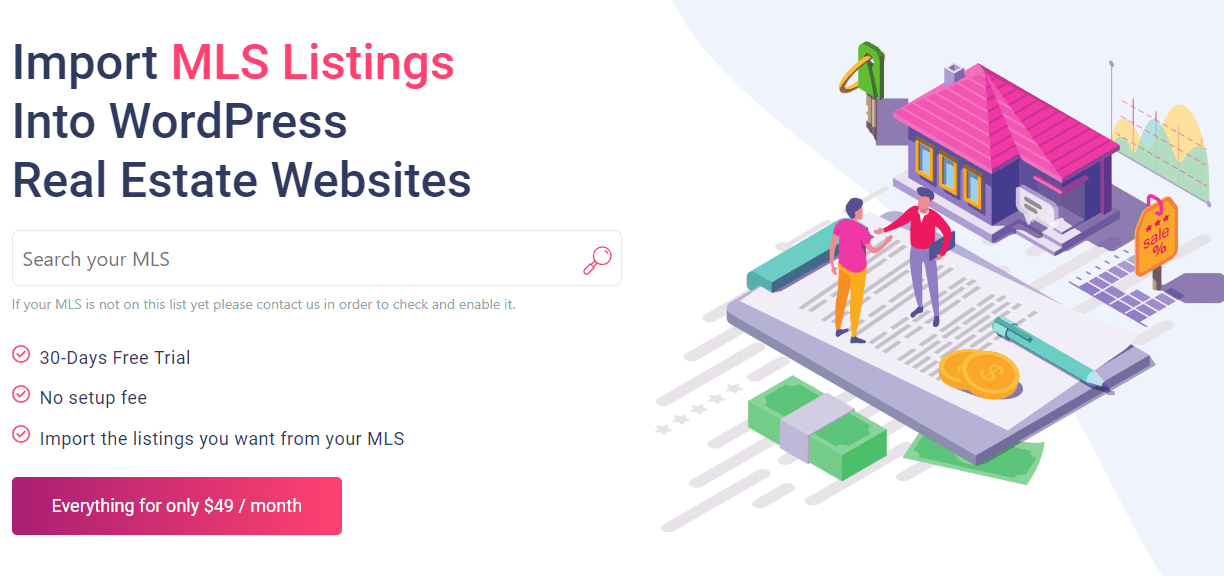 MLS Import integrates with most popular real estate themes for WordPress. This plugin enables you to connect with a MLS platform and run batch imports for properties that fit the criteria you want.
One standout aspect of this plugin is that it syncs properties automatically, and you can configure it to import new properties periodically. MLS Import also offers a custom Content Delivery Network (CDN) for serving images, which means that you save on server space.
Key Features for MLS Import:
Connect to your MLS platform of choice
Import properties in batches and sync their information
Configure the plugin to import new property data periodically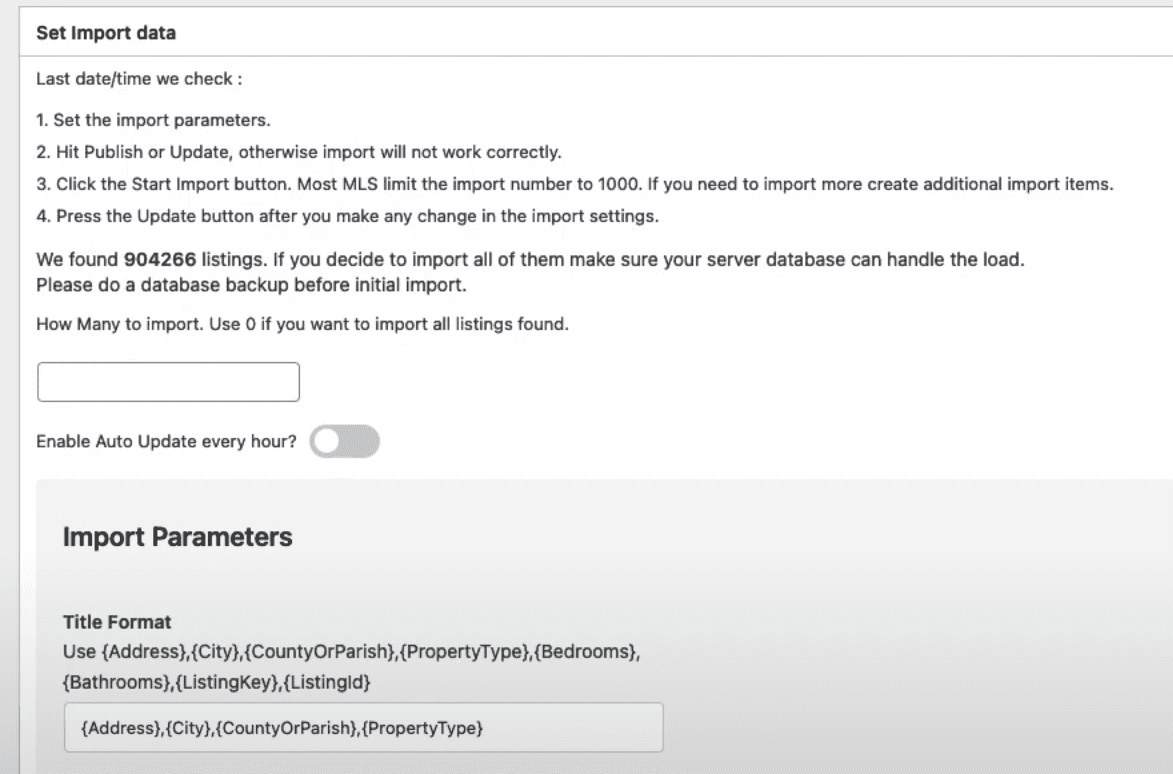 MLS Import can pull data for large numbers of properties in a single batch as long as your server can handle it. If you're using a not-so-capable hosting plan, we recommend importing properties in smaller batches.
MLS Import is for you if…
You want to use a dedicated IDX plugin, and not an extension to another tool
You don't mind paying for a monthly or yearly license
Pricing: MLS Import plans start at $49 per month | Learn More About MLS Import
4. Showcase IDX

Showcase IDX is a comprehensive solution for publishing listings, importing MLS data, and developing client relationships. On top of enabling you to use IDX, the plugin also doubles as a Customer Relationship Management (CRM) solution.
With Showcase IDX, you can enable user registration (that supports social login) and encourage it using pop-ups. The plugin lets you keep track of what properties each user is looking at, and configure follow-up messages to encourage them to keep searching.
Although Showcase IDX integrates with most real estate themes, the plugin enables you to configure the style of your listings and search using internal settings. Plus, its listings are responsive right out of the box.
Key Features for Showcase IDX:
Set up a listings solution for your website
Import MLS listings
Enable and encourage user registration
Monitor user searches and configure follow-up messages
Configure the style of your listings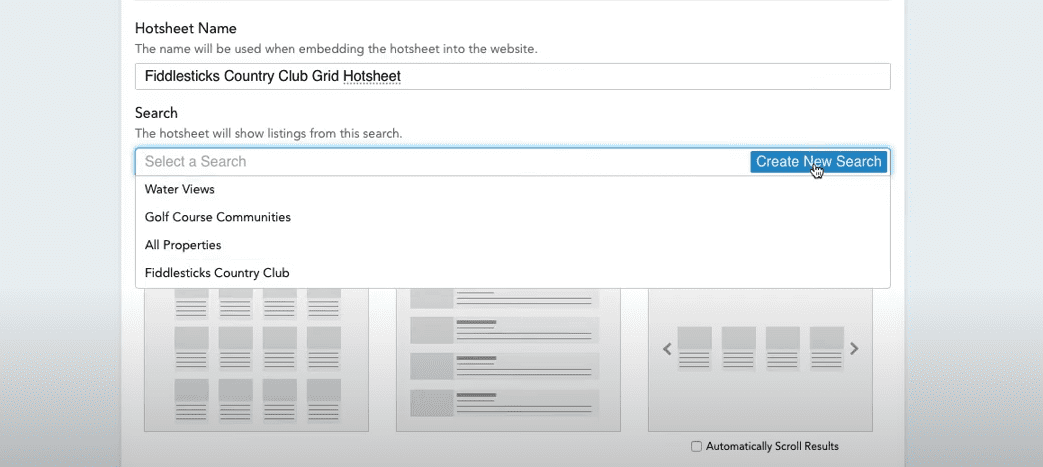 When you import a batch of MLS properties, Showcase IDX enables you to create custom shortcodes to display them on your website. You get to configure unique styles for each batch of properties.
Showcase IDX is for you if…
You want an all-in-one real estate and IDX solution
You want to get access to built-in CRM tools
Pricing: There's a free version of this plugin, while Showcase IDX plans start at $59.95 per month | Learn More About Showcase IDX
Final Thoughts on IDX Plugins for WordPress
There are a lot of amazing real estate plugins for WordPress. However, not all of them offer IDX support. Without this feature, you won't be able to import MLS listings into your website, and you'll need to add properties to it manually. If you have access to a MLS portal, not using an IDX plugin is a missed opportunity.
If you're looking for real estate plugins that offer IDX support, here are our top picks:
Do you have any questions about IDX plugins for WordPress? Let's talk about them in the comments section below!
Disclosure: This post contains affiliate links that support our team and keep the free blog content flowing. When you purchase something after clicking an affiliate link, we may receive a commission.