You can't have a WordPress website (or any website, for that matter) without a host. It's like trying to build a house when there isn't any land for it — until it has somewhere to go, it can't exist. But while website hosting is super important, it's pretty affordable. Sometimes even free. In this article, we're going to cover the best free website hosting and cheap WordPress hosting.
What is Website Hosting?
Web hosting services allow for a website or webpage to be posted and viewed online. The website is stored (i.e. hosted) on a server, which is a special type of computer. When someone enters your URL into their browser to access your site, they're connected to the server, which delivers your site to the user. You need a domain name to get a hosting plan, but some hosts sell domain names in addition to hosting services. There are also WordPress-optimized hosting plans, which are designed especially for WordPress websites and managed by WordPress experts. We have an in-depth article on that topic if you want to learn more.
Best Free Website Hosting
When it comes to free website hosting, sometimes that $0 price tag comes with a catch (or a few). The web host has to make money somehow, after all, and that often happens by displaying ads on your website. There may also be a limit to how much traffic your site can get, or your website may experience a lot of latency or even downtime.
That said, free website hosting may be a good option if you want to take a long time to build your website before making it public, or if you have very low traffic right now but plan to upgrade your plan as your site grows. Here are some free website hosting options to consider.
1. Google Cloud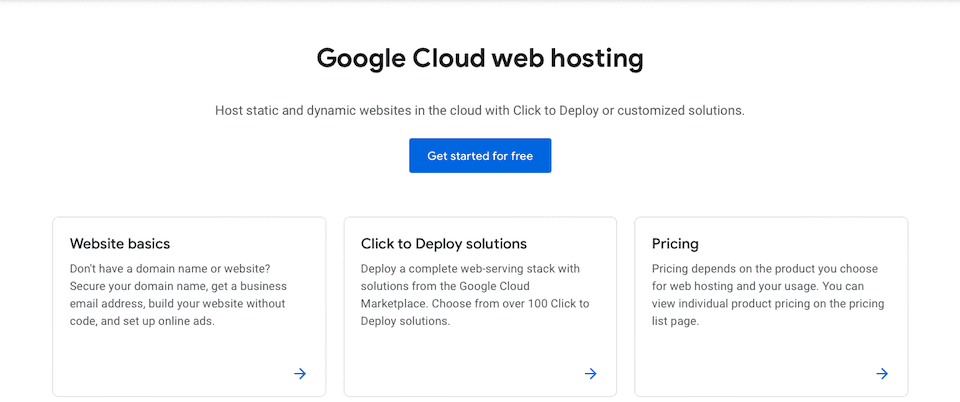 Hosting from Google Cloud is kind of free. That is, you get $300 in credit to start. For a lot of users who need a free website, that amount of money will last quite a while, even up to (or beyond) a whole year. After that, pricing is on a pay-per-use system. There's also a totally free tier for Google Cloud, but you're pretty limited with it, so you're better off using the premium credits and then paying afterward.
Additionally, you might want to check out Google Sites, as it is a solid free choice, but has a much more limited scope than what you'd be able to create with Cloud.
Key Features of Google Cloud
Hosting with Google Cloud gives you access to the company's high-quality line of services. You can choose your domain name, set up a professional email account and get 24-hour support. You can also build your site with Google if you want to bundle that with hosting.
Google Cloud is for you if…
You run a small business or are a student.
You're setting up test sites.
You have intermediate to advanced knowledge — even the wording on the start page is a little thick to comprehend for beginners.
Google Cloud Pricing: Free, Then Pay-Per-Use | Learn More About Google Cloud
2. Weebly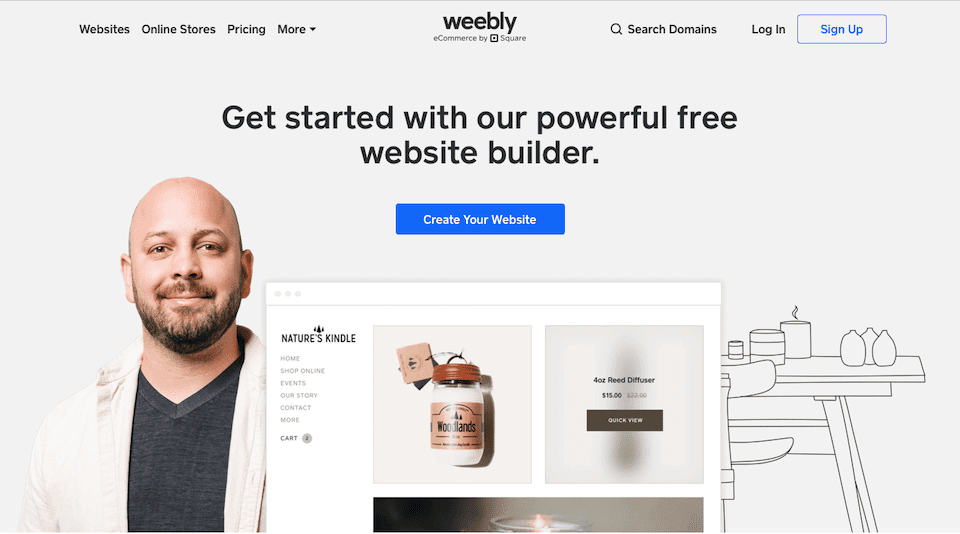 Weebly's hosting is bundled with the drag-and-drop website builder, so you'll be getting both services from the provider. (We've already compared WordPress vs. Weebly for you.) There are ready-to-use templates so you can get started fast.
Key Features of Weebly
The free hosting plan from Weebly comes with a branded subdomain and 500MB of storage. Your site will display branded ads until you upgrade. Paid plans also have additional features and offer more storage.
Weebly is for you if…
You're creating an informational or static site.
All you need is a quick-and-easy site, such as an events website with just a page or two.
You want to set up an e-commerce store.
Weebly Pricing: Free, or $6+ Per Month | Learn More About Weebly
3. Wix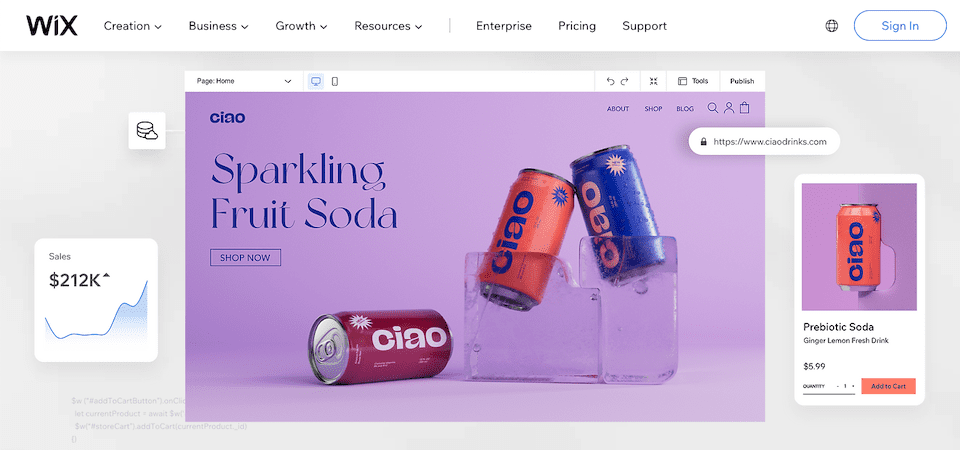 Wix isn't just a web host; it's a website builder, too. That means that you'll need to be okay with creating your site with Wix, not just hosting it there. We have a WordPress vs. Wix comparison to help you decide which is right for you.
Key Features of Wix
With the free plan, you'll get a subdomain, templates, and 500MB each of storage and bandwidth. Your website will display ads and Wix branding, but they'll be removed if you decide to upgrade at some point.
Wix is for you if…
Blogging is a small part of your website, not the focus.
You want artist-friendly tools to create a portfolio site.
You're a beginner or intermediate user with limited website building skills.
The site you make is intended to be temporary.
Wix Pricing: Free or $14+ Per Month | Learn More About Wix
4. WordPress.com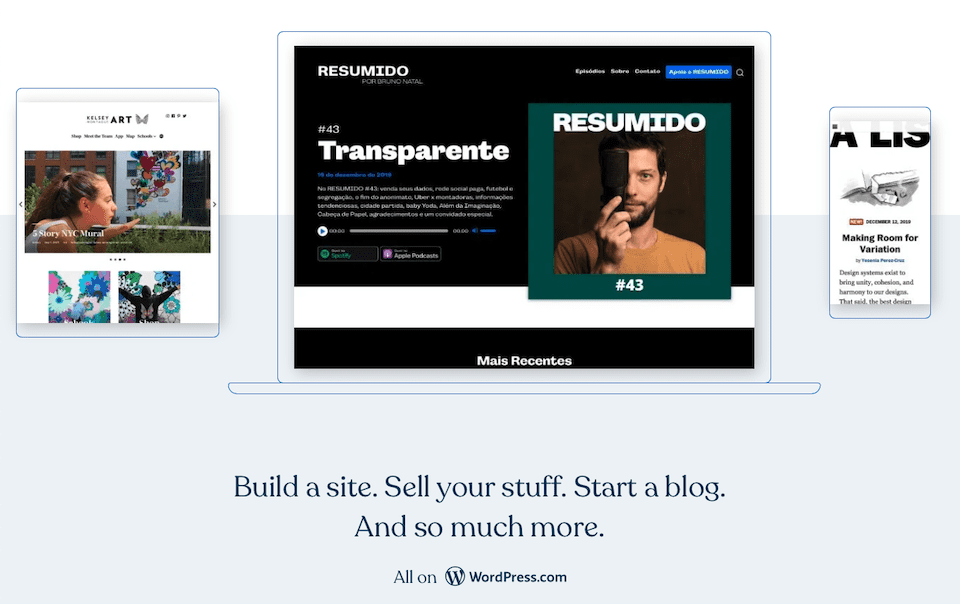 While WordPress.org is a self-hosted website builder (meaning you create your site using WordPress but have to find a host elsewhere), WordPress.com delivers a similar WordPress experience but with hosting too. There are various plans to choose from, including a free option. (If you'd like a full rundown of WordPress.com vs .org, we've got you covered, too.)
Key Features of WordPress.com
With the free hosting plan from WordPress.com, you get a subdomain (such as examplesiteurl.wordpress.com), 3GB of storage and free templates. Ads will be displayed on your website, though. When you're ready to pay for a plan, upgrading will remove the ads, and you'll also be able to access more features, including the ability to use a custom domain name and collect payments. However, you can remain on the free plan indefinitely.
WordPress.com is for you if…
The website is mainly for your family and/or friends.
You're a hobby blogger who isn't too worried about creating a super-popular site.
You don't mind being limited when it comes to design choices.
WordPress.com Pricing: Free or $4+ Per Month | Learn More About WordPress.com
Best Cheap Website Hosting
While some of these hosting providers aren't on the inexpensive side (though totally worth the cost), others are almost-free since they keep prices so low.
5. Cloudways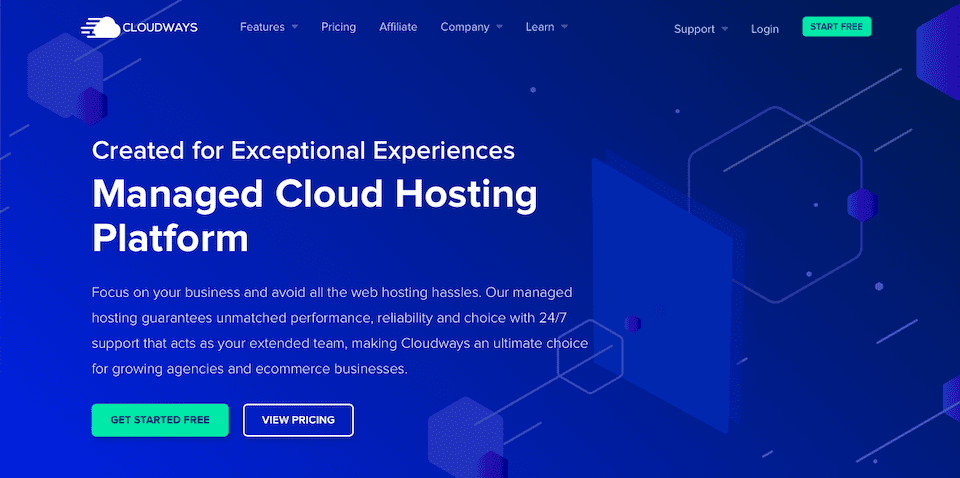 Cloudways offers managed hosting for WordPress and beyond. What we like best about Cloudways is the modular hosting package. You can select the features you want and combine them into a custom package.
Key Features of Cloudways
There's no limit to how many sites you can host with Cloudways, and they also don't blacklist any plugins or themes — you can create your website any way you want. That doesn't necessarily leave your site vulnerable, though. Cloudways has serious security hardening that's managed and updated often. Check out our in-depth Cloudways manage hosting overview to check out the details of that and more.
Cloudways is for you if…
You have some advanced technical skills when it comes to websites.
You're creating a multi-site network.
You want more control over your site than you get with other managed hosting plans.
Cloudways Pricing: Usually Under $20 Per Month | Learn More About Cloudways
6. Flywheel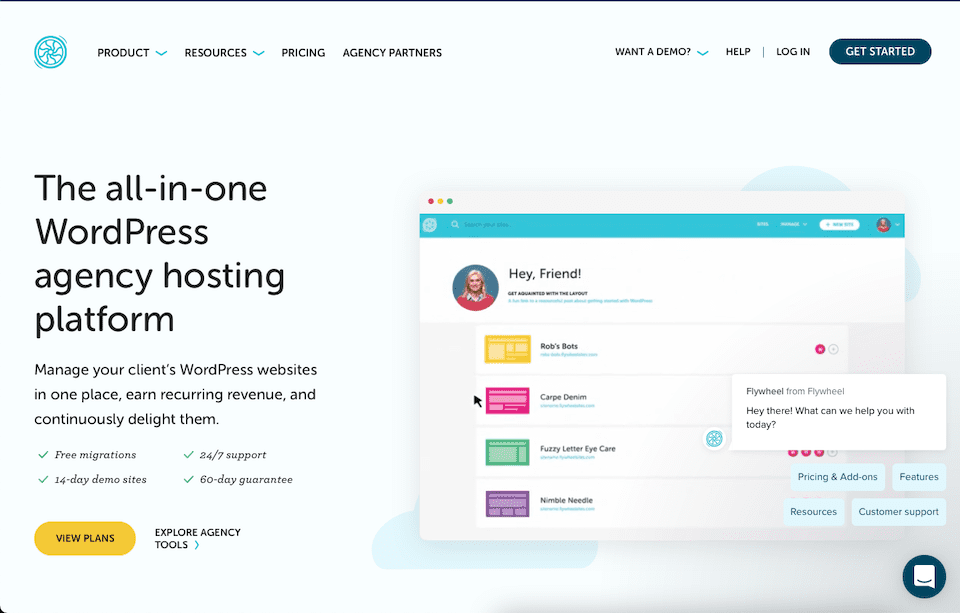 Flywheel is a strong contender on this list. While they offer hosting services for WooCommerce, managed WordPress hosting is their main gig. They focus on agencies and freelancers, letting you white-label sites and hand them off to clients with very little hassle. They are one of the more affordable and user-friendly managed WordPress hosts available.
Key Features of Flywheel
The base plan includes one WordPress site, 5K monthly visits, 5GB of storage, and 20GB of bandwidth. Everything is easy to get around, too, so while you can have Flywheel handle a lot of the backend admin for you, it's also possible to do it on your own. We have a walk-through for how to use Flywheel here.
A big draw to the Flywheel platform is the direct link to Local, a local development environment, as well as being able to set up demo sites for free before you ever pay a dime. It's very intuitive and customer-friendly.
Flywheel is for you if…
You're a designer or developer with advanced website needs.
You want to set up a subscription payment plan for clients.
You'd like to set up a demo site before paying for anything.
Flywheel Pricing: $13+ Per Month | Learn More About Flywheel
7. GoDaddy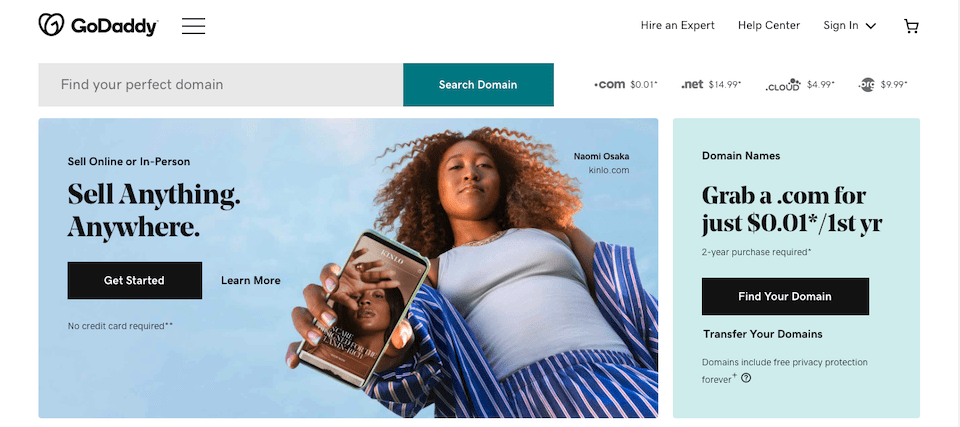 GoDaddy promotes cheap web hosting starting at $1, and while that's technically possible, you're probably going to pay a bit more. But not a lot more, most likely. Even the pricing page has the lowest option at $5.99 per month. You can still get away with keeping costs quite low, though.
The company has gone through a lot to improve its image and reputation over the past few years, and through my personal experiences with GoDaddy, they have excellent customer service.
Key Features of GoDaddy
The basic Economy hosting plan includes 25GB, a domain name, email, and one-click WordPress installation. GoDaddy is also one of the biggest domain registrars in the world. They offer a drag-and-drop website builder, too, though the WordPress Block Editor is far more intuitive and easy to use and customize, so we suggest sticking with GoDaddy for domain names and basic hosting only.
GoDaddy is for you if…
You don't have a domain name yet and want it bundled with your hosting package.
You don't need managed hosting but you want an easy-to-use control panel (cPanel).
High-level security isn't a concern. For example, you're not collecting private information or processing payments.
GoDaddy Pricing: $5.99+ Per Month | Learn More About GoDaddy
8. SiteGround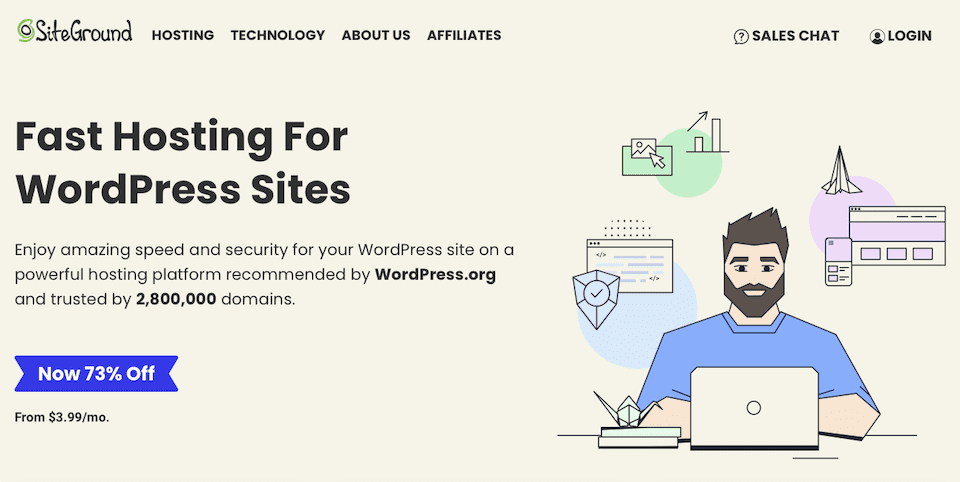 SiteGround has regular web hosting, managed WordPress hosting, and a selection of other hosting options. With a track record for reliability and an easy-to-navigate control panel, SiteGround lives up to its reputation.
Key Features of SiteGround
The basic plan lets you create one website with 10GB of web space and 10K monthly visits. You'll also get standard features like free email and free SSL, plus e-commerce features. We particularly like the Collaboration tools, which lets you give someone else access to the website and hosting dashboard, but you can set permissions so they don't change or override anything they shouldn't.
SiteGround is for you if…
You need e-commerce features from the beginning.
You need to manage multiple sites from the same account.
Collaborating with team members or clients is a priority.
Quick and responsive customer support is important.
SiteGround Pricing: $3.99+ Per Month | Learn More About SiteGround
9. Squarespace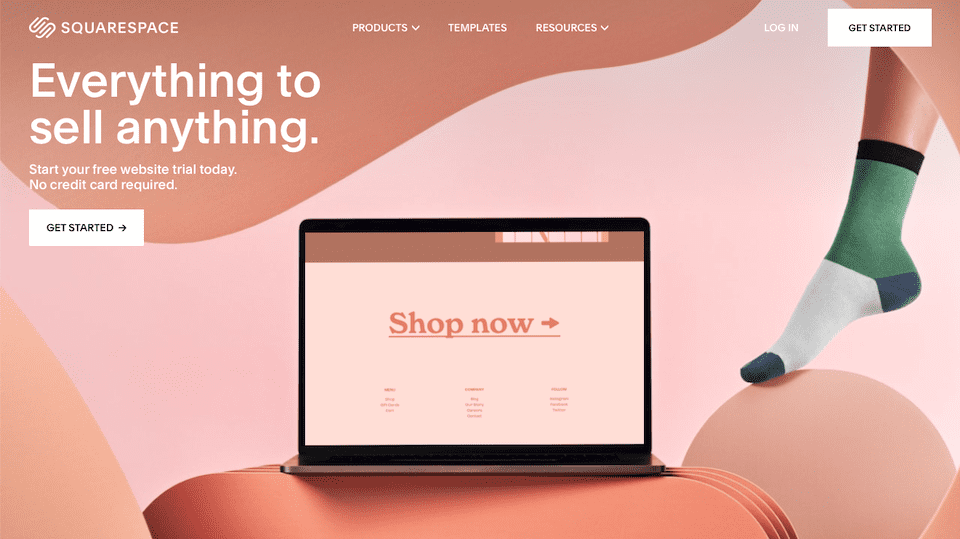 Squarespace is another builder-and-hosting package deal. Like many of the website builders on our list, Squarespace is great for beginners, offering drag-and-drop functionality and great-looking templates. Squarespace templates are skeep and professionally designed, but can be limited in customization options. You can find our WordPress vs. Squarespace comparison here.
Key Features of Squarespace
You can try out Squarespace with the 14-day free trial, which includes full access to the site builder. You won't be able to actually publish your site to the public until you upgrade to a paid plan, though. It's a literal Try Before You Buy kind of trial. Plans include a free custom domain, unlimited bandwidth, video storage, and templates. The platform does have e-commerce tools, but they're nothing special.
Squarespace is for you if…
You're a total beginner who's working with a website builder for the first time.
It's okay that you're limited when it comes to the look of your website.
Your e-commerce shop/store is not the primary focus of your site.
Squarespace Pricing: $14+ Per Month | Learn More About Squarespace
Final Thoughts on Free and Cheap Website Hosting
To recap, free website hosting often comes with drawbacks, but it's a great option if you're testing out a hosting provider and/or website builder. Or even if you're starting small and will be able to upgrade the minute you need more features. If the site you need to create is temporary or single-use, free hosting can be a good way to go. Otherwise, maybe a cheap hosting plan is your best option. The biggest providers out there tend to have budget-friendly (or at least friendlier) options.
If money is an object to you or your brand, we feel like any of these choices will do you just fine. While budget options aren't always the most robust or powerful, you can absolutely be a success by choosing the best one for you. And any of the hosts on this list should have something for you.
Don't see your favorite host in this post? Tell us about even more hosting options in the comments!
Article featured image by Aozora21 / shutterstock.com
Disclosure: This post contains affiliate links that support our team and keep the free blog content flowing. When you purchase something after clicking an affiliate link, we may receive a commission.