Running a website without access to statistics is like piloting a ship without a compass. You might eventually get to your destination, but you'll suffer through a whole lot of unnecessary headaches along the way. However, deciding on the best Google Analytics plugin for WordPress can be difficult. We've rounded up a list to make it easier.
In this post, we'll discuss the importance of leveraging analytics for your WordPress site, then provide you with a list of eight of the best options to choose from.
Let's get to it!
Subscribe To Our Youtube Channel
The Advantages of Using a Google Analytics Plugin for WordPress
When you're managing a website, having access to key data and insights is critical. This information enables you to understand your visitors better and identify opportunities for improvement. Plus, platforms such as Google Analytics make tracking important statistics and metrics significantly easier.
However, juggling multiple tools or using separate third-party platforms isn't always convenient. Fortunately, WordPress offers a wide variety of plugins that can make integrating your site with Google Analytics and other tracking tools quick and easy.
When you use a Google Analytics plugin for WordPress, you can access, view, and analyze key data directly from your admin dashboard. The increased connectivity translates to a more seamless experience and, ultimately, time saved.
On top of that, you can avoid having to manually edit your site's code to include your Google Analytics Tracking ID and Global Site Tag. Nor will you have to worry about dealing with child themes or inadvertently decoupling your site from Google Analytics during a theme update.
That said, choosing the right plugin is never easy, especially when so many of the most popular ones share similar features. It's essential to consider exactly what data would be most valuable to you, which kinds of reports you'd prefer, and what bells and whistles may or may not be helpful.
8 of the Best Google Analytics Plugins for WordPress
Now that you understand the usefulness of installing one, it's time to look at the best Google Analytics plugins for WordPress. In addition to features and usability, we chose the following plugins based on user ratings and reviews as well as updates and support offered.
Ultimately, the choice of which plugin to use is up to you. We encourage you to take a good look at the list of features mentioned alongside each candidate and test out those that seem like they can address your needs.
1. Google Analytics for WordPress by MonsterInsights

Google Analytics for WordPress by MonsterInsights does a fantastic job of integrating Google Analytics with WordPress. This plugin leaves no stone unturned when it comes to providing relevant information and data that you need to make your job simpler. It's a tool with a high skill ceiling that can still work wonders in the hands of beginners.
With over 3 million active installations and a 4.5 out of 5-star rating, it's easy to see that MonsterInsights is widely considered the best Google Analytics plugin for WordPress. It's perhaps the most well-known and popular analytics tool in the WordPress community.
The integration process is as simple as following along with the guided onboarding wizard. You can configure it without touching a single line of code.
Once it's set up, you can easily access analytics reports directly from your WordPress dashboard: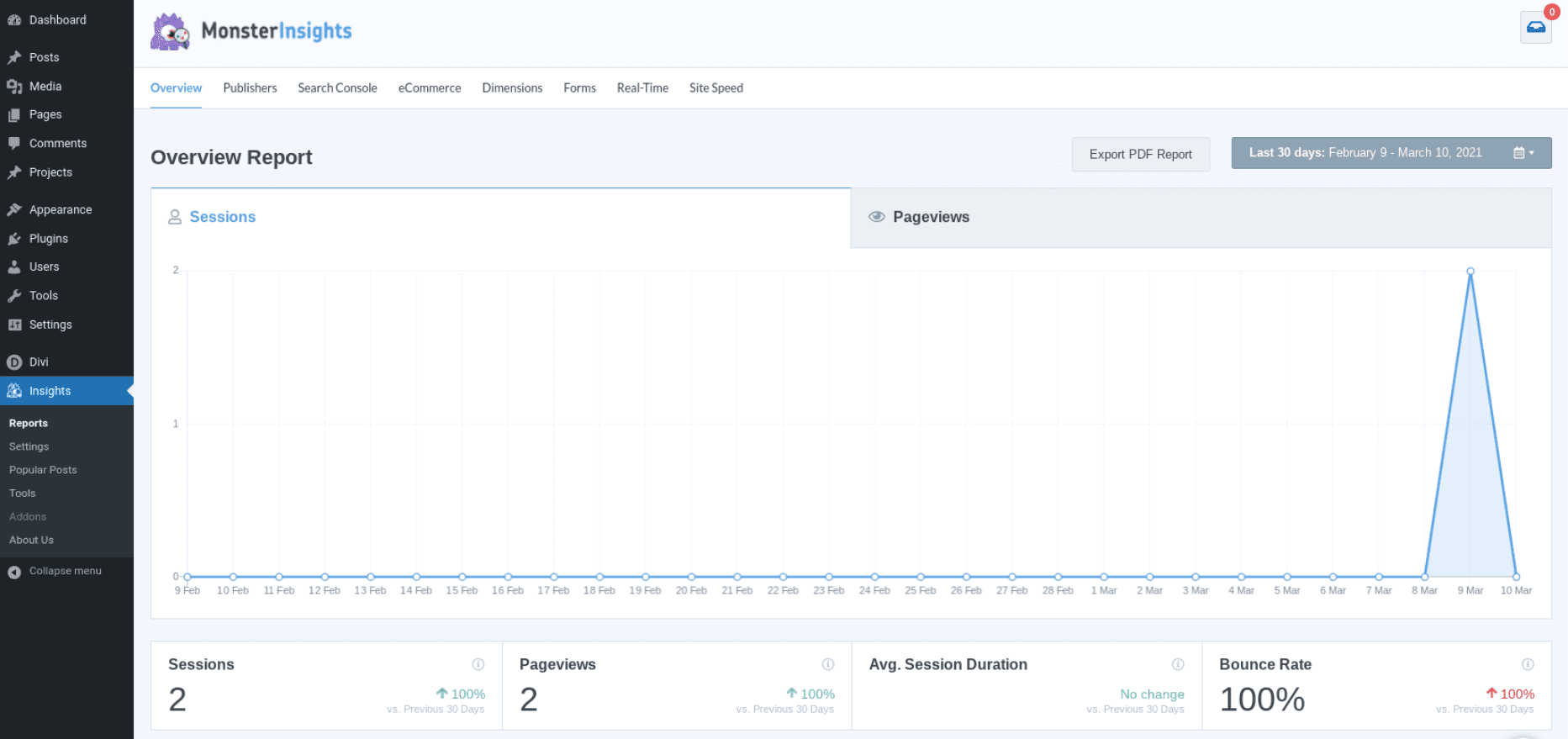 Within the stats dashboard of your admin area, you can view your site's top traffic sources, as well as your top-performing posts, pages, etc. This insight makes it easy to understand your visitors' behavior to make data-driven decisions about your business.
Best of all, it's free to use. However, if you prefer, a premium version is available that unlocks access to even more features and functionality.
Key Features
Setup wizard for effortless installation and configuration
Support for Google Ads integration
Traffic origin tracking with detailed reports available from your WordPress dashboard
Performance monitoring for individual posts and pages
Detailed demographic reports of your audience (gender, age, device, location, etc.)
Ability to see which sites are referring the most viewers to you and what visitors are searching for within your site
Enables you to track 404 errors
Updated embedded tracking code
Affiliate link tracking
E-commerce tracking and reports (transactions, revenue, conversion rates, and more)
Event tracking for discovering conversions from Calls To Action (CTAs)
Tracking for form submissions, authors, categories, and more
Add-ons for expanding the plugin's functionality and features (WooCommerce, Easy Digital Downloads, EU Compliance, Forms, and more)
Price: Free with premium plans starting at $99.50 per year | More Information
2. Google Site Kit

Google Site Kit is Google's official WordPress plugin. It's relatively new and, as such, perhaps isn't as well-known as MonsterInsights yet.
However, even in its relative infancy, the plugin has already accumulated over 1 million active installations and a 4.5-star rating. Site Kit offers a simple and seamless way of integrating your WordPress site not only with Google Analytics, but a suite of Google services, including AdSense, Tag Manager, PageSpeed Insights, and Search Console.
Once you launch and complete the setup wizard, you can access and view your reports from your WordPress admin area: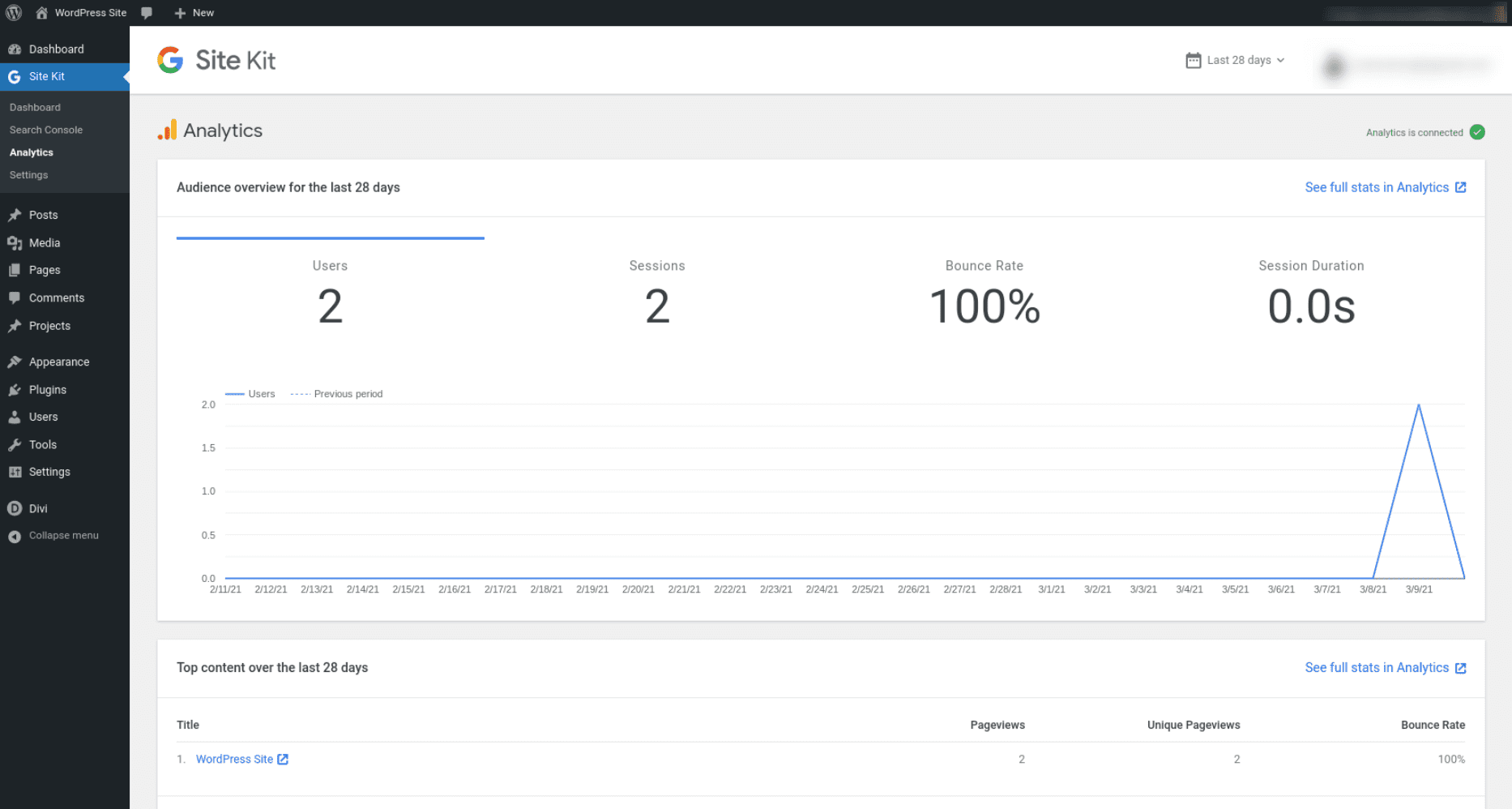 The plugin highlights all the key information and data you'd likely look for on the various Google platforms. The only difference is that you can view it all in one place, rather than jumping between different tools.
Of course, one of the biggest advantages of using Site Kit is that it comes directly from Google. If you choose this solution as your Google Analytics plugin for WordPress, you can feel confident knowing you're working with a reliable, regularly updated, and widely supported tool.
Key Features
Quick and guided installation and setup process that doesn't require any coding
Ability to access valuable insights from multiple Google products within your WordPress dashboard
Official statistics reports that are easy to access and understand
Price: Free | More Information
3. GA Google Analytics

GA Google Analytics is a simple, user-friendly plugin that makes connecting all pages of your website with a Google Analytics tracking code as straightforward as possible. This tool is not as robust or feature-rich as others on this list.
However, its simplicity can also be an advantage if you're looking for a no-frills-solution for integrating Google Analytics with WordPress. Once you install and activate the plugin, you can log into your Google Analytics account:
Then you can enter your tracking ID. Once you enter your GA tracking code, you'll need to wait a day or two for your statistics to display. GA Google Analytics is also a lightweight plugin, so you won't have to worry about it slowing down your site.
Key Features
General Data Protection Regulation (GDPR) compliant
Ability to quickly add tracking code to all pages across your website
Option to disable tracking for admin-level users
Support for Global Site Tag (gtag.js), Google Analytics 4, and Universal Analytics (analytics.js)
Simple, straightforward settings with the ability to customize tracking code
Won't display extra information or insights in the admin panel (which is a pro for some users)
Price: Free with premium versions starting at $15 | More Information
4. WP Statistics

WP Statistics a well-rounded plugin that offers a ton of features and customizations. You can see from the plugin settings alone the sheer number of configuration options and the variety of analytics features you can access.
Most information is displayed through easy-to-understand graphs, which is a nice touch considering the sheer breadth of information WP Statistics throws at you: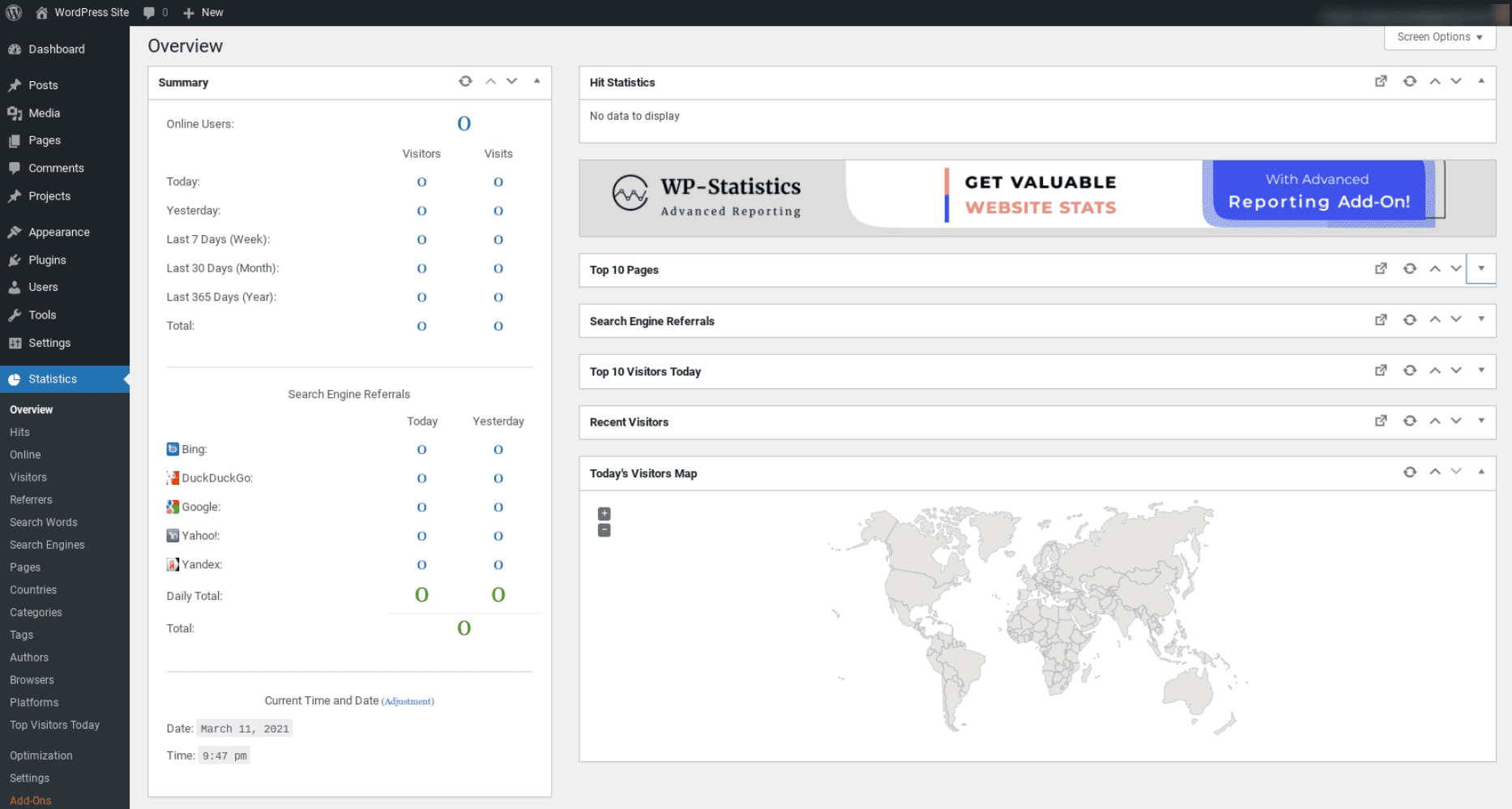 If you're looking for a simple and straightforward plugin, this may not be the best choice. However, it is a solid option if you're looking to take a deep dive into your WordPress site analytics and want to gather information from various platforms and search engines, not just Google.
This plugin particularly excels when it comes to presenting information in a digestible manner. For example, it displays data in maps and various graph reports.
Another advantage is that you won't have to configure the plugin with Google Analytics. All the data tracked by the tool happens within your site and isn't shared with anyone else. The one downsides of this are that it can increase your backup size and eat up your storage.
Key Features
Track redirects from search engines including Google, Bing, Yahoo, etc.
Detailed admin settings accessible from the WordPress dashboard
Thorough, downloadable manual available in ODT or HTML format
Uses Maxmind GeoLite2 technology to display in-depth geographical data
Track visitors, current sessions, page statistics, queries from major search engines, browser details, and referrers
Option to exclude users from reports/statistics depending on a wide range of customizable criteria
Visitor IP addresses can be hashed to protect their privacy
Ability to export data in XML or CSV files, as well as to send them to your email in predetermined intervals
Filter data by location, browser version, keywords, IP address, etc.
Price: Free| More Information
5. Analytify

Analytify is another feature-rich, highly rated Google Analytics WordPress plugin that can help streamline your workflow. It lets you automatically add your analytics tracking code across your site simply by installing and authenticating it.
It boasts a modern, sleek User Interface (UI) that is easy to navigate and makes it all the more beginner-friendly: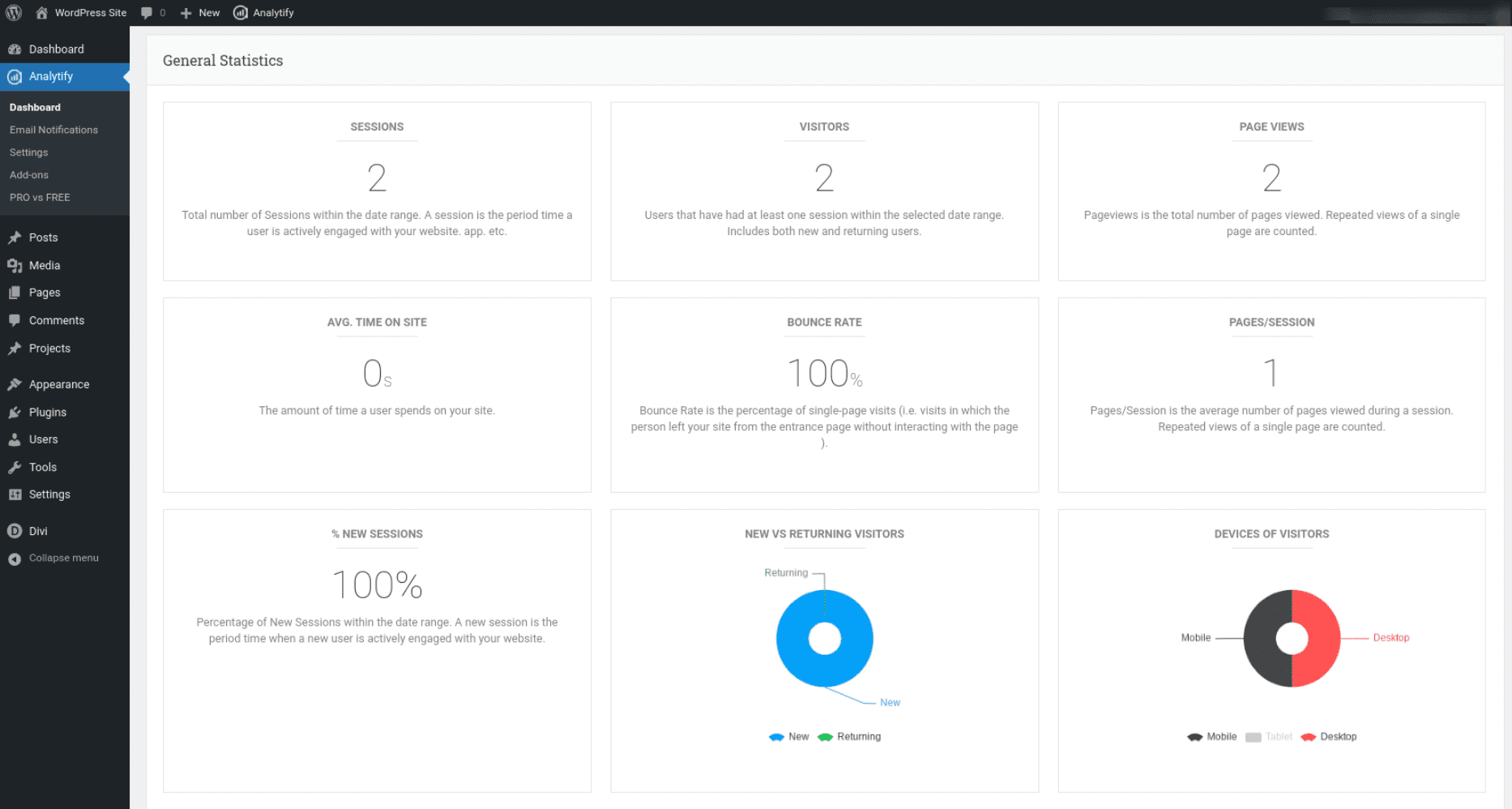 You can quickly access all your Google Analytics reports right from your admin. Analytify also offers a collection of premium add-ons to choose from, including integration with WooCommerce and Easy Digital Downloads.
One of the features we particularly like about this plugin that makes it stand out is that it lets you create front-facing reports. This is ideal if you want to share analytics and reports with visitors or clients.
Key Features
Simple installation and setup, including one-click Google Analytics integration
Enhanced e-commerce tracking reports (shopping cart abandonment, transactions, revenue, average order value, and more)
Automated email reports
Ability to track real-time visitors
Shortcodes for integrating data into custom templates
Clean, easy-to-navigate UI
Statistics of individual reports and pages
Ability to track UTM parameters (with an add-on)
Price: Free with premium plans starting at $39 | More Information
6. ExactMetrics

Next up on our list of best Google Analytics plugins for WordPress is ExactMetrics, formerly known as Google Analytics Dashboard for WP (GADWP). With over 1 million active installations, this plugin is a simple yet powerful tool for integrating your go-to analytics platform with your website.
You can use it to track your site visitors and view reports from within your dashboard:
It includes standard analytics such as page views, bounce rate, organic searches, and more. The one downside to this plugin worth noting is that it doesn't let you integrate with other services and tools such as WooCommerce or Google Ads. Still, for a free plugin, it offers an impressive set of features.
Key Features
Convenient, quick, and easy-to-follow setup wizard
Real-time statistics (number of visitors, traffic sources, sessions, page views, and more)
Clean, digestible reports
Ability to view 404 errors and bounce rates
Detailed reports for individual pages and post
Event tracking for desktop and Accelerated Mobile Pages (AMP)
Enhanced link tracking and affiliate link tracking
Fully customizable Google Analytics tracking code for advanced data collection (page scrolling, downloads, form submissions, etc.)
Price: Free with premium plans starting at $99.50 | More Information
7. Enhanced Ecommerce Google Analytics

The Enhanced Ecommerce Google Analytics extension is perhaps the best Google Analytics plugin for WordPress if you're looking for an all-in-one solution for your online shop.
It lets you effortlessly connect your WooCommerce store with Google Analytics so that you're able to collect valuable data and insights into your customers' behavior and user journey. Then you can view the information directly within WordPress: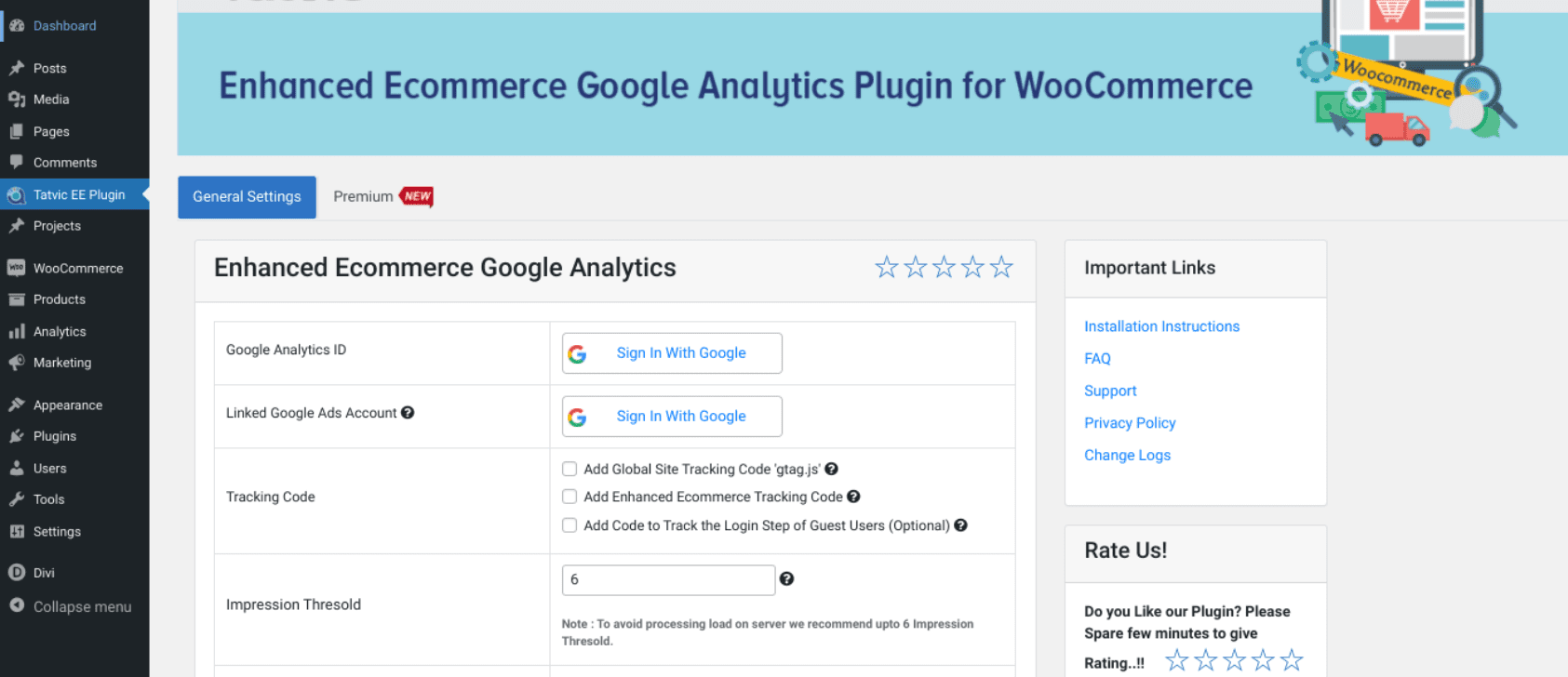 One of the things we like about this plugin is that, in addition to Google Analytics, it also lets you seamlessly link to your Google Ads account (if you have one). Also, you can quickly opt-in to use Global Site and Enhanced Ecommerce Tracking Codes.
Key Features
Quick and easy installation process, with a detailed manual for guidance
Ability to track the entire customer journey across your WooCommerce store, including home page, checkout and thank you pages, and product views
Performance monitoring and tracking for merchandising
Insight into product view to cart ratio
Detailed reports covering shopping cart abandonment, click-throughs, and conversion rates
Enables audience, behavior, and acquisition reports
Contact form performance tracking
Support for guest checkout functionality
Designed specifically for e-commerce sites
Price: Free with premium license available for $135  | More Information
8. Jetpack

Lastly, we have the Jetpack plugin. If you're a WordPress user, you're likely already familiar with it. This freemium tool has over 5 million active installations. It can help you with a wide range of tasks, from managing subscriptions to mobile optimization.
However, it also provides a straightforward, simple solution for viewing your WordPress analytics. Statistical analysis is a JetPack default feature, which means it doesn't require any additional setup aside from installing the main plugin.
It provides the basic, most important data in an easy-to-understand fashion: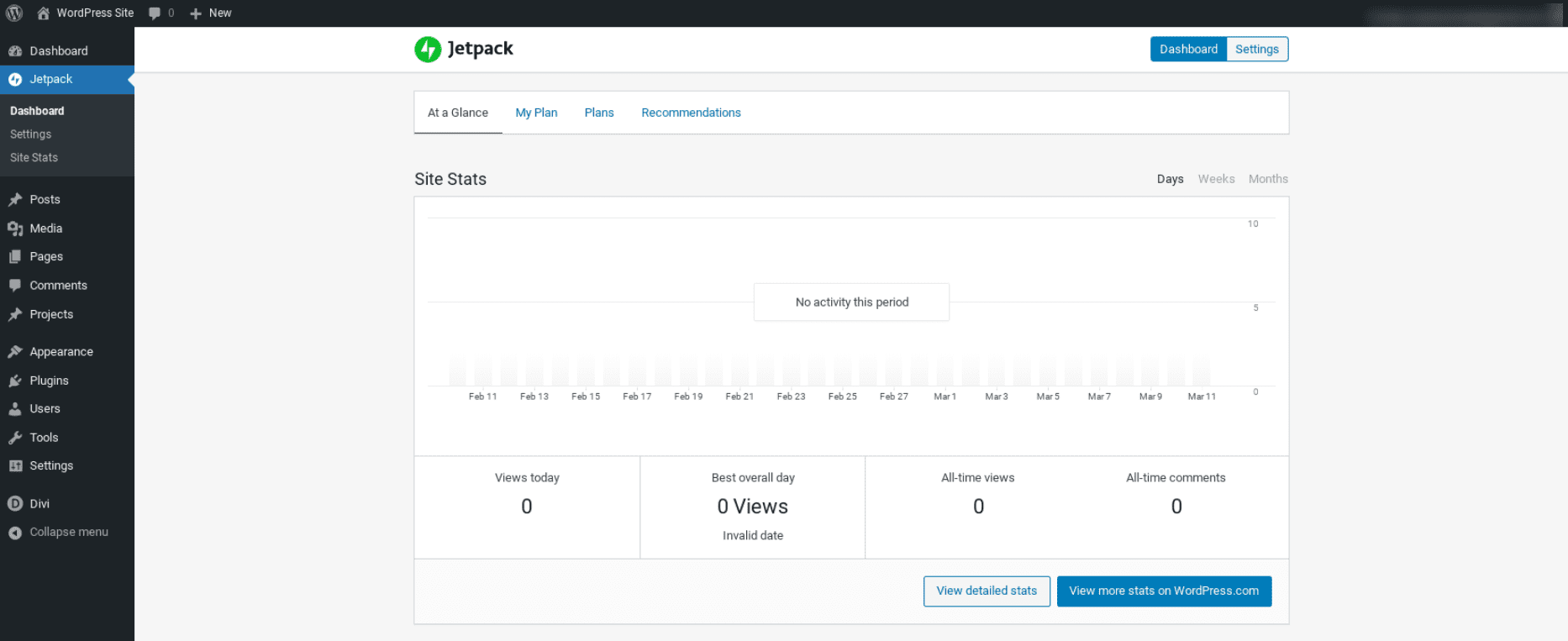 It is worth noting that the free version only provides you with its own analytics features and reports. So, if you're looking for Google Analytics integration specifically, you'll need to upgrade to a Pro license.
Key Features
Option to display stats (viewer count, most popular posts, and top searches) on your main dashboard
Simple site traffic reports
Keeps track of detailed information such as number of views per country, posting trends, peak visitor hours, etc.
Ability to decide who has access to statistical reports
Chart detailing visitor activity during the last two days
Smiley icon at the bottom of pages to indicate whether the plugin's analytics tools are working
Price: Free with premium plans starting at $4.99  | More Information
Conclusion
When you're managing a website, it's safe to assume that one of your top goals is likely to attract more visitors or customers. However, if you want to be successful in this endeavor, it's essential to track key analytics. One of the easiest ways to do this is to use a Google Analytics WordPress plugin.
In this post, we discussed eight of the best Google Analytics plugins for WordPress users to consider. For example, if you're looking for a robust, reliable solution, you can't go wrong with MonsterInsights or Site Kit. On the other hand, if you're looking for a more e-commerce-centric tool, you might consider Enhanced Ecommerce or Analytify. Ultimately, picking the right plugin will come down to your specific needs and criteria.
What are the most important features you look for in a Google Analytics plugin for WordPress? Let us know in the comments section below!
Featured Image via Sammby/shutterstock.com