When a web host provider offers managed WordPress hosting, that means they have a concierge service through which they handle the technical parts of running WordPress – and that you don't have to do any of it. For example, the host will take care of daily backups, scalability, security, speed, updates, uptime, etc. Plus, these plans usually come with top-notch support, so if you do have any questions about your website, you'll get the attention you need. Media Temple is a web host provider that offers managed WordPress hosting. Their services are best for blogs, brochure sites (basic business websites), portfolios and small e-commerce shops.
An Introduction to Media Temple Managed WordPress Hosting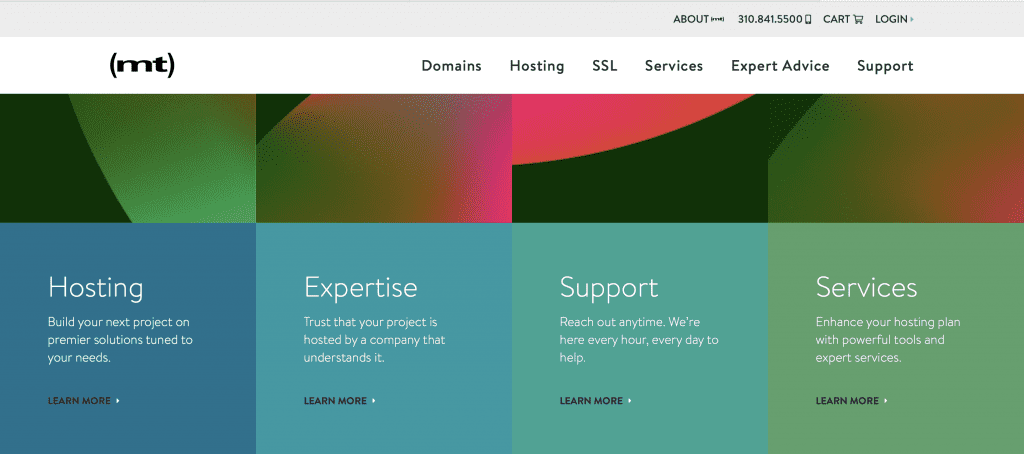 Media Temple offers a number of hosting plans, including several for managed WordPress hosting. This means that teams with any level of technical expertise can run a website. Plus, since site optimization and management are taken care of, they're typically fast-loading and high-performing. Moreover, 24/7 support comes with every plan, even the most basic.
Who is Managed WordPress Hosting from Media Temple For?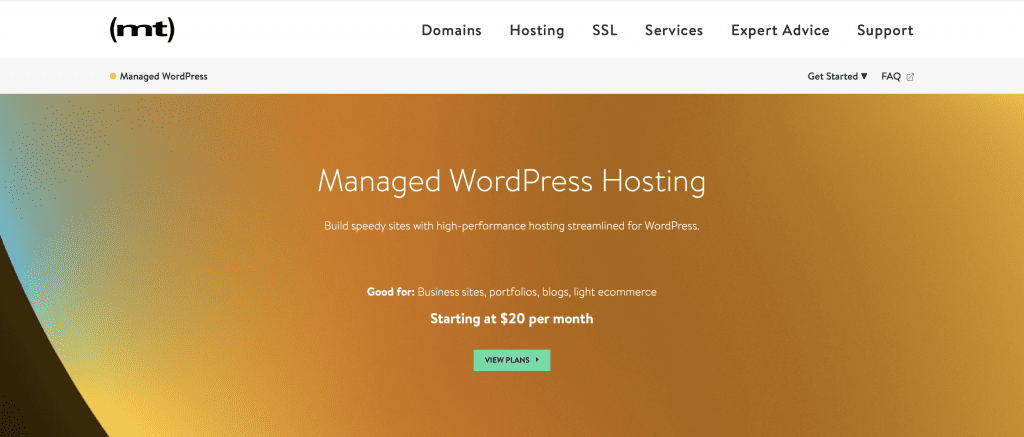 These hosting plans are best for lighter websites, like blogs, basic business and e-commerce sites, and portfolios. Bands and musicians, non-profits, small businesses and independently-owned restaurants are examples of the types of businesses that opt for this type of hosting plan. Here are a few things you can do with your WordPress website when you have managed hosting:
Accept donations for your non-profit or to support creative endeavors.
Add social share buttons so visitors can share information with their network.
Display your menu with descriptions and prices, whether it's for your restaurant or your online services business.
Enhance your website with multimedia like a music player or a video background.
Share event information with an integrated calendar and maps.
Take reservations directly through your website.
Media Temple's managed WordPress hosting is a good choice whether you're getting a personal blog or project started, building a site for a client or managing multiple sites for several clients.
Benefits of Managed WordPress Hosting from Media Temple
Before we get into the features of Media Temple's managed WordPress hosting, let's talk about its benefits:
Migration: If you already have a website, you can move it to Media Temple with the migration tool.
Performance: Since you'll have a WordPress-optimized plan, your website will have better performance than if you opted for a basic shared hosting plan.
Security: Your website will be monitored and protected every second of the day to keep it free of bots, hackers and malware.
Stability: Limited plugins ensure that your website can continue performing well.
Features of Managed WordPress Hosting from Media Temple
While you'll need to know how to work with a WordPress site so you can add your content, you won't need any extra technical knowledge. Features include:
Auto-Backups: Your WordPress site will be backed up daily. Backups will be kept for 30 days, so you can restore your site even if you don't catch a problem or error right away.
Automated SSL: This is important for websites that process payments, like e-commerce shops, or that handle private information, like medical or therapy websites. SSL certificates are free and automatically updated.
Auto-Updates: Every time there's an update to MySQL, PHP or WordPress, your website will be automatically updated, too.
Developer Tools: Some managed WordPress hosting services prevent access, but Media Temple gives you Git version control and phpMyAdmin access.
Global CDN: Content and image distribution is to servers around the globe. There's less stress on your host, and large assets like images can load fast.
Load-Balancing: Media Temple distributes sites across multiple servers, so your website will continue to run well even if there are traffic spikes on other sites (or yours!).
Malware Scans: Automated malware scanning ensures that anything fishy will be caught and handled before it wreaks havoc on your site.
Staging and Cloning: Every WordPress website you add to Media Temple comes with two staging environments. You can design and test your website before publishing it live.
Themes: Media Temple has a big catalog of responsive themes. With WP Easy Mode, you can set up any theme you choose, along with stock photography.
Varnish Cache: By delivering cached data instead of a fresh version of your site, Varnish speeds up performance – which means the site gets delivered to the viewer faster.
The Dashboard
When you log in to the Media Temple Account Center, it opens to the Overview page, which gives you a clean and uncluttered view of everything you need as a jumping-off point. The "Services" section will list the products you have with Media Temple. This is where you can access your Managed WordPress service:
There are also helpful support links, billing info, and a quick way to get to your Security Dashboard:
The menu at the top is simple and uncluttered, too. The choices are easy to understand and navigate. From the menu, you can do the following:
Head back to the main Overview page.
Add or view domains or services.
Update your contact information.
Give new users access to your account.
View invoices, make a payment and/or update your payment information.
Submit a support request.
Browse community help articles.
Log out of your account.
Remember, since you'll have a managed WordPress hosting account with Media Temple, you probably won't need to head into the account panel much other than to check out payment info or submit a support request. Otherwise, so much is taken care of for you that you can practically set-it-and-forget-it.
Creating a WordPress Website from Scratch
With Media Temple's managed hosting, you can either import a site you've already built or you can build one from scratch. If you decide to build a site, you don't even need a WordPress account yet – Media Temple will direct you to create one. And Media Temple has prebuilt themes that you can opt to work with if you like one of them.
Once you've filled in some basic information, your site will be created (and ready for you to customize to your liking). Once finished, Media Temple will install WordPress and get your site ready for editing.
When that's done, you'll have a new control panel for your website.
Media Temple Prices and Plans
Media Temple has four managed WordPress plans to choose from:
$20 per month, Ultimate: 1 site and unlimited storage.
$40 per month, Pro 5: 5 sites and 50GB of storage.
$65 per month, Pro 10: 10 sites and 80GB of storage.
$120 per month, Pro 25: 25 sites and 100GB of storage.
Furthermore, they all come with the following features for each WordPress site that's added to the hosting plan:
Accompany staging site
Content delivery network (CDN)
Daily malware scans
SEO optimizer
SSL certificate
Unlimited bandwidth
Prices drop a bit by paying for one, two or three years in advance, but the difference is negligible. For example, paying for one year of the Pro 5 plan saves you $16. Paying for two years saves you just another $8. If you're going to pay in advance, do it for the convenience of not having to renew, not the cost savings.
Final Thoughts
If you have a personal or professional website that you want to get up and running without learning technical skills, managed hosting is the way to go. It's safer, quicker and more reliable than trying to run a site all on your own without the must-have knowhow. To recap, Media Temple has the features you want in a managed WordPress hosting plan:
Automatic backups and updates
Migration option
Optimizations for performance and stability
Security scanning
Website cloning and staging
Most importantly, plans come with automatic updates, easy website design, staging environments and fast performance. Plus, Media Temple is easy to use for beginners or non-technical website owners, and it also comes with developer tools for advanced control.
Are you considering Media Temple or another managed WordPress host? What are your biggest questions or concerns? Tell us in the comments.
Featured image via fullvector / shutterstock.com