As our limited time 25% off Cyber Monday Sale continues, the Divi Marketplace is still open for business with amazing discounts on a ton of great products. To that end, we're excited to share with you a new addition to our blog series showcasing how valuable our marketplace can be for solving real problems and expanding the design and functionality of Divi.
In this post, we're sharing a curated list of products that make up what we're calling our ultimate "Small Business Website Toolbox." It's a perfect blend of goodies that any small business can use to build an effective Divi website for their needs. It includes 8 products containing an astounding number of custom Divi modules, premium extensions, versatile pre-made layouts, ready-made Child Themes, and more. These features will greatly enhance small business websites and save them valuable time and money by giving them the tools and functionality they need to build a powerful online presence.
Let's dive in!
How to Build the Ultimate "Small Business Website Toolbox" from the Divi Marketplace
Subscribe To Our Youtube Channel
1. Divi Plus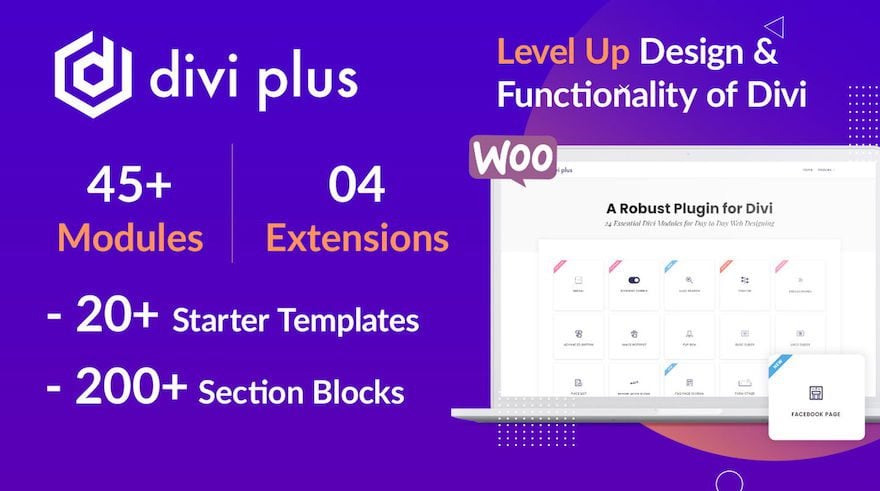 Divi Plus is a powerful multi-purpose plugin for Divi that can easily help any small business create custom functionality and design for their site without having to know how to code. It's packed with custom Divi Modules that are rich with features and work directly inside the Divi Builder. Plus, it has additional extensions, starter layouts, and section block layouts that make it really easy to get a pre-made design up and running in no time. A great set of tools for any small business!
What Makes It Essential: Useful Tools and Layouts for Small Businesses
Useful Tools
Divi Plus has 45+ modules and 4 extensions that can be used throughout your Divi Website. Although there a lot of useful modules, here are a few that may come in handy for small businesses.
Divi Modal Popups Module
The Divi Modal Popups Module allows you to generate just about any Divi Element with a Popup with Multiple Trigger Options. (Greate for Email Opt-ins and Important CTAs)
Divi Content Toggle for Pricing Tables (or anything)
A lot of small businesses will need more membership pricing options to offer customers. Adding a content toggle to show the difference between monthly and yearly is a popular solution. You can use the Divi Content Module to do that!

A Form Styler Module to Style Caldera and/or Contact Form 7 Forms
For small businesses that use Contact Form 7 or Caldera Forms to manage their contact form entries, Divi Plus has a built-in Form Styler module that allows you to style these forms using the module settings.
Other Helpful Modules with Divi Plus Include…
– Ajax Search
– Products Carousel for Woo Module
– Products Grid for Woo Module
– Masonry Gallery
– Timeline Module
FREE Pre-Made Section Blocks and Starter Templates
Like most small businesses, the idea of creating and designing modules, sections, and layouts from scratch can be overwhelming. And it is hard to see the true potential of these tools without pre-designed examples you can use. Divi Plus helps speed up the design process by providing pre-made section blocks that have Divi Plus Modules designed and ready for you to use. They have complete pre-made Divi Plus Starter Templates and Divi Plus Section Blocks that feature the unique Divi Plus Modules so that you can get entire website pages up and running quickly.
Divi Plus Sale Price: $79 $39.50
2. Divi Rocket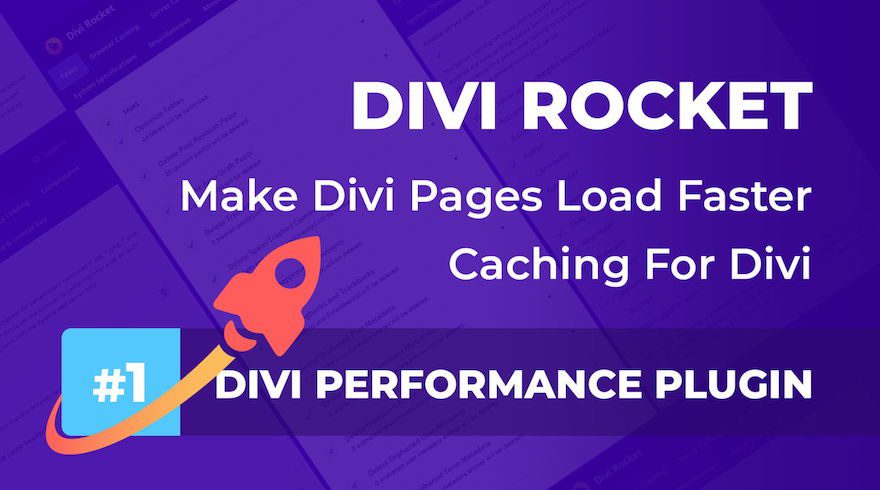 Website loading speed is crucial for any small business for many reasons. One key factor in boosting the speed and performance of a website is caching which will improve page load speeds, SEO, bounce rate, and much more. Divi Rocket, unlike most generic third-party caching plugins, can target the specific needs or features of the Divi theme to deliver a faster website for your business.
What Makes It Essential: Speed Optimization for Divi Made Simple
If your website isn't optimized for speed, Divi Rocket would be a great fit. It makes speed optimization for your Divi website easy so that you can spend more time developing your small business website. And because it is built specifically for Divi, you can trust that it will work better than most of the solutions out there.
Installing and activating Divi Rocket is simple. Once the plugin has been uploaded and activated in WodrdPress, go to Divi > Divi Rocket in the dashboard menu. There you can activate the plugin using your license key.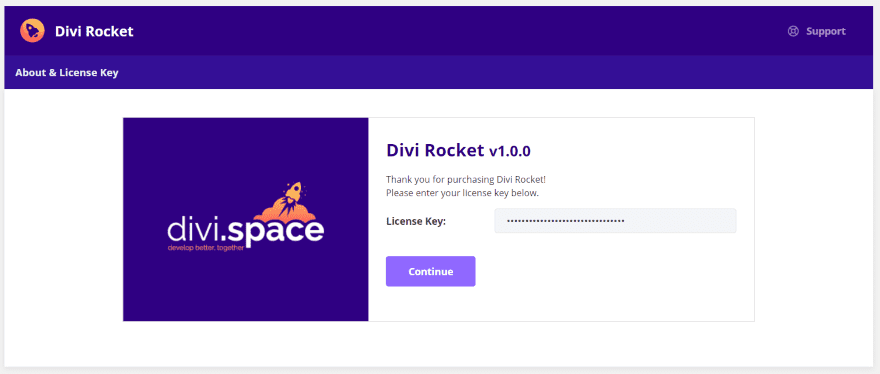 Once done, Divi Rocket's intuitive UI will become available, making it easy to optimize your Divi site under each available tab. These options include the ability to do the following:
– Delete unnecessary files and optimize database tables in a single click.
– Enable Browser and/or Server Caching
– Enable Lazy Loading of content so that Divi sections above the fold load even faster
– Enable GZip Compression with a single click
– Limit the number of post revisions that WordPress stores for a post.
Divi Rocket Sale Price: $89 $62.30
3. Divi Ecommerce Child Theme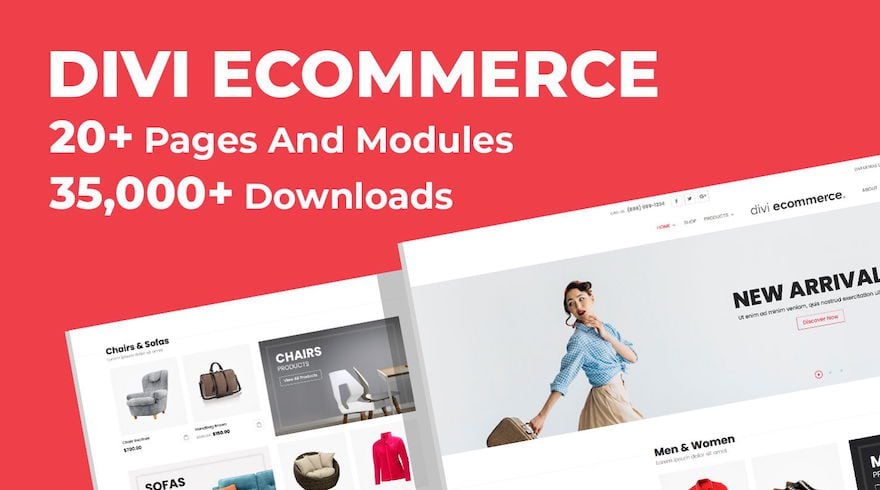 The Divi Ecommerce Child Theme integrates seamlessly with WooCommerce to deliver a complete "out of the box" online store for your small business website. No need to worry about custom code. It comes with everything you need to showcase, promote, and sell products online in style.
What Makes It Essential: A Complete WooCommerce Ready Divi Child Theme
Creating an online store from scratch can seem like a daunting task for many small businesses. Divi is already designed to work seamlessly with WooCommerce to make it easy to build websites for an online store. So, if you want to jumpstart your online store with a premium child theme built specifically for Divi, the Divi Ecommerce Child Theme is a great solution. It offers everything you need to set up a beautiful online store for your small business including:
– Two pre-designed storefront home pages
– Featured and Trending Product display options
– Ready-made product, cart, and checkout pages
– Pre-setup accounts, order-history, and detail pages
– Custom WooCommerce sidebars
– and much more…
To use the Divi Ecommerce Child Theme on your own Divi site, all you need to do is upload the theme's zip file as a new theme in the WordPress Dashboard and activate the theme.
You'll be prompted with a notification to upload the following plugins for maximum theme functionality:
– WooCommerce
– WooCommerce Shipping & Tax
– Breadcrumb NavXT
– WP-PageNavi
– Caldera Forms (not necessary if you want to use Divi's Contact Form)
– Smash Balloon Instagram Feed (not necessary if you don't want this featured on the website)
Once the plugins are installed, it is helpful to use their built-in demo content tool to install the content and the design structure featured in their live demo.
After that, your site will be ready to go!
Divi Ecommerce Sale Price: $39 $27.30
4. Localbiz Pro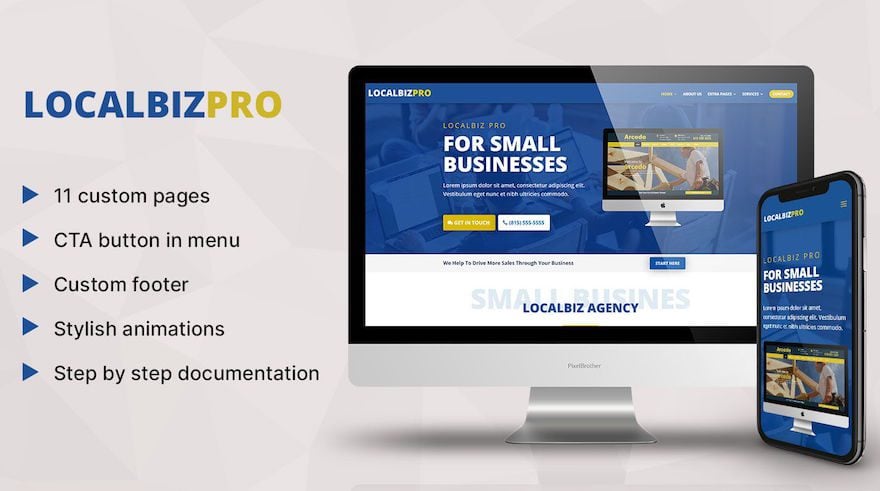 It is always good to have a layout pack specifically designed with small businesses in mind. The Localbiz Pro layout pack has all the essential design elements in place to help businesses get their site up and running quickly without being overwhelmed with all the other bells and whistles they may not need or care about.
What Makes It Essential: A Versatile Layout Pack Designed for Small Businesses
Localbiz Pro comes with four importable JSON files that can be used to design your Divi website from start to finish. The JSON files include the following:
– 11 Custom Page Layouts. These can be imported to the Divi Library and then added to new pages as needed.
– Custom Theme Builder Templates including a Global Footer, a Category Page Template, and a 404 page template.
– Theme Customizer Settings to update the default style of the Divi Theme.
– Divi Theme Options Settings
Localbiz Pro Sale Price: $7 $3.50
5. DiviMenus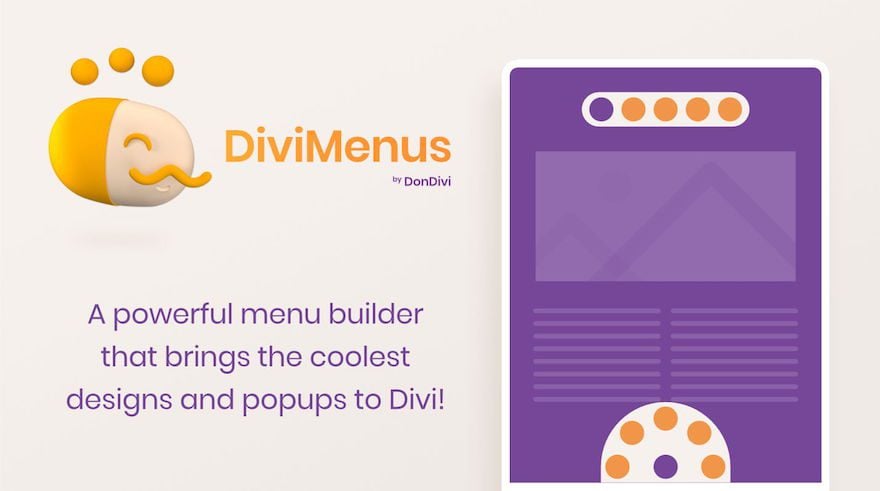 DiviMenus is a Divi plugin that adds a powerful DiviMenus Module to the Divi Builder. The DiviMenus Module is packed with easy-to-use features to create just about any kind of menu a small business would need and more. DiviMenus comes with multiple link types (URL, Popup, and Show) which open a ton of possible applications to your site. Use it to build mega menus, hide/show promotional offers, interactive timelines, clickable hotspots for products, and more. Members also have access to free pre-made layouts to get you started.
What Makes It Essential: Responsive Mega Menus and Clickable Product Features
Many small businesses would benefit from having an easy way to design custom menus without having to use custom code. A couple of key use cases include a mega menu and clickable product features.
With DiviMenus, you can get a custom (and responsive) mega menu for your site that can hide/show entire Divi layouts packed with any content imaginable. Using one of the pre-made layouts, you can get a mega menu added to the Global Header in seconds.
You can also shape menus in creative ways and have menu items popup any Divi element. This allows you to add more interactive elements to showcase your products or services.
DiviMenus Sale Price: $49 $19.60
6. Divi Blog Extras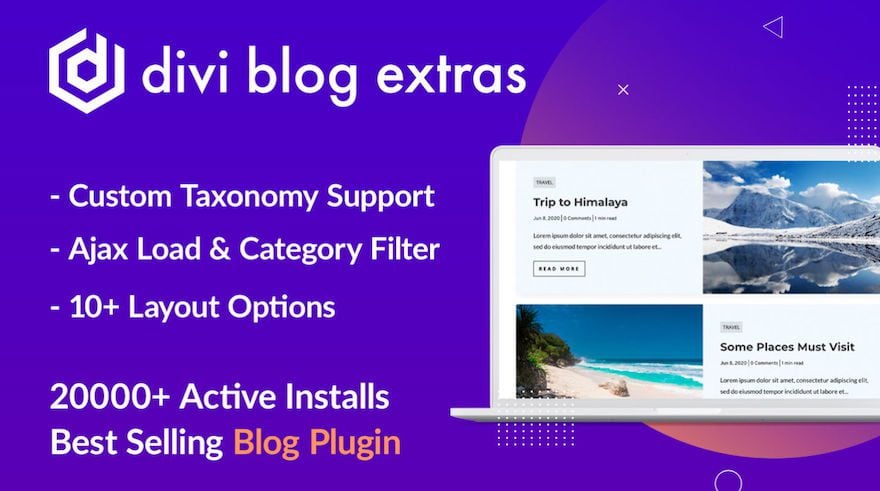 Divi Blog Extras is a powerful blog module that can be used with Divi's Theme Builder to create beautiful blog archive pages for your Divi site. This is perfect for small businesses that are looking to take their blogs to the next level in design and functionality without writing any code.
What Makes It Essential: Generate Uniquely Designed Blog Page Templates with Ease
Divi Blog Extras make it really easy to generate uniquely designed blog page templates using the Divi Theme Builder.
Once the plugin is installed, make your way to the Divi Theme Builder and create a new template assigned to the blog page for your site. Then click the body area of the template and select "Build Custom Body". Then select "Build from Scratch". Inside the template layout editor, create a new section with a one-column row and add the new Divi Blog Extras Module to the column. From the settings modal, click the design tab and find the Blog Layout option. There you can choose from a number of pre-made blog archive layouts including:
– Grid Extended
– Box Extended
– Full Width
– Block Extended
– Full Width Background
– Classic
– Masonry
Once saved, you will have a beautiful blog page for your site. You can also use these layouts for other archive page templates including tags pages, category pages, and author pages.
Divi Blog Extras Sale Price: $49 $24.50
7. Divi Events Calendar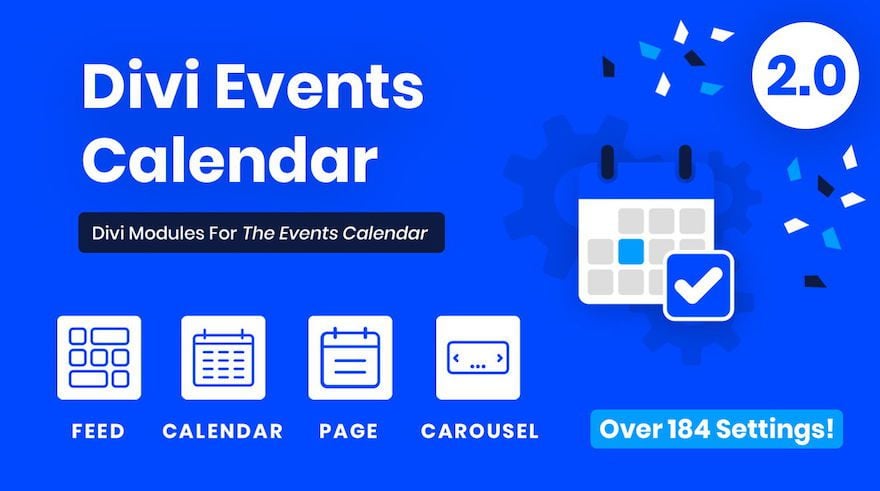 Divi Events Calendar, as the name suggests, combines The Events Calendar plugin with the power of Divi to bring you 4 custom Divi Event Modules you can use to style and showcase your event calendar, event feeds, event carousels, event page layouts, and event archive templates. All without using custom code.
What Makes It Essential: Styling Event Page Templates with Divi
Divi Events Calendar works much like Divi's built-in Woo Modules in the way each events calendar module can generate dynamic content from your Events and style them using the module settings. This allows you to use Divi Events Calendar modules on pages or templates.
For small businesses that want to manage and showcase events in style, you can take advantage of Divi Events Calendar to design global page templates both for the main event archive page template and for your individual event page template.
Add a Calendar to Any Page
Create a Dynamic Event Page Template
Create a Dynamic Event Archive Page Template
Pee-Aye Creative also provides free bonus demo layouts you can use to jumpstart the design of your Divi Events Calendar modules.
Divi Events Calendar Sale Price: $35 $24.50
8. Divi Testimonial Extender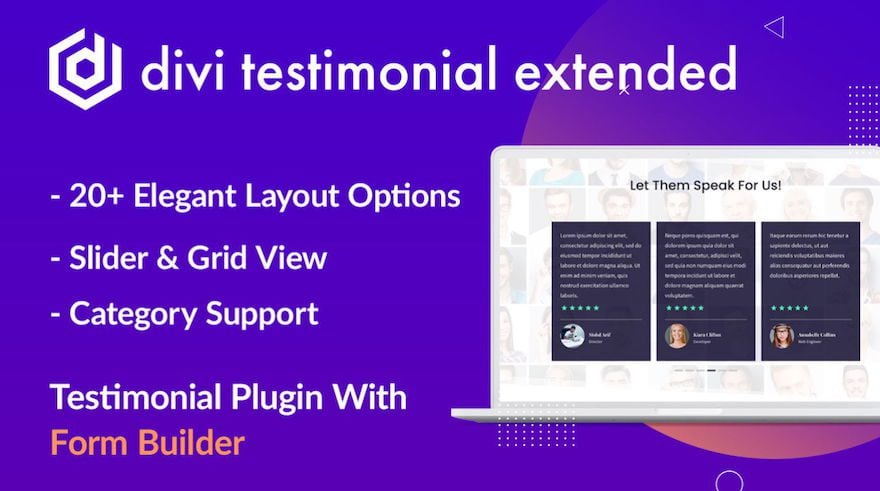 Divi Testimonial Extender fulfills a crucial role for any small business by providing a simple way to receive manage and showcase testimonials for your Divi Website. The plugin comes with a custom Testimonial Form Module that will capture new testimonials from users as well as a custom Testimonial Extender Module that features multiple pre-made grid layouts and slider animations. Both modules can be styled using all of the wonderful built-in Divi design settings as well.
What Makes It Essential: Capture and Showcase Stunning Testimonials for Your Business
With Divi Testimonial Extender, you can easily customize the layout of your testimonials with a few clicks.
And you can even add and design a testimonial form that will capture new testimonials and star ratings.
Free Layouts are also available to jumpstart the design.
Divi Testimonial Extender Sale Price: $49 $24.50
Don't Miss Your Chance to Unlock ALL of Our Cyber Monday Perks

All existing Lifetime Members and anyone who takes advantage of this year's Black Friday and Cyber Monday Sale are eligible to receive exclusive freebies and perks for the duration of the sale. These are available from within the Elegant Themes Members Area, under the Cyber Monday Perks tab.
In addition to the free theme builder packs, headers, footers, and woocommerce product layouts we provided ourselves, we've also partnered with 25 leading Divi creators to provide even bigger deals on their products than they're doing on their own websites.
How to Claim your Cyber Monday Perks:
For New Members
If you don't have an Elegant Themes Membership yet, you can get these Theme Builder Packs (plus a lot more) by clicking the button below to claim the Cyber Monday deal. Once you are a member, you will have access to the theme builder pack downloads in your members area.
Claim the Deal Before It Disappears!
For Existing Members with Yearly Subscription
If you already have a yearly subscription to Elegant Themes, you can gain access to these free Theme Builder packs (plus a lot more) when you upgrade to a lifetime subscription during the Cyber Monday deal. Click the button below to claim the deal. Once you are a lifetime member, you will have access to the theme builder pack downloads in your members area.
Claim the Deal Before It Disappears!
For Those who Want to Renew Their Membership
If your membership has expired and/or you want to renew your membership, you can gain access to these free Theme Builder Packs (plus a lot more) when you renew your membership during the Cyber Monday deal. Click the button below to claim the deal.
Claim the Deal Before It Disappears!
For Lifetime Members
If you are already a Lifetime Member, you already have access to these exclusive Theme Builder packs! All you need to do is log in to your members area to find the download links for each of the packs.
Go to the Cyber Monday Perks Page in the Members Area!
See You in Our Next Cyber Monday Perks Post!
For the duration of the Cyber Monday sale you can expect regular perk posts highlighting something else that's AMAZING in our Divi Marketplace and also just so happens to be on sale. See you next time!