This year marks the very first time we're hosting our biggest sale of the year–our 25% off Black Friday and Cyber Monday Sale–with the brand new Divi Marketplace open for business. Sure, we've had community partners provide freebies and discounts in the past, but until this year we've never been in such a great position to directly boost the visibility and bottom lines of our amazing community of third party Divi creators.
To that end, we're excited to share with you a new series of blog posts and videos showcasing the amazing added value our community-powered marketplace products can provide. Each post will feature a Divi Marketplace product (or several) that solve real problems and greatly expand the technical and design prowess of those who use them. What's even better, all of these products are on sale right now through our exclusive Cyber Monday Perks page and limited time bundle deals.
In this post we're going to highlight our Ultimate Divi Cyber Monday Utility Bundle, which contains everything you need in a solid "Divi Utility Kit." It includes 9 separate extensions containing hundreds if not thousands of little features that will make your life easier, save you loads of time, and supercharge your Divi skills. From adding overlays to video and parallax backgrounds to adding modules inside modules to popup creation and so much more.
Let's dive in!
Get the Ultimate "Divi Utility Kit" from the Marketplace
Get the Ultimate Divi Cyber Monday Utility Bundle $293.99 $147
1. Brain ConKit for Divi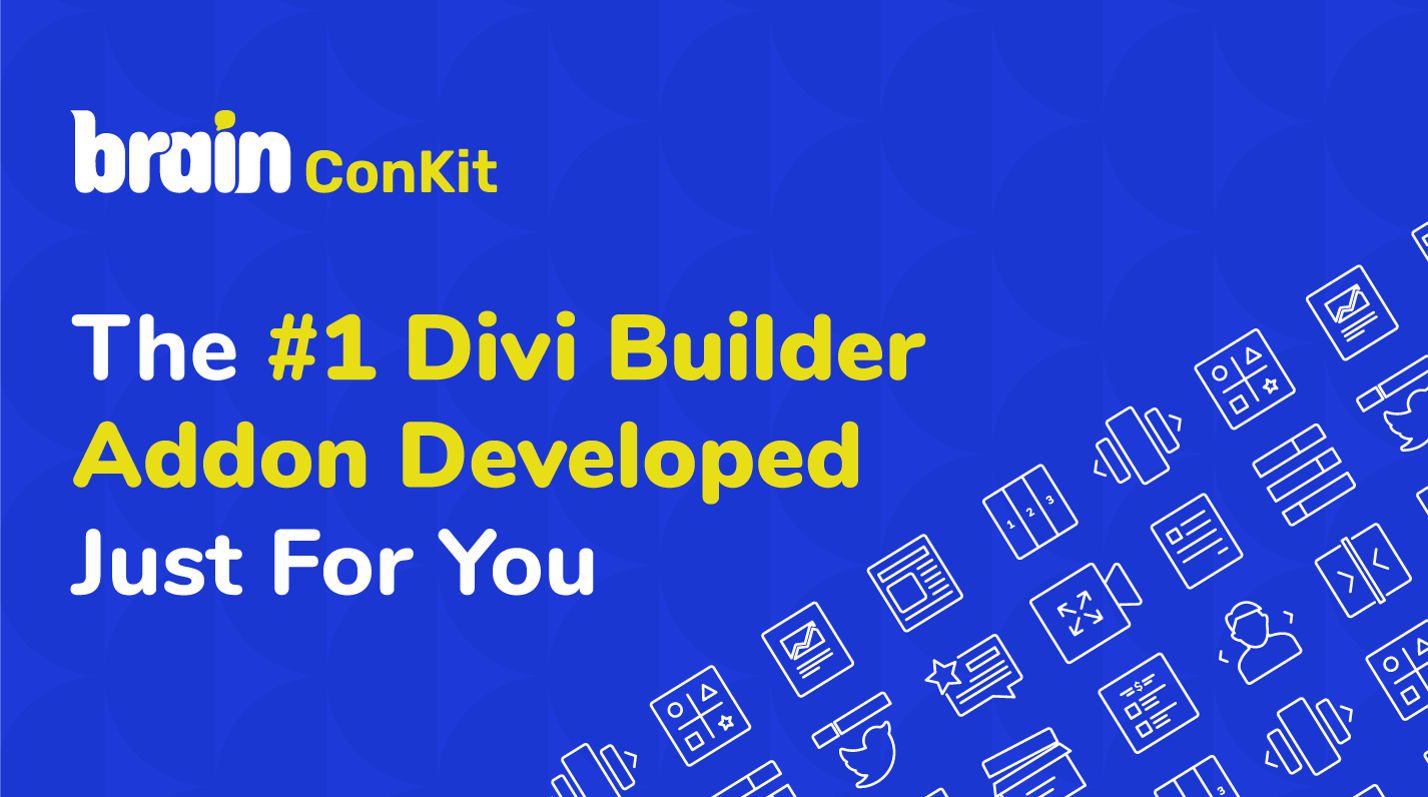 Brain ConKit by DiviPeople is a growing collection of custom modules that make pulling off advanced design elements even easier than doing them natively in Divi. Adding unique design assets and settings that streamline the creation of decorative dividers, complex heading text, team member sections, content toggles, timelines, duel buttons, and so much more.
What Makes it Special: Image Comparison!
With a plugin like this, there's a ton of little settings and design shortcuts that make it special. However, a favorite of ours and a feature no other plugin in this bundle offers is Image Comparison. As you can see above, this feature is visually striking and useful in any situation that can be presented in the "before and after" format. And of course, no coding required!
Individual Product Price: $39 $29.95
2. Divi Responsive Helper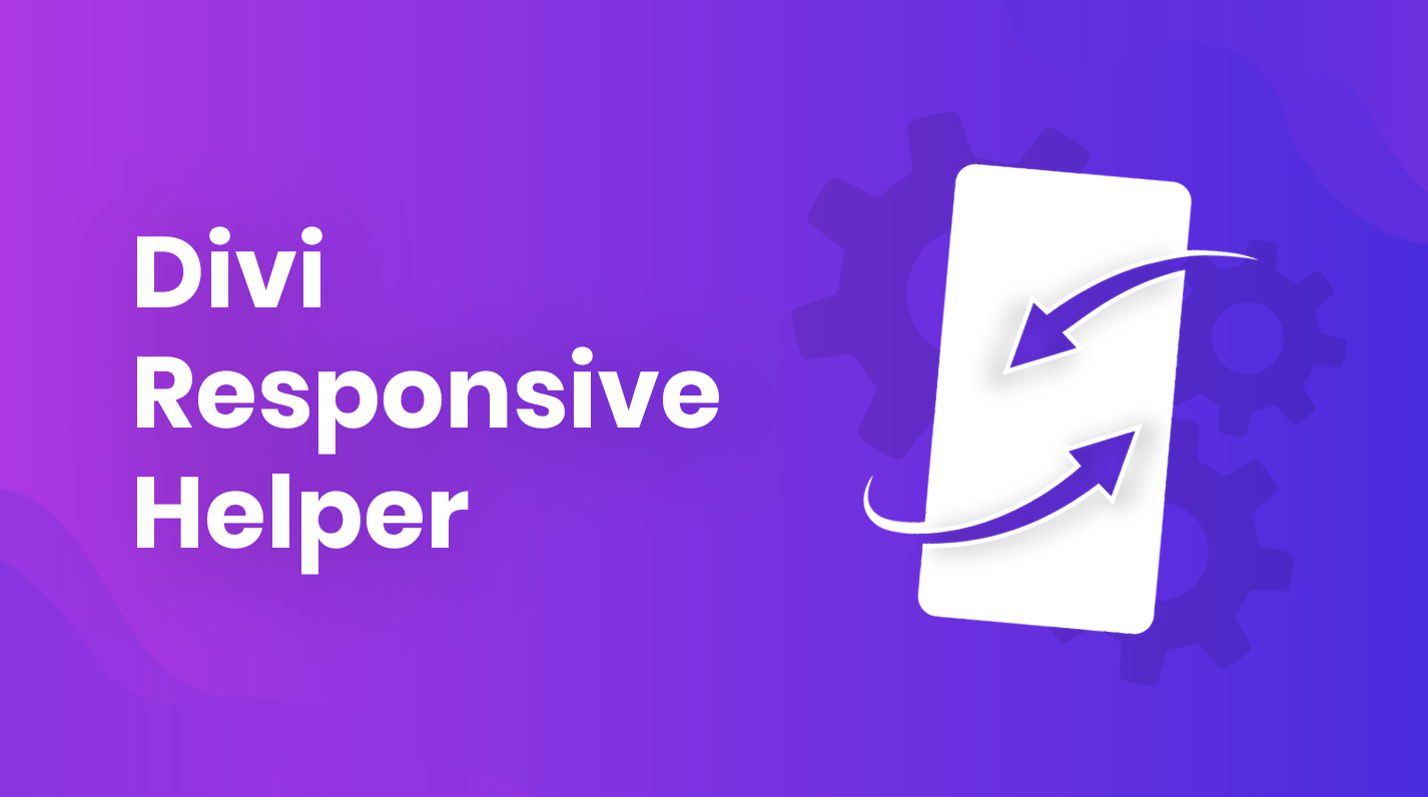 Divi Responsive Helper by Pee-Aye Creative is a Divi extension that brings a more precise level of responsive web design to Divi users. Its features are designed to shave hours off of every build and relegate common design hassles–like custom column stacking–to just an other click of the mouse; as opposed to time-consuming custom code.
What Makes it Special: It's a Super Time-Saver for Mobile Design
When's the last time fixing a column stacking issue was that easy!? How about previewing your Divi design in up to nine different mobile presets as you can see below?
These are just two of the super-useful, super-expedient features that Divi Responsive Helper brings to bear. And they're constantly developing new ones too! Their pipeline includes the ability to change Divi's default Desktop, Tablet, and Phone breakpoints as well as mobile pinch and zoom, different logos for mobile devices, and a lot more!
Individual Product Price: $25 $18.75
3. Hide & Show PRO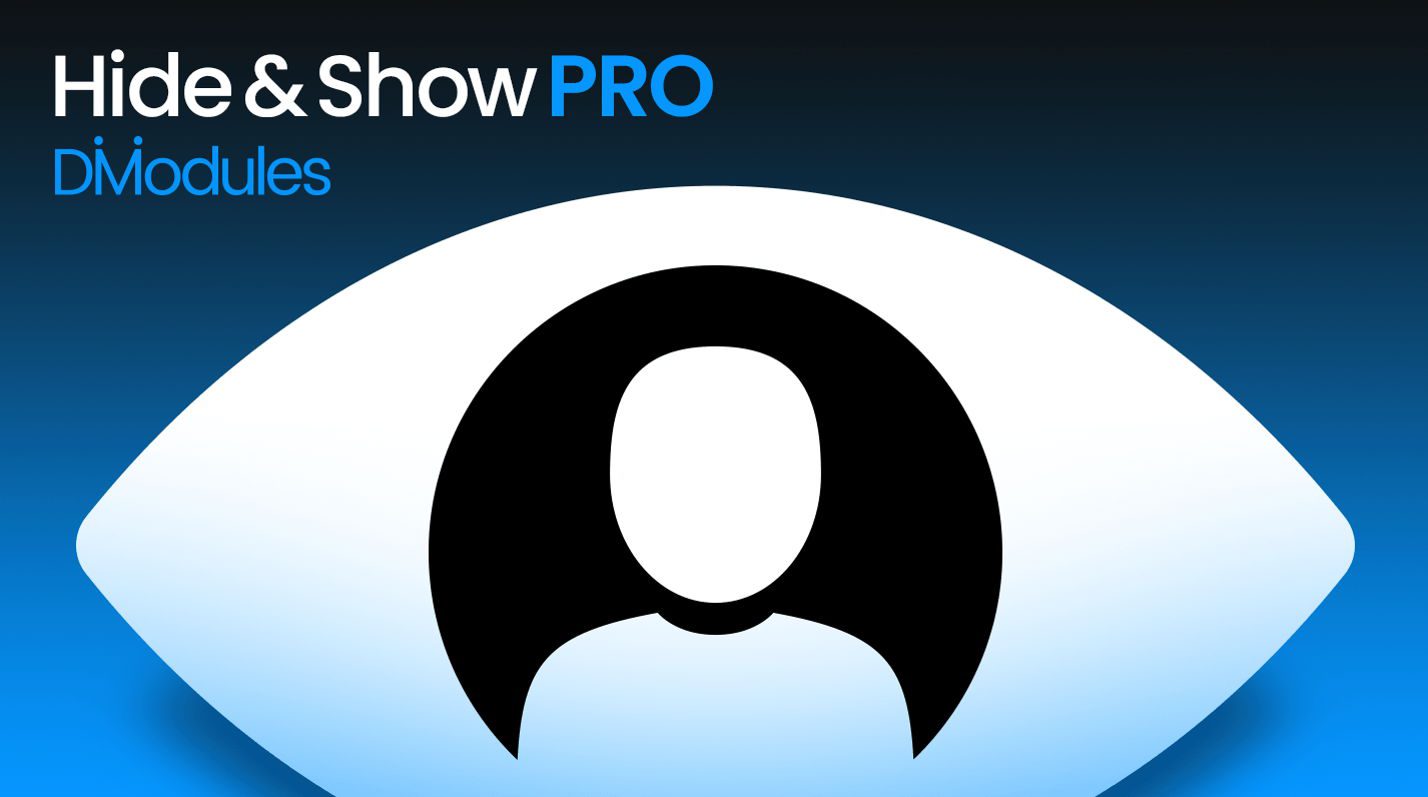 Hide & Show PRO by Divi-Modules is an extension that adds visibility presets for every module, row, and section in Divi. This means that you can create content that is only visible to specific login statuses, user groups, or at certain times–be that time of day or time of the year. The possibilities for how you use this tool to customize the browsing experience on your website are, in many ways, only limited by your imagination.
What Makes it Special: Allows You to Create Custom Browsing Experiences
As a simple example of this powerful functionality, check out how easy it is to display one message to logged in users and another message to logged out users. This kind of targeted messaging is sure to boost engagement!
Individual Product Price: $45 $33.75
4. Divi Areas Pro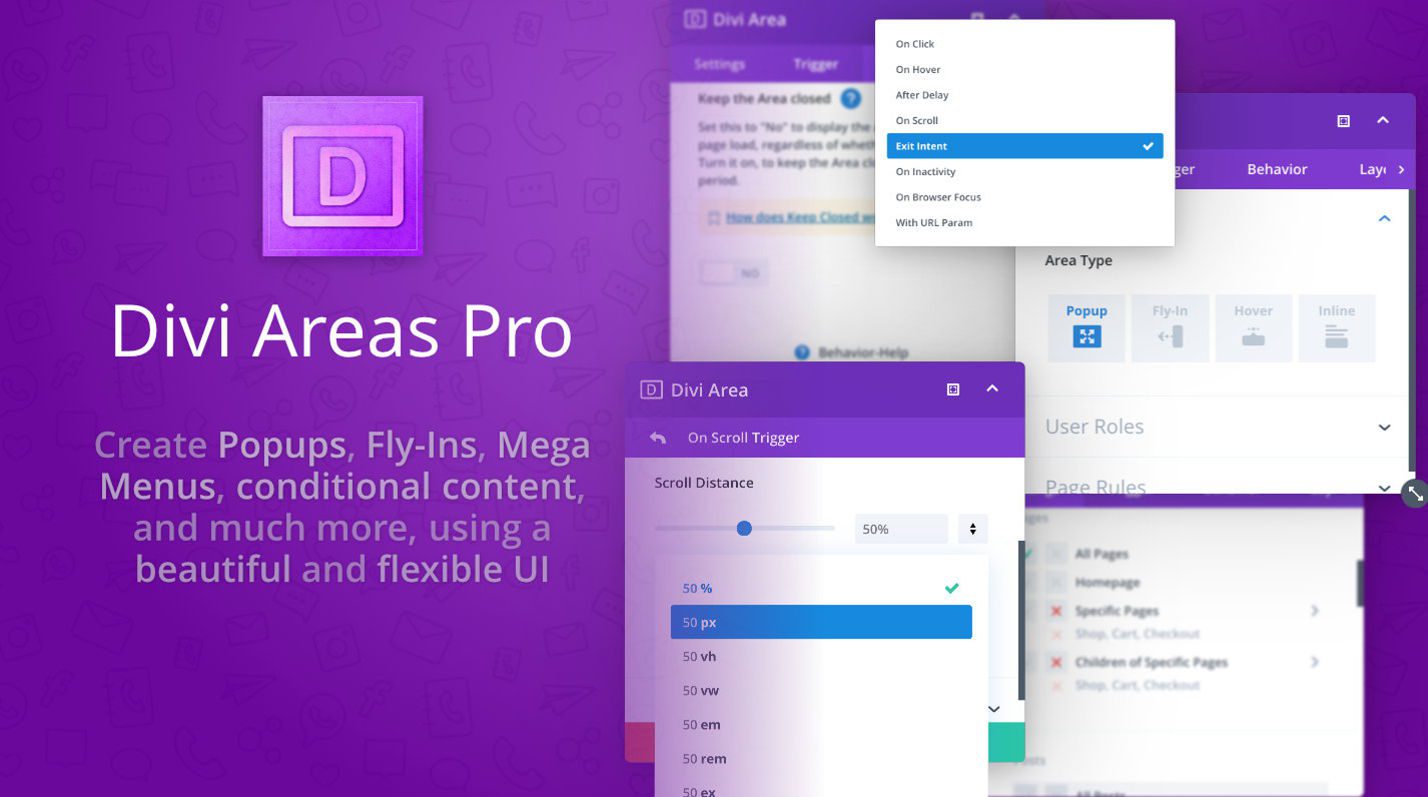 Divi Areas Pro by Divimode is an extension that empowers you to create ultra-engaging interactive content. Popups, Fly-ins, Mega Menus, Tooltips, dynamic inline areas and more are all now possible with just a few clicks. All from a user interface that seamlessly blends with Divi's own.
What Makes it Special: Interactivity!
When a user's own behavior triggers a unique content experience, engagement shoots through the roof. Divi Areas Pro not only makes this type of content possible, it makes it easy! Just see how easy it is to add an exit-intent popup to a homepage above!
Individual Product Price: $47 $35.25
5. Divi Under Construction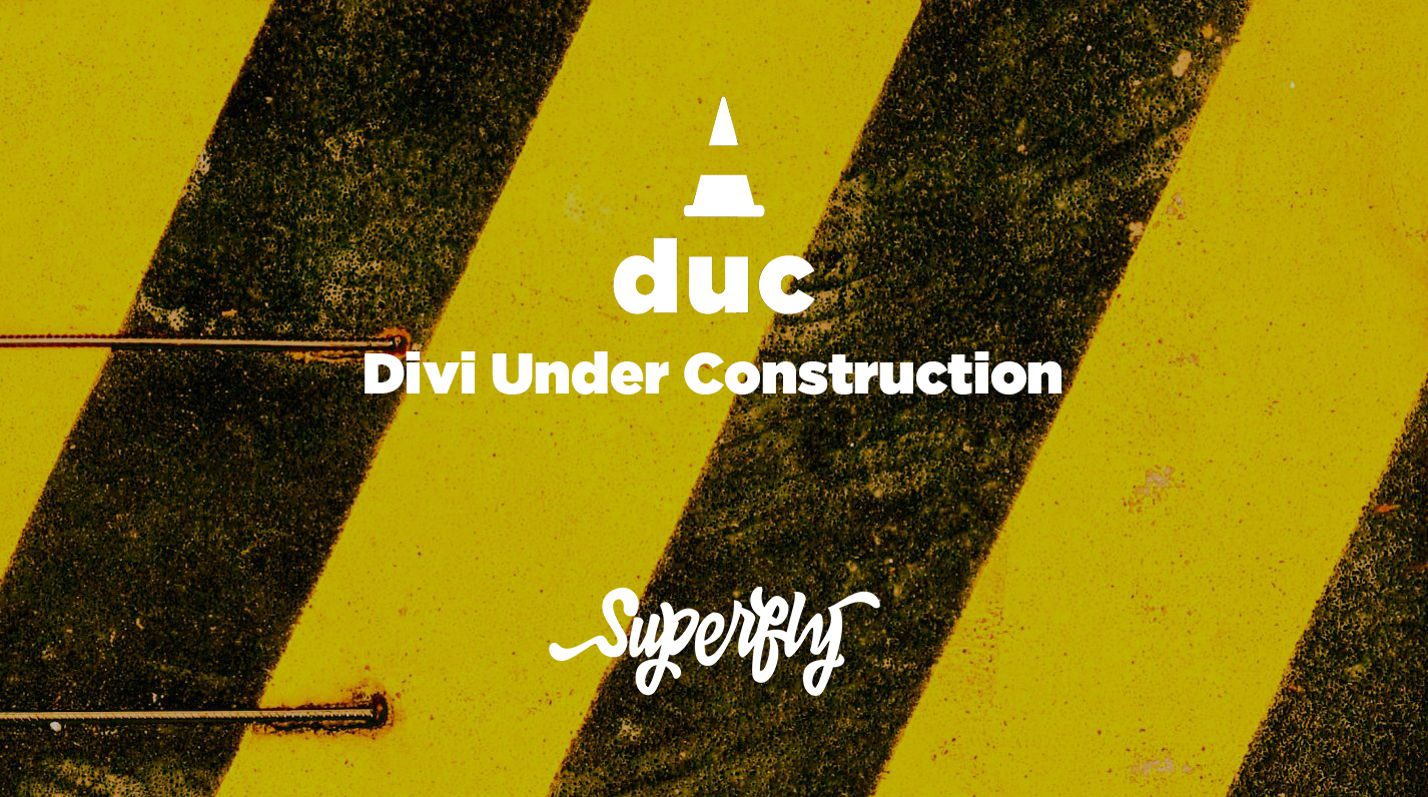 We've all been there. We're working on a new Divi website and we want to get it up on our host to work out any kinks before launching. We install a standard "under construction" or "maintenance" plugin for WordPress and assume we're all set. The only problem is that when we go to build our splash page we can't use the Divi Builder! That's where Divi Construction by Divi Extended comes into play to make your life a whole lot easier.
What Makes it Special: It Brings Divi to your Maintenance Page!
As you can tell from the example above, this plugin makes setting up a custom coming soon or maintenance page on your Divi website dead simple. And best of all, you get to use any page you want–including pages built with the Divi Builder–as your splash page! That's a feature every Divi user should want in their utility kit.
Individual Product Price: $9 $6.75
6. Divi Content Toggle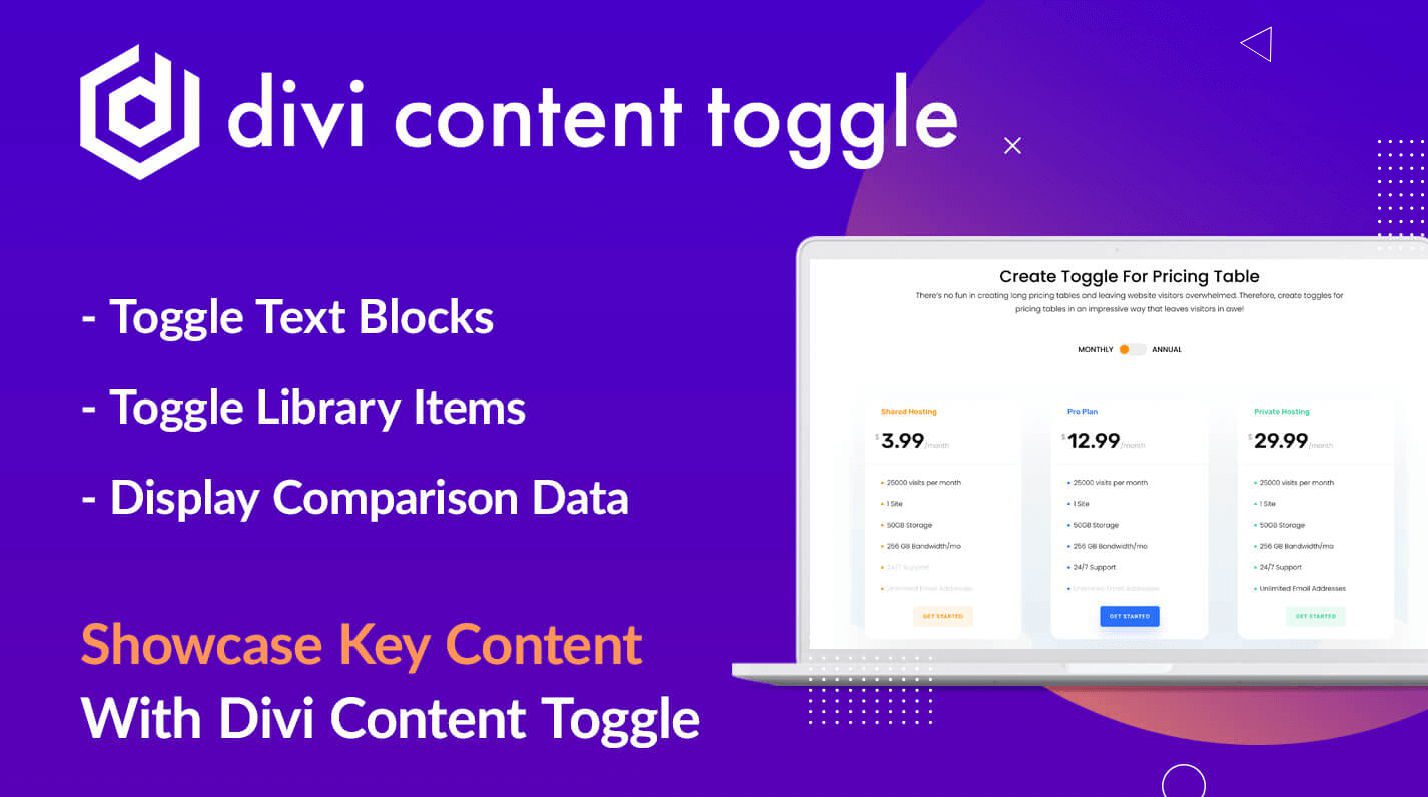 Divi Content Toggle by Divi Extended allows you to easily create toggles that seamlessly transition users between two content options. This is ideal for pricing tables or any kind of comparison based content.
What Makes it Special: It's a Niche Client Dream Tool
If you're creating websites for clients who have two tiers of subscription options (such as annual and lifetime options) then this plugin is going to save you so much time. Is this possible with Divi and custom code? Yes, of course. Does this plugin make it significantly faster and easier to do? 1,000% yes!
Individual Product Price: $19 $11.40
7. Divi Background Plus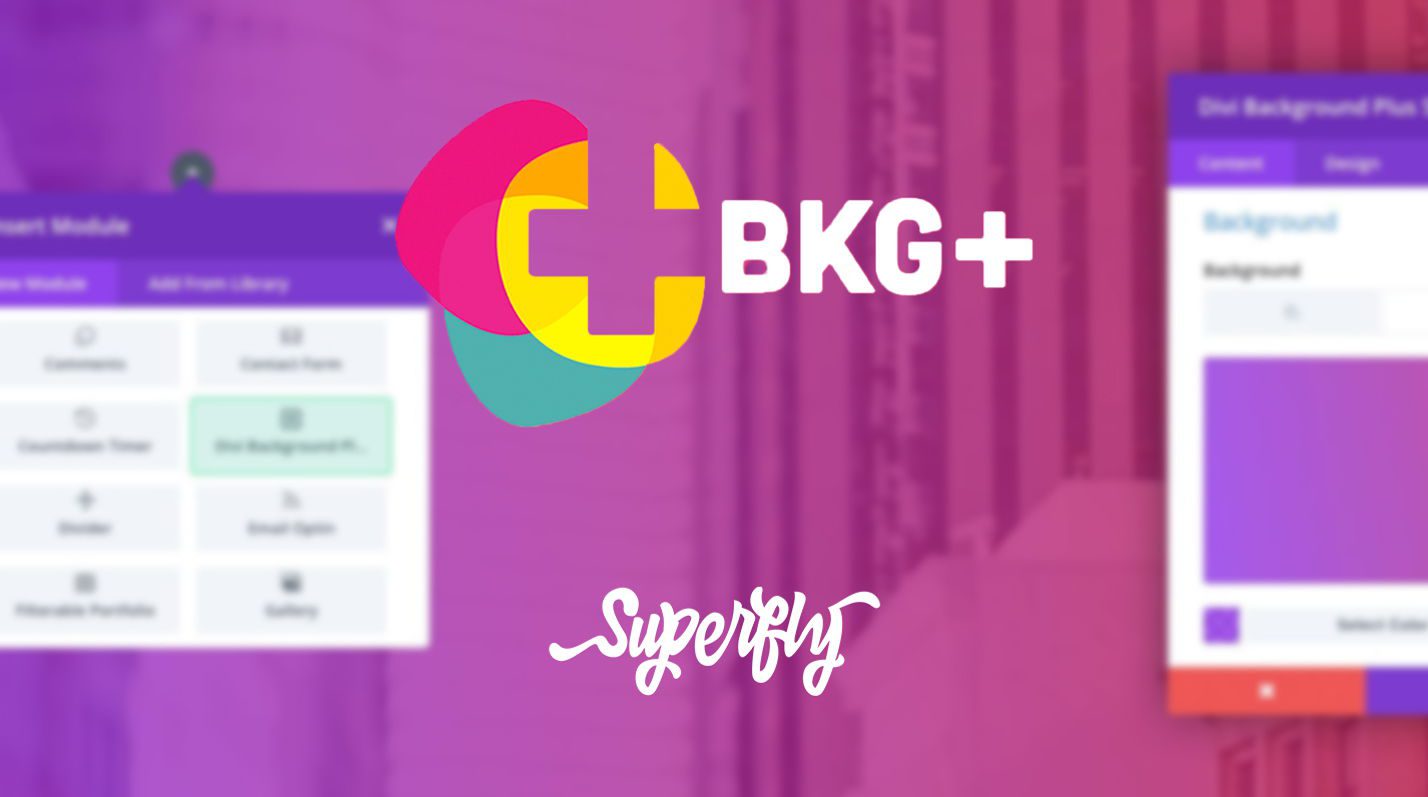 Divi Background Plus by Superfly is one of those super simple plugins that just about everyone likely wants, even if they don't know it yet. By default Divi does not allow background overlays and gradients when using parallax images or videos. Unless you wanted to create that effect with custom CSS. This extension, however, adds a module to Divi that fills this small but impactful feature gap. The results speak for themselves.
What Makes it Special: Adds Zero Effort Show-stopping Visuals to your Divi Website
Make your hero sections truly epic with this subtle but satisfying visual effect!
Individual Product Price: $9 $6.75
8. Divi Toolbox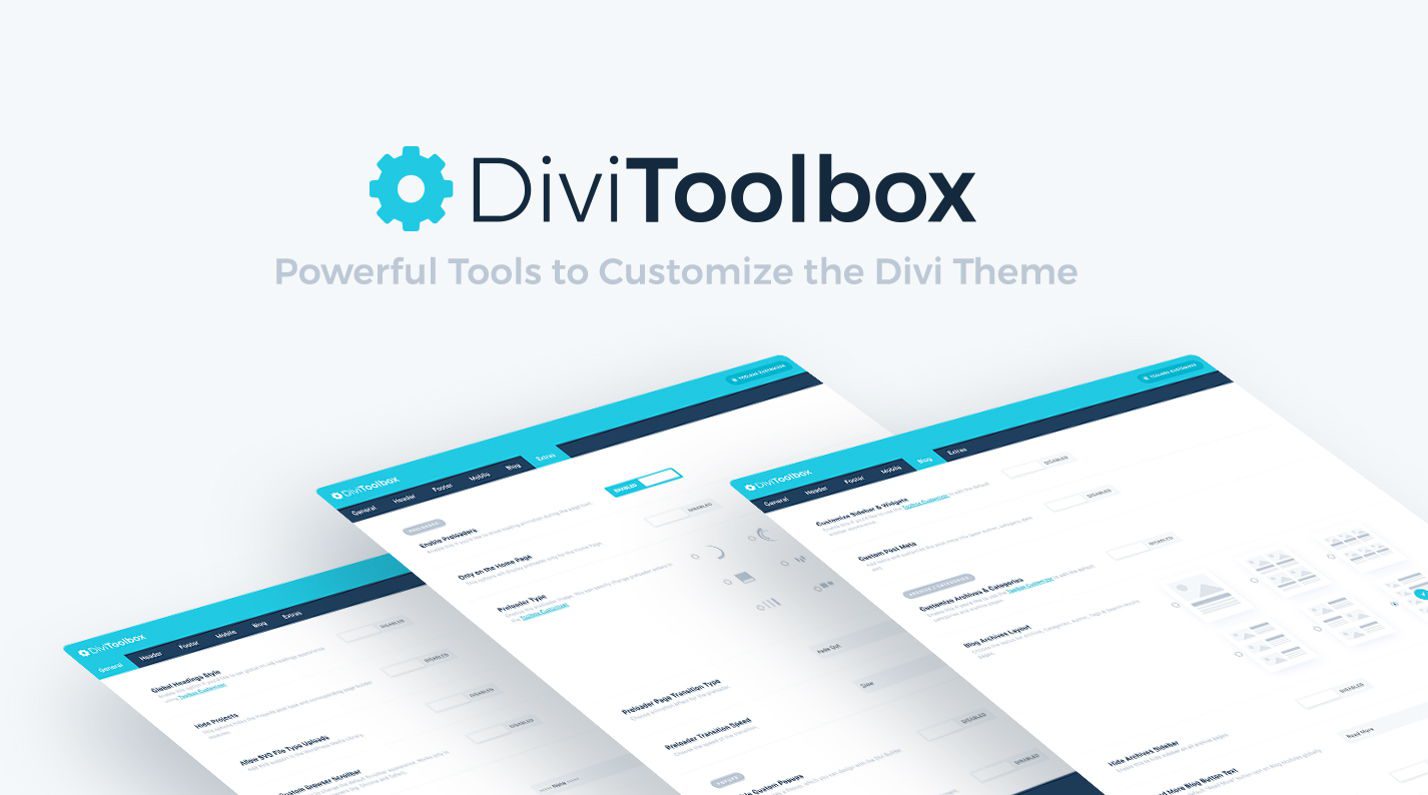 Divi Toolbox by Divi Lover is another massive time saver with lots of little features that go a long way towards saving you time and energy on just about every Divi project. This extension allows you to make site-wide changes quickly, customize your WP Admin to get the most out of the Projects post type, use SVG file type uploads, and so much more!
What Makes it Special: Supercharge your Divi Theme Customizer!
Many of Divi Toolbox's features are housed in the Divi Theme Customizer, making it easy to add loads of useful flourishes to your website from a familiar place. Including, but definitely not limited to, login page customizations!
Individual Product Price: $89 $66.75
9. Divi Shortcodes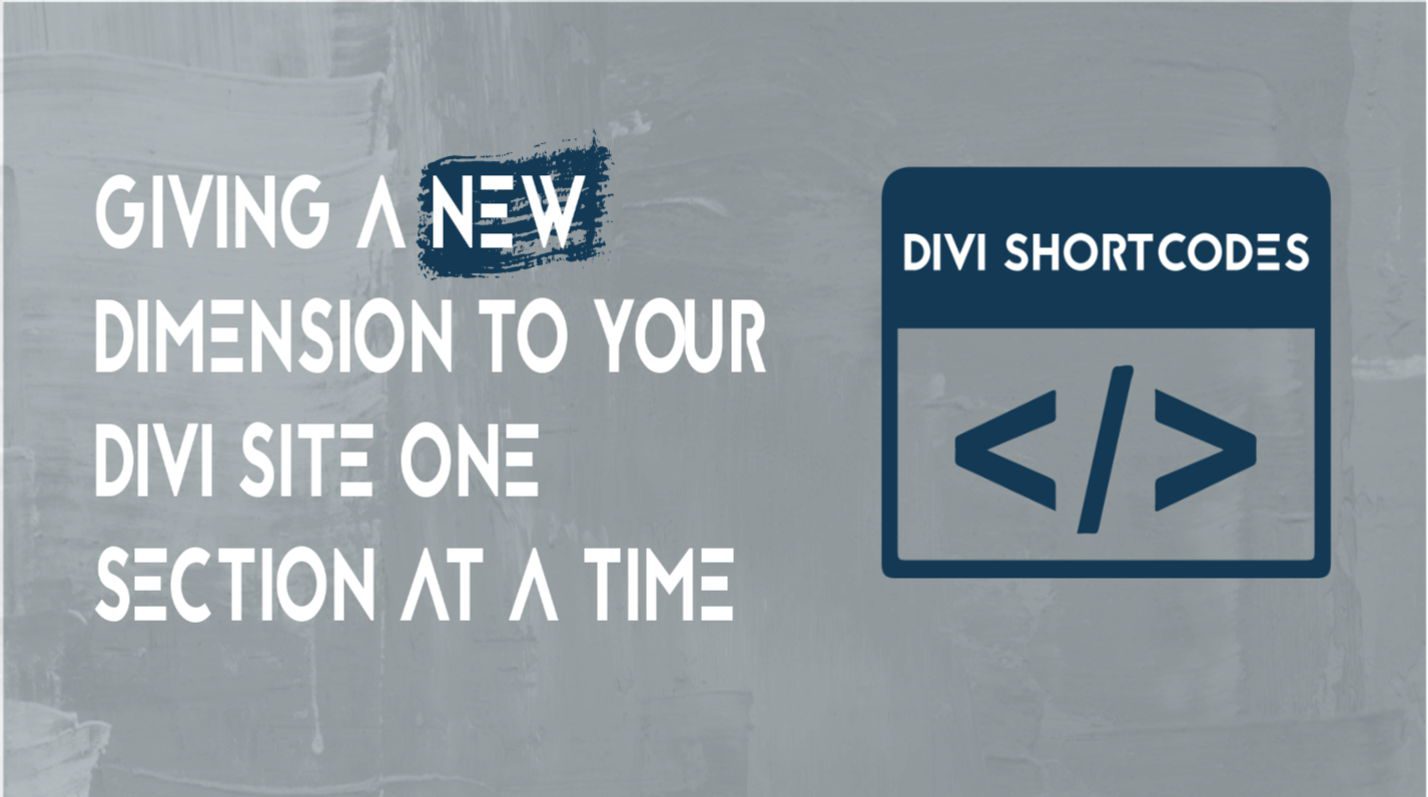 Divi Shortcodes by Simp Marketing tackles a common request that unlocks endless possibilities: nesting modules, sections, and layouts inside of each other. With this plugin installed everything item in your Divi Library is assigned a shortcode that you can copy and paste into any text or code area in Divi.
What Makes it Special: Endless Possibilities!
To demonstrate how Divi Shortcodes might open up some novel design possibilities, see how in the example above a whole layout is embedded inside of a single toggle on a toggle module!
Individual Product Price: $11.99 $8.99
Don't Miss Your Chance to Unlock ALL of Our Cyber Monday Perks

All existing Lifetime Members and anyone who takes advantage of this year's Black Friday and Cyber Monday Sale are eligible to receive exclusive freebies and perks for the duration of the sale. These are available from within the Elegant Themes Members Area, under the Cyber Monday Perks tab.
In addition to the free theme builder packs, headers, footers, and woocommerce product layouts we provided ourselves, we've also partnered with 25 leading Divi creators to provide even bigger deals on their products than they're doing on their own websites.
How to Claim your Cyber Monday Perks:
For New Members
If you don't have an Elegant Themes Membership yet, you can get these Theme Builder Packs (plus a lot more) by clicking the button below to claim the Cyber Monday deal. Once you are a member, you will have access to the theme builder pack downloads in your members area.
Claim the Deal Before It Disappears!
For Existing Members with Yearly Subscription
If you already have a yearly subscription to Elegant Themes, you can gain access to these free Theme Builder packs (plus a lot more) when you upgrade to a lifetime subscription during the Cyber Monday deal. Click the button below to claim the deal. Once you are a lifetime member, you will have access to the theme builder pack downloads in your members area.
Claim the Deal Before It Disappears!
For Those who Want to Renew Their Membership
If your membership has expired and/or you want to renew your membership, you can gain access to these free Theme Builder Packs (plus a lot more) when you renew your membership during the Cyber Monday deal. Click the button below to claim the deal.
Claim the Deal Before It Disappears!
For Lifetime Members
If you are already a Lifetime Member, you already have access to these exclusive Theme Builder packs! All you need to do is log in to your members area to find the download links for each of the packs.
Go to the Cyber Monday Perks Page in the Members Area!
See You in Our Next Cyber Monday Perks Post!
For the duration of the Cyber Monday sale you can expect regular perk posts highlighting something else that's AMAZING in our Divi Marketplace and also just so happens to be on sale. See you next time!