Otter.ai is an artificial intelligence (AI) program designed to record, extract, and transcribe audio in real time. It's great for speech-to-text dictation, recording meetings, and generating transcripts of audio and video recordings. Otter voice notes are a useful solution for individuals, businesses of all sizes, students, and teachers.
Want to know more about how Otter voice notes work?
Let's jump in!
How Otter Works
Otter voice notes use AI to transcribe audio in real time. When a user records directly into Otter's voice recorder, transcription begins immediately. Alternatively, a user may upload audio or video files and Otter will generate transcripts.
When you transcribe audio with Otter, each speaker may be labeled in the transcript. Users can assign speaker names in the file once, and the program will intuitively identify that speaker throughout the rest of the transcript. This makes it especially easy for keeping up with who's talking in meeting notes and interviews that involve two or more speakers.
Otter has a limited basic service that includes 600 minutes of transcribed audio per month and up to three file uploads. Its free option offers playback in 0.5x, 1x, and 2x speeds. Otter voice notes generate summary keywords for each transcript, as well as a word cloud.
Users can edit transcripts right inside Otter's interface, make highlights, and search transcripts by keyword. Transcripts are shareable for group collaboration and may be organized in folders right on the Otter.ai platform.
Otter voice notes will host your transcripts on its site, but you can also export your audio recordings and transcriptions. You can export your transcript to a TXT file or copy it to your clipboard.
When you export your transcript, you can choose whether to include the speakers' names and timestamps. If you have consecutive segments with the same speaker, you can merge those. You may also export a transcript as a monologue.
In addition, Otter allows you to sync your Zoom Cloud recorded meetings. This is particularly useful these days, when so many more people and teams are using Zoom to meet.
Otter voice notes are available for your internet browser. Additionally, mobile apps are available for iOS and Android.
Otter Premium Features
Individual users can pay $8.33 per month for access to Otter's premium features, which include unlimited imports of audio and video files. You have the option of importing and exporting files and transcripts in bulk, and your support tickets get top priority with customer service.
Otter voice notes premium membership offers more playback speeds, Dropbox sync, and custom vocabulary. Transcript export formats include TXT, PDF, DOCX, SRT, and the ability to copy straight to your clipboard.
Who is Otter Voice Notes For?
Otter voice notes are available for individuals, teams, educators, and students. Let's take a look at the ways each group can put the AI to use.
Individuals
Otter has many uses for individuals beyond recording and transcribing meetings. You can also use Otter voice notes to:
Dictate rough drafts of content to build out later
Transcribe podcast episodes, speeches, interviews, and videos for repurposing content
Record and transcribe interviews
I use Otter in my own business, particularly for content repurposing and client work. In the past, I manually took notes during kick-off calls with copywriting clients. Now, more often than not, I'll record our calls and transcribe them. It allows me to be more present with the client, and eliminates the need to type while we speak.
If you're looking to expand your content marketing–and podcasts or vlogs are your cornerstone–you can use Otter to generate transcripts. They can then be turned into blog posts or social media content.
Teams
Otter provides a Teams option for $20 per month. Your work team can collaborate on the Otter platform or integrate Otter voice notes with Zoom, Dropbox, or Microsoft. The teams version offers all the features of the premium program, plus a few extras like centralized billing and user management.
Educators and Students
Otter voice notes are a fantastic tool for teachers and students, especially since distance learning continues to grow more popular. The program is particularly well suited to high school and college students.
If you're a student, you can use Otter to:
Transcribe interviews you're conducting for research
Record and transcribe group study notes, projects, and brainstorming sessions
Take extensive notes during lectures
Transcribe audio in the public domain for educational purposes
For students who need assistive technology, Otter is a great, more accessible option for note-taking. It's also good for students who have trouble keeping up with note-taking and listening to lectures simultaneously, or for students who need to miss in-person classes.
How to Use Otter Voice Notes
Otter's interface is fairly straightforward and easy to navigate. When you login to your account, the home screen displays a list of your most recent transcripts. There are also options to record audio straight into the interface, or to import a file.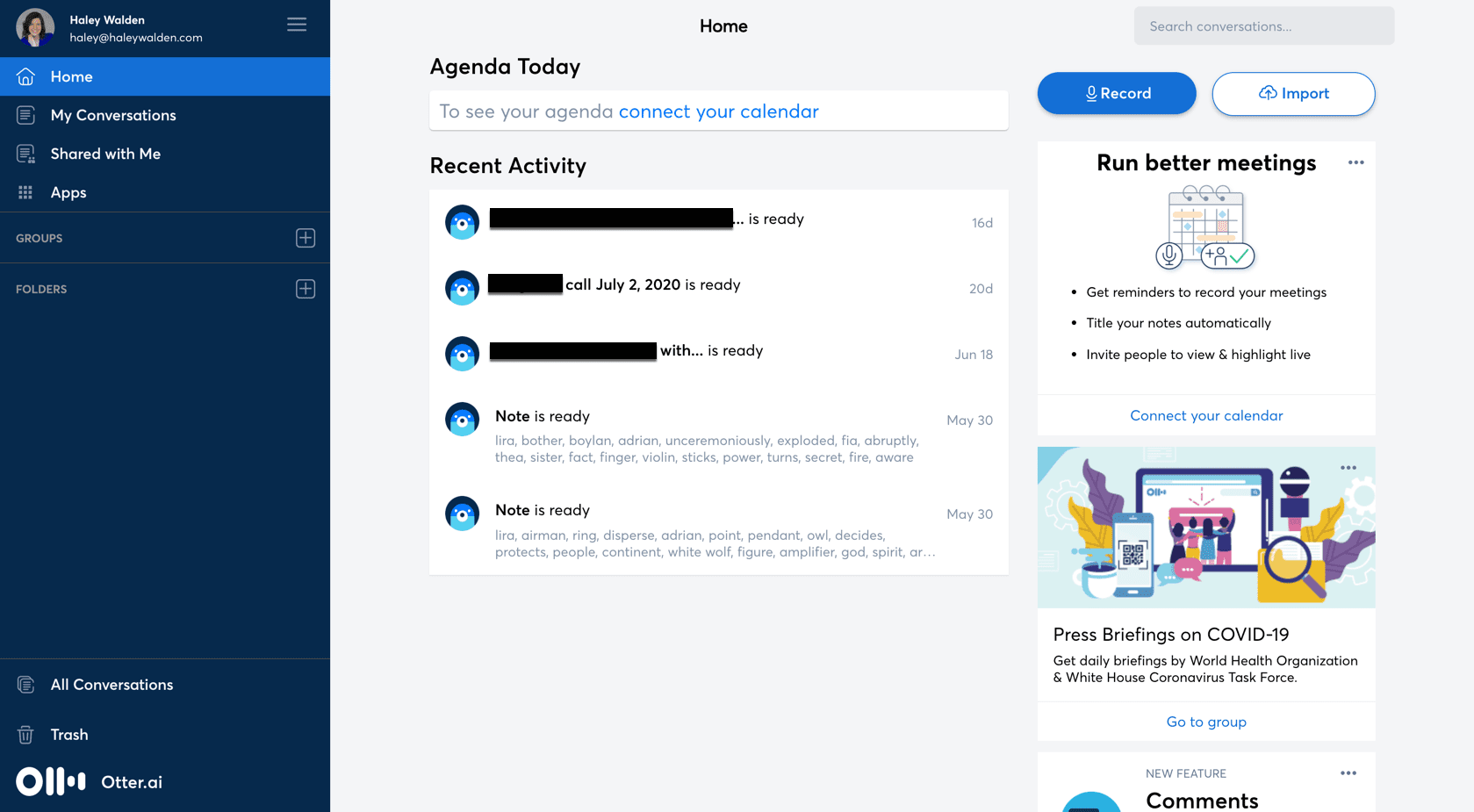 If you want to record audio, click the Record button. Recording begins automatically, so just speak to your device and it will transcribe your words in real time. Then, the app will process the transcription for a more accurate file.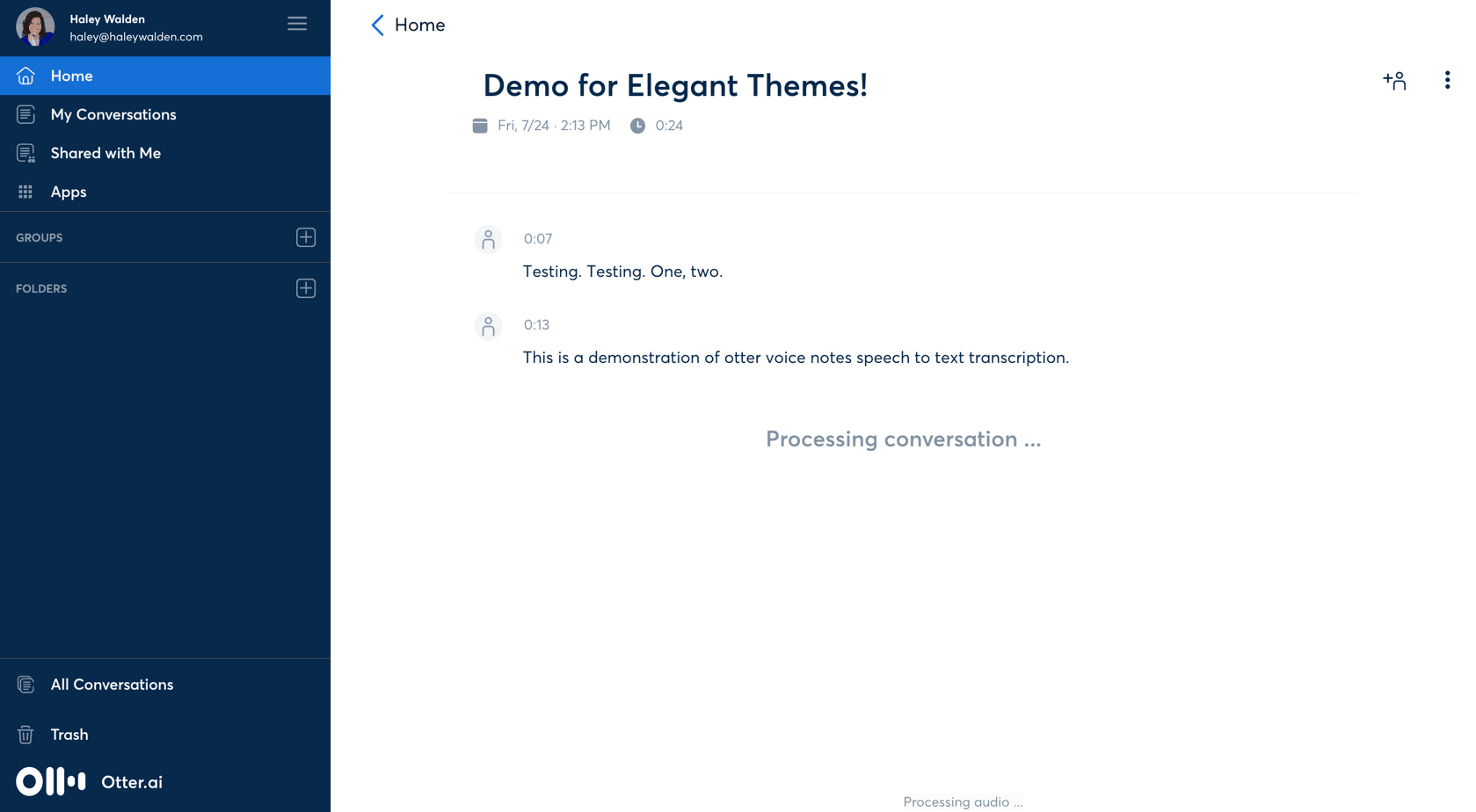 To export text or audio, navigate to the icon with three dots in the upper right corner. When you click, you'll get a drop-down menu with options to export your text or your audio.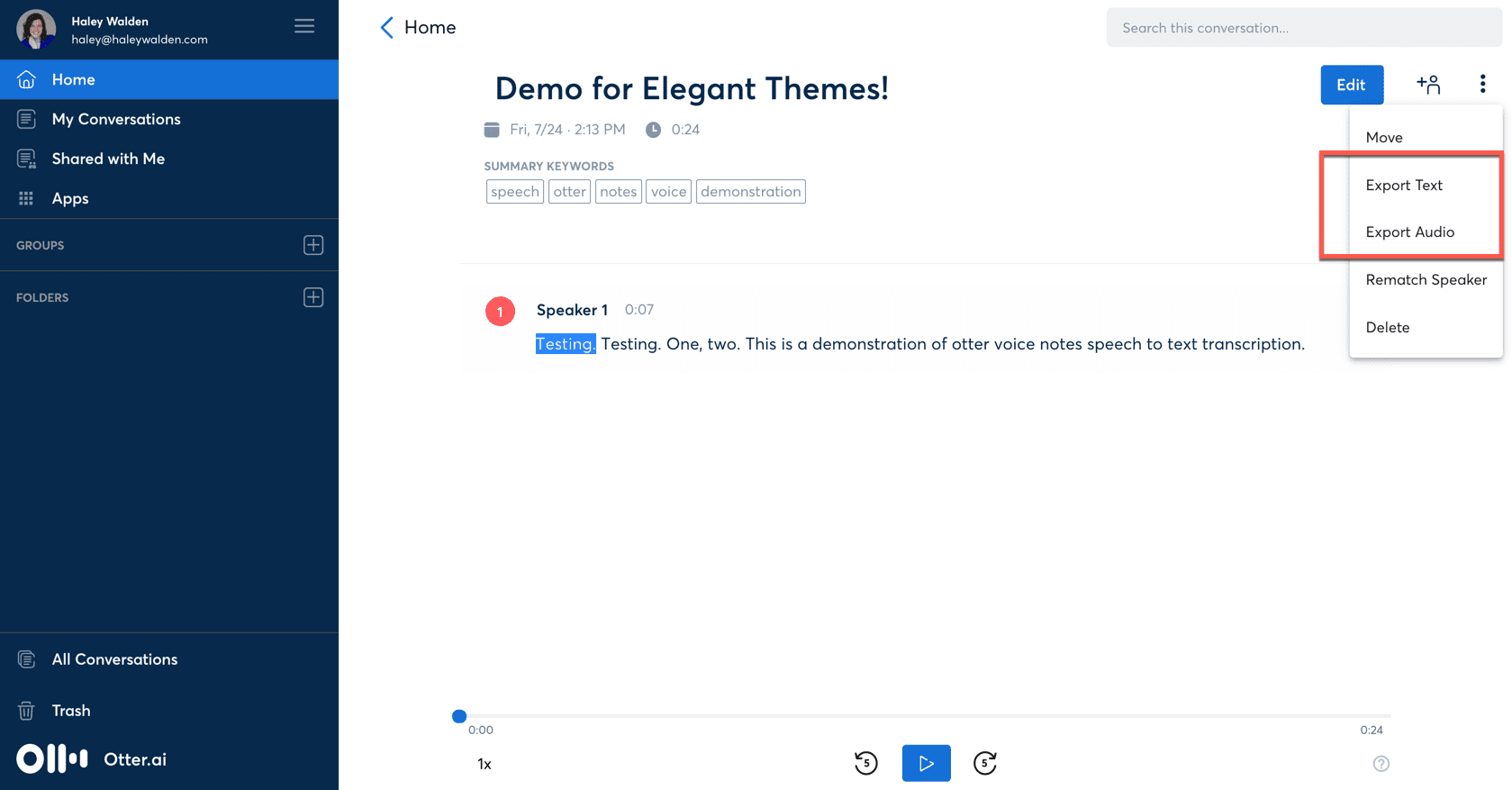 Next, choose which format you want to export to.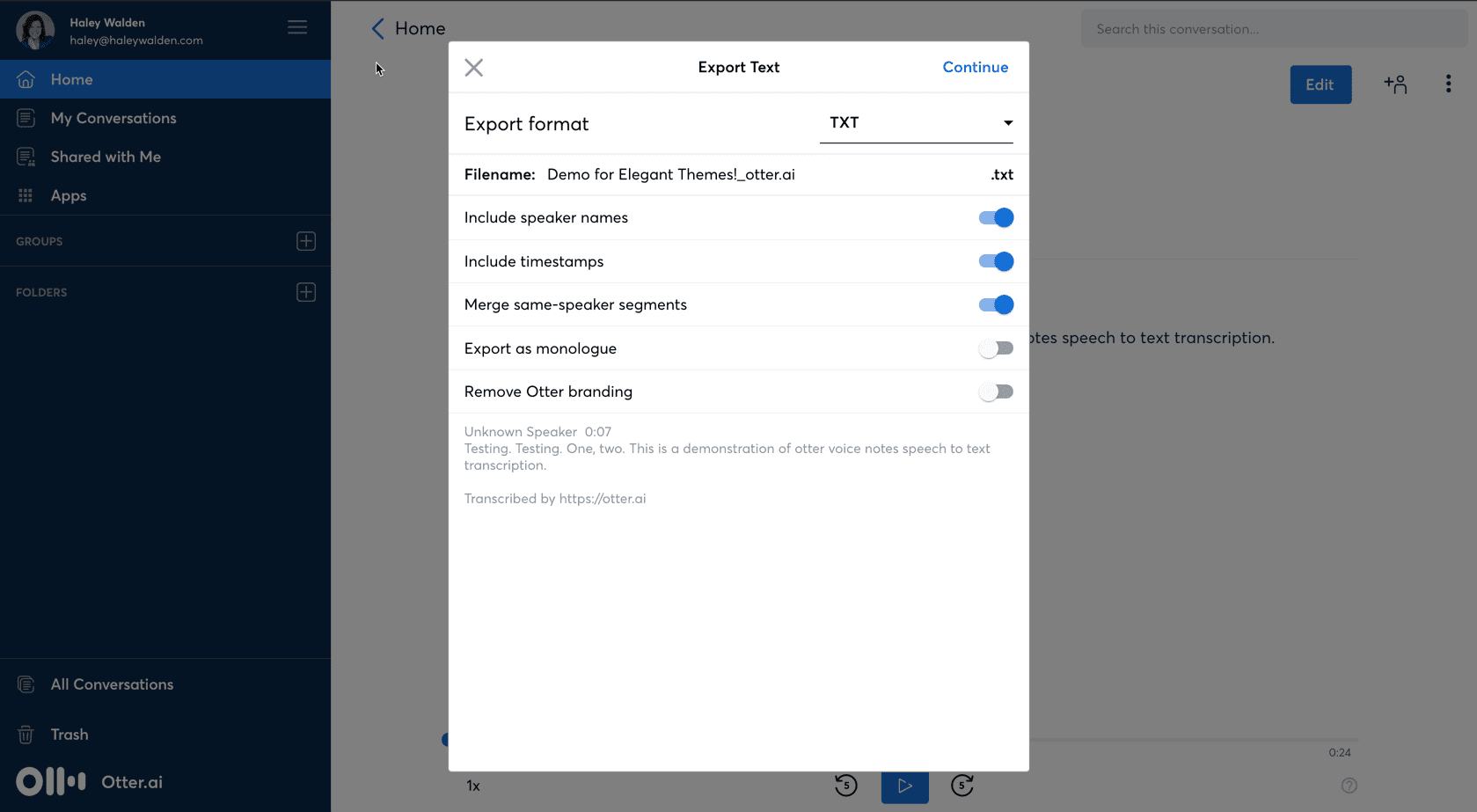 Alternatively, if you need to import an audio or video file to transcribe, navigate back to the home page. Then, click Import in the top right corner. You'll see a screen where you can drag and drop files to upload.
Once you've uploaded your file, you can access it and label your speakers.
Otter allows you to edit your files right in its interface. Even though the AI turns out pretty clean transcripts, it's still a machine. That means your transcripts will need a pair of human eyes and a good editorial pass once you've processed them through the software.
Wrapping Up
Have you tried Otter? Do you use AI software like Otter to help streamline business processes? Let us know in the comments! We'd love to hear from you.
Featured image via plataa / shutterstock.com