Coming up with a name for your next business, project, or product isn't as easy as it might seem. Chances are most businesses spend weeks and months obsessing over their choices before landing on the perfect one. This is without the cost involved in research and development of the name. If you're considering launching a new product, this may also ring true for you.
Using a product name generator is a simple way to help you get the creative juices flowing. The more ideas you're exposed to, the easier it becomes to find the perfect option. In this article, we'll introduce you to four product name generators you can use for your next big idea.
Let's get to it!
Why Using Product Name Generators Can Be a Smart Move
In a nutshell, product name generators are tools that take one or more keywords, then feed you combinations and extrapolations based on them. You've likely seen a version of them when choosing a social media handle, or ordering a domain: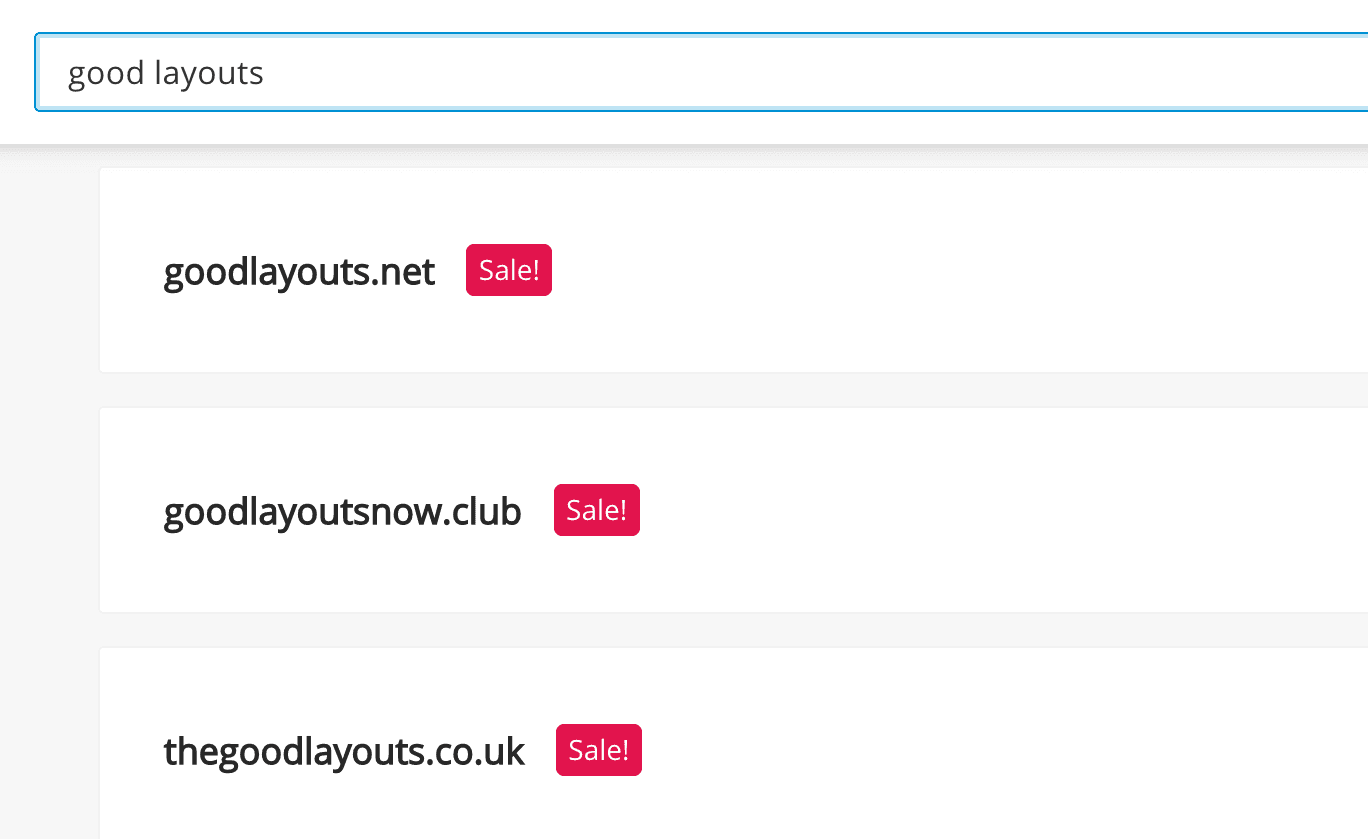 The quality of the ideas will depend on the tools you use. If you think you already have the perfect name in mind, this is a great start. In contrast, if you're stuck at the brainstorming phase, a little extra help to get the creative juices flowing will be welcome.
The primary advantage of using a product name generator is you can get a massive number of ideas in a matter of minutes. You can build a list of your best options and use those as a starting point, or if they're good enough, present to focus groups or your superiors.
In short, having a product name generator at your disposal is a creative way to come up with even better ideas, especially when it's a vital difference between getting customers onside with your new offering.
4 Product Name Generators for Your Next Big Idea
It's important to understand that most product name generators won't feed you ready-to-go ideas in most cases. Your best bet is to take the options you like and use them as inspiration. You could even take the results from one product name generator and feed it into another, and play each solution against one another.
However, note that when you do come up with the perfect name, you should carry out due diligence on whether it's already being used or has been copyrighted. Having to content with law suits on launch day isn't going to be good for your nerves!
Without further ado, let's take a look at the tools.
1. Oberlo's Free Name Generator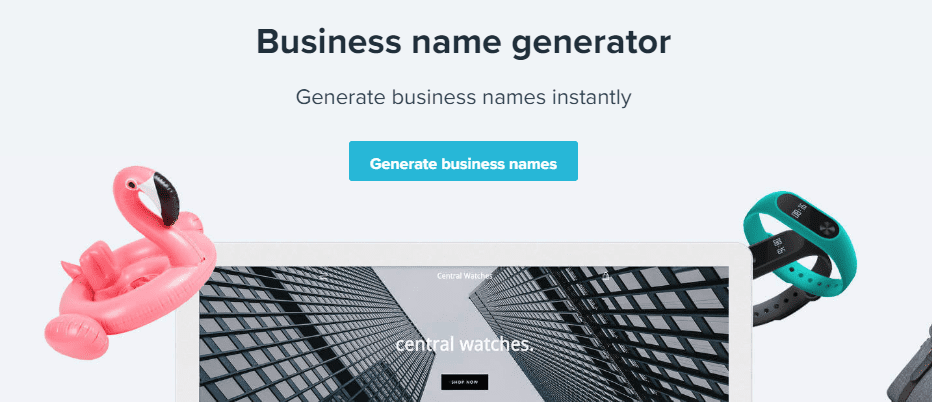 Oberlo's Free Name Generator is remarkably simple to use. The tool enables you to enter a keyword, which it mixes and matches with other terms to generate unique potential product names. For all examples in this article, we're going to use the keyword 'plant':

The generator will almost instantly return up to one hundred name ideas. However, keep in mind that it uses random keywords to generate each term, so you'll need to weed out options that don't make sense: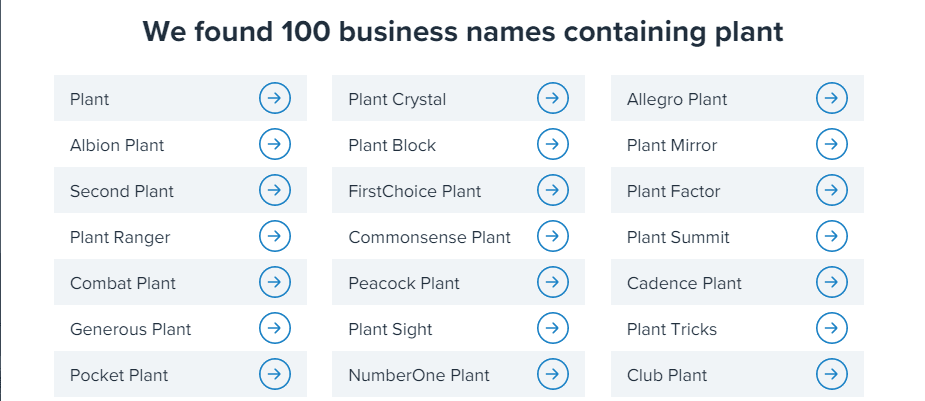 Out of those examples, we particularly like "Plant Factor" and "Club Plant," but there are definitely some strange inclusions there too. Next to each name, you'll see an arrow icon which you can click on if you're interested on registering the domain through Oberlo.
For this particular tool, we recommend trying out multiple keywords, as you can't input more than one simultaneously. Use the best results to put together a list of name candidates and you're off to the races.
2. Business Name Generator

Business Name Generator works much the same as our previous pick. To start off, you need to enter one or more words it'll use to create with ideas. In our case, we went with both "plant" and "green" to check out how it did with word combinations: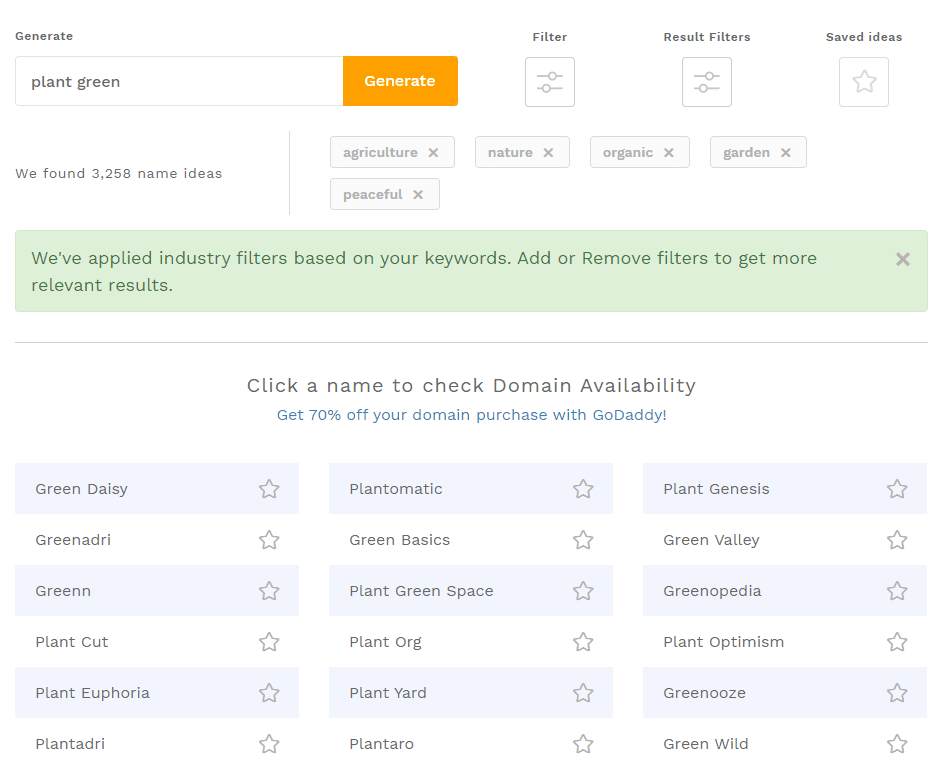 The service returned three full pages of results, a lot of which were subjectively good. A few of our favorites included "Green Valley," "Greenopedia," and "Green Basics."
One thing we noticed is that Business Name Generator doesn't usually mix together the keywords you use. This means you'll end up with separate lists for each one, but the results are still pretty good, and you'll have a lot more names to choose from later.
The tool also automatically recognizes what industries your keywords are related to. It enables you to turn off specific options, save favorites, and filter results:

If you see a product name you like, Business Name Generator integrates with GoDaddy for domain registration. After clicking on an idea, it'll show you what Top-Level Domains (TLDs) are available for it:
If you want to get product name suggestions that are related to your industry, Business Name Generator looks to offer more than the other solutions in this list, although combining it with our next choice could work out well too.
3. Wordoid

Wordoid is a bit different from the other tools we've shown you so far. It doesn't generate name combinations based on keywords, but entirely new words. For the uninitiated, a 'wordoid' is defined as a "…fabricated word coined to identify a new concept." This is exactly what you get here.
For example, some famous wordoids include Google, XEROX, and even Exxon. In some cases, your product may only need a unique, catchy name for you to get it in front of people.
With Wordoid, you can select the language you want the tool to use as your word's 'root' and how similar it should be to existing names. You can also include 'patterns' or keywords. In our case, we went with 'plant' as before: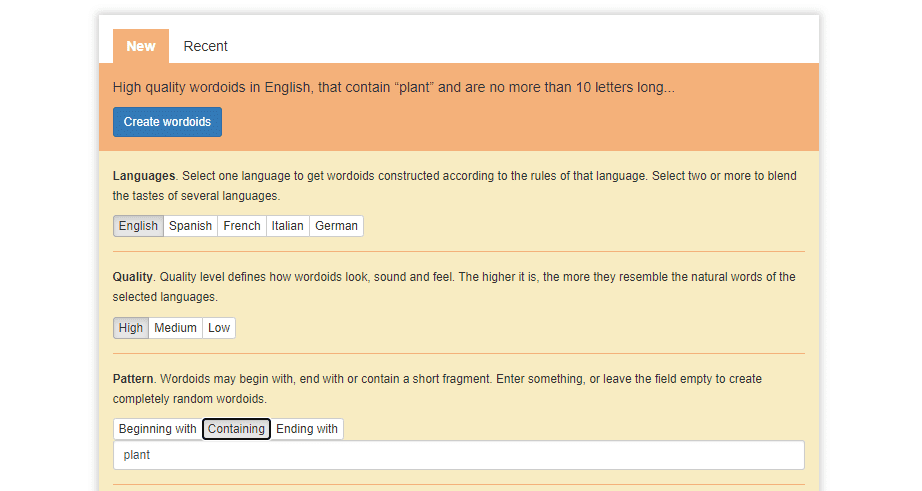 Here's an example of what kind of results you'll get: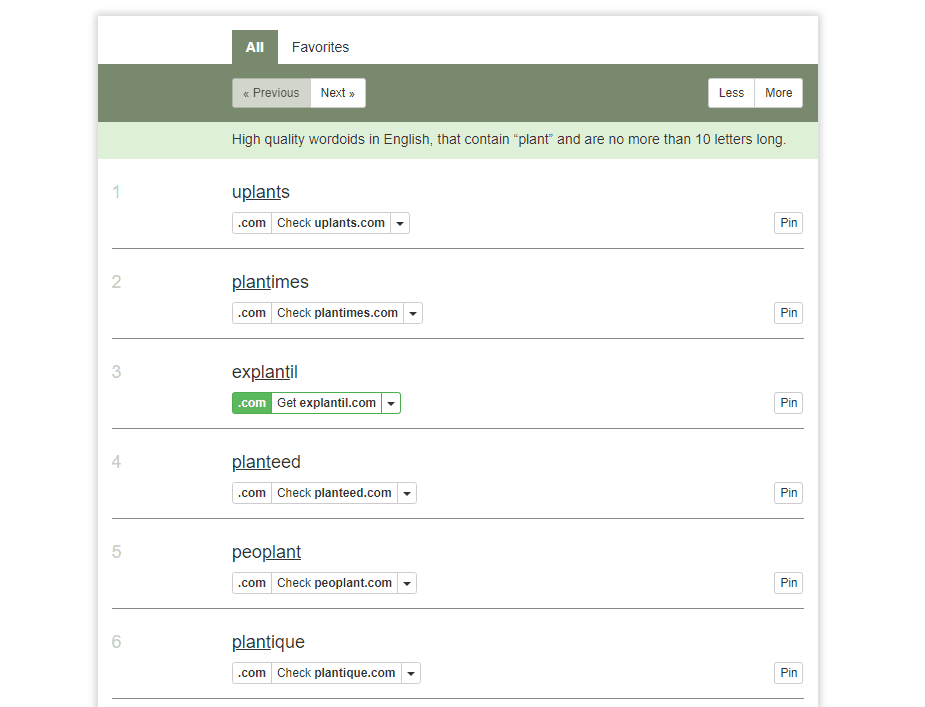 Either "uPlants" or "Plantique" could be viable options here without further tweaking. However, without the seed keyword, results are a lot more varied – here's a quick example: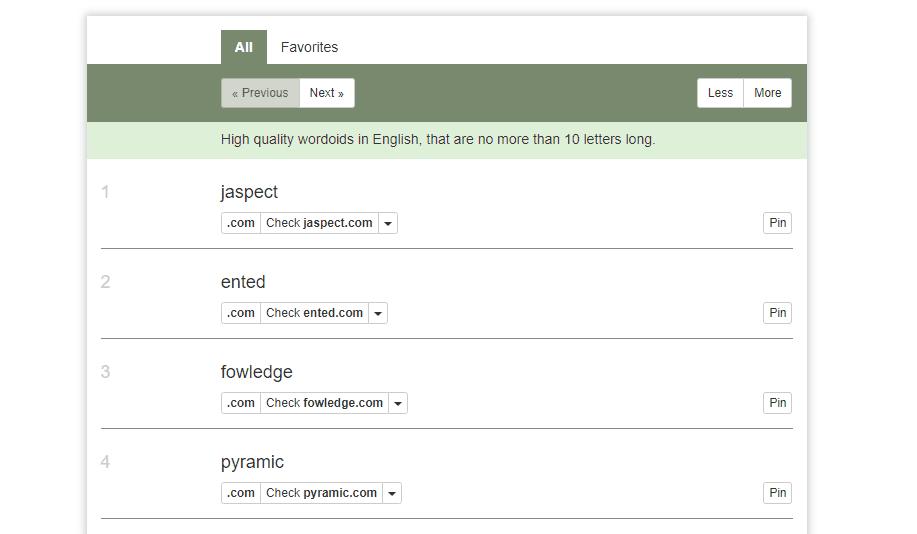 Whether the random word approach appeals to you or not, Wordoid does return some interesting name options. It's by far the most creative product name generator in this list, and will be great for running through another name generator. We'd suggest using this if you're trying for something short, snappy, and unique – although it's going to have a lot of uses within your workflow.
4. Namelix's Business Name Generator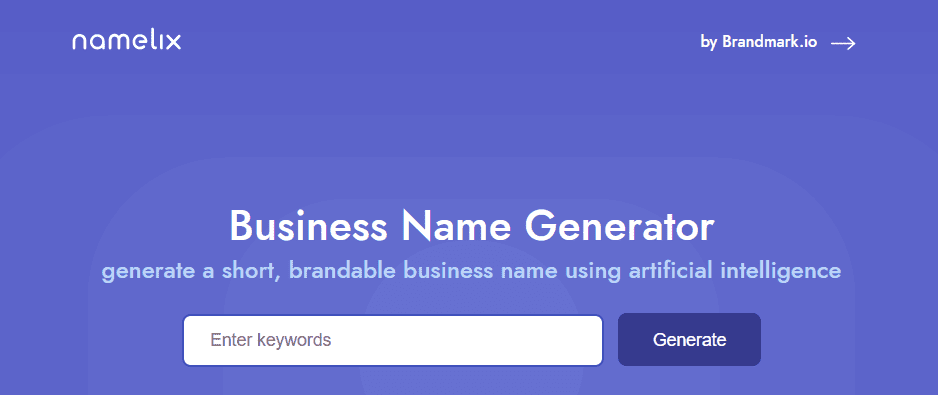 Namelix's Business Name Generator is one of the most user-friendly product name generators you can use. Once you enter your initial keyword(s), the generator will ask you a series of questions to gauge your vision: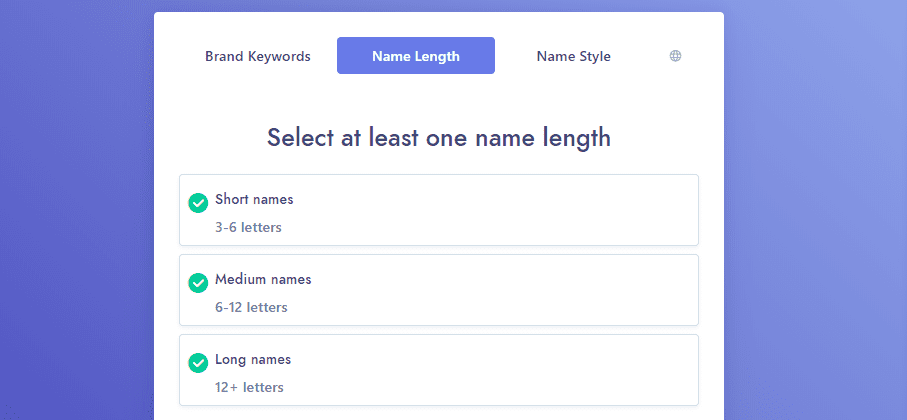 As soon as the results are in, you'll notice they come accompanied by logos:
While many of the name suggestions Namelix gives are great, some are only tangibly related to the keywords you enter. What's more, keep in mind that while you're free to use any of these names for your products, the logos are a different matter.
Namelix enables you to register domains and generate custom logos in a matter of minutes, but this comes at a cost. Some of the platforms 'premium' domains cost thousands of dollars including logos, so you'll want to have a budget in place if you are looking for the perfect product name.
Overall, Namelix can give you some fantastic name and logo ideas if you filter their results aggressively (and you should be doing this with any product name generator anyway.) We're going to suggest that if you have the budget, and you're also looking for overall branding for your product, Namelix offers the tools to get the jobs done.
Conclusion
Of course, there's no such thing as a 'perfect' name for your product or business – only something suitable for your situation. The goal is to aim for something unique, that's easy to remember, and relates to your core offering. If your product's name hits those three notes, you should be golden.
If you need some help coming up with the perfect moniker, try using these product name generators:
Do you have any questions about how to come up with the perfect name for your product? Let's go over them in the comments section below!
Article thumbnail image by tomes / shutterstock.com