Jetpack offers a powerful suite of tools for new WordPress users. It enables you to increase site security, improve performance, and even set up email subscriptions. The problem is, in a lot of cases, the functionality it offers is superficial compared to more specialized tools.
That's precisely the case when it comes to Jetpack subscriptions. The feature works on a basic level, but it can't compete with fully-fledged email marketing platforms. In this article, we'll discuss how these two solutions compare and teach you how to migrate your subscriber list from one to the other.
Let's get to it!
A Quick Introduction to Jetpack Subscriptions
Jetpack is one of the most popular WordPress plugins on the market precisely because it packs a broad range of functionality:

Some of the many features Jetpack includes are:
Downtime alerts
Plugin auto-updates
Basic website analytics
Image and static file optimization, including lazy loading
Email subscriptions to comments and blog updates
That's just a taste of what Jetpack offers to WordPress users. The problem is that while it does add a wide range of features, many of them lack the depth of configuration that other, more specialized tools offer.
That same trend holds true for email subscriptions. Jetpack makes it incredibly easy to set up this functionality, but it doesn't enable you to dip your toes into email marketing:

Jetpack subscriptions will send your site's users basic updates when you publish a post or a new comment is submitted. On the other hand, any modern email marketing platform will enable you to send promotional campaigns, set up autoresponders, track metrics, and much more.
Overall, email marketing is one of the most powerful tools at your disposal when it comes to growing your website. Relying on Jetpack alone to stay in touch with your subscribers is a huge missed opportunity.
How to Move from Jetpack Subscriptions to Another Email Marketing Service (In 2 Steps)
There are many email marketing services you can use, and we've reviewed several of them in the past. However, if this is your first time dipping your toes into this promotional strategy, then you probably want to start with a budget-friendly option.
Mailchimp is one of the only email marketing platforms that offers advanced functionality with its free plan, so it's ideal for new users. With that in mind, we're going to use it for the purposes of this tutorial. However, the steps below should work much the same for any platform you might choose.
Step 1: Export Your Jetpack Subscriptions from WordPress
Jetpack enables you to check how many email subscribers you have at any time from your dashboard. To do so, navigate to Jetpack > Site Stats. In this section, you can get a quick glimpse of your site's traffic, its top-performing pages and referrers, and more.
If you scroll down to the bottom of the page, you'll see the Subscriptions widget. Here you can take a look at your total subscribers, both for comments and your blog posts:

Ideally, you'll have more than two subscribers for your site before you get to this step. However, regardless of how many people have signed up to receive updates from you, Jetpack enables you to export a list of them in .csv format.
To download that file, click on the link that reads Blog within the Subscriptions widget. On the next page, you'll see a list of all your subscribers, including their email addresses and when they signed up:

Below the list, there's a button that reads Download all email-only followers as CSV. Click on it and your download should start right away.
Step 2: Import Your Email Subscribers to Mailchimp
For this step, we'll assume you already have a Mailchimp account, and that it has an empty email list available. Keep in mind, Mailchimp refers to lists as 'Audiences'. Aside from the slight difference in terminology, they work precisely as you'd expect.
Once you log in to Mailchimp, navigate to your empty email list, which is where you'll import your subscribers from Jetpack:

Click on the Manage Audience button next to your email list's name. Several options should appear below it, including one that reads Import contacts: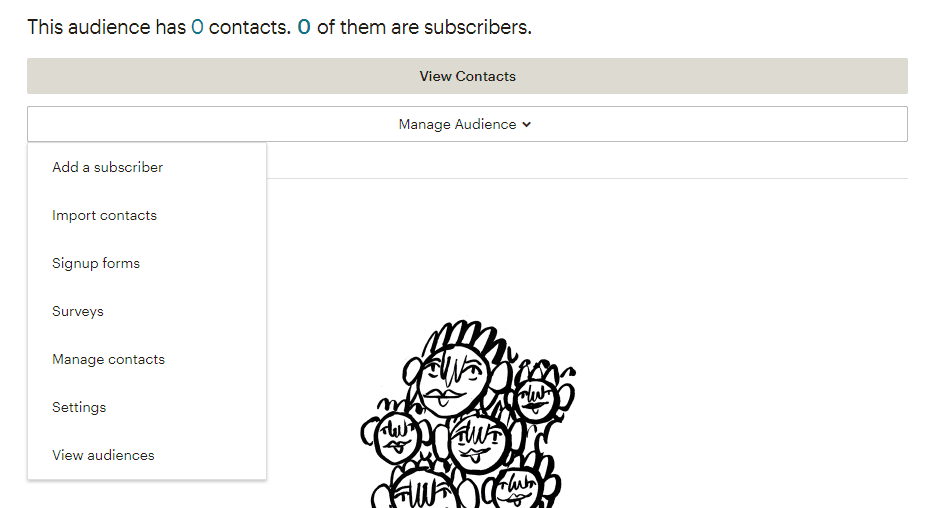 If you click on it, Mailchimp will ask how you want to import your email list. Select the CSV or tab-delimited text file option, then click on Continue: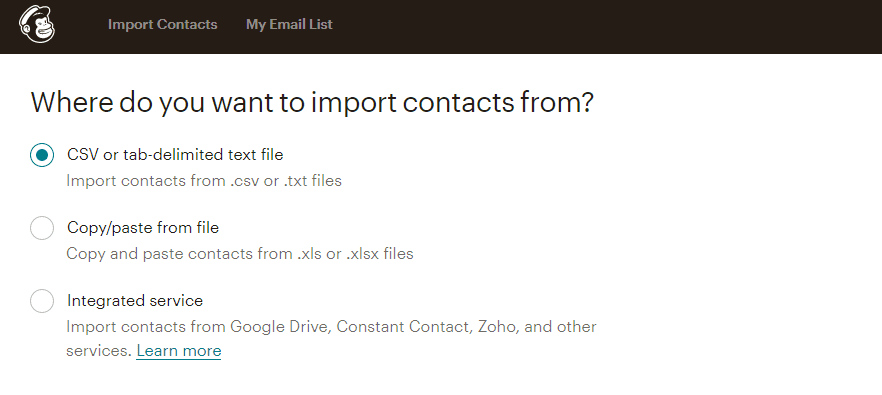 Next, click on the Browse button to select the .csv file your downloaded from Jetpack earlier. Then click on Continue once more:

Now Mailchimp will ask if you want to tag your contacts, which helps with internal identification. For example, you might label the contacts in your .csv file as Blog Subscribers or Newsletter: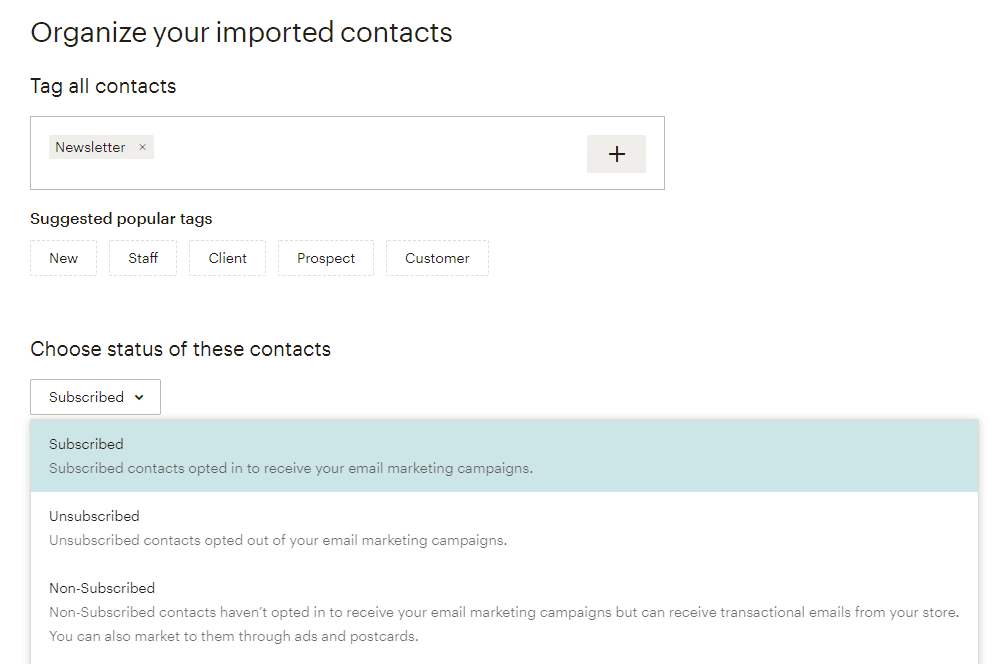 You can also set a status for your new contacts, as seen above. The default is Subscribed, which means they will receive any email campaigns you send to this audience.
Finally, you will need to confirm the options you chose. Then you can proceed to import your Jetpack subscribers by clicking on the Import button: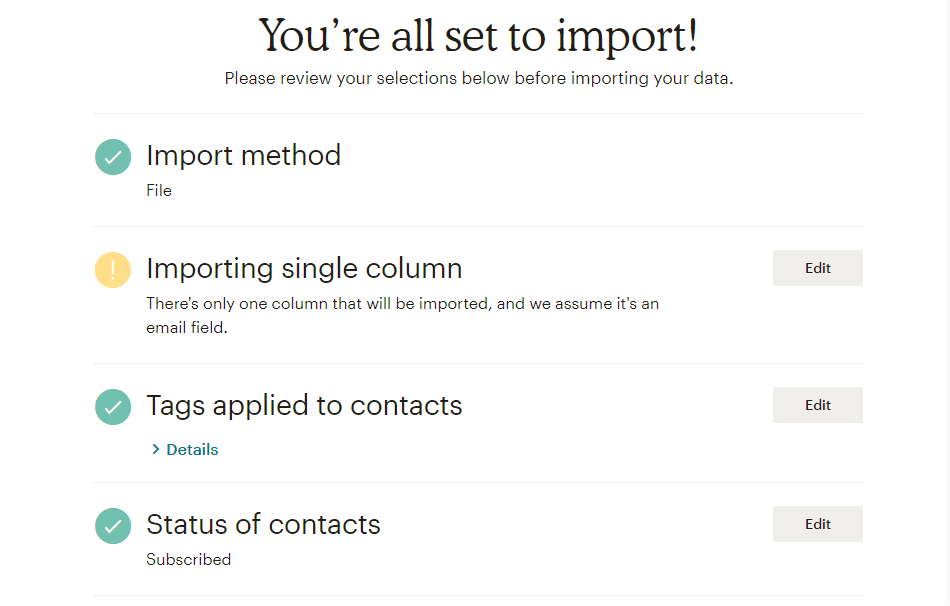 You should see a success message once the process is over. Now your audience will display the subscribers you acquired via Jetpack: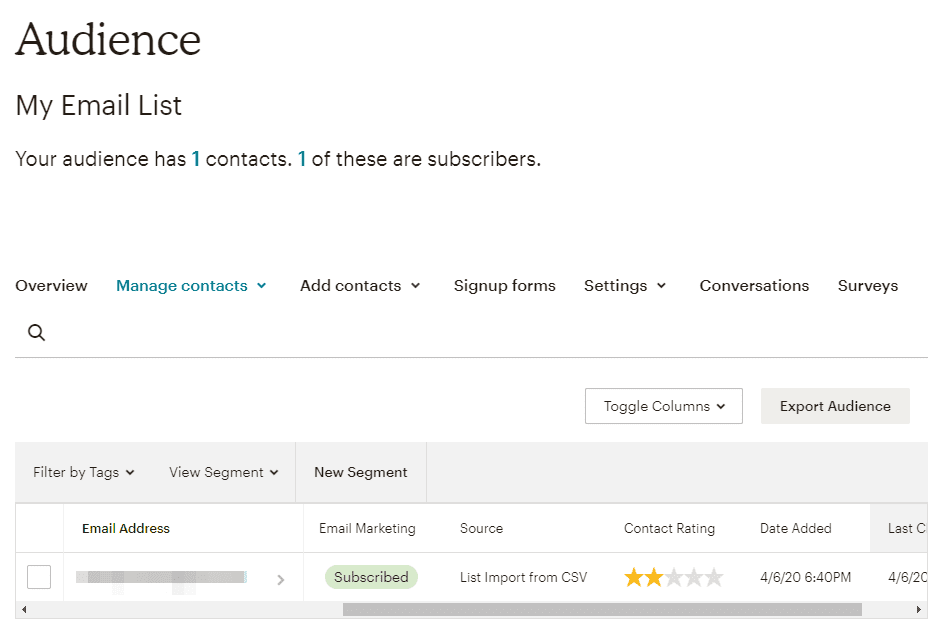 At this stage, you can get to work on your first campaign and start digging into the world of email marketing. While you're at it, don't forget to set up a new email opt-in form for your website, since you're not going to be using Jetpack subscriptions anymore.
Conclusion
Although this tutorial focuses on how to move from Jetpack subscriptions to Mailchimp, the underlying process is similar regardless of which email marketing service you use. Most similar platforms enable you to import email lists in multiple file formats in a matter of minutes.
If you're ready to move from Jetpack subscriptions to a more comprehensive email marketing service, the process is simple. Export a list of your existing email subscribers and then import the resulting file to the platform of your choice.
Do you have any questions about how to migrate from Jetpack subscriptions to a fully-fledged email marketing platform? Let's talk about them in the comments section below!
Article thumbnail image by nerucci / shutterstock.com