Staying organized is one of the most important things you can do when running a business. It doesn't matter what industry you're in, skip organization and you're largely out of luck. There are plenty of tools out there for "getting organized" but figuring out which one is best for your situation can feel like you're picking something at random. Plus, it's just another thing to get organized about, which makes it less of a priority.
I this post we will focus on how you can bring project management to WordPress. We'll start by talking about the reasons project management is so important, then transition into discussing specific plugins you can use to get your team on track.
Subscribe To Our Youtube Channel
What Does Project Management Accomplish?
First and foremost, project management adds organization to your business. It keeps every project and every task associated with each project coordinated and in one place. That way, you can glance at your calendar and know right away whether or not a project is on schedule.
Similarly, good project management helps you to keep track of deadlines and allows members of your team to collaborate more effectively. It can even let you communicate with people outside of your internal team like contractors and even your clients.
With a good system in place, you can also be certain that everyone will know precisely what is expected of them and you can always go back and reference old conversations within the system rather than scouring through email after email.
Which leads me to my next point: project management tools are real time savers. All that time you would've spent scrolling through old emails can be spent doing your actual work. And since the tool is located within WordPress itself, your team members and clients have one less thing to worry about checking in on.
Deciding on a Project Management System
Now before you click the almighty "Install" button, you need to do some serious thinking about what you want out of your project management system. What features are must-haves? What can't you live without? Make a list of priorities before you decide on anything.
You might also find it helpful to ask yourself some questions about what you want to get out of a project management plugin. Here are just a few examples:
Do you need a front-end solution that clients can access or just something on the back-end for you and your internal team?
Do you want to be able to accommodate contractors along with your internal team?
What indicators of progress do you require? A calendar? Conversation tracking? Milestones? To-do lists?
Do you need time tracking ability as well?
Should you decide to opt for a solution that is installed on your WordPress site and not accessible through a third-party site or app, you can rest assured that there are plenty of plugins available, both free and premium, that will get the job done (and then some).
WP Project Manager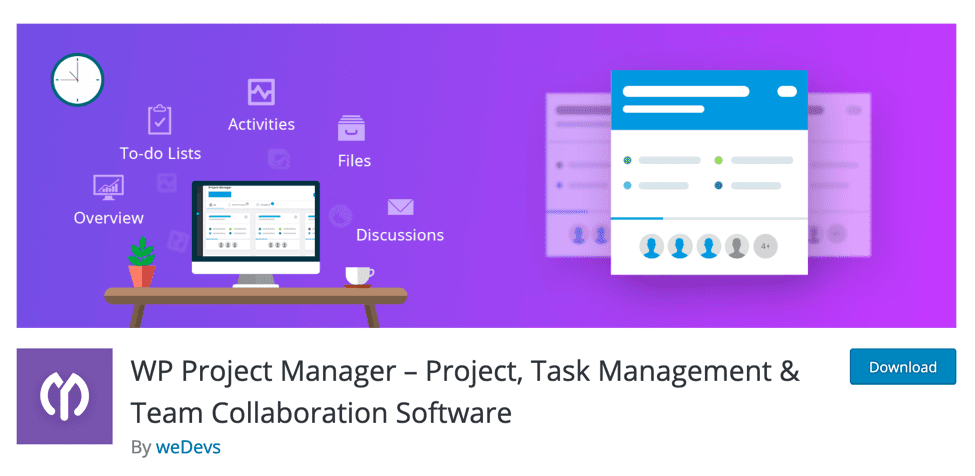 You can't talk about project management plugins without mentioning WP Project Manager. This plugin will make you think that you're not still using the WordPress backend to run your projects. With add-ons for nearly everything you could need and pricing plans for every budget, you would be doing yourself a disservice to overlook this one. The Free tier is robust enough for many people to use with smaller projects and smaller teams, and the premium tiers grant access to features such as private messaging and file/folder management Gantt charting, time tracking, and invoicing.
Price: Free with premium plans starting at $79 per year | More information
UpStream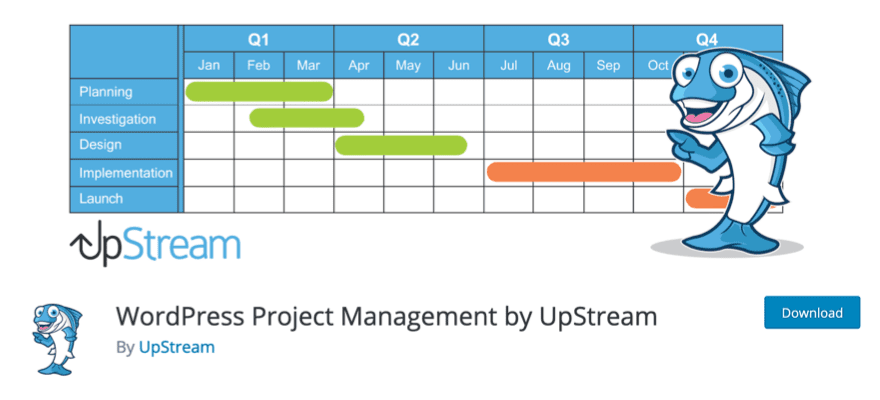 UpStream is a project management plugin for WordPress that focuses on ease-of-use, providing a project management backend with no coding knowledge required. Meaning that the users don't have to be your WP developers, just the people who would be actively managing your projects. The free version of the plugin is feature-rich enough for most users, and the upgraded enhancements include custom field support, front-end editing of the projects, timelines views, and copying entire projects to use as templates for future use.
Price: Free with premium extensions | More Information
Project Panorama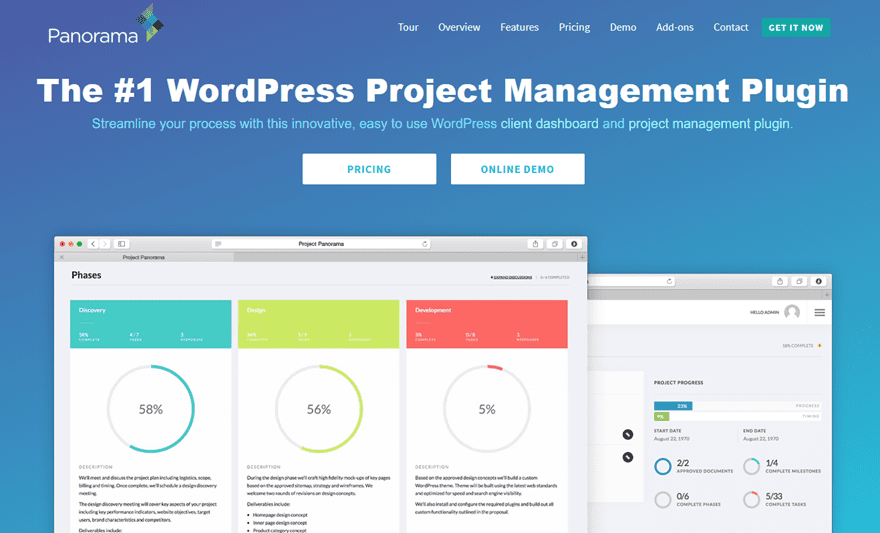 Another contender for the top spot in the project management plugin bracket is Project Panorama. It stands out because of the sleek interface and the client/admin dashboard available on the front end. The chat and collaboration aspect of Project Panorama really stands out, too, with task assignments and collaboration tools. You get an online demo to give a shot, and the free version is feature rich enough that you might not need to upgrade.
Price: $29 and up per year, based on tier | More information
Smarty Pants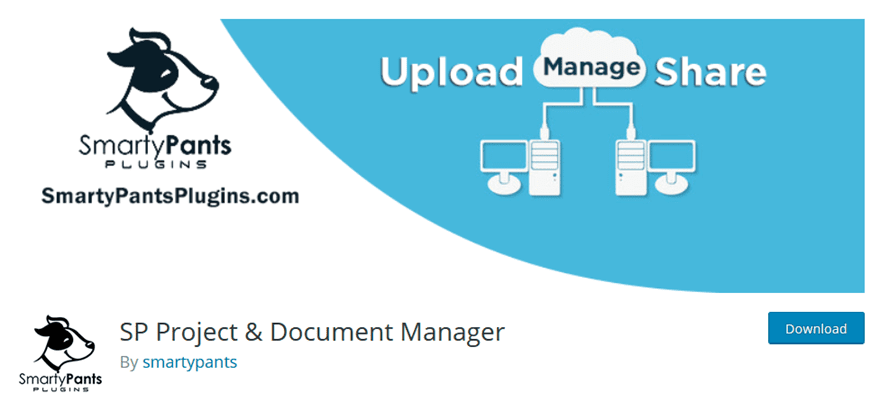 Perhaps the best named of all the WordPress project management plugins, the features that Smarty Pants brings to the table really set it apart. With native file uploading, permissions, automatic file deletion, and shortcodes to handle much of the functionality within a WordPress, Smarty Pants is really a very intelligent choice among project management plugins. You do not get a free version of Smarty Pants, but you can sign up for a 30-day trial before you commit to a pricing plan.
Price: free with premium upgrades | More information
Projectopia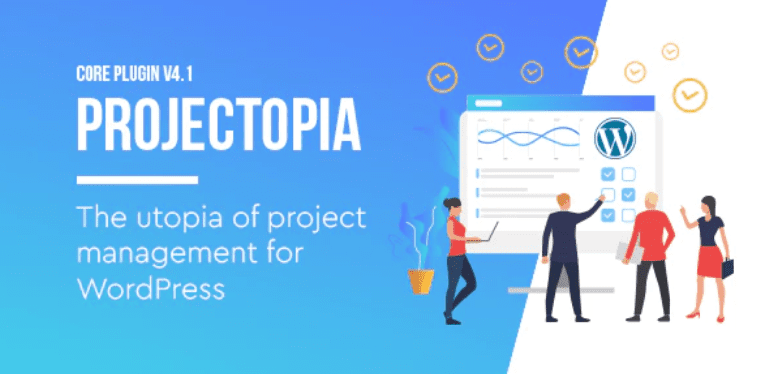 A premium plugin in the best sense, Projectopia is the top-selling project management plugin on CodeCanyon. That says a lot. What also says a lot is the suite of features that make client organization and integration a breeze. Tying into existing WordPress users, Projectopia can be inserted into your installation at any point without really getting in the way of your existing workflows and systems. Projectopia even has its own theme if you want to start from scratch, but also works with any other theme you already use.
Price: $39 | More information
Software Issue Manager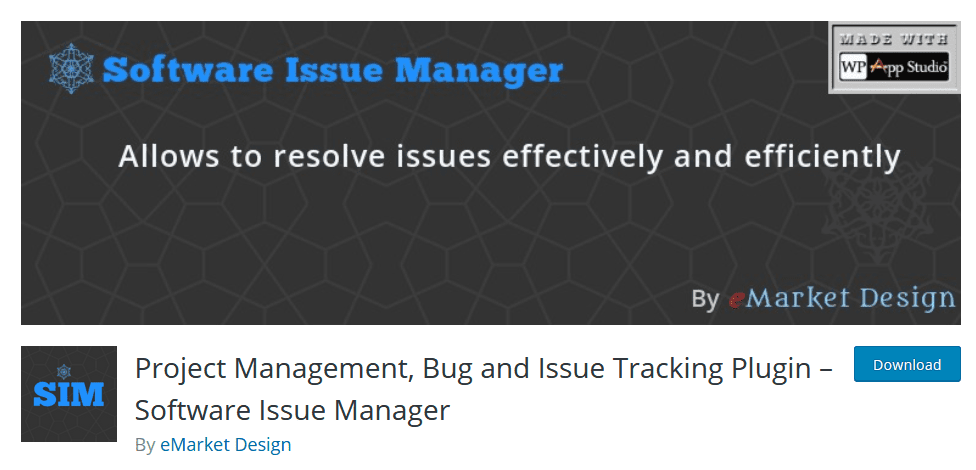 While it may not be for everyone, Software Issue Tracker does work very well to help with, well, managing software issues. That's what it's made for, after all. Developers who need a quick and easy way to deal with bugs and customer issues can install this and be up and running efficiently so they can get back to the main point: solving the issues they're managing.
Price: Free with pro upgrades available | More information
Kanban Boards for WordPress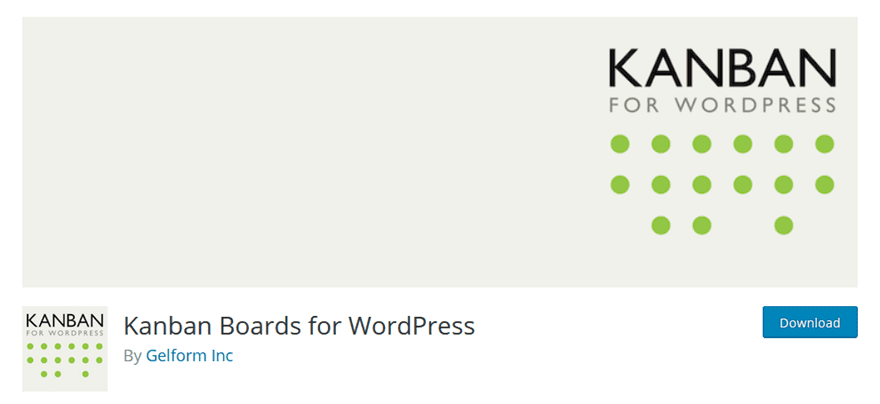 If you like clean and simple plugins, look no further. Kanban Boards for WordPress is one of the simplest and most powerful WP project management plugins available. Kanban boards are a great way to manage nearly anything you have to keep track of. From editorial calendars, design schedules, customer relationships, hiring, advertising campaigns, and so on. If you are just getting into Agile management and organization, this plugin might be the best place to start. And if you are a veteran manager, it's a great next step to keep your entire life organized.
Price: free with $149 optional annual subscription ($499 for lifetime) | More information
Conclusion
If you need to keep your projects secure, and organized, the WordPress dashboard is a great place for that. With any of these project management plugins, you will have the features you need to do so. If you have a small budget with simple needs, you may even get by with a totally free solution. And with the premium upgrades that most of the plugins offer, your WP dashboard will be every bit as powerful and feature-rich as Basecamp, Asana, or Trello.
What is your project management plugin of choice?
Article featured image by venimo / shutterstock.com