You've created a digital product and you're ready to release it to your audience. As you search for the right place to host and sell it, though, you keep running up against walls. You can put it on your website–and WordPress has lots of excellent plugins for this–but for some this option may come with technical challenges they're not willing to grapple with on a regular basis. If you opt to use a third-party tool, you may have to give them a commission on your sales. It can feel like there's no right answer, and this can prevent some people from taking the next step.
Unless you know how to create an online shop, securely host your products and make your website look great, you'll want to consider using a third-party tool that'll do a lot of the work for you. FetchApp is a way to sell and deliver digital products online, including e-books, music, PDFs, photos, software and videos. Once a customer purchases the product, they can easily download it. Plus, FetchApp never takes a commission – you'll pay a monthly fee for the service while keeping 100% of your sales.

Who is FetchApp Best For?
Selling digital products comes with different hurdles than selling physical products:
Delivery automation
Digital storage
Download restrictions
File transfer
Inventory security
Monthly payments vs. commission
Passive income is only truly passive if you don't have to monitor sales and manually send digital products for every purchase, and the fact that FetchApp seamlessly takes care of this for you is its greatest benefit. This tool is for anyone who has digital products to sell, and while most of their featured websites are for smaller companies, there are a few bigger names represented, like Beck and David Blaine.
FetchApp Hosting
FetchApp provides secure hosting; you don't have to download or install software, and you won't have to find separate hosting on your own. According to their website, FetchApp can handle any bandwidth and storage needs, and their cloud servers are "blazing fast." FetchApp is monitored around-the-clock, and it's tested, updated and improved regularly, with new features added often. You'll receive all updates at no additional cost. FetchApp has daily backups and your data is stored at multiple locations so that it'll never be lost. They use Amazon's AWS cloud security, which you can learn more about here.
Getting Started with FetchApp
Signup for a FetchApp account here. You don't need to supply your credit card information during this step – you'll automatically be on the free account when starting out. After signing up, check your email to complete the process. FetchApp kept telling me I hadn't confirmed yet, but I was still able to sign in and access my account, so just bypass that if it happens to you. Also, remember that subdomain! That's what you'll use to access your FetchApp account – there isn't a login from the regular homepage.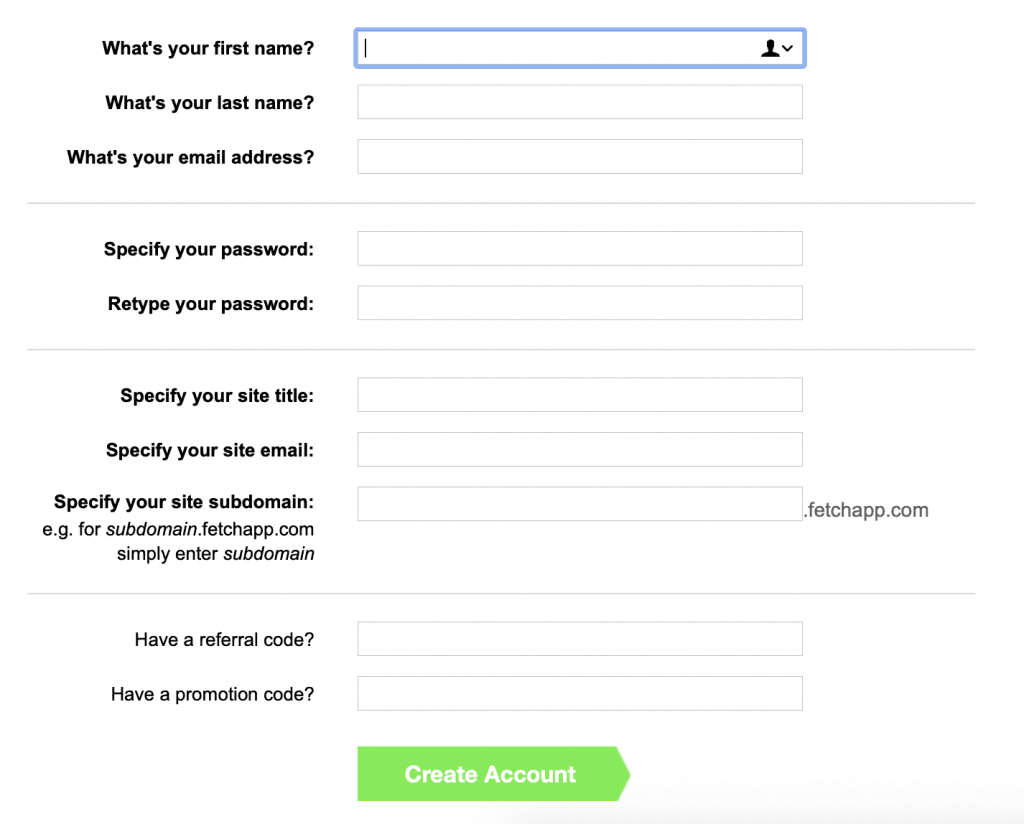 Next, you'll choose your cart or payment gateway. Options include:
BigCommerce
Foxy
Goodsie
Joomla
PayPal
Shopify
WordPress
Once you're finished connecting your cart, you won't be redirected to another page, so use the navigation menu at the top to figure out what to do next.
Adding Files and Products to FetchApp
Setting up your inventory is simple because you don't have to add too much information per product. You'll just need a title, SKU, price, currency and a minimum of one file. (If you need guidance for creating SKU numbers, this article lays out the process.) There's an option for variable pricing, too, which allows people to name their own price. There are optional areas to add a description, store URL and image URL. When you're done filling in this information, you'll upload your files.

If you're not ready to add all this information, you can go to "Files" at the top to upload your files. Later on, you can turn them into products by choosing "Existing Files" on the "Products" page.

This is what the individual product page and the "All Products" page look like when you're finished: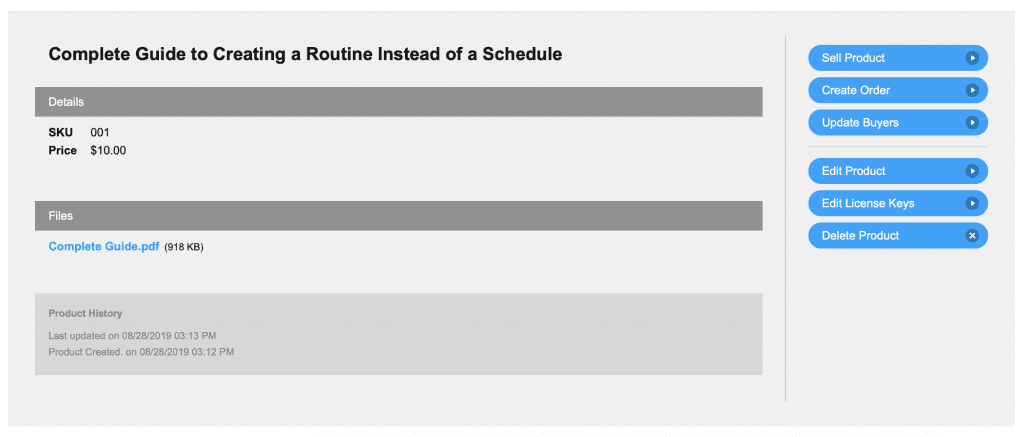 Adding Payment Buttons to Your Website
I connected my PayPal account to FetchApp, so the payment button options I have are specifically for PayPal. Below is what it looks like on the buttons page in FetchApp, followed by how these buttons appear on my website. Of course, you'll want to build your landing page out to actually show what you're selling and encourage people to buy it.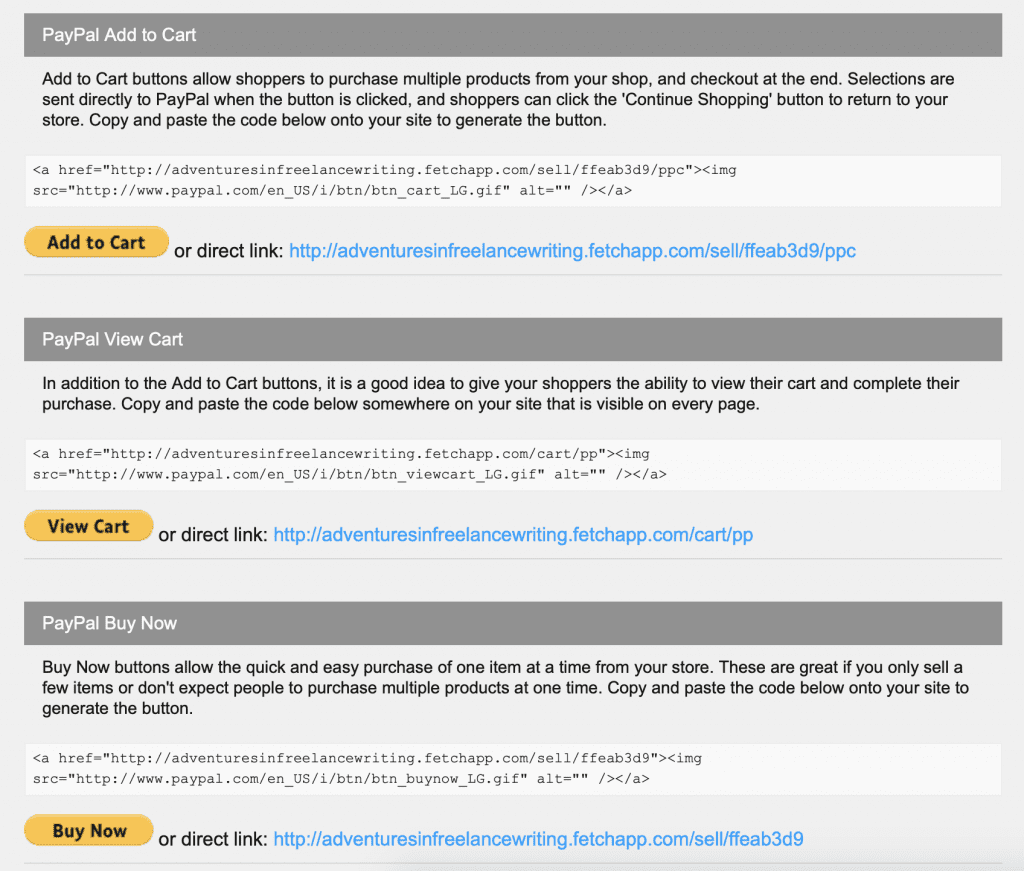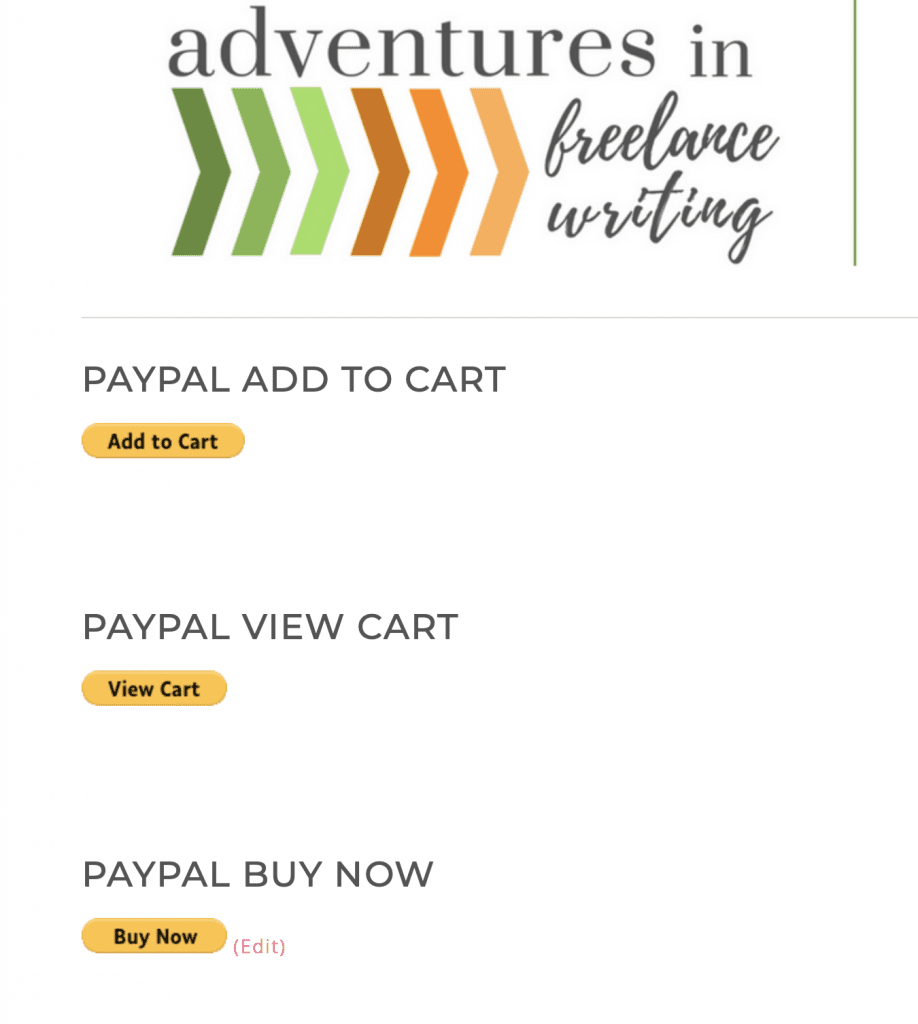 The "Add to Cart" button brings you to a page where the item is added to your cart and you can check out. The "View Cart" button brings you to your PayPal cart, but there will only be a product in there if you've already added it. The "Buy Now" button brings you to a PayPal checkout page.
When you edit the product in FetchApp, it'll automatically update the code on your website. In the screenshot below, I changed the title (description) of the product and lowered the price to $1.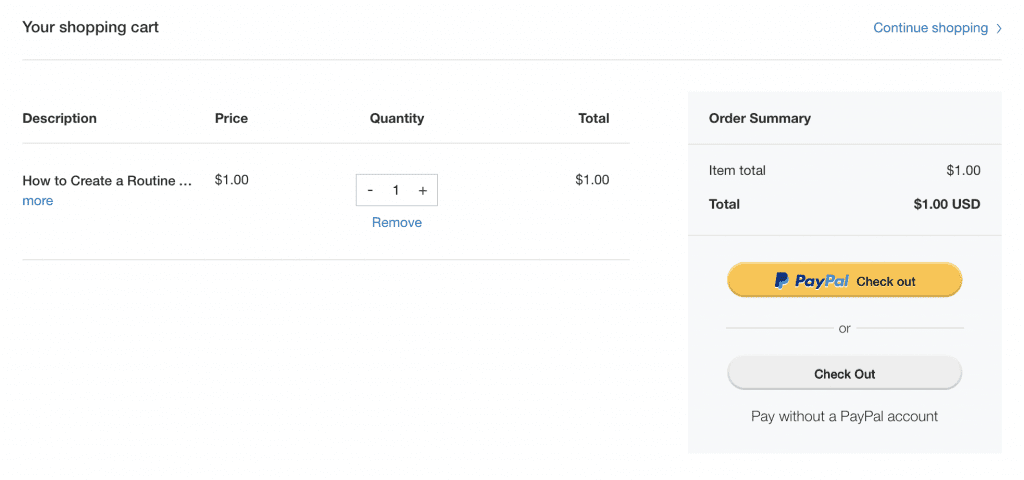 Note that if you've selected "Sandbox" under "Environment" on your "Carts" page, these buttons will be for show only. The "Add to Cart" and "View Cart" buttons will redirect to a page that looks like the screenshot below, while the "Buy Now" button will take you to a PayPal login screen that you can't actually sign into. Customers won't be able to check out if you have "Sandbox" chosen, but if you update it to "Production," your buttons will automatically update, too.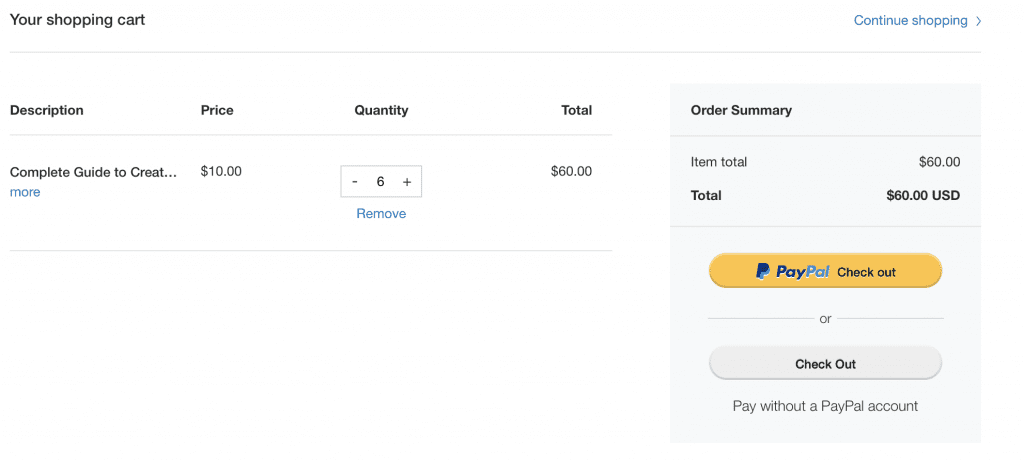 Managing Product Inventory with FetchApp
There are several ways to manage your inventory and customize your offerings:
Associate one file with several products
Attach multiple files to one product
Create bundles with several products
Separate large products into smaller downloads
Allow past customers to download updated files
Allow customers to save files to Dropbox
When a customer purchases a product, FetchApp handles everything automatically, from payment to delivery and order tracking. You can view revenue and download stats in real-time. You'll be able to see a record of each order, too, including when the order was received, when the download link was sent and when the customer downloaded the product. You have the option to delete completed orders, but it's probably best to keep a record of every order that comes through.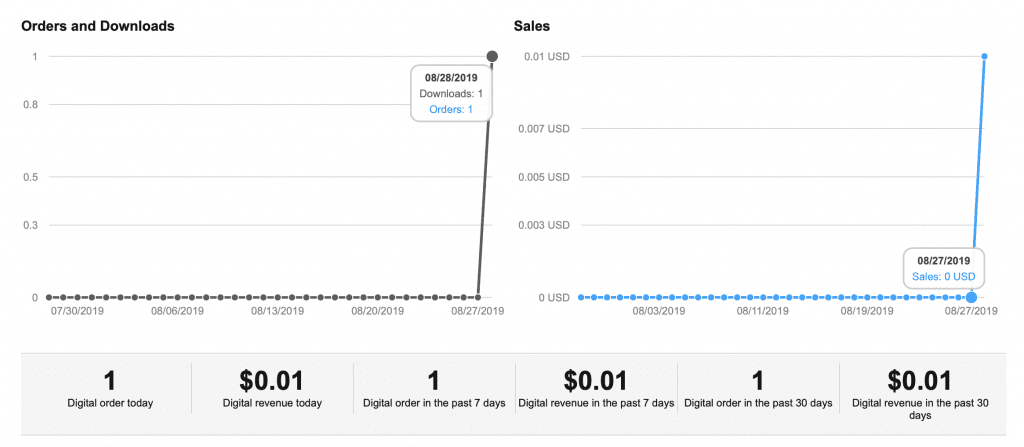 Delivering Products with FetchApp
You can determine when and how your customers access files. Set an expiration time for download links (up to 30 hours or unlimited) or limit the number of downloads allowed (up to 30 downloads or unlimited). Unfortunately, these are global settings – you can't set these rules per file or product.
Delivery is automated and you can customize customer emails to fit your brand. Once an order is placed, the customer will be emailed a secure download link to access the product. The money goes right into your connected account – I saw my sale in my PayPal account immediately and the money was deposited (you'll have to pay whatever that service's processing fee is). This part of the process was incredibly easy, as both the seller and the customer.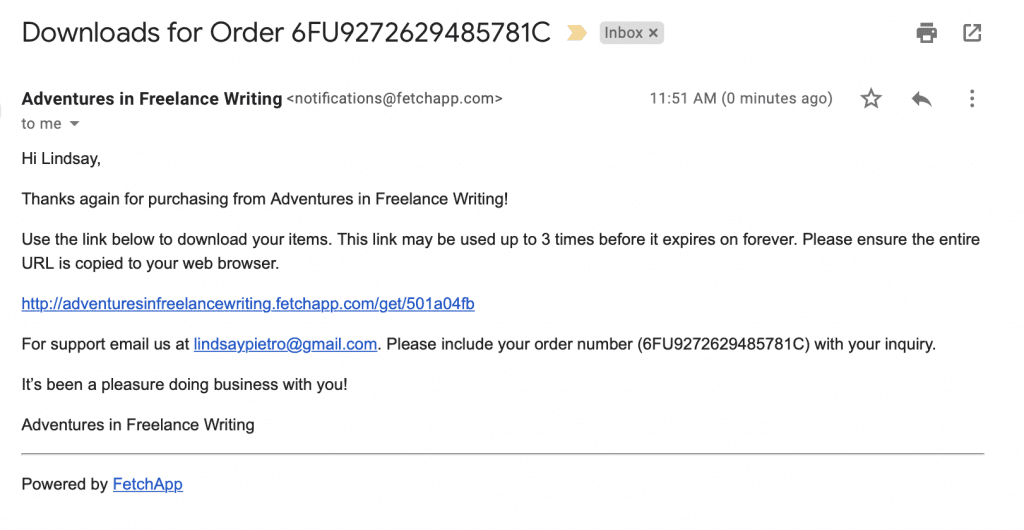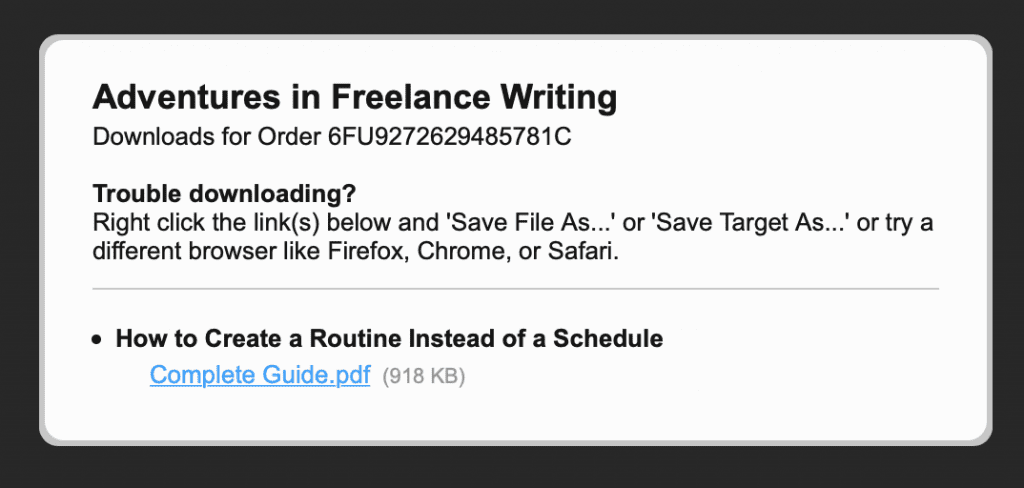 FetchApp Plans, Pricing and Customer Support
The monthly price you'll pay for FetchApp is based on your storage needs. If you only need a small amount of storage, like when you're just getting started selling digital products, you may qualify for the free account (note that there's a limit of 25 orders per day). Premium plans have no restrictions when it comes to how many files, products, orders or users you have. There are also custom high-volume plans that can be created by speaking with a representative.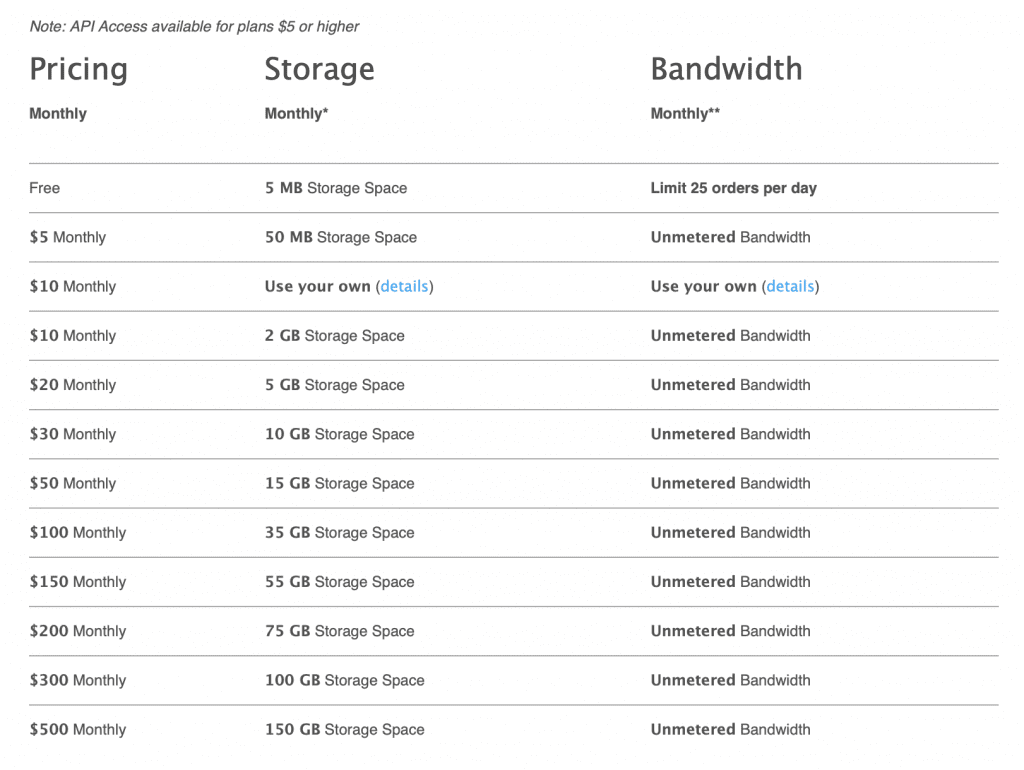 FetchApp has a rich customer support portal where you can submit a support ticket and check on its status. You can also look for answers to FAQ in the knowledge base or the forum, both of which are searchable.
Final Thoughts
Creating a digital product and marketing it should be the hardest parts of the process. Actually selling and delivering your products should be easy, but far too many tools make it harder than necessary. FetchApp is easy to set up, understand and master in under an hour, and aside from knowing how to add HTML to your website, you don't need any advanced skills. There's no need to create your own inventory tracking system because it's built-in, and you don't have to be on top of orders because deliveries are automated for you. Since you don't have to pay a commission on sales and you only pay for the storage space you use, FetchApp is also cost-effective. Overall, this is one of the best digital product delivery systems I've experimented with, and it's what I would choose to sell my own products.
Have you used FetchApp? I'd love to hear about your experience with it, good or bad!
Featured image via Dvorakova Veronika / shutterstock.com