I'll admit it. I'm a fan of coffee shops. Not only are they a great place to get amazing coffee and pastry, but they're also a great place for meetups. Like any good business, coffee shops need amazing websites. And as you've already guessed, Divi is an amazing theme to build websites for coffee shops. There are even several Divi layouts for coffee shops to help you get started.
In this article, we'll look at 6 Divi layouts that are perfect for coffee shops. They even work for bistros, cafes, bakeries, etc. Most are free and they all have some nice design elements.
Let's take a look!
(The layouts are in no particular order.)
Subscribe To Our Youtube Channel
1. Coffee Shop Layout Pack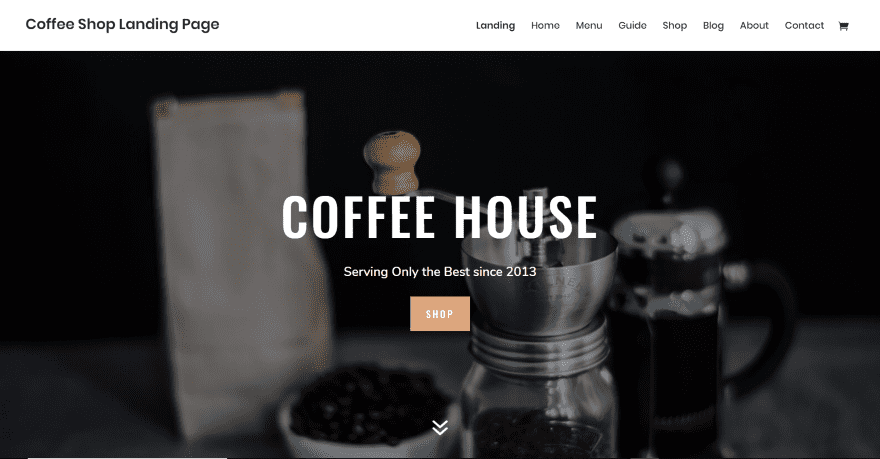 Coffee Shop Layout Pack comes with 8 pages including landing, home, menu, guide, shop, blog, about, and contact. The landing page includes a full-screen background image in true parallax with a title, tagline, and a button to see the shop in the overlay. A section with overhead images of coffee in mugs describe the types of coffee that's available. It includes a link to the menu. The layout also includes lots of sections with CTAs, images, blurbs, the blog, etc. A custom footer shows the operating hours and contact info in parallax. The menu page displays the overhead images and includes a description with prices. The shop page includes many of the CTAs. Images of coffee, mugs, and related items are included and are free to use.
Price: Free | More Information
2. Coffee House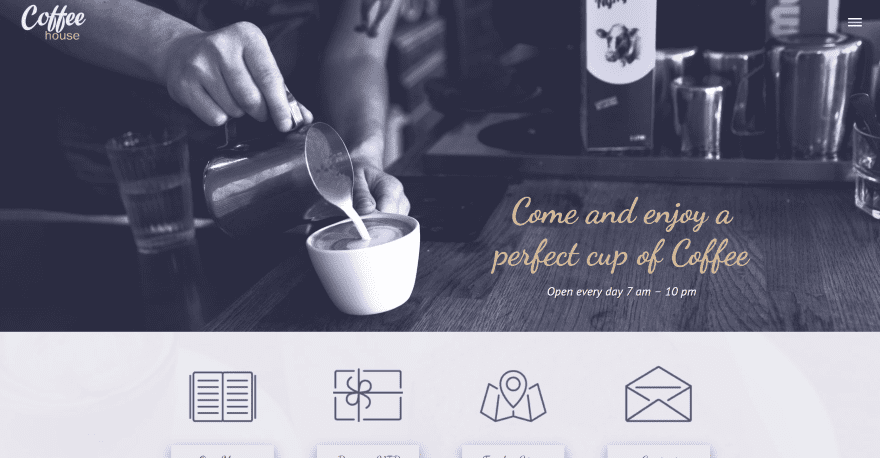 Coffee House is a one-page layout for coffee shops, cafes, and similar stores. It has a full-width hero section with a background image. The tagline and open hours are placed in the overlay. Under this is a set of icons with styled buttons to take you to the various sections of the layout. A menu section uses elegant title effects and includes descriptions. A multi-column layout shows images of the shop along with information. An About section displays text and images that overlap the next section, which is a styled testimonial slider. A styled contact form uses text from the layout. It also includes an embedded map and a custom footer with a navigation menu and social icons.
Price: Free | More Information
3. Two Cafe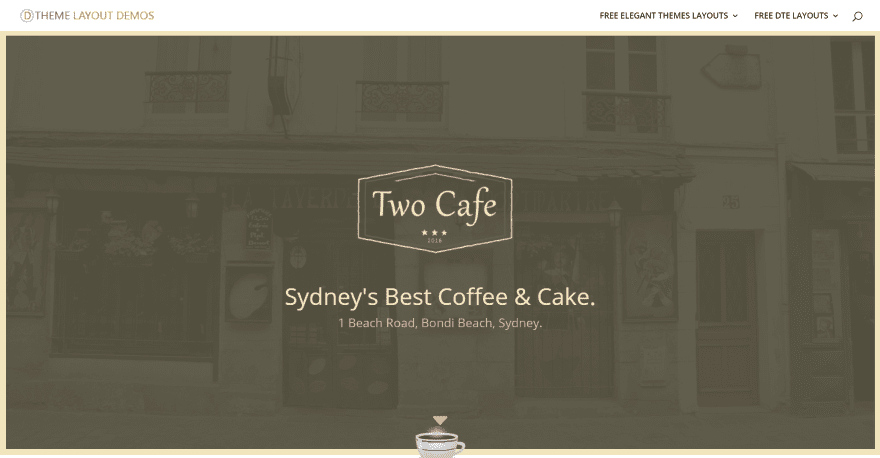 Two Café is a one-page layout for coffee shops. It displays a full-screen background image with a highly opaque overlay to match coffee colors. It has a thick border with an overlapping coffee icon. Many other sections include this overlapping icon. The overlay includes the logo, title, and tagline. The next section shows information in two columns with a styled vertical divider. A similar section with a food menu follows this and shows the food as text with prices and descriptions. It also includes a gallery in a grid, and a contact section with opening hours, contact info, and social buttons, a contact form, and an embedded map.
Price: Free | More Information
4. Coffee Shop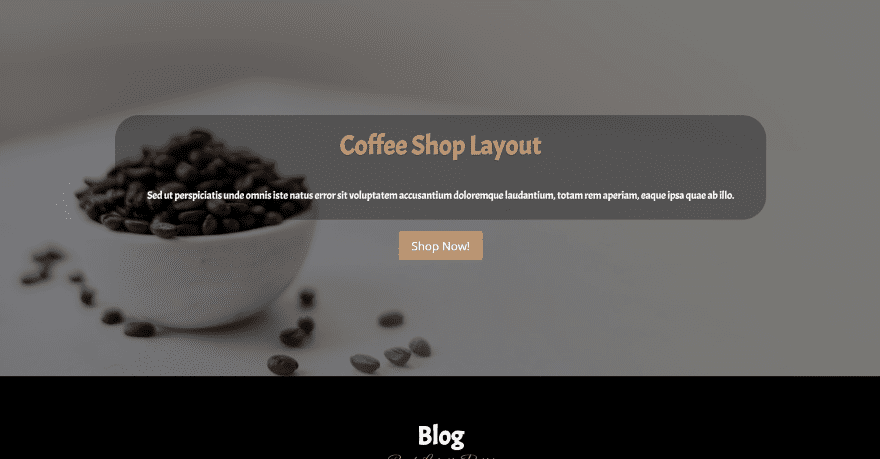 Coffee Shop is a one-page layout with a coffee color scheme. The hero section includes a background image with a title and tagline is a small overlay with rounded borders. It also includes a styled button to see products in the shop section. A blog section displays blog cards with rounded and styled borders. Their featured images display a coffee-colored overlay on hover. An About section shows a couple of narrow columns of text on one side and an image on the other. The image zooms on hover. Styled testimonials include coffee-colored backgrounds that change on hover. Their images also zoom on hover. The products section show products with circular images. It also includes number counters with hover effects, a small image slider in a section by itself so it stands out, and a three-column contact section in parallax.
Price: $7 | More Information
5. Caffeina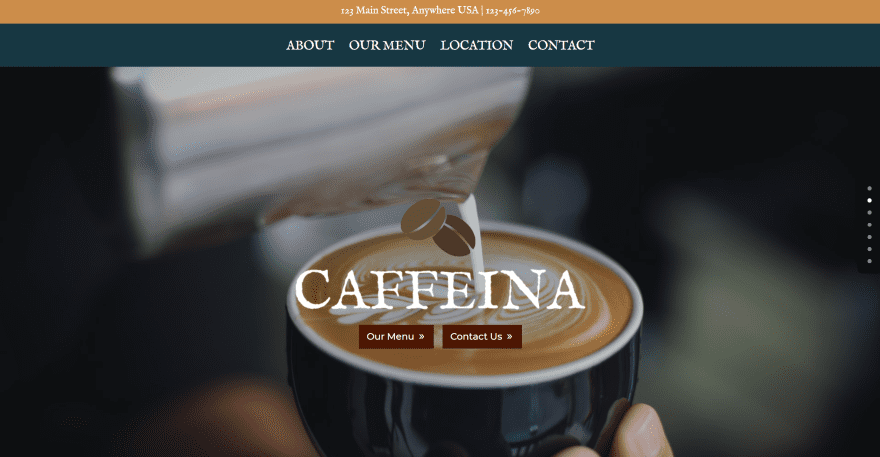 Caffeina is a one-page coffee shop layout that also works for cafes, bistros, bakeries, etc. The hero section includes a full-screen background image with icons, the logo, and buttons in the foreground that take you to the menu and contact sections. Scrolling reveals an About section that includes text in one side and an image in the other. The menu section lists coffee on one side and food on the other placed over a background. The items are listed as text and include the title and price. An icon identifies each section of the menu. It also includes a full-width masonry gallery, a map with directions, and a contact form over a background image.
Price: $10 | More Information
6. Bakery Menu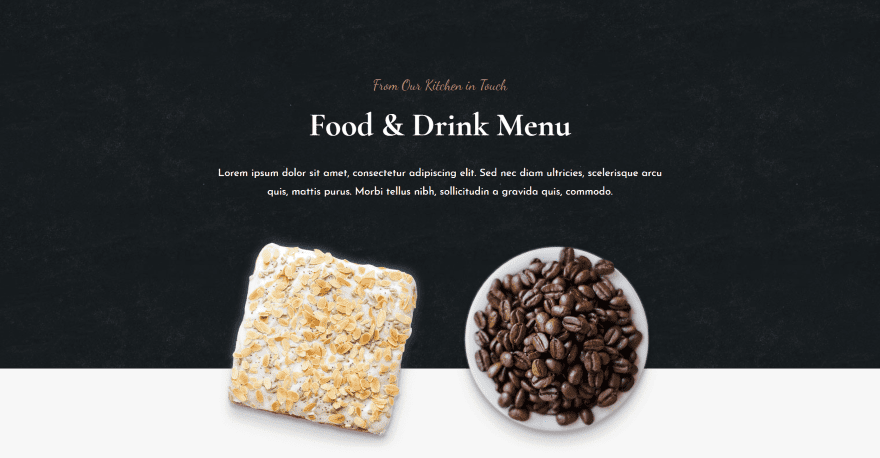 Bakery Menu is a one-page layout for coffee shops, bakeries, bistros, and cafes. It has a focus on the food menu. The hero section displays a dark background with a title and description at the top, and images at the bottom that overlap the next section. The menu sections display a large image to one side with a title over the image. On the other side are the food items in two columns. They include circled images, titles, and prices. The menu sections use tan or white backgrounds and alternate their layouts down the page. The footer has a two-column section with a large contact form on one side that's styled to match the layout. On the other side is a card with an image and contact info.
Price: Free | More Information
Ending Thoughts
That's our look at 6 Divi layouts for coffee shops. Most are free, but none are expensive. Most are one-page layouts but they do include the features you'd need to create multiple pages. Of course, the ET layout pack is jam-packed with every page a coffee shop would need from the start.
They include contact information, food menus, galleries to show off the coffee shop, built-in shops so you can sell merchandise from the site, and lots more. If you're planning to build a coffee shop website with Divi, these layouts are a great way to get started.
We want to hear from you. Have you tried any of these Divi layouts for coffee shops? Let us know what you think about them in the comments.
Featured Image via Vetreno / shutterstock.com