Once upon a time, marketers would spend all of their time creating and sharing promotional campaigns only to wonder if they even worked. Traditional marketing efforts were often un-trackable. You could form a shaky connection between marketing and how well the company was performing, but that was about it.
Today, we have so much more power thanks to marketing analytics. In addition to a broad view of performance, we can drill down into the areas that we know are most important for our business. Analytics give you the data you need to evolve your strategy. Unfortunately, a lot of businesses forgo this insight because they don't know how to track it all or what to do with the info they gather.
Here's Why Marketing Analytics are Important
How many times have you been at a restaurant, complaining about your meal, when the server walks over to check how everything is – "Great!" you answer. But things are not great. Your steak is rubbery. Your Coke is flat. The potatoes are practically cold.
If your server goes back and tells the chef and the manager that all of her customers are happy with their meals, then nothing will change. No steak will be cooked properly. No Coke will have delightful bubbles. In a few months, they'll be wondering why their business tanked. "But everyone said it was great!" Right, but did they act like it was great?
Marketing analytics take what customers say with a grain of salt. You can then watch what your customers do (and how, where and when they do it) and ask a whole bunch of questions. Why did that customer abandon a shopping cart full of items that would go great together? Where did they click afterward? How could we have nudged that sale forward? Why did so many people share a post on social media, yet nobody showed up at the event? Where did we go wrong? What do we have to do differently next time?
What are Marketing Analytics?
When you monitor a marketing campaign and its outcome, you collect data that lets you figure out if you're spending your time and money in the best way. With marketing analytics, you can manage, measure and analyze your marketing performance in order to maximize it and secure the best ROI possible. Marketing analytics are used for gaining insight into all sorts of business performance areas, including:
Customer preferences
Customer trends
Lead generation
Sales and conversion funnels
Search engine optimization
These broad categories have more precise uses, too. For example, SEO analytics can help in a lot of ways:
Reveal the features, products or services customers want.
Determine customer priorities, which will help you write CTAs that convert.
Discover when trends are changing.
Uncover common pain points and prepare your customer support agents.
Ultimately, marketing analytics tools don't just help us figure out how our campaigns are performing, but also how they compare against our competition, where money is being wasted and which channels are worth our effort. It's important to regularly collect, analyze and act on marketing analytics. This isn't a one-time process.
6 Types of Marketing Analytics Tools
There are several types of marketing analytics tools to use. Let's go over them:
Content Analytics
Content analytics tools keep you on top of the latest industry content you should know about, and they can also collect any content that you're mentioned in, like a review. Not only do content analytics tools keep you informed, they also help you find journalists and influencers in your niche. By developing relationships with them, they can get your content to a wider audience. Content analytics tools include Ahrefs and BuzzSumo.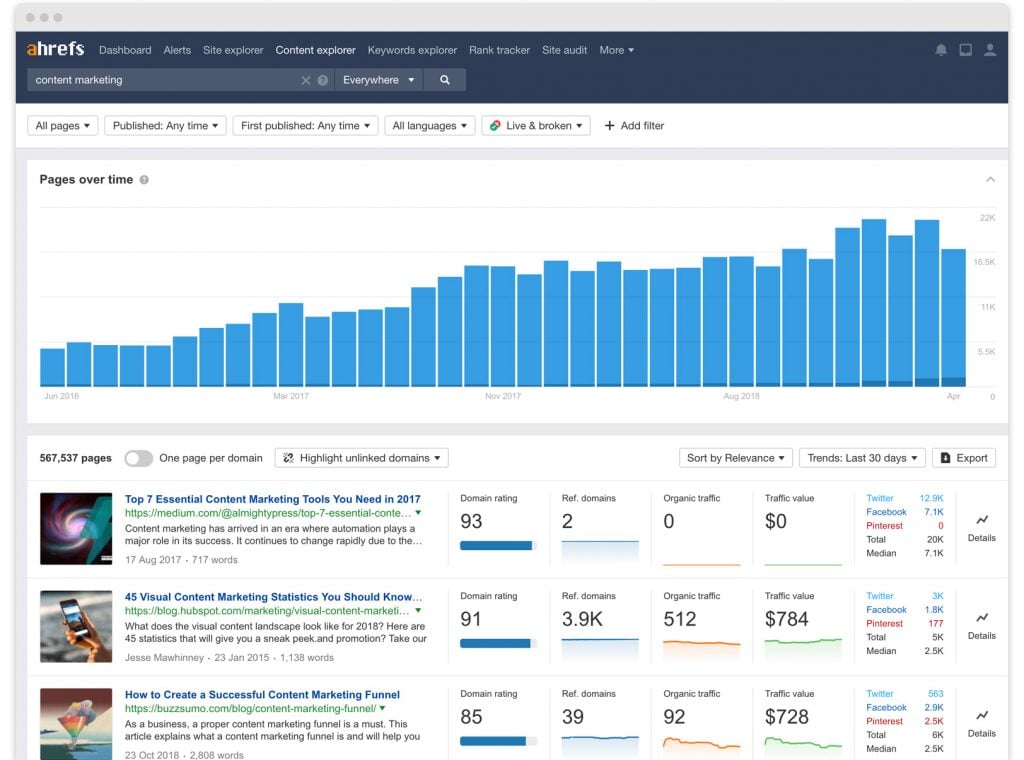 A Closer Look at Content Analytics
I love content analytics tools, so let's take a look at BuzzSumo. I'm a freelance writer, so that's the topic I search for.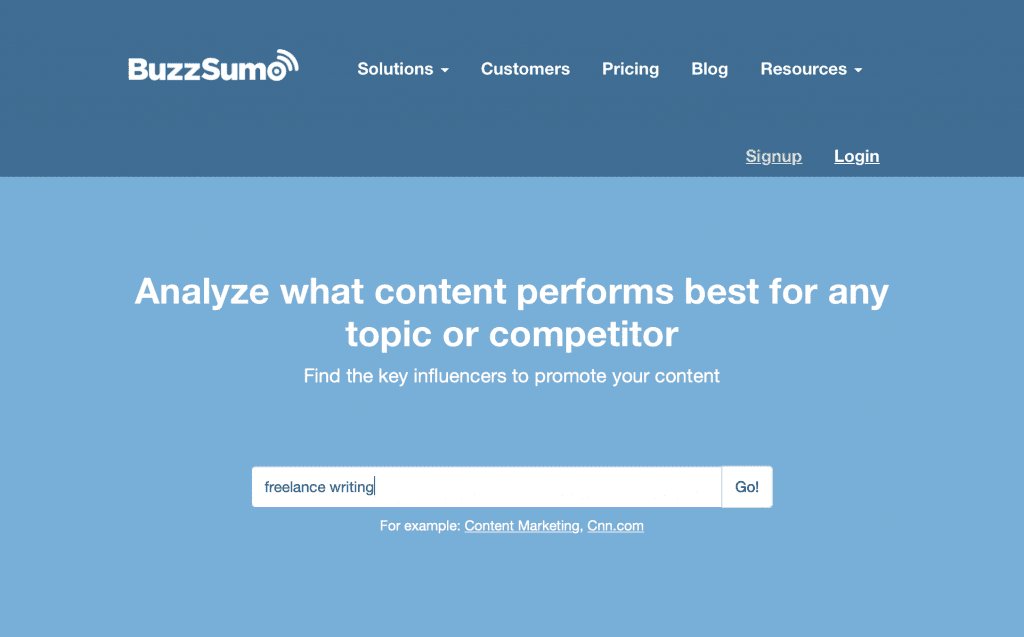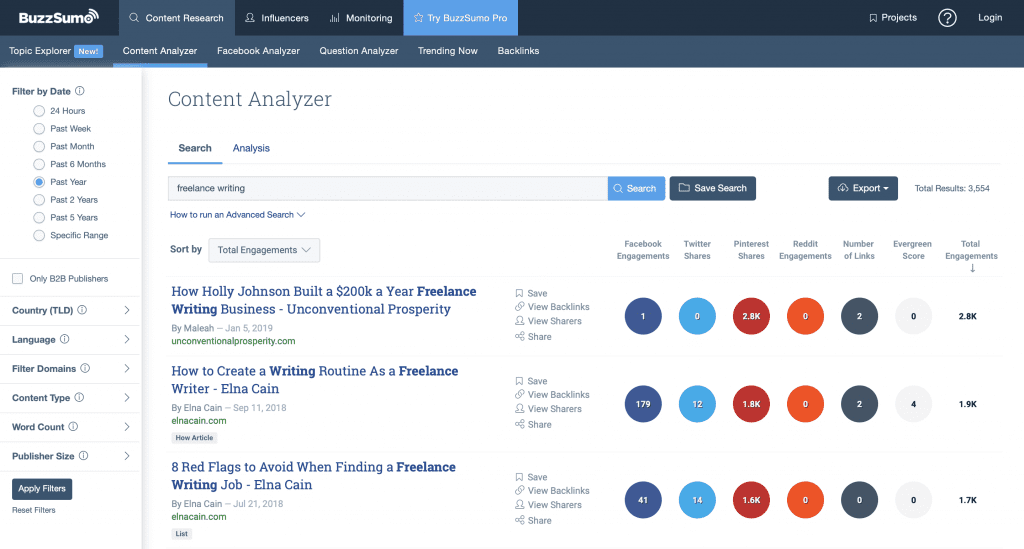 Just from this one page, without even checking out the articles yet, here's what I learn:
A majority of the top results are about making money or finding jobs. If I want to write for one of these publications or write a competing article on my own, these are the general topics I should write about.
Pinterest is a popular platform for marketing this type of content. However, shares don't equal traffic, so I'll have to keep a close eye on how many clicks my Pinterest posts are actually getting.
It looks like Twitter may not be worth my time.
I'm surprised at how few Reddit engagements these posts have. I've explored Reddit a lot and there are always debates and questions about freelance writing. This could be an untapped source.
I then play with the filters on the left. I know that video marketing is huge, but I'm guessing that people writing about freelance writing prefer creating text content. There might be a big space here to fill. These are my results: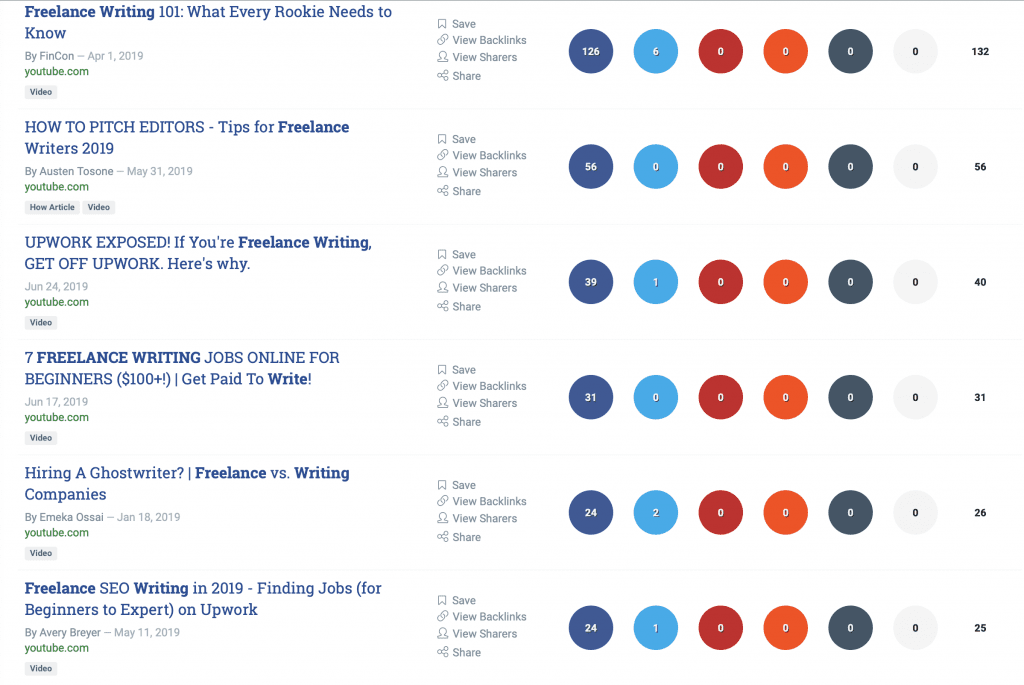 I'm right. There aren't a lot of high-performing videos in this niche. It could be because the topics aren't catering to what the audience wants. From just this simple search using the free version of BuzzSumo, here's what I have:
A list of publications I can reach out to with pitches
Topics I know people want to learn about
High-performing articles I can dig into to find out what information they're missing or what questions readers are asking in the comments sections
The beginning of a social media strategy
The seed of an idea about creating video content to tap an untapped market
Email Analytics
Email analytics tools are a little different from the others on this list because there aren't really standalone tools. Instead, they come with the email marketing service you choose (so keep that in mind when shopping around). Email analytics include:
Click rate and industry average
Growth (new subscribers and unsubscribes)
Open rate and industry average
Orders and order revenue
Performance by hour
Two of the most popular email marketing tools are Constant Contact and MailChimp. Also, you may want to check out our article on email list building in 2019.
SEO Analytics
I mentioned SEO analytics above, but it's worth going over again here. SEO analytics provide feedback that marketers can use to improve or understand things like:
Branded keyword searches
Keyword phrases that your website currently ranks for
Keyword suggestions that you should use more often
SERP analysis and ranking (organic and paid)
Competitor analysis
Examples of SEO analytics tools are Moz Pro and SEMrush.
Social Media Analytics
Even non-marketers are probably familiar with social media analytics – casual users may still track how many comments, likes and shares their content receives. To dive deeper, you can look at data for things like link clicks and engagement with rich media (like live streams and video). There are also paid ad metrics to consider, like click-through rate and cost per click/conversion.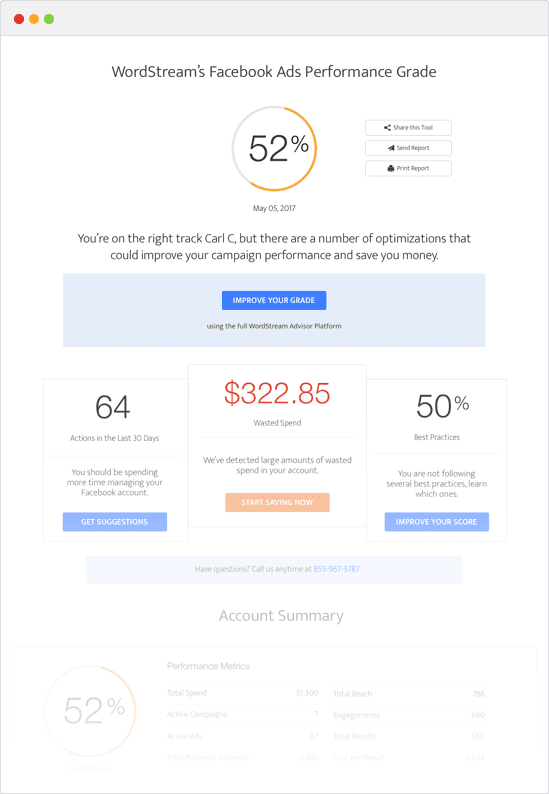 Additionally, social media analytics tools can help marketers seek out influencers and other relevant members of the industry to start developing relationships. Many social media platforms have analytics tools built-in – Instagram and Facebook have particularly great native analytics. You can also use a tool like Hootsuite to gather all of your analytics in one place, or you can use a platform-specific tool like Tweepi for Twitter.
A Closer Look at Facebook Analytics
Facebook has a great omnichannel analytics demo to get you used to the platform. Here's some information I gathered about "my" business through the demo:
Active Users: In addition to general overviews of unique and new users from the past 28 days, I also get information about days and date ranges when my app or website saw an influx of traffic. I can then look back to see what I did those days to encourage the traffic – maybe I had a sale or posted content that went viral.

Funnels: I can create and track custom funnels for my campaigns. I can then create goals. For example, according to the chart below, I have to aim for 280K likes on an Instagram post to get 1.45K sales. If I want to increase my sales by a certain percentage, then likes have to go up accordingly. I can also try to figure out why I'm getting so few page views from so many post likes. Maybe I need a better CTA, or I can try posting an Instagram Story with an embedded link.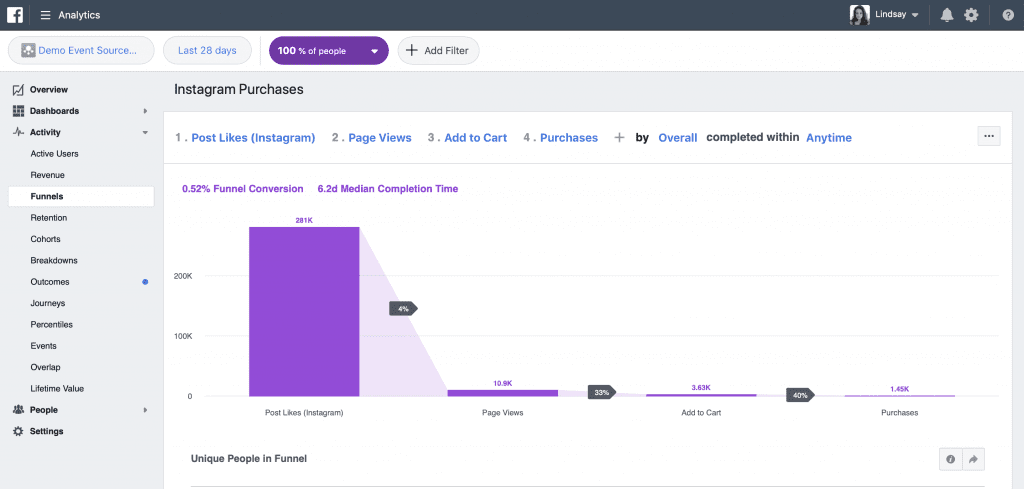 Journeys: This is my favorite tool here, and it's not just because it's colorful. You can see the breakdown of where journeys start and end.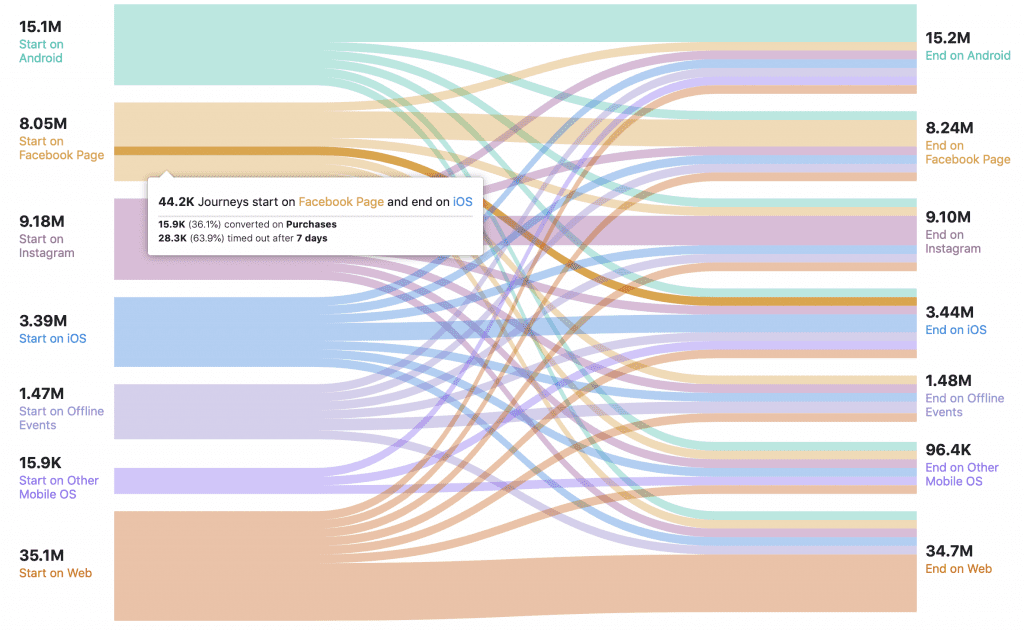 The insight in the example above tells me a couple of things:
People are going from my Facebook page to iOS. I may want to create an app that I promote through Facebook. Or, if I have one, I may want to upgrade it to offer more features.
A lot of those people are making purchases this way. I may want to put more money toward ads that push sales of my products.
If there were zero purchases made this way, I would use a different strategy – maybe brand awareness instead of conversions.
Visual Behavior and Testing
Visual behavior and testing tools show how and where users interact with webpages. A variety of solutions are used to do this, including form analysis, heatmaps and session recordings. After analyzing this data, you can use A/B testing to find out if changes will improve website performance. Visual behavior and testing tools include Crazy Egg and Optimizely.
Web Analytics
Web analytics can track a variety of attributes of app or website visitors, including:
Actions
Behaviors
Demographics
Events
Geographic characteristics
Tech characteristics
They also measure quantitative data gathered from apps and websites:
Average time on page
Bounce rate
Conversions
Page views
Sessions
Site content
Site speed
Traffic sources
Users and new users
Google Analytics and Kissmetrics are examples of web analytics tools.
A Quick Look at Marketing Attribution
Let's say you have a great conversion funnel – it works, you're getting sales and your numbers keep improving. Great. But why is it working? Don't you want to know? Or what if it could work better? More sales, better numbers…
You don't have to stop improving just because you're already doing well. Marketing attribution shows the touchpoints along a conversion funnel that led to a sale. It does this by assigning revenue credits to each touchpoint. There are seven main types of marketing attribution models:
Single Touch: Assigns revenue credits to either the first or the last touchpoint (pick just one).
First Touch: Assigns revenue credits to the first touchpoint.
Last Touch: Assigns revenue credits to the last touchpoint. This is the easiest to set up but the least efficient – it ignores all previous, potentially-important touchpoints.
Multi-Touch: Assigns revenue credits to multiple channels.
Linear: Assigns equal revenue credits to each touchpoint.
Time Decay: Assigns revenue credits to touchpoints that are close to the conversion.
Position-Based / U-Shaped: The first and last touchpoint each receive 40% of revenue credits. The remaining 20% is distributed evenly among the remaining touchpoints.
Broadly, multi-touch models are better than single-touch because it's unlikely that only one touchpoint is worth analyzing. The type of model you choose will depend on the type of touchpoints you have. For example, ecommerce websites won't worry too much about offline touchpoints, but brick and mortar stores will. You could even use a few different models at the same time to experiment and see which ones give you the best insight.
Wrapping Up
There are a lot of details when it comes to marketing analytics, but the big picture process you'll follow is simple: choose a variety of techniques to gather the most important insights, assess your analytics strategy to fill in gaps and then figure out a plan of action based on what you learned. Rinse, repeat.
Running marketing campaigns without tracking performance is like taking tests that never get graded. How do you know if you're doing it right or well without a feedback system? Marketing analysis is a loop that never closes – it lets you continually test, learn and improve.
Tracking performance is just one golden rule of marketing. Here are a bunch of others.
Featured Image via Molnia / shutterstock.com