AskNicely lets brands collect net promoter score (NPS) customer feedback at any point in the customer journey and from any channel. The software is for anyone who cares about delivering a great customer experience – support departments (obviously), entrepreneurs and product managers, for starters.
A Quick Explanation of NPS
NPS is an 11-point rating system (0-10) that determines how likely a customer is to recommend your brand to friends or family. Responders fall into three categories. "Detractors" are unlikely to recommend, "passives" are neutral and "promoters" are likely to recommend. NPS surveys often include space where customers can write a comment, too.
AskNicely Features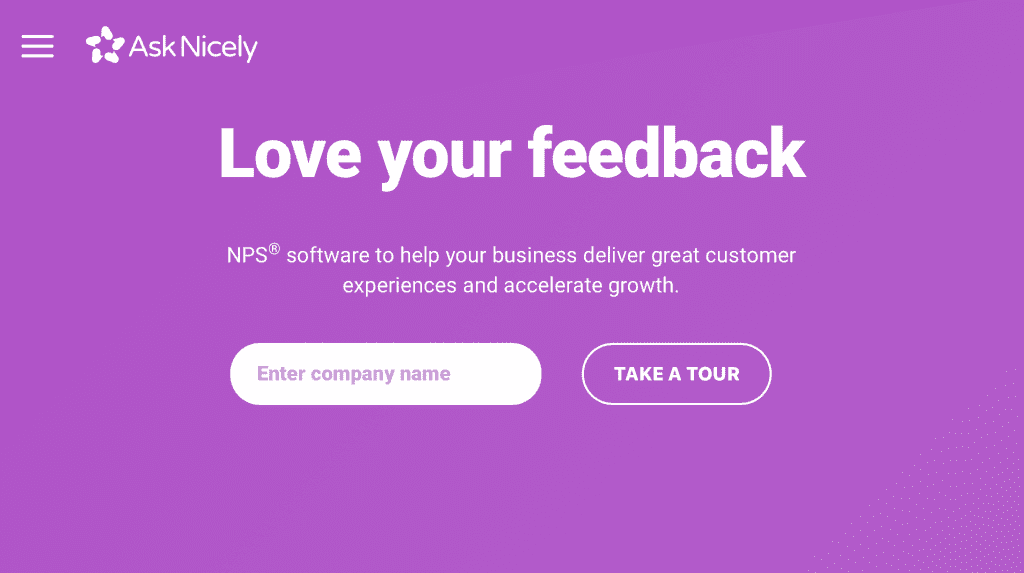 A cornerstone of AskNicely is the automation of customer reviews and referrals. You can also follow-up with at-risk customers to increase retention. The goal is to create a continuous feedback process so your business is always learning and improving.
Here are more AskNicely features:
Integrate AskNicely with your customer relationship management (CRM) software. Trigger feedback requests and workflows after certain events or within timeframes.
Deliver one-touch, mobile-friendly surveys via email or your app or website.
Set AskNicely to send a survey to a sampling of your customers every month so that you're always collecting feedback.
Automate responses based on the NPS score given or automatically assign the response to a team member.
Once you receive customer feedback, respond through AskNicely or through your own CRM or help desk. If a situation escalates and a customer needs immediate attention, you can route them to a team member through email or Slack.
One-click functionality to ask for permission and publish positive comments.
Auto-request Google, Trustpilot or Yelp reviews from promoters.
Determine which social networks your customers are using and view their follower counts. This can tell you which social platforms your business should be present on and alert you to customers who may be perfect for influencer marketing.
Get instant alerts or generate weekly email reports. You can also track NPS over a longer time period to see how it changes as you adjust your business. Store feedback for however long you want.
AskNicely Surveys
AskNicely's surveys use Survey Branching Logic, meaning you can ask follow-up questions based on the NPS score. With fatigue-protection, you won't over-survey (and annoy) your customers. You can also send surveys in different languages.
In-App or Website Surveys from AskNicely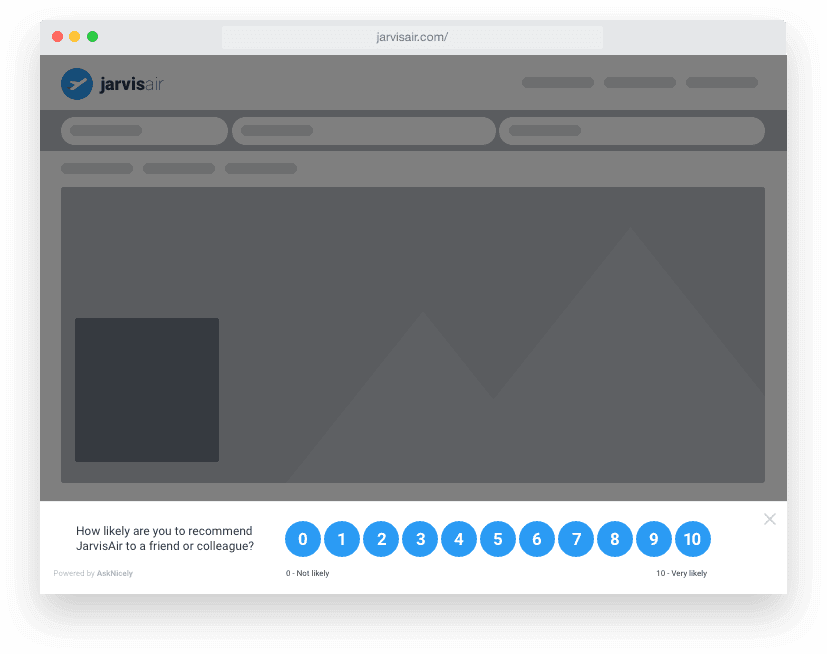 If you have an app or a website, you can create pop-up surveys to collect feedback at the exact moment when customers are engaging with your company. The pop-up can be customized using your brand colors.
Email Surveys from AskNicely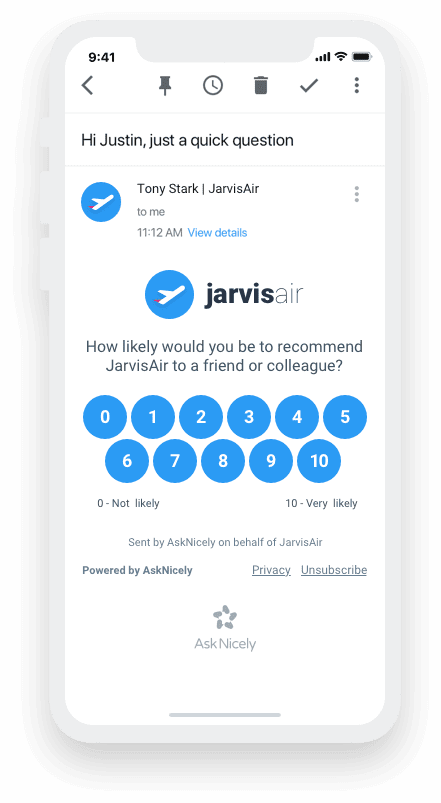 When creating an email survey with AskNicely, you can use your brand colors and logo to truly make it yours. Send from your own domain – their email servers have high deliverability and are always compliant with current standards. Customers don't have to open up a new link to access the survey – they respond right in the email, which can increase response rate.
SMS Surveys from AskNicely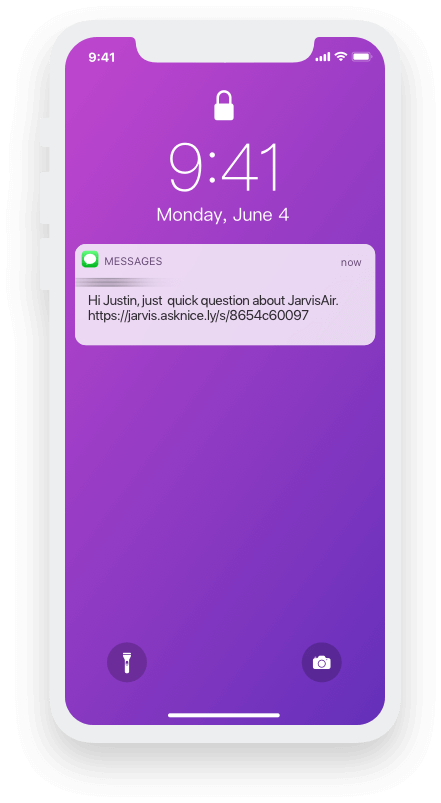 If you have a phone number for a customer but not their email address, you can send surveys via SMS. The text message will include a link that can easily be opened in a smartphone browser.
The AskNicely Dashboard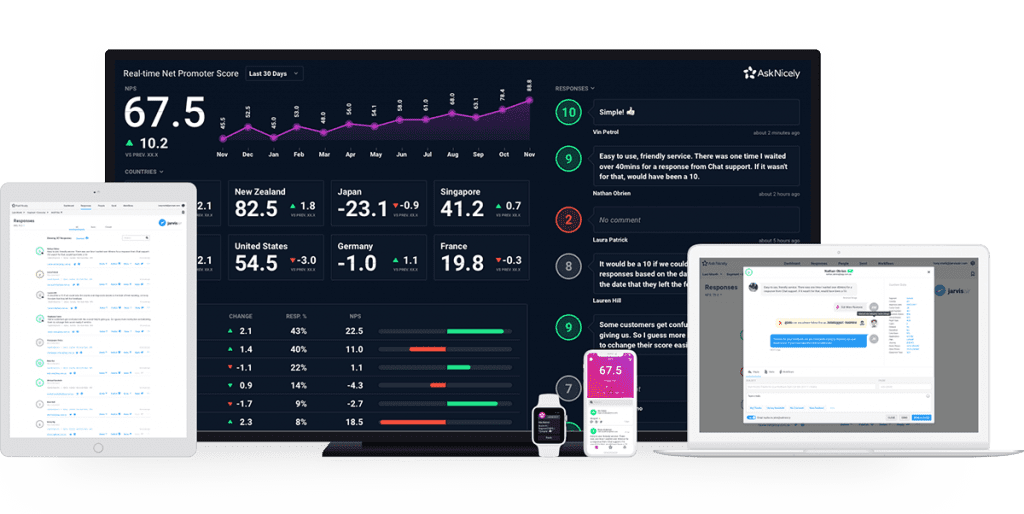 The AskNicely dashboard can be viewed on different devices and in different tools (desktop, mobile, TV, Salesforce, etc.).
Here are some features of the AskNicely dashboard:
NPS can be ranked by event, location, team or segment. You can quickly and easily see where your business is succeeding in creating promoters and where it's failing by creating detractors.
Filter NPS results by any of the fields in your connected CRM or help desk software
Real-time insights empower teams to take action in-the-moment to encourage upgrades, reviews or referrals.
Text analytics dig deeper to find out what customers want. Comments are analyzed and separated into theme buckets. This highlights common issues amongst promoters and detractors.
Resources and Help from AskNicely
AskNicely offers live webinars and Q&A sessions for brands that want to offer better customer service and raise NPS scores. They also have downloadable guides and white papers on the same topics.
While their resources don't revolve around using AskNicely specifically, the software is sleek and user-friendly, so you may not have any problems with it at all. If you do, they have a good customer service track record themselves (we'd hope so – they're a customer service company, after all), so they should be able to provide recommendations and some hand-holding should you need it.
If you want to see how other companies have used AskNicely, there's a Customer Experience Hall of Fame and customer stories on their blog.
AskNicely Pricing
AskNicely doesn't have public pricing or plans that you can choose from. Instead, you have to get in touch with them and schedule a call (and demo) to discover the best pricing for your needs. It's not that AskNicely puts together a custom package for every brand, just that they'll suggest the membership level that's best for you. One issue you might run into is that the lower-cost plans have low quotas for monthly emails – that could be limiting if you're unable to afford a pricier plan at the moment.
Wrapping Up
Customer feedback software is only as useful as you make it. Collecting data doesn't actually change anything – you have to learn from the positive and negative comments and reviews and then make changes accordingly. Create new features and update existing ones, stay on top of real-time feedback as much as possible to communicate in-the-moment with customers and do your best to cater to (reasonable) detractors in order to retain them as customers.
It will help if you understand the different customer touchpoints going in – you'll then have an easier time creating workflows and triggers for those specific touchpoints. You may also want to determine standard NPS scores for your industry so that you have a benchmark.
AskNicely may not be an all-in-one customer management program, but what it does, it does well – and since it integrates with your existing CRM, it may be the seamless customer feedback process you've been looking for. Collecting customer feedback is a necessary part of running a business, and AskNicely lets you automate much of the process so that you and your team can focus on responding to high-level issues and tweaking the business to better serve your customers.
Want to streamline your workflow even more? Learn how to create canned responses in Gmail (and feel free to use our templates!).