With Black Friday just around the corner, we thought of a way to make your campaign preparations go easier. We came up with 3 unique Black Friday countdown landing pages that you can use to put your products and/or services in the spotlight. These layouts are free for you to download and use without any restriction, even for commercial purposes. Enjoy!
(But before you do…take a moment to check out our own Black Friday deal page. You won't want to miss our biggest deal of the year or all of the prizes we have in store for those who make a purchase. We even have a prize you can enter to win while you wait–a brand new IMAC PRO!)
Ok, now back to our regularly scheduled programming. Here are the three layouts we've created for you to use for your very own Black Friday Sales.

Landing Page #1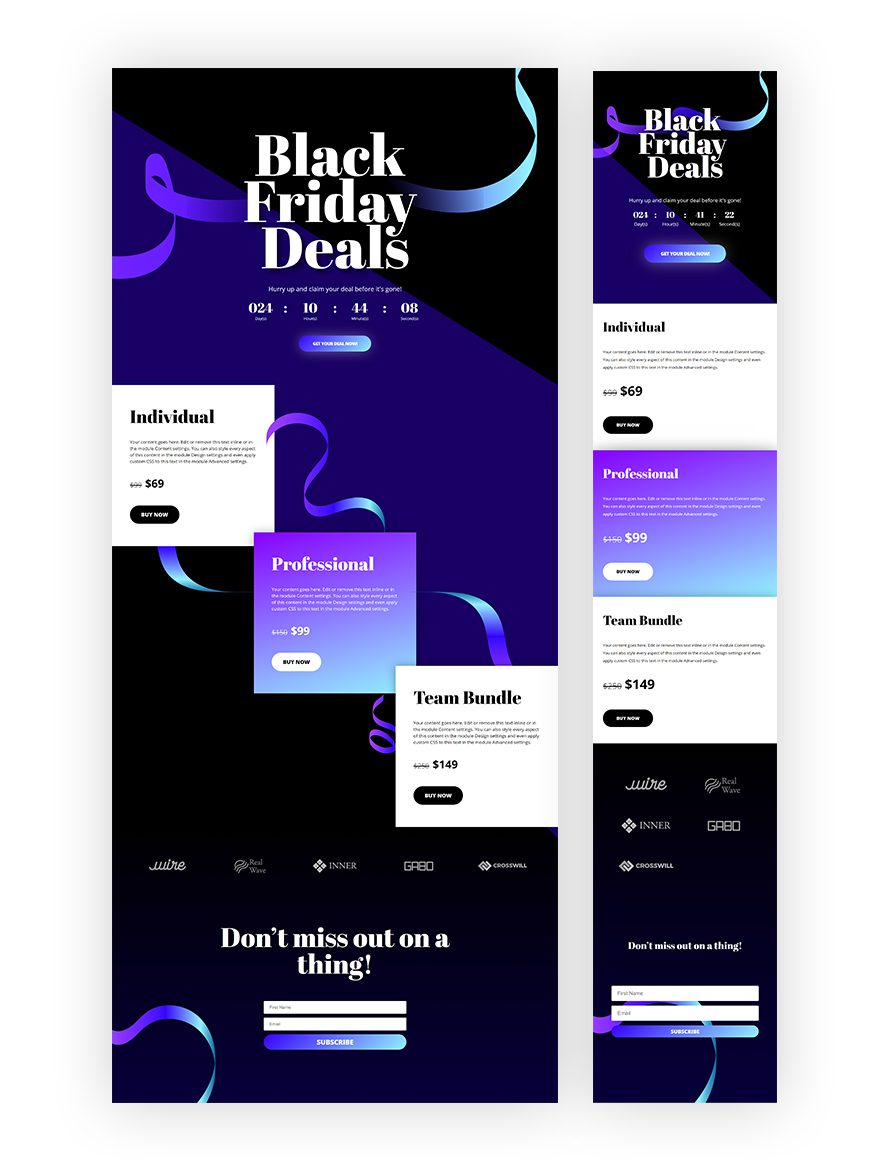 Landing Page #2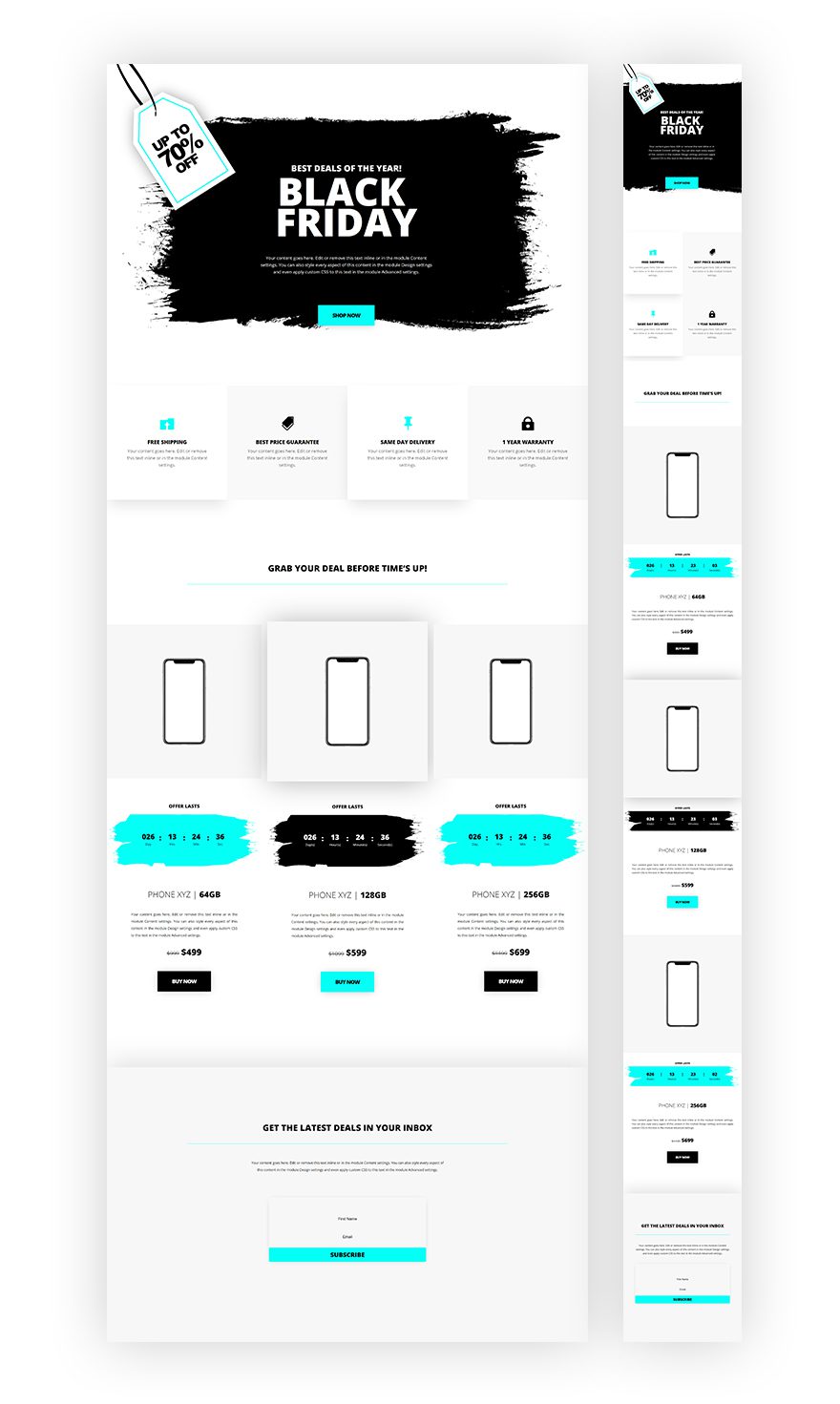 Landing Page #3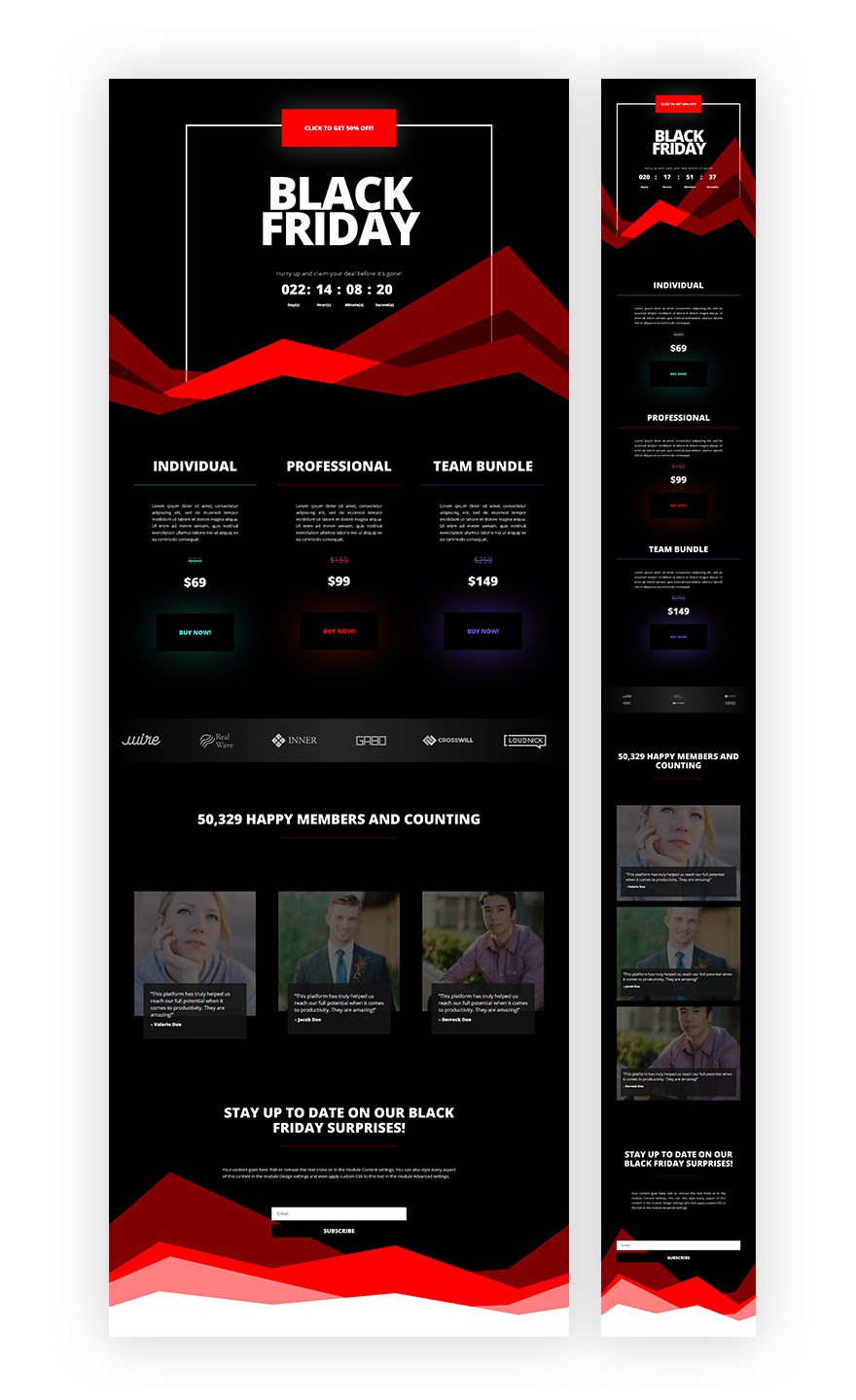 Download the FREE Layouts
To use the Black Friday Countdown Landing Pages on your own Divi website, you will first need to download it using the button below. To gain access to the download you will need to subscribe to our Divi Daily email list by using the form below. As a new subscriber, you will receive even more Divi goodness and a free Divi Layout pack every Monday! If you're already on the list, simply enter your email address below and click download. You will not be "resubscribed" or receive extra emails.
How to Import the Layouts
Subscribe To Our Youtube Channel
Once you have downloaded the layout pack, locate the divi-black-friday-countdown-landing-pages.zip file in your downloads folder on your computer. Double-click the folder to unzip it and then navigate inside the divi-black-friday-countdown-landing-pages folder. Inside this folder, you will find a json folder with 4 files, each of which is a unique layout that you can import into your Divi Library. To do so, navigate in your WordPress Admin to Divi > Divi Library > Import & Export. You can select the individual layout you desire or choose the All Layouts file to important everything at once.
divi-black-friday-countdown-all.json
divi-black-friday-countdown-layout-1.json
divi-black-friday-countdown-layout-2.json
divi-black-friday-countdown-layout-3.json
To load one of these layouts onto your page, activate the Divi Builder and then look for the "Load From Library" icon in the page settings bar (it looks like a plus symbol). Click this icon to launch the Load From Library popup and then navigate to the "Your Saved Layouts" tab. Here you can choose any of the 3 layouts we've included in this pack to add to your page.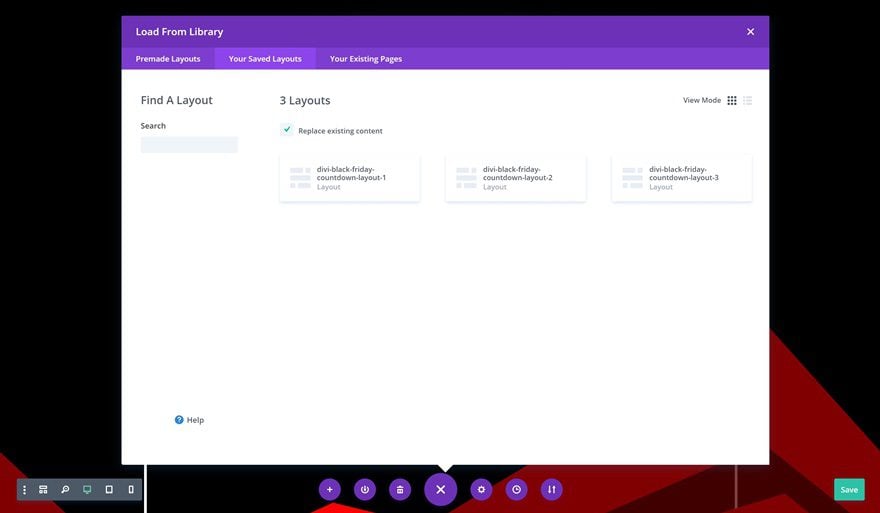 Final Thoughts
We hope you keep enjoying these free resources we bring to you each and every week. Let us know in the comment section below which one of the landing pages you're planning on using!