These days, nearly everyone has a YouTube channel. Maybe you want to one day work in Hollywood. Perhaps you just want to put together home movies and edit funny cat videos. Whatever that reason is, you need the best video editing software you can find. So we've put together a pretty solid list here. It ranges from the pricey behemoths that Hollywood uses on your favorite blockbusters, to the perfectly competent free options that will make your kids' birthday parties dazzle the world in better-than-real-life 4k splendor.
Best Free Video Editing Software
If you are just starting out in the video editing world, paying hundreds or thousands of dollars for an editing suite may not be possible. Luckily, some of the best video editing software out there is  free. You don't have to pay extravagant prices for the capability to put together professional-quality video. Whatever you splice together in these suites can stand up next to almost anything you pit it against.
1. Apple iMovie

If you have a Mac, you already have a powerful video editing suite on your hard drive. iMovie comes pre-installed on Apple computers. It is quite honestly one of the better options available, free or premium. It just happens to be free. The interface is simple and easy-to-learn, even for beginners. You get 4k support, multi-track editing, and a plethora of transition/sound effects. The software itself is pretty beastly, too. iMovie can handle some pretty heavy files without bogging down  (depending on your system specs, of course). It also exports directly to online video platforms, and your projects sync between the MacOS version and the iOS version. If you've ever used Garage Band, then you'll know the kind of experience you'll have with iMovie.
2. HitFilm Express

Now this one…this one is a real contender for the title of best video editing software. Not just for Mac, but Windows, too, HitFilm Express is a crazy powerful application. It's rare for a free piece of software to be as fully featured as this one is, but that's not the really amazing thing about it. While that's definitely a major reason — I mean, if it couldn't do pretty much everything, why include it? — but the real selling point for me is the ridiculous amount of documentation and tutorials the company releases for their software. They are actively engaged in your learning how to use their product to pull off some really awesome stuff. From Iron Man-style HUDs to lightsaber effects to just knowing how to do screen replacement on a moving prop, it's not often you find a piece of free software that's supported this heavily by the company and community.
3. VideoPad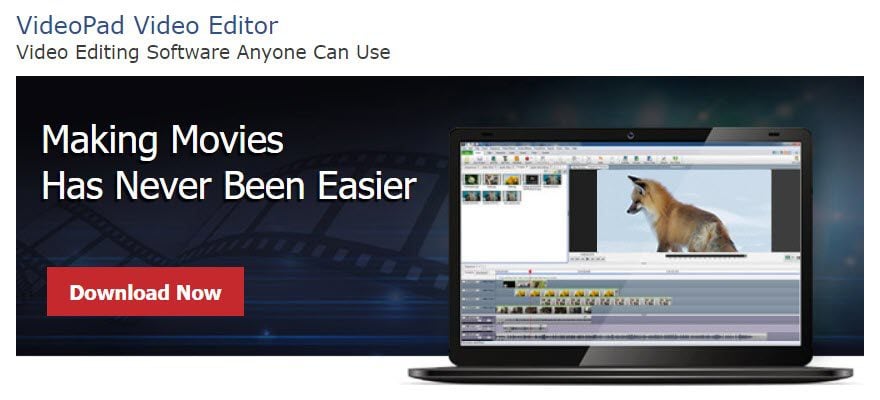 NCH Software puts out some really solid stuff. Their audio editing software WavePad is just top-notch. And VideoPad, the video side of their library, doesn't fall short of that standard. There's a Windows, Mac, and Android version of VideoPad. No iOS port, though. Regardless, the UI is slick and easy, getting to all of the controls is a cinch, and adding in a transition between scenes or cutting out a section is no problem. Color correction, audio mixing, adding narration…everything you really need as an amateur auteur is in VideoPad. It also does 3D stereoscopic video, and you can add even convert 2D to 3D. Cool stuff.
4. Adobe Premiere Clip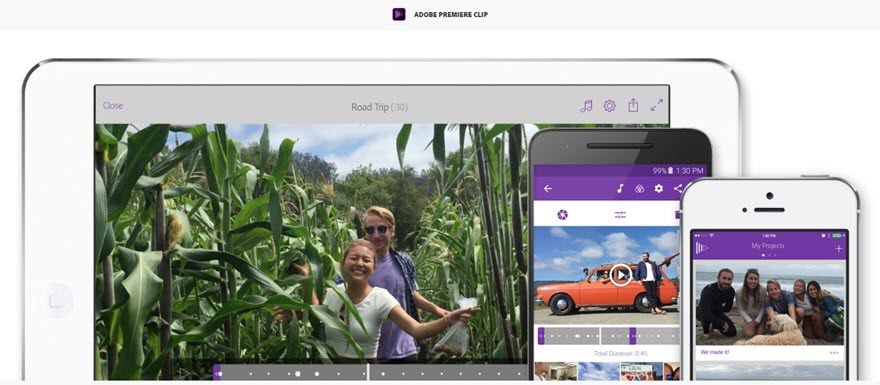 Here's an interesting take on the free software. Adobe Premiere Clip is a mobile-only version of Adobe's big, bad behemoth Premiere Pro. That means it is obviously not going to put out major releases for a billion-dollar studio. For someone looking for the best video editing software they can take with them, Premiere Clip is a contender. There's an Apple iMovie app that works awesomely for this, too, but it's iOS only. Premiere Clip being for iOS and Android bumps it up the list for its own inclusion. Not to mention that it syncs with Adobe's Creative Cloud and other mobile apps. (All of which are free, too, by the way). If you're a casual videographer who just wants some video for your website's hero sections, maybe quick promos for a client, or polished social videos, Premiere Clip is definitely something to look into. Of the ones I've used, Adobe Premiere Clip is the best video editing software I've found.
5. Avid Media Composer | First
Avid absolutely makes some of the world's best audio/visual software. Their audio editing software Pro Tools is an industry standard, and they certainly have some of the best video editing software out there, too. And while the version of Media Composer used by Hollywood studios can be upwards of $1,200 dollars, this version is totally and completely free. You're limited in some things that you can do (Media Composer | First can only do 1080p video, not 4k, for instance), but the tools you have access to are the same ones in the premium version — that one just gets more options for those tools. If you are looking at video production as a career, you can't not download Media Composer | First, if for no other reason than to get familiar with something that you will almost certainly have to work with one day.
Best Premium Video Editing Software
Talking about Avid's Media Composer is a good transition into premium applications, since the full version is definitely a top-contender. If the free version wets your whistle, try a month-long subscription of Media Composer for $74.99. It's definitely a premium app you need to check out. There are a lot more out there, too, ranging from affordable to a major tax deduction.
1. Adobe Premiere Pro CC

Once upon a time, there was a terribly powerful and much-sought-after video editor called Adobe Premiere Pro. It could do anything the producers and directors wanted (and more!), but it was so expensive, it turned people away before they could even give it a shot. Then one day, the Adobe Creative Cloud was launched, and instead of being hundreds of dollars up front, editors could use some of the best video editing software around for as little as $19.99 a month. There was much rejoicing around the world.
But seriously, Adobe Premiere is one of the top suites in the video editing, period. However, it is not newbie friendly, like most Adobe products, but it's also not overly hard to learn if you're willing to take the time to understand how it works. While the interface looks imposing, the workspace is set up intuitively — for Adobe. And the tools you have are powerful enough to produce Hollywood hits, as well as the perfect dance recital montage.  If you've ever used Photoshop or Audition, you'll be right at home with Premiere, and your learning curve won't be nearly as steep as a totally new user.
2. Adobe Premiere Elements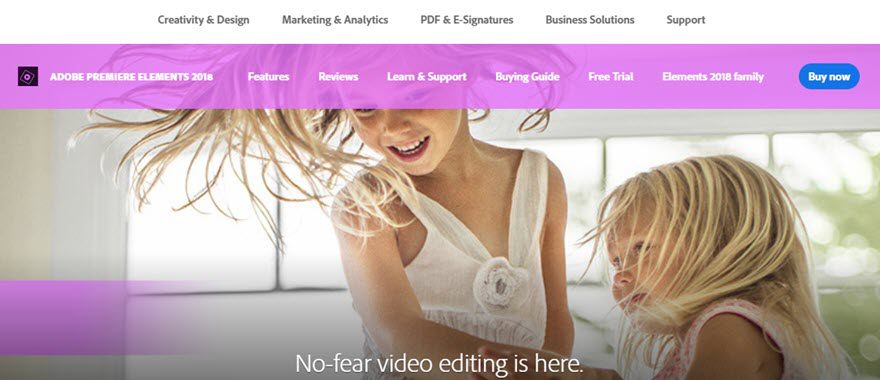 Premiere Elements is the no-fuss-no-muss version of Premiere Pro. This one is more accessible, easy-to-use, and completely powerful in its own way. Like iMovie above, this app invites newbies in and makes them comfortable while giving them access to features that can produce some truly stellar videography. The big draw for Premiere Elements over Premiere Pro is how inviting the UI is because it was made for folks who aren't video professionals. Everyday people can use Premiere Elements and make high-quality vids, and Adobe even has a built-in tutorial system called Guided Edits that will lead you through using the software's features and effects. Elements does cost $99.99 for the app (no subscription here), but it does a whole lot and helps you along every step of the way, which really justifies the cost.
3. Apple Final Cut Pro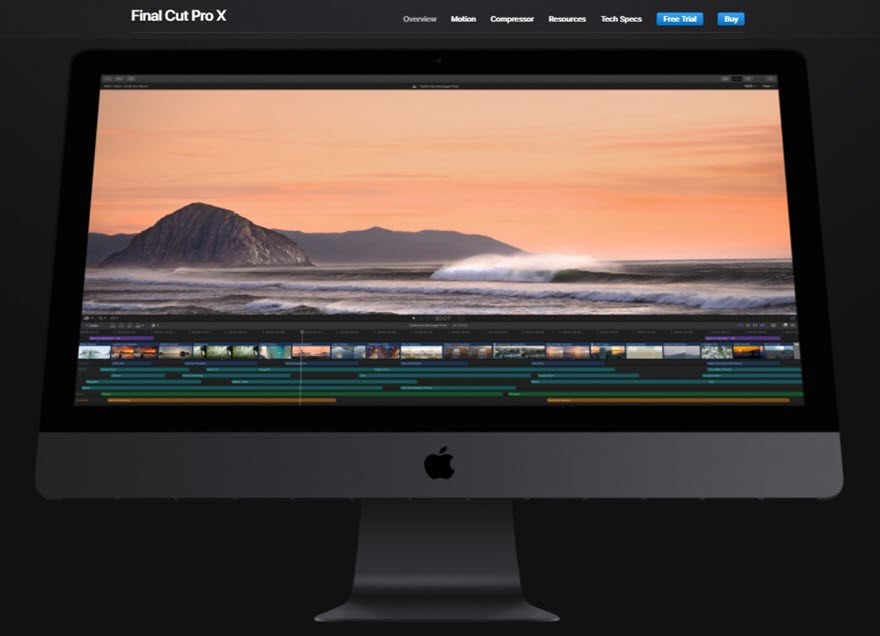 As Garage Band is to Logic Pro, so is iMovie to Final Cut Pro. Apple is really good at offering a highly polished free version of their software to really get people invested in their ecosystem. Like I said above: iMovie does so much, and it's so easy to use. When you look at Final Cut, you can really see that it's a premium version of what might as well be its little sister app. It costs $299, and is every bit the industry-grade software as Media Composer or Adobe Premiere. Things you could do in iMovie are faster because of workflow enhancements, and you have a lot more options for tweaking and getting fine details right. Final Cut is absolutely a professional-grade suite of software, and there is a huge community out there for plugins and extensions. Apple is constantly coming up with new intelligent features to help make colorizing and grading quicker and more seamless.
4. Pinnacle Studio Ultimate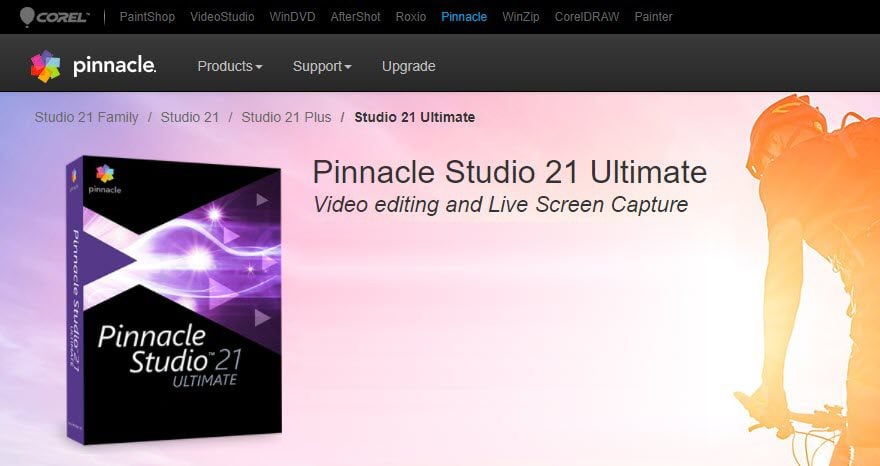 Corel is a software company that goes back decades. I remember when I got my first-ever computer at home, and my mom went crazy over Corel's PaintShop, and later on, WinZip was pretty much a necessity before Windows included unzipping archives natively. Now, Corel is really upping their game by putting out two really, really awesome premium video editors: VideoStudio and Pinnacle Studio. In a lot of ways, they're both worth recommending. Pinnacle just edges out VS by simply doing everything its baby brother can do and more. And for roughly the same price (depending on the deal Corel is offering, Pinnacle Studio Ultimate sells for $99-129 and VideoStudio for $89-99). For the price difference, go for the suite with more power and options, has arguably the better interface, and is edges out its baby brother in overall power. You may not get Hollywood-quality videos out of either of these. But Corel is really nipping at Apple and Adobe's heels with this one.
5. Lightworks

One of the lesser-talked-about video editors, Lightworks is absolutely professional-grade software. I have to note that Lightworks is runs on Linux. There are a lot of video editors that run on Windows or Mac exclusively (or both). Few, however, run on Linux. Because you can really configure Linux to be a powerhouse, know that Lightworks takes advantage of your hard work. Additionally, you can set up real-time collaboration on projects — yep, just like Google Drive. You and your team can be working on the same project simultaneously. And the project manager can give folks different permissions so team member steps on anyone else's toes. Best of all, there are oodles of pricing options: the free option is surprisingly full-featured, but it's limited to 720p. The full Lightworks Pro suite can be bought via subscription (monthly or yearly, $24.99 and $74.99 respectively). You can outright buy the pro version for $437.99 — but that's limited to point releases, not major version upgrades.
The Best Video Editing Software is…
…impossible to determine! Really, I think it is. The features are similar across the top contenders, and a lot of the final verdict will come down to both individual taste and budget. The free options like iMovie and HitFilm Express will be more than enough for some people and even some smaller companies who just need a few slick videos every now and then. And the premium offerings are all so unbelievably close to each other in performance, UI/UX, and output quality that you simply can't go wrong. Since most of them offer a free trial period, it's in your best interest to give them a shot and see what clicks with you and your team.
What is the best video editing software that you've come across? Give us recommendations in the comments!
Article featured image by Robert Adrian Hillman / shutterstock.com