The single most asked question I see around the internet is some variation of What's the best company for WordPress hosting? It's nuts how often this comes up, but it shouldn't be that surprising–there are so many options and choices out there, it's almost impossible to not get bogged down.
In many ways, the hosting companies are similar. They can offer one-click installations, cPanel admin dashboards, add-on domains, and that sort of thing. But in many other ways, the hosts can be quite different, and those differences are what you should look into when choosing where your WordPress site lives.
Traditional vs Managed WP Hosting
One of the biggest choices you'll have to make when deciding on a WordPress host is whether or not you want to go for an all-in-one managed hosting package, or if you want to go for the more traditional, shared/VPS/cloud option. Both options have their merits and pitfalls, so it will be entirely dependent on what you need.
Traditional Hosting
Traditional hosts (or shared hosts) are set up to give you a section of a server. They partition off your area, and you can do what you want to with it, but like a subdivision in the real world, you have no choice of who your neighbors are, so if they're doing shady things, your property value goes down (and becomes potentially damaged).
The trade-offs for that come in having bunches of control of your own area, often with hosting as many WP sites as you want for the same monthly cost, which is typically much lower than managed hosting. Because you handle the daily tasks and upkeep yourself.
The most well-known of these shared hosts are GoDaddy, BlueHost, HostGator, and Siteground.
Managed WordPress Hosting
Managed hosting, on the other hand, offers you a single place where your WordPress install lives. It is reserved for you and yours alone. Your neighbors are off living in their own gated communities, and you're off living in yours. You get security, updates, support, and fantastically optimized speeds (often far faster and more reliable than shared hosts) all handled for you.
But you pay for it. Again like in the real world, living in a walled-off mansion by yourself comes with a cost. You don't get to control things yourself, as updates are handled automatically, the number of WP installs can be limited–so can the particular plugins you're allowed to use–and the price-tag is much, much higher on average than shared hosting (especially when looking at price vs number of installs).
While many hosting companies are moving into managed hosting these days, the old standbys are WPEngine, Flywheel, Kinsta, and Cloudways.
A Deeper Dive into Some Hosts
But that's all top-down generalization. Each host has its own quirks, benefits, and solutions that may make all the difference for you. And that's what I want to talk about. Because while you may read the above and realize you definitely need managed hosting (or vice versa), there's still a big decision to be made when you look at which WordPress hosting company to go with.
I'll be looking into some of the old standbys and newcomers to the WordPress hosting scene.
GoDaddy

GoDaddy is the granddaddy (heh heh) of hosting companies. It's the Walmart of web hosts. People know the name, they've probably shopped there at some point, and they probably have an opinion about it, too. That's not good or bad. It just is what it is.
In terms of WordPress hosting, GoDaddy offers both traditional, shared plans as well as managed WP hosting.
For WordPress hosting specifically, GoDaddy stays on brand. They mix their discounting and never-be-undersold mentality with the managed hosting philosophy of keeping focused on your singular product.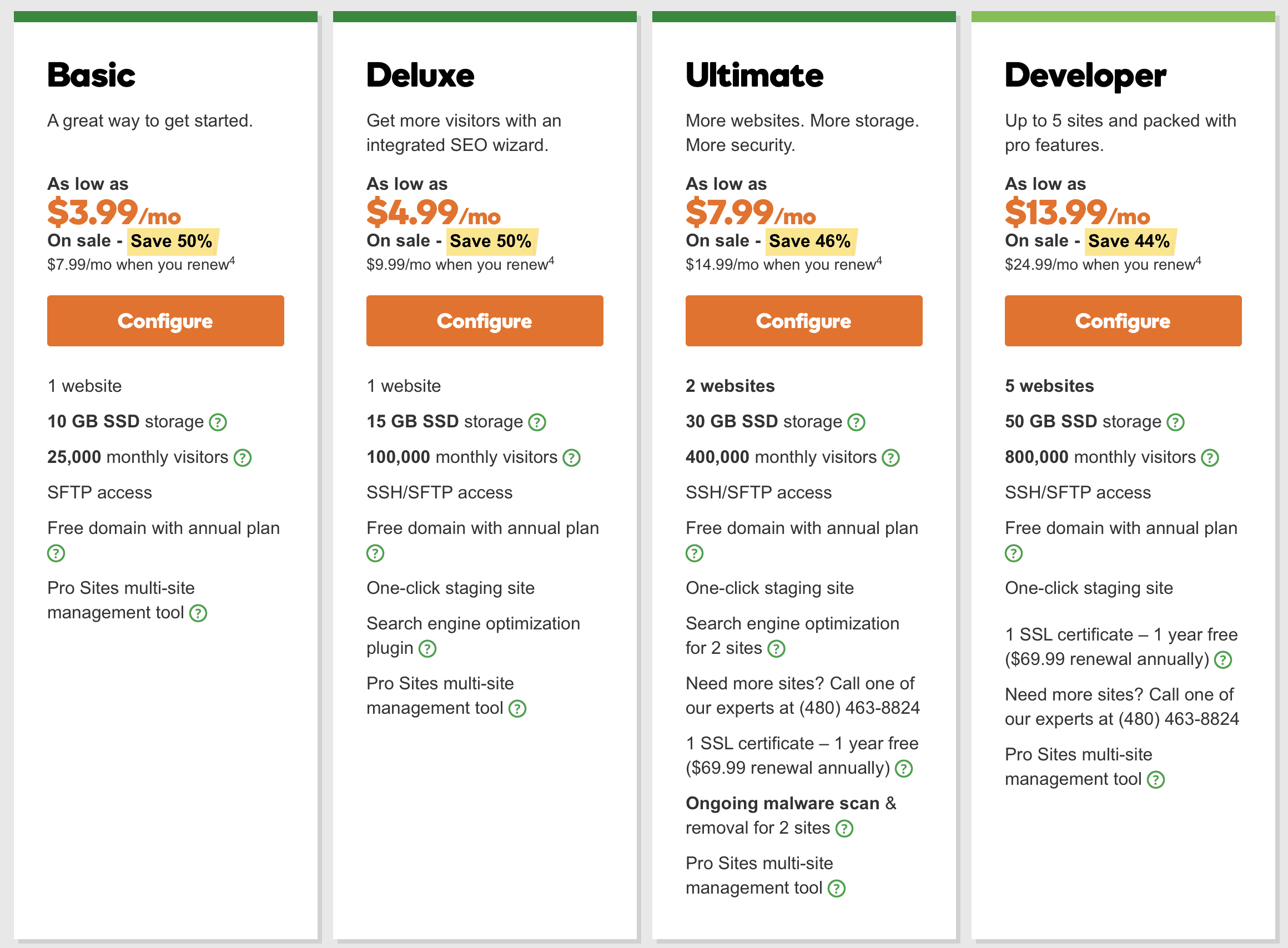 Digging in to GoDaddy
Basic

1 site is typical.
You don't get any SSH access, but SFTP is standard. This stays in line with their focus on new users.
The cost is crazy low, especially for the first purchase period.
25k visitors on the lowest tier is higher than other managed hosts, but with even a modicum of success you will be paying more.
The amount of storage you're given for basic is 10gb — standard, really.
Deluxe, Ultimate, Developer

Higher tiers offer SSH access.
100k-800k monthly visitors is enough for most folks.
SSL is free for one year, then you pay a $70 up-charge.
The rest of the options, free domains, and SEO plugins are not really selling points for the increases in cost. Just download Yoast for SEO plugin and you're set.
Other Stuff

GoDaddy boasts about continuous malware scans, anti-bot protection, and stopping spammers, but they don't go into any detail about how they're handled on the backend.
That makes me very wary, especially because the continuous malware scan is an up-sell (Ultimate plan and up).
Their target demo probably doesn't care about that stuff, which is why their verbiage uses phrases like "evil hackers".
No choice of server specs, but that's part of what makes it managed. That also means there's no option to upgrade specs, either.
Final Thoughts on GoDaddy
In the end, without releasing anything but the most basic tech specs, not being transparent about what they use to protect your site, and up-selling at every opportunity, GoDaddy doesn't seem to be a realistic choice for anyone who has already been a WordPress user for a long time. Even among managed hosts, their offerings are spare.
Flywheel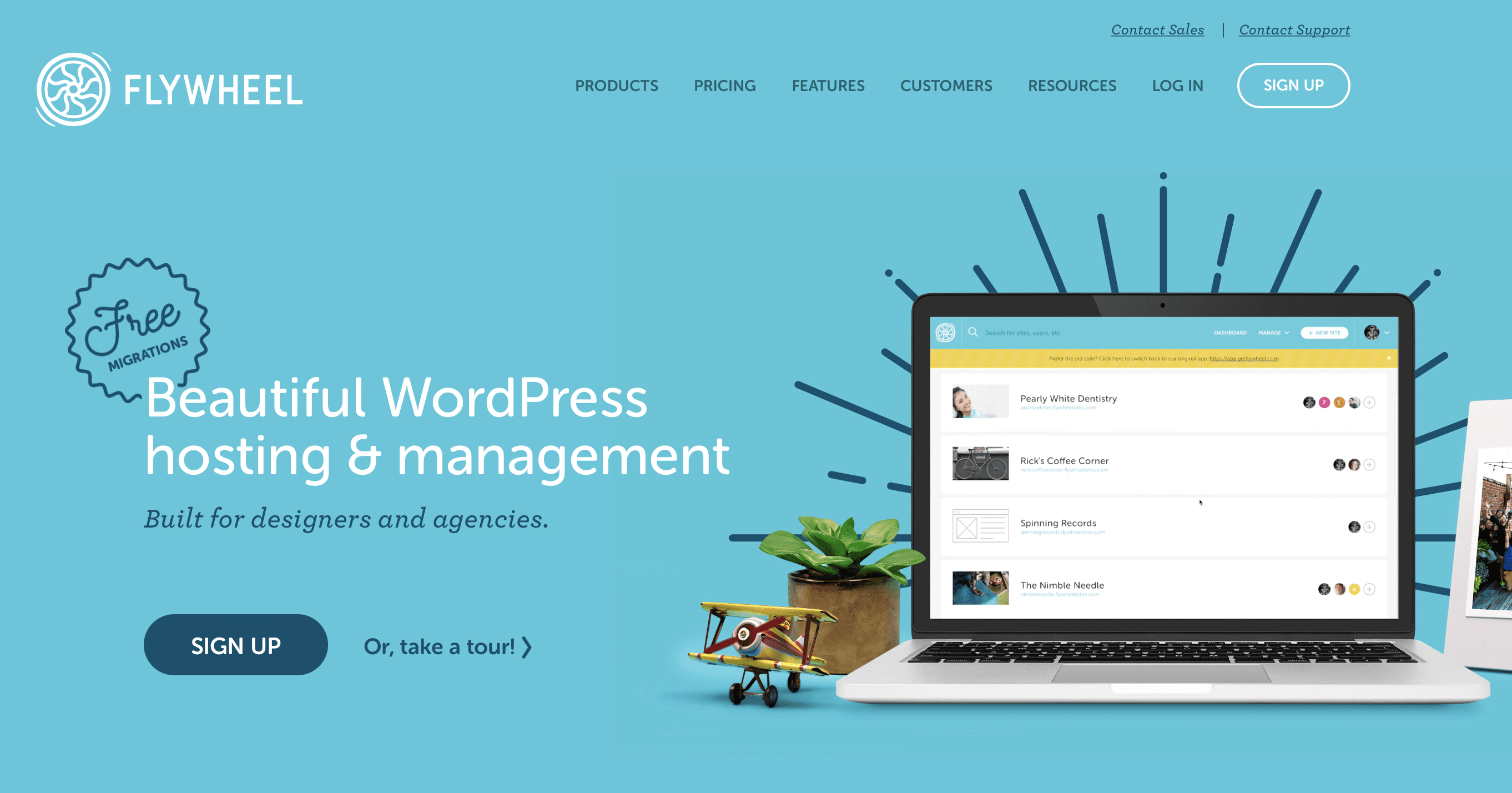 Flywheel is one of the big names in managed WordPress hosting. Focusing on seamless migrations, ease of use, and your peace of mind, they put everything out there for you in the beginning. Their focus is on UX, both for the site visitor and site owner.
Like other hosts, they do offer tiered pricing with various features walled-off by tier. They don't offer a lot of tech specs, either, but their target demo consists of designers and agencies looking for a smooth transition from the dev team to the end user.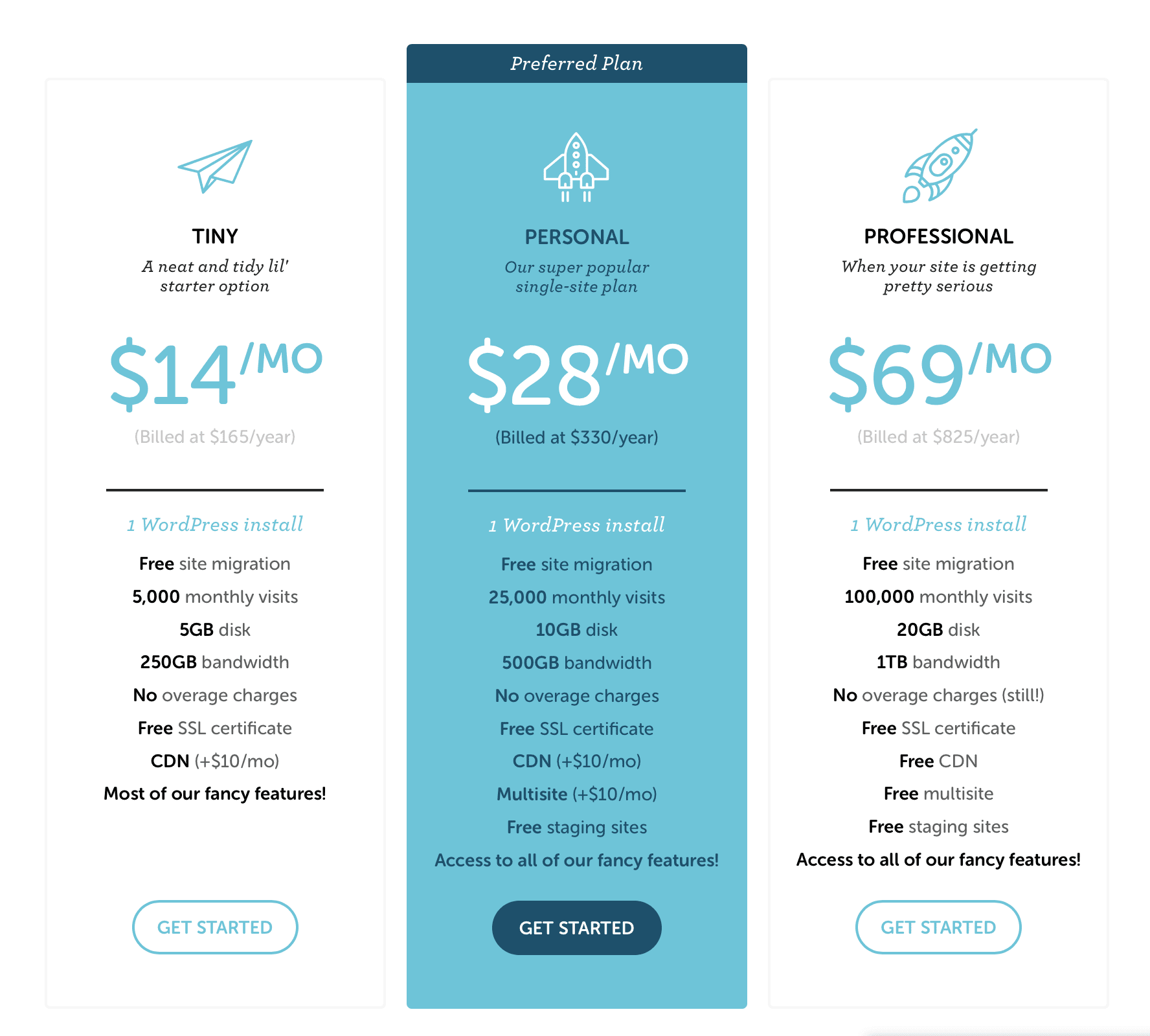 Digging in to Flywheel
Pricing Details

Pricing is pretty standard among managed hosts. While they have a $14/month plan (aptly called Tiny), you will likely need at least the $28/month one. However, if you do go over any of your quotas, your site doesn't stop working, though. Flywheel support just contacts you to work things out.
You get 1 WP install regardless of tier, unless you're on a bulk plan (mucho dinero).
CDN and Multisites are up-sells, which isn't the best, but it's understandable given the resources required.
You get free SSL certificates for all sites, though, which is awesome.
Everything but the Tiny Plan includes a staging site within the dashboard. However, even the Tiny Plan can take advantage of their Local by Flywheel app, which will connect to any Flywheel account. If you haven't tried Local before, you should — it's great, and you can use it regardless of hosting provider, too. This might even be a better option than having staging included in your plan. Seriously.
Security and Other Stuff

Open about what they use. Sucuri is on every site, and they use IP blocking, limit login attempts, and scan for malware (though they don't show what they use outside of Sucuri).
Automated, regular backups.
You can't pick or use your own security or caching plugins. That's handled by Flywheel. Again, this is really typical of managed WordPress hosting, so it's not a big deal. I just wanted to mention it.
SFTP access is available for each site you have on your account. Just fire up FileZilla or Cyberduck, and you're rolling. You can even give other folks SFTP access just by entering their email.

You do have database access only through the dashboard, but if you're used to going through cPanel to get to phpMyAdmin and such, it's the same, really.

You have to contact them to handle SSH-only tasks, which can be a killer for some folks and companies.
You can transfer billing and sites in a couple of clicks. This is a huge benefit for designers and agencies and freelance builders. If you do this, you don't have to pay up front. I've set up sites like this, and it works like a charm.
Support is also fast and responsive, and in my experience in contacting them, my questions were answered without a lot of back-and-forth rigamarole.

There is 24/7 emergency support, standard support hours are M-F 9a-5p CDT (normal US working hours), and there is a ticket system, phone support, live chat, as well as an extensive knowledge base.

Final Thoughts on Flywheel

Flywheel is a good option for managed hosting, and it's pretty standard all the way around, from cost to security to access. You do give up some freedom which is typical for managed hosting, but Flywheel won't nickel-and-dime you on features, and the support is available to you even if you're not paying up front and your client is.

BlueHost

BlueHost is a newer entry into WordPress hosting (though it's a veteran in the shared hosting scene). The options you get for WordPress hosting are spelled out much more explicitly than many companies, but the cost is a little higher, too.

I think, though, that you get what you pay for with them, and the extra transparency that BlueHost offers really makes it a worthwhile option. In my experience, the WordPress hosting here is pretty stable.

Digging in to BlueHost

Bluehost lets you know exactly how much space you have for backups (and separate space for storage), the amount of RAM for your servers, and the number of IP addresses you're allowed (1 per site, typically).
Servers are NGINX and have PHP-FPM to speed them up.
You can upgrade your server's specs at any point. CPU, RAM, and file storage
They offer a WAF (web application firewall) for everything above the most basic tier. This is awesome.
They also include a CDN and SSL certificate at no charge with their basic plan. Again, awesome.
Even the basic plan offers 100 million visits a month. That beats the heck out of the 5-25k that's standard. Let's just say, you're not going to be paying for any overages anytime soon with BlueHost. If you get Reddit-level surges regularly, you're good.
Again, like other WordPress hosting solutions, you have a custom dashboard instead of the traditional cPanel and won't be using your own security or caching plugins because BlueHost manages that part.

Final Thoughts on BlueHost

Flywheel focuses on designers and agencies, and GoDaddy focuses on new users. BlueHost, though, focuses on the technical agencies and businesses that make up the WordPress ecosystem. By providing details like their server architecture and giving you the ability to scale as you need, the higher prices they charge after the discount period seem to be worth it.

WP Engine

If you haven't noticed by now, I am a pretty big fan of transparency, especially with managed hosting. If they're managing it, that's cool, but I want to know what they're managing.

WP Engine is probably the most open managed WordPress company I know of. As you look into their plans, you see exactly what you're being offered on what kind of architecture.

Digging in to WP Engine

Any of their main plans are on shared servers. Most of the other managed hosts are, too, actually, but WP Engine just tells you that up front.

The managed part is why this is okay–they handle security, uptime, backups, and performance optimization. You're not left to fend for yourself, and you're not at the mercy of your neighbors' bad decisions.

Like Flywheel, they do nothing but WordPress hosting. They manage WordPress. That's it and that's all.

Because of that focus, WP Engine is able to have both Enterprise tiers and personal/small business tiers that other hosts can't.

They tell you exactly what and how they manage security.
The lowest tier of service is limited like all the others–25k visitors, no CDN (without paying a $20 up-charge), and only a single WP install.

The next tier up is 3x the price (from $29 to $99/month), but includes 10 installs, 100k visitors, CDN, multisite, and double the storage space). Seems like a pretty hefty jump in price to me. It'd be up to you if it's worth it, but if you're already adding the cost of the CDN to your basic plan, go ahead and upgrade. It's only double the cost that way.

The WP Engine dashboard includes page and content analytics, including renderings of visitor experiences and load times.

Again, these are paywalled behind higher tiers of their pricing plan (content performance, for instance, is in the $249/month tier).

Final Thoughts on WP Engine

WP Engine is the all-arounder of WP hosts. They don't offer traditional hosting like BlueHost or GoDaddy, and they offer a more businessy, back-end oriented solution than Flywheel.

The no-nonsense way WP Engine approaches what they do is refreshing, and for many people, this is the hosting company you use with WordPress because of scalability. And they have a page that shows their entire development stack, which just makes my heart proud.

Transparency goes a long way for me, like I said. If you're the same way, maybe WP Engine is the route you should go for WordPress hosting.

Cloudways

Cloudways is a widely recommended managed WordPress host, and I spent a good period of time there, myself.

What really sets Cloudways apart from typical managed WP hosts is how they handle what services you get. They don't technically host the servers themselves, but act as a kind of liason and agent between you and the a la carte options you need — they literally manage your WordPress hosting for you. Rather than paying for features you may not want or need, Cloudways gives you total control over pretty much every aspect of your servers and applications.

Digging in to Cloudways

You choose the hosting provider you'd like from Digital Ocean, Linode, Vultr, Amazon Web Services (AWS), Google Cloud Platform, or Kyup. They each have different costs based on the server specs you choose, so there's no set pricing at Cloudways.

Plus each provider has multiple server locations, so if you're not from the United States, you can choose a server closer to you, for example.

You choose what CMS you want, and each installation is called an Application. You will likely pick WordPress, but they offer PHP custom apps, Laravel, Magento, Drupal, Moodle, Joomla, and tons more. These are one-click installs, and they are easy. And you can have as many of them on your server as it can handle.

For WordPress, you get a Cloudways-optimized one-click installation of a single-site with or without WooCommerce already set up, multisite, or a clean, typical installation.

The real beauty of Cloudways' business platform is that you can control so much within your account dashboard (you do not get a cPanel here, by the way, but their dashboard is easy to work, so no worries).

Since they actually manage your services, you choose which a la carte options are best for you and your clients. If you need their DNS services, there's an add-on for that. Same for Rackspace email if you need mailboxes and Elastic Mail for transactional email depending on how many you want to send or receive every month.
They have a CDN for your applications, and a special CloudwaysBot that can integrate with Slack or even normal emails that can alert you and work with you for any number of criteria you want.

You get a free first migration, then each other one is $25. If they handle it for you, that is. You can do whatever you want manually. Because, you know, that's their thing.

Final Thoughts on Cloudways

If you want a managed host where you're still the one in control, Cloudways is really for you. They may seem overwhelming if you've never dealt with setting some of this stuff up before, but they respond quickly to customer support tickets, and once you've got the hang of things, you're going to love the amount of tweaking you can do to your servers. That's an option you don't get at most other hosts, where even if you have a cPanel rather than a proprietary dashboard, you can't adjust nearly this much stuff. If you're going to managed WordPress hosting because you want a hands-off approach, this may not be for you. But if you want the benefits of managed without your hands being tied behind your back sometimes, you really should look into Cloudways.

SiteGround

SiteGround has been around since, roughly, forever ago. They're one of the biggest players in hosting, and they have an arm of the business specifically aimed at WordPress hosting. They have a lot of the options that other managed hosts have, but at a fraction of the price — at least for your first billing term.

Digging in to SiteGround

First off, pricing. Their largest plan is normally $29.95 a month, and you get everything they offer. Up to 100k visits, 30gb space, unlimited sites, all the cool stuff.

They tend to offer a significant discount for the first billing cycle, though, which can be up to 60% off. That means you can try out SiteGround for a year for what would cost you for a single quarter at others. That's plenty of time to see if you and your clients need all the neato features.

Speaking of neato features, SiteGround really understands WordPress better than some hosts. And I don't mean that in a bad way toward anyone else; however, SiteGround consistently keeps up with best practices and security measures that you won't find at many shared hosts.

All plans come with WP-CLI installed and ready to go (plus SSH and SFTP), all servers support PHP versions 5.6, 7.0, 7.1, and 7.2 right out of the box (hallelujah!), and as you go up in tiers, you get git integration, staging sites, and even PCI compliance.
All plans get free SSL certificates through Let's Encrypt, and they're a couple of clicks to set up. Installations can use a free CloudFlare CDN, and their default WordPress caching plugin is actually pretty okay. (Yes, a host's first-party plugin actually works well. Blasphemy, right?)

The support team is top-notch, too. All of their technology aside, SiteGround really appears to have build their business on customer support. And it works for them. They boast about 24/7 support, and you can reach out by chat, ticket, or phone (yep, even phone support).

In my personal experience, I haven't ever had to resort to calling or even chat, as the tickets were taken care of so quickly and so well that there was no need.

You get a cPanel, unlike a lot of managed hosts, and SiteGround also has a decent dashboard where you can manage your installations and certificates and servers and all that stuff.

Final Thoughts on SiteGround

SiteGround has a very loyal following for a reason. When you treat your customers well, they want to continue working with you. SiteGround has made that very apparent in the way they handle support, and their customer satisfaction ratings are always high. Additionally, they keep up with technology (like having PHP 7.2 available for your servers) and provide a whole lot of tools for you to keep your WP installations running smoothly and quickly. You get a bit more control over your stuff than WP Engine, for instance, but you trade being with a company who focuses solely on managing WordPress at all times. With their intial discounts considered, giving SiteGround a try may be worth a shot.

Choosing the Best Option

Choosing the best option for WordPress hosting isn't easy. There's just so much to consider. When you break it all down, cost is similar and the services that are offered are pretty similar (though the up-sells and paywalls differ company by company).

In the end, I think the choice you make will depend on what demographic you fall into. You should choose…

What is your go-to WordPress host? What specs and options make a difference for you or your company?

Article thumbnail image by MSSA / shutterstock.com