WordCamps are the premiere community events for WordPress. There are local and regional ones, as well as national and continental ones. WordCamp US is the annual event for the United States, and WordCamp US 2017 just wrapped up last weekend.
And the Divi Nation showed up in force and made the weekend even more spectacular than it otherwise would have been–especially for us!
Divi Nation Meetup #1
Early on Friday morning, the Elegant Themes crew met up with the amazing Divi Nation, and a good time was had by all. Between pastries and coffee, free Powered by Divi t-shirts, and friendship abound, you folks did not disappoint (like we'd ever expect you to!).
Much love to Tin Cup Coffee in Nashville, TN for the superb venue they provided for our group! Just look at this space!
SJ James does not, however.
Randy Brown, our very own Mitch Skolnik, Tim Strifler, and David Blackmon being buddies.
Adam, David, and Kathy–BFFs, but you already knew that, right?
And before the meetup was over, David got himself a good selfie with him and Nick and Stephanie!
WordCamp US 2017 at the Music City Center
The first day of WordCamp US was crazy, and once we left the meetup and headed to the conference center, things only got better. And that's saying a lot!
Over the course of the day, we were able to do a couple of live sessions of Divi Nation with various members of the Divi community. You can still watch them here:
And in case you've ever wondered what it's like behind the scenes at one of our streams, voila!
No recap would be complete without shenanigans from the Divi Nation themselves.
SJ James needed a nap, apparently, and our lead designer Kenny Sing had a good chat with Tim Strifler while he slept.
No trip to Nashville would be complete without a gigantic guitar.
You just gotta love SJ James and Leslie Bernal when they see a camera, but I think Cory Jenkins got caught off guard.
And you can't forget Josh and Emilee Hall of the Divi Web Designers Facebook group, always representing the Divi Nation and doing us proud.
Divi Nation Meetup #2
After a long, hard day of being awesome and learning about WordPress, the Divi Nation gathered once again at the Headquarters Beercade and then spent the evening enjoying downtown Nashville.
Don't miss our very own Nick Roach enjoying some live music in what might be the tightest, most dynamic crowd I've ever set foot inside at Tootsie's. Hectic, but crazy fun!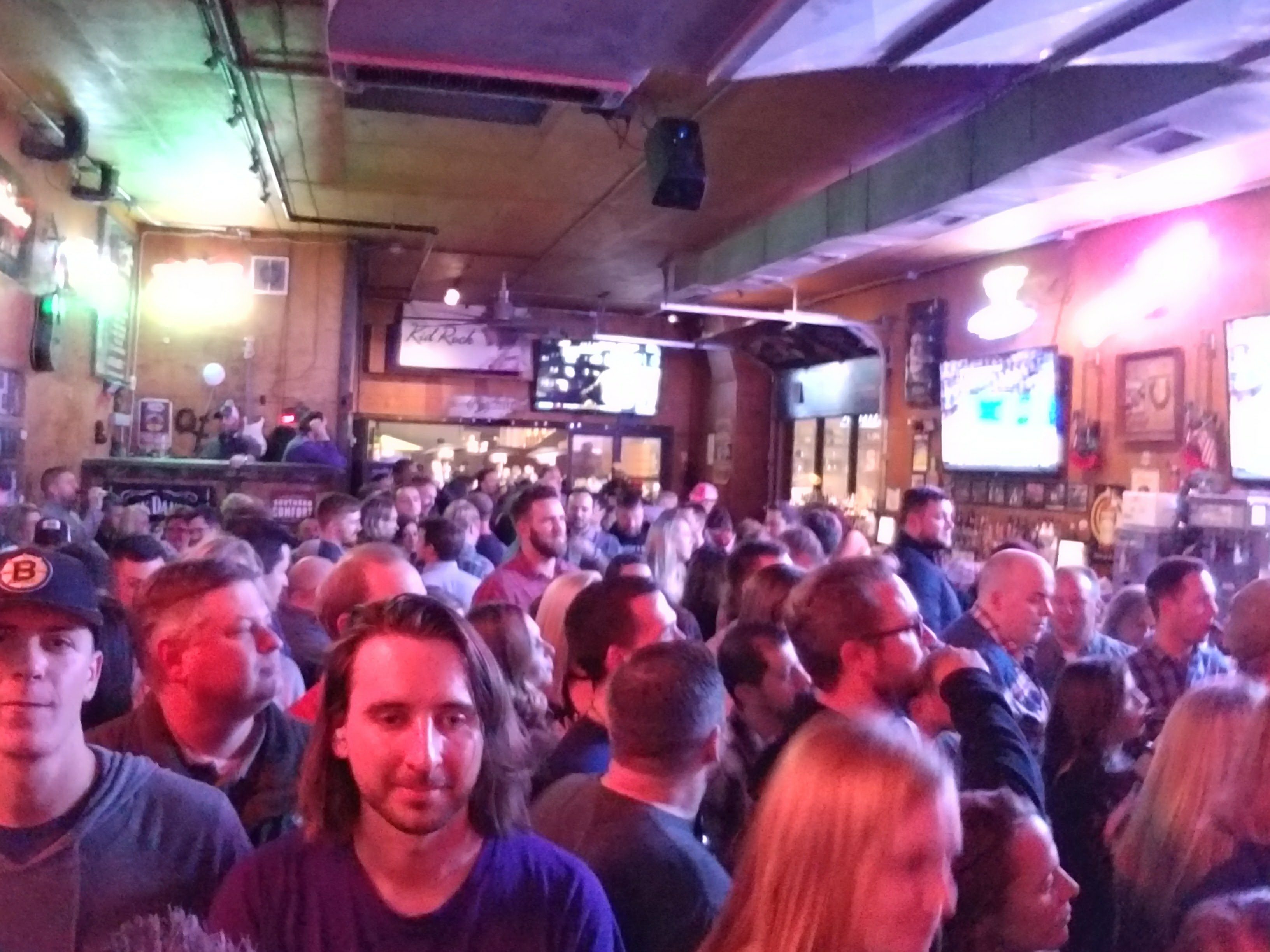 Kenny and Nathan are super chill. Apparently, people loved seeing them together.
To top it off, we had an Englishman going full Nashville. Don't you just love this city?
The State of the Word
As amazing as the Divi Nation is, the big draw of WordCamp US for many folks is Matt Mullenweg's State of the Word address. Each year, the founder of our beloved WordPress outlines the current year's triumphs and challenges and outlines the focuses and goals for the upcoming year.
As you'd probably expect, the controversial Gutenberg editor is the main topic for 2018, but that's not all. You can watch Mullenweg's full talk here: State of the Word 2017.
And just be glad you can watch the stream and not stand in this line (notice that at the very start, you can see us there at the very back in the black hoodies and purple shirts.)
This was us as we arrived. Little did we know the trek the awaited us to the end of that line.
Look at this crowd!
As impressive as Matt Mullenweg was in his speech, that boot kind of stole the show. I mean, look at it. It's glorious.
The After Party
The WCUS organizers outdid themselves with the after party this year. By picking the Adventure Science Center, they gave our crowd of nerds everything that we could ever want. Virtual reality, wine, beer, regular planetarium shows (I know, right?!), karaoke, moonwalking simulators, cheese and desserts, and a 10ish-level jungle gym pyramid with obstacles and tunnels and even gigantic, spiral slides.
We were very, very, very happy with this choice.
Tim was, too.
And finally, the photo op of the century happened: Divi, Elementor, Beaver Builder, and Visual Composer hugged and came together in friendship and cameraderie as we left the Adventure Science Center. Competitors? Sure. But we also all walked on the moon and went through the human digestive tract together, and that's something that not everyone can say.
Join the Divi Nation!
So…it was a weekend for the record books to say the least. 2018 is going to be a big year for the WordPress community at large, and the Divi Nation is ready for it. No matter what comes ahead, this WCUS solidified for all of us what all the other WordCamps and Meetups have shown us all along: the WP community is the best community in the world.
If you want to get involved and be a part of these experiences, then be sure to check out the main WordCamp site at WordCamp.org to see when the next local or regional Camp is happening near you, look at your WordPress dashboard for the new widget that was added this year to alert you of upcoming local events, and make sure you check out our Divi Nation Meetups to find a local group of Divi enthusiasts who want nothing more than to be your friend and to help you succeed.
And hey, WordCamp US is in Nashville, TN again next year, so if you missed out on hot chicken this year, you don't have to wait long to get your fix.
Article thumbnail by WordCamp US