Hey Divi Nation we're back this week with our last podcast to appear on this blog! What?! Yes, it's true. After this week we'll be transitioning the Divi Nation podcast and video show to a Facebook livestream on Thursday's at 3pm EST. It will also be available after the livestream on YouTube and iTunes (or wherever you listen to podcasts). The full details for this change can be found below and in the show itself (at the end).
But that's just an announcement. Today's episode is a really fun one you definitely don't want to miss. I got to interview Noëlle Steegs, a Divi powered digital nomad currently living and working from the South African wilderness.
Check it out!
Becoming a Divi Powered Digital Nomad with Noëlle Steegs– The Divi Nation Podcast, Episode 64
[powerpress]
In this episode I interview Noëlle Steegs of noellesteegs.com.
Noëlle is a freelance web designer living the Digital Nomad lifestyle. In fact, when I caught up with her earlier this week she was out in the African bush using her iPad to join me on Skype.
Which, if you ask me, is pretty cool.
We've had some folks on the show before who have taken their life and businesses on the road in RV's or vans or campers, but I don't think we've ever talked to someone who lives out of a backpack all over the world. Which is a much more minimal and tricky way to work—but as you can imaging—very rewarding too.
During the course of our conversation Noëlle shares her WordPress and Divi story and then dives deep into a whole slew of tips for anyone interesting into becoming a digital nomad themselves.
All that and more in today's episode of Divi Nation.
Subscribe To Our Youtube Channel
All Subscription Options:
Show Notes
Below are some of the recommendations and resources Noëlle suggested for anyone interested in becoming a digital nomad.
General
Disorganization is the enemy. Organization is comfort.
Travel
Quality backpack; carry on size for flights.
Use compression bags to keep clothes small.
Must Have Tech
Laptop
Router meant for high device count and high speed with low bandwidth. Can do sim card and dsl.
Divi! Of course.
Stuff to scavenge, buy, or borrow on location (instead of packing)
Tables, chairs, and other office fixings.
Take advantage of co-working spaces.
Digital Nomad Resources
Facebook groups:
Books:
Divi Nation Announcements
Boy do we have a big week coming up for you. And it all starts with our next freebie.
Our Next Freebie: The Divi Business Layout Pack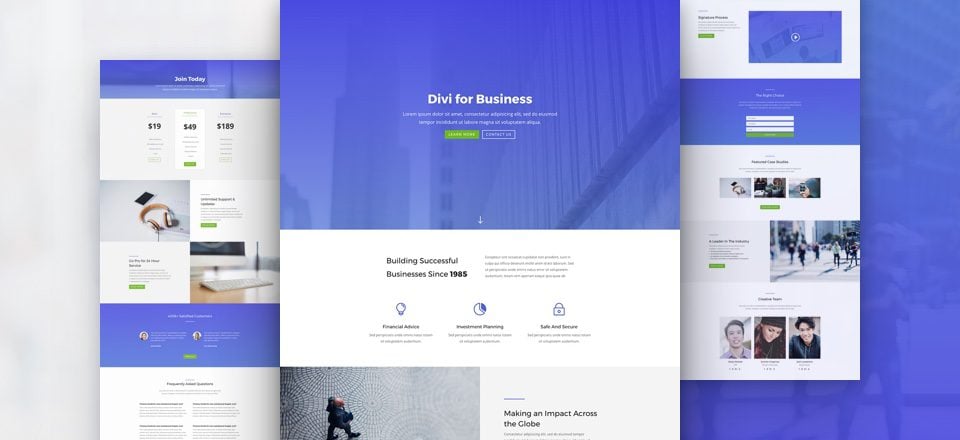 Be sure to come back on Monday to get our next Divi freebie, the Divi Business Layout Pack!
Next Week's Freebie & Livestream Schedule
Monday: Brand new (free) Divi Business Layout Pack released at 12 Noon Eastern Standard Time right here on the Elegant Themes blog.
Tuesday: The Divi Business Layout Pack 1 Hour Use Case Example Livesteam with start at 3pm Eastern Standard Time on the Elegant Themes Facebook page.
Wednesday: A new Divi feature will be released right here on our blog at 3pm Eastern Standard Time.
Thursday: Divi Nation Live at 3pm Eastern Standard Time on the Elegant Themes Facebook page.
Friday: B.J. Keeton's This Week in WordPress Livestream will begin on the Elegant Themes Facebook page at 3pm Eastern Standard Time.
See You Next Week!
Well that's all for this week's episode. Thanks again to Noëlle for making the time to be on the show. I hope you enjoyed our chat as much as I did. If you have any questions feel free to leave them in the comments section below!