Want to offer quality educational content via WordPress? One great way to do that is to add screencasts to WordPress. Whether you need to educate your clients or your website visitors, screencasts are an excellent choice.
In this post, I'll discuss some of the benefits of screencasts and how you can add them to both the WordPress front-end and dashboard. Then, at the end, I'll give you a few quality tools you can use to record your own screencasts.
Screencasts Benefit You and Viewers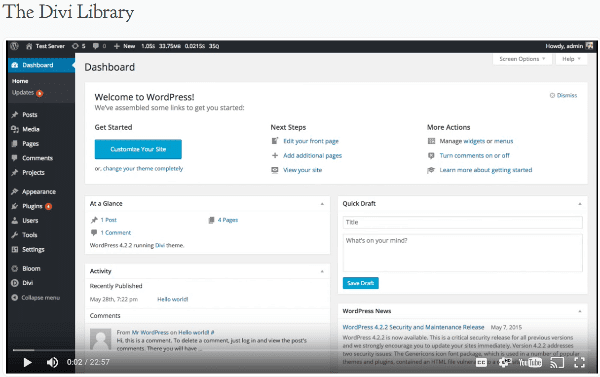 In a simple sense, screencasts are just a recording of a computer screen's output with audio added on top. If you're recording your own screencast, the video will be an exact copy of everything that you see on your screen (or a selected portion of your screen). While it's possible to add editing effects later on, the base video is always your computer screen.
Screencasts are perfect for educational use. They allow you to place every action you describe in its exact context. For example, instead of saying "Go to Plugins and click Add New" you can actually show people how to do that, all while narrating the audio. This gives your viewers both a visual and auditory method of learning.
And the best part is that if viewers ever get confused or need clarification, they can pause or rewind to their heart's content.
But screencasts don't just benefit your viewers – they also benefit you, the creator. While screencasts certainly take time to create, it's still easier to create a detailed screencast than it is to type up a detailed 1,500-word post. Basically, you can create the same educational value with less time invested.
And if you're creating screencasts for clients, screencasts can save you a ton of time by eliminating the need to provide support for every tiny issue.
How Can You Use Screencasts With WordPress?
Obviously, the main use of screencasts is to embed them on your front-end site. You can use them in regular posts or pages, as part of a knowledge base (like the Divi screenshot above), or privately as course content for a membership site.
But that's only part of the puzzle. If you're a developer creating themes/plugins or WordPress sites for clients, you can also embed screencasts in the WordPress dashboard to help onboard users and give in-dashboard support.
How to Add Screencasts to WordPress Front-End
Here's the thing about embedding screencasts on the front-end:
You really don't need anything special. While you can host your own screencasts and use the native WordPress video player, I think it's easiest to just upload your screencasts to YouTube or Vimeo and embed them in your content that way. Just make sure to use the proper privacy settings if you don't want your screencasts to be 100% public.
I searched around for a plugin to help accomplish this and I couldn't find a single one. And you know what? I don't think you need one.
But if you do want more control over how your screencasts behave, you might want to go with a plugin like YouTube Embed Plus.
YouTube Embed Plus Features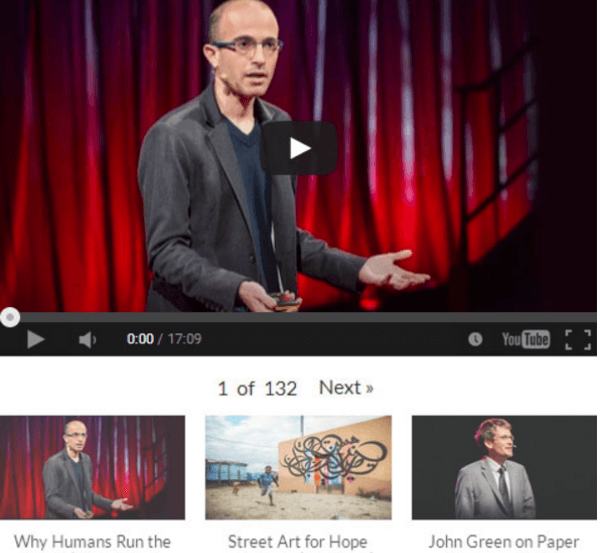 First off, YouTube Embed Plus lets you create responsive galleries and playlists, which is great if you need to embed a whole series of screencasts.
It also lets you enable autoplay, which, used judiciously, is a good way to push visitors to actually watch your screencasts.
And if you go with the Pro version of the plugin, you'll also get access to lazy loading, video SEO features, and more.
Again, this plugin is not necessary to embed screencasts on the WordPress front-end, but it does give you more options for embedding YouTube-hosted screencasts.
Price: Free (Pro version costs $19) | More Information
How to Embed Screencast Tutorials in the WordPress Dashboard
While it's totally possible to embed your own screencast videos in the WordPress dashboard, you don't need to if you just want to include general WordPress tutorials. That's because some helpful companies have already created WordPress tutorial videos that you can embed directly via a plugin.
I'll first cover embedding general WordPress video tutorials, then I'll give you some options for embedding your own screencasts.
WP101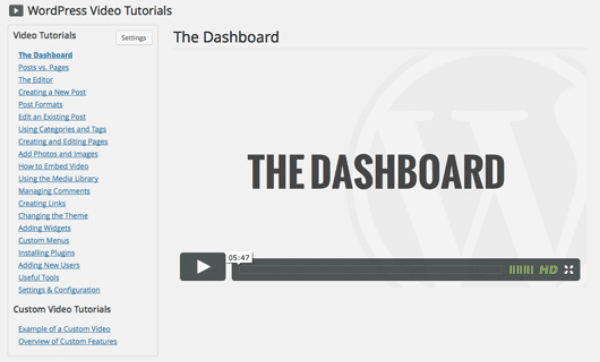 WP101 is a popular tutorial series for WordPress. While their main project is consumer-facing, they also offer a developer focused plugin that lets developers easily embed WP101's tutorial videos directly in clients' dashboards.
Literally, all you need to do is install the plugin, add your WP101 API key, and select which tutorial videos you want to display.
WP101 has a general 20-video "Getting Started" series as well as a detailed series on Yoast SEO.
And the best part is the tutorial videos are white-labeled, so your clients will never know you outsourced your tutorial videos. Cool, right?
The plugin also lets you add your own videos to the list of tutorial videos. So if you want to outsource the general tutorials but still create a few specific tutorials of your own, you can do that.
Price: Starts at $99/yr | More Information
Sidekick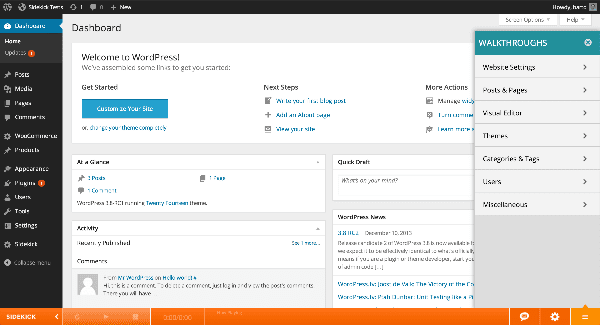 Sidekick isn't a pure screencast solution, but it accomplishes the same end result, so that's why I'm still including it on this list.
It adds over 100 interactive walkthroughs to you or your clients' dashboards. What do I mean by interactive walkthrough? Sidekick will actually show where to click on the real dashboard interface, along with audio narration. It's kind of like tooltip onboarding on steroids.
If you go with the Pro version, you'll get access to additional walkthroughs as well as analytics.
Price: Free. Pro version costs $5/month per site | More Information
Custom Dashboard Widgets
General WordPress tutorial videos won't work for all situations. If you need to explain your own plugin/theme/feature, you'll obviously need to create and embed your own screencasts.
To do that, you can use a custom dashboard widget to embed the video. In Tom's article on customizing the WordPress dashboard for clients, he shows you exactly how you can add a custom dashboard widget. All you need to do is add a simple function call.
Wrapping Up
Whether you're trying to help your clients or your visitors, adding screencasts to WordPress is a great way to include educational content. If you want to include screencasts on your front-end site, you should go with an external service like YouTube or Vimeo and embed them that way.
If you want to include helpful tutorials for your clients, you can either go with something pre-made like WP101 and Sidekick, or you can create your own screencasts and embed them with custom dashboard widgets.
Have you used screencasts on your WordPress site? If so, what's your personal strategy?
Article thumbnail image by RedlineVector / shutterstock.com