Running an online business can provide you with the freedom to work from anywhere, but there may be time­s when you want to take a proper break. However, it's usually not as simple as dropping everything and coming back to it after a week or two. Planning ahead can help mitigate issues while you're away, and ensure that you can relax and truly enjoy your vacation.
This post will firstly discuss the benefits of keeping your site running as close to normal as possible, then offer five tips to help you prepare your WordPress website for your vacation. Let's get started!
Why Preparing Your Website for Your Vacation Is Important
Running a WordPress website – much like operating any business – can be tough to take a break from. In fact, a 2015 survey suggests that "not taking vacations" is one of the top three sacrifices made by small business owners.
Of course, it would nice to simply walk away from your website for a week or two and hope for the best. However, we all know this probably isn't a good idea for various reasons, including a lack of user engagement and regular business correspondence, and security.
Preparing your website for your vacation can ensure you circumvent some of the issues that might occur while you're away. For example, you can maintain engagement by scheduling posts and 'autosharing' content. You can secure your site so that your absence doesn't open the door for comment spam and other unwanted user actions. Finally, you can make sure that anyone contributing to your site is fully aware of what to do given any issues that may arise.
5 Tips to Prepare Your WordPress Website for Your Vacation
To help you relax, we've got five simple yet effective tips to help you prepare your WordPress website for your vacation. Let's take a look!
1. Back Up Your Site
Backing up your website involves making a copy of all of your files and storing them in case you need them in the future. It's a good idea to back up your site regularly just in case something goes wrong. It's perhaps even more important to back up before you go away for a couple of reasons. Firstly, you might be more susceptible to security issues (especially if WordPress' core, theme, or plugin updates occur while you're away), and secondly, you may be entrusting less experienced users with critical site tasks and need a 'get out of jail' card.
If making a copy of your entire website sounds intimidating, there's no need to worry. There are plenty of plugins available to help you, such as UpdraftPlus:

This is one of our favorite backup plugins, and it can be used to back up, restore, or migrate your website from your WordPress dashboard. The basic version is free, and offers multiple storage options such as Dropbox and Google Drive. We've previously created an in-depth tutorial that offers complete instructions for using UpdraftPlus.
2. Create and Schedule Your Posts Within WordPress
If you have a regular posting schedule, ideally you'll want to continue it while you're away. Maintaining the regularity of your posts can help you meet reader expectations, and even help search engine rankings.
If you don't have time to create content before your vacation, you could consider finding guest writers. However, soliciting guest posts does come with potential issues such as a lack of consistency in the writing, and the potential for a time-consuming editing process. However, if done properly (and with ample lead time), it can be a great timesaver – and a way to provide your readers with quality content all year round.
Once you've got content ready to go, you'll need a way to post it while you're away. Instead of having to log in from the beach, you can simply schedule your posts before you leave.  There are some great plugins available to help you, such as CoSchedule, which offers the ability to schedule posts – as well as a range of additional features:

However, if you don't need the additional functionality, WordPress does come with a post scheduling feature out of the box. In your post screen you will see a Publish meta box on the right hand side. Here you'll find the Publish immediately option: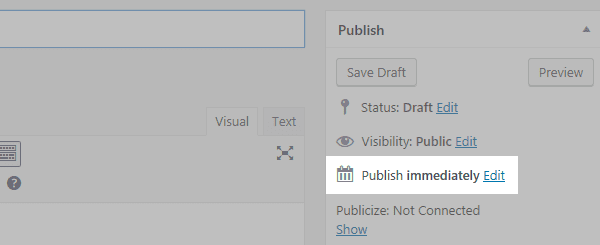 Click on Edit next to this, and you will be given the option to enter a date and time:

Simply enter the time and date you'd like the post to be published, click OK, then click the blue Schedule button. Your post will now be published on the date and at the time you specified.
3. Autoshare Your Content
Posting new content isn't the only thing you can do to keep engagement up while you're away. You can also look to maintain your activity on your social media platforms. This is hugely important for making sure people see your content even when you're not around to post. Scheduling social media posts can ensure you reach your readers regularly, at the right times.
Thankfully, there are lots of tools to help you schedule your content ahead of time. Services such as Jetpack's Publicize, Hootsuite, Buffer, and CoSchedule enable you to set up posts ahead of time for a myriad of social media platforms.
While most of these tools are relatively intuitive to navigate, each will have their own documentation to help you autoshare your content. Searching the web should bring up plenty of tutorials to help too. For example:
Combined with scheduling your posts, autosharing minimizes a lot of the manual day-to-day tasks associated with publishing content, meaning a much quieter vacation!
4. Prevent Comment Spam
While you're thinking about your own content, it's also important to consider content generated by others – such as comments. Comment spam is essentially unsolicited advertisements in the comments section of posts and pages, and while you're on vacation, you may even be more susceptible to this form of attack. If your site appears dormant, the lack of moderation could encourage spammers to target you.
You might want to consider installing a plugin to help you prevent spammy comments, especially as many only require a bare minimum of user involvement. One great option is the free plugin Askimet, developed by Automattic, which checks your comments against a collated spam database and filters them for you:

Another plugin worth considering is WP SpamShield. This is an almost completely automatic spam plugin – according to its developers, it delivers no false positives and doesn't require any sort of Captcha or other mediatory measure.
While you're dealing with comment spam, you might also want to step up your site's overall security. Plugins such as iThemes Security and Wordfence can help by preventing automated attacks, strengthening login security, and more. All of the solutions we've mentioned stand to keep the baddies from your door, while you're busy relaxing by the pool.
5. Create Help Documentation
Finally, if you're fortunate enough to have someone take over the reins while you're away, it's probably wise to assume that they'll need at least some guidance. By creating internal help documentation, you can provide support even when you're not around.
For example, you can answer content formatting questions for authors, provide editing guidelines, and even offer advice on internal processes such as email management and invoicing. Basically, any aspect of your day-to-day operations can be documented and made easily accessible to whoever you entrust with your site while you're away.

While quality plugins to help create documentation are thin on the ground, the WP Help plugin is the exception. Based around custom post types, this plugin enables you to create detailed, easy-to-access notes for all of your site's contributors, and it's viewable directly within the WordPress admin screen. It's an ideal solution for helping fledgling site administrators get around the nuances of running your business while you're away.
Conclusion
For anyone running a WordPress website, the idea of taking a vacation can be a daunting thought. Ideally, you'd like to keep your site running as smoothly as possible while you're away. That way you can fully relax and enjoy your time off.
While it's not quite possible to have a clone of yourself to leave behind, there are measures you can take to prepare your website for your vacation. In this article we've offered five tips to help you. Let's recap them quickly:
Back up your site.
Create and schedule your posts.
Autoshare your content.
Prevent comment spam.
Create help documentation.
What steps do you take to prepare your website for your vacation? Let us know in the comments section below, and don't forget to subscribe so you can follow the conversation!
Article thumbnail image by Zeynab Seyidova / shutterstock.com.