Choosing a shopping cart plugin for your WordPress website is one of the most crucial decisions you'll make. After all, a faulty or poorly designed plugin that delivers a subpar user experience will chase users away. The effect on your bottom line doesn't bear thinking about.
Fortunately, contemporary cart plugins are more than simply a passive way for customers to hold products while making their final purchasing decisions – modern solutions boast sophisticated, polished features. In this post, we've selected ten top shopping cart plugins that all seamlessly integrate with your WordPress site.
If you're ready to take a look with us, let's get started!
What to Look For in a Shopping Cart Plugin
WordPress shopping cart plugins are simply a way to enable the sale products through your WordPress website. While the exact features you need are going to be based on your own requirements, there are a few ever-present features that matter:
A slick, easy-to-use interface.
Suitable customization options.
Compatibility with your chosen theme.
Payment gateway support can't be stressed enough. You'll want to ensure that your plugin choice supports as many payment gateways as possible, without compromising on features.
As for compatibility and customization, you'll want a suitable theme that can offer flexibility and power. Divi includes the Shop module out of the box, which offers integration with WooCommerce. In addition, the theme also comes bundled with the Divi Builder – an intuitive front end editor that can help make your website stand out.
10 of the Best Shopping Cart Plugins for Your WordPress Website
Before we take a look at our list, you'll notice that some popular choices are missing. This is down to the criteria we've used to make our selections – some plugins simply couldn't meet our standards when it came to reviews or ratings, while others hadn't been updated in a while. What's left is our pick of ten of the best shopping cart plugins for WordPress. Let's take a look!

First on the list is our recommended e-commerce plugin, WooCommerce. It enables the sale of digital and physical goods, and shoppers are offered the option of instant downloads. The sale of affiliate goods from online marketplaces is also supported. Flat rate and free shipping options are provided, as is the option to create real-time payment calculations.
In addition, WooCommerce also offers a number of free and premium extensions to enhance both yours and your customer's experience through features such as recurring subscriptions, memberships, bookings systems, and more.
Key Features:
Enables you to sell both digital and physical goods.
Offers a number of free and premium extensions to enhance WooCommerce's functionality.
Offers the option for global shipping.
Supports bank transfers, cash on delivery, and PayPal.
Price: FREE | More Information

eCommerce Shopping Cart is a streamlined shopping cart plugin that slickly integrates with your WordPress website. It's similar to WooCommerce in that it lets you sell both digital and physical products, along with gift cards.
There are a number of payment options available, and the plugin includes several in-built marketing and promotional tools – such as offering coupons. What's more, eCommerce Shopping Cart includes baked in analytics and social sharing options for each item.
Although the plugin is free to download, you'll need to purchase a license, which starts at $50 per site.
Key Features:
Supports almost all of the most popular payment services.
Offers tiered pricing, B2B pricing, featured products, and more.
Supports global shipping.
Includes marketing and coupon tools.
Integrates c-commerce conversion tracking.
Offers social sharing options.
Price: From $50 | More Information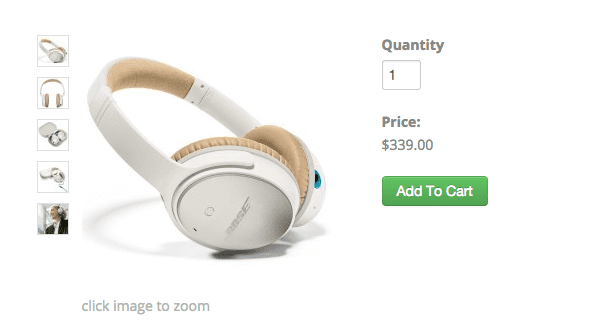 Cart66 stands as perhaps the most secure e-commerce WordPress option available – for a start, it helps to ensure online stores are PCI compliant. It supports both digital and physical products, and enables customers to create accounts when purchasing items.
Cart66 also includes a recurring billing engine that plays nicely with its 102 supported payment gateways, and enables you to include taxes and discounts at checkout.
Cart66 offers a 14-day free trial, but after that, the plugin starts at $9.99 a month.
Key Features:
Enables customers to create accounts, including storing credit card information and order history.
Offers a built-in email center that keeps you in touch with your existing customers.
Includes a recurring billing engine.
Supports over 100 payment gateways.
Offers incredible security and support, including PCI compliance.
Price: From $9.99 per month | More Information

Ecwid Ecommerce Shopping Cart is relied upon by over a million sellers worldwide.  It's an e-commerce solution with support for more than 40 payment options, and 45 different languages.
This plugin stores your data entirely in the cloud, with unlimited storage, automatic upgrades, and backups. It also offers mobile iOS and Android apps free of charge, which enables you to turn your device into a Point Of Sale (POS) station.
Key Features:
Enables you to store your data in the cloud.
Offers iOS and Android apps free of charge.
Includes support for Facebook.
Provides a secure HTTPS checkout, and more than 40 payment options.
Price: From FREE | More Information

PayPal Shopping Cart is an e-commerce solution that lets you place PayPal branded Add to Cart and View Cart buttons anywhere on your website. Payments are (of course) handled by PayPal via credit or debit card.
While the plugin is free, transaction fees will apply. There's also a PayPal Pro offering that extends the functionality of the plugin, and enables some basic customization of the buttons, along with more options for setting taxes and discounts.
Key Features:
Offers a quick cart button creation feature based on your item's details.
Supports 25 currencies and 18 languages.
Includes two button styles, and a choice of shop and payment URLs,
Price: FREE | More Information

WordPress Simple PayPal Shopping Cart does what it says on the tin – it offers a simple, minimalist shopping cart for your site. The plugin integrates seamlessly into any page, post, or sidebar of your WordPress site. Like some of the other choices in this list, it enables you to sell both physical and digital products including audio files, PDFs, photos, videos, and more.
WordPress Simple PayPal Shopping Cart is free, but transaction fees do apply.
Key Features:
Enables you to whip up an Add to Cart button with a variety of shopping and pricing options at your disposal.
Lets you sell a wide range of media types, along with physical goods.
Offers a minimalist approach. It's light on code, helping to keep loading times to a minimum.
Price: FREE | More Information

Ecommerce WD provides a user-friendly setup, paired with some advanced functionality including smart sorting, filtering, and searching of products. It works with PayPal out of the box, and enables you to set tax and shipping to groups of items, rather than on a product-by-product basis. It also offers a guest checkout feature, and social media integration for your products.
Ecommerce WD has a free tier, with premium versions offering additional theme support and other perks.
Key Features:
Enables users to create an unlimited quantity of categories and products.
Lets you find information via a sophisticated search feature.
Enables you to create tax types and shipping methods by group rather than by product.
Offers template customization and social network integration.
Includes guest checkout functionality.
Price: From FREE | More Information

Selz eCommerce Shopping Cart is suited to the non-coders, and integrates with almost every WordPress theme. It's a robust, full-featured shopping cart solution for the sale of physical products, services, and digital downloads.
The plugin provides secure download links for all digital items sold, and your store's functionality can be bolstered via a variety of free and premium apps including PayPal support and MailChimp integration.
Finally, Selz eCommerce Shopping Cart is free, although transaction fees apply – and you only pay when you make a sale.
Key Features:
Offers secure download options for digital goods.
Supports delivery options for physical product sales.
Provides an app store to help enhance your store's functionality.
Supports one-click selling and sharing for Twitter, Pinterest, and Facebook.
Includes a Facebook-specific store template.
Price: FREE | More Information

Easy Digital Downloads is an e-commerce plugin solution aimed at – you guessed it – digital downloads only. The mantra of the plugin is to simply offer everything you need and nothing you don't. It's minimalism at its finest!
Amazon, PayPal, and test payments are supported right off the bat, and there are numerous premium extensions to help enhance your store further. Finally, Easy Digital Downloads is entirely free – meaning no transaction fees apply to your sales.
Key Features:
Includes a test payment feature.
Offers users their full purchase history, along with the ability to re-download files.
Enables you to set variable prices and multiple price options for each product.
Offers CSV and PDF data export options.
Includes a robust promotional code system.
Lets you offer customizable purchase receipts.
Price: FREE | More Information

Finally, we have Jigoshop. This is a dynamic e-commerce solution, which positions itself as a powerful alternative to WooCommerce. The plugin enables a high level of user control, and the sizable development team regularly cranks out updates and fresh features.
Like WooCommerce, Jigoshop has a large number of extensions to help enhance your store. The plugin itself is free, although some extensions have a cost attached.
Key Features:
Lets you sell both digital and physical products.
Includes functionality to group your products.
Offers affiliate product support.
Enables stock management and advanced reporting.
Offers over 100 extensions, with more available each month.
Price: FREE | More Information
Conclusion
With so much to lose by choosing the wrong shopping cart plugin, selecting from the myriad of choices available can seem like a daunting exercise, especially when so much of your e-commerce success depends on you choosing the right one.
The ten shopping cart plugins we've listed above all provide the basic features you'll need to get up and running, but each also has their own unique features. If you take the time to investigate the functionality of each solution, we're sure you'll find one that suits your particular e-commerce needs.
Do you use any of these shopping cart plugins, and if so, how are they working out for you? Let us know in the comments section below, and be sure to subscribe to the comments so you don't miss out on the conversation!
Article thumbnail image by Profit_Image / shutterstock.com.