From December 2nd to December 4th, hordes of WordPress devotees descended on Philadelphia, PA for WordCamp US. The three day convention culminated with Matt Mullenweg's State of the Word 2016, a fun play on the President's State of the Union Address. The State of the Word discusses WordPress' achievements over the past year and lays out a roadmap for the future.
If you want to check out the full State of the Word 2016, you can find the video and slides at Matt's website. Otherwise, keep reading for my summary of everything noteworthy from State of the Word 2016. I'll summarize chronologically so that it will be easier for you to jump to the video if something catches your attention.
Introductory Chatter and Housekeeping
Here are some of the minor housekeeping topics Matt discussed at the beginning of his talk:
Some Interesting WordCamp Facts
Despite the modest cost to attendees, the actual cost per person of WordCamp is over $500. Kudos to the sponsors who make the cost of attending within reach of the average person.
Matt also showed an interesting map of all the locations that hosted WordCamps over the last year, complete with a small jab at Russia (there is a lot of empty space on that map!):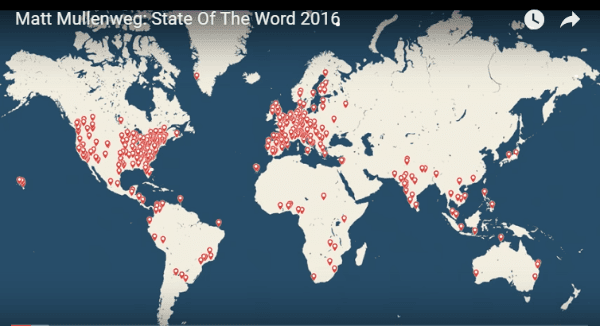 In 2016, there were 115 WordCamps in 41 different countries with over 36,000 tickets sold. All those numbers are up from previous years, which bodes well for WordCamp.
As for meetups, there were over 62,000 people who attended WordPress meetups in 2016, which Matt was quick to note is a good leading indicator for WordCamp attendance.
WordPress YouTube Channel
Matt also discussed the new'ish WordPress YouTube channel which contains videos from WordCamps past. Check it out if you're interested.
The New WordPress Foundation
Matt announced the split of WordCamps away from the WordPress Foundation. This will both protect the WordPress Foundation as well as give it a chance to start offering grants and support to worthy non-profits.
He listed these non-profits as the early beneficiaries of grants:
The foundation will also run educational workshops and promote hackathons for NGOs and non-profits. The goal is to let non-profits leave hackathon weekend with a great (and free) website.
BuddyPress and bbPress
Matt discussed some of the progress on BuddyPress and bbPress as well the increasing push towards open-source. He also discussed increasing support for these projects.
GlotPress
Matt discussed the increasing development of GlotPress, which is now a standalone translation plugin.
A More Multilingual WordPress
Matt discussed the increasing internationalization of WordPress thanks to a larger and more active translation community. WordPress is now available in 50 languages, which covers a huge portion of the world's population.
He also noted how plugins are increasingly including translations thanks to some tweaks to how language packs are handled.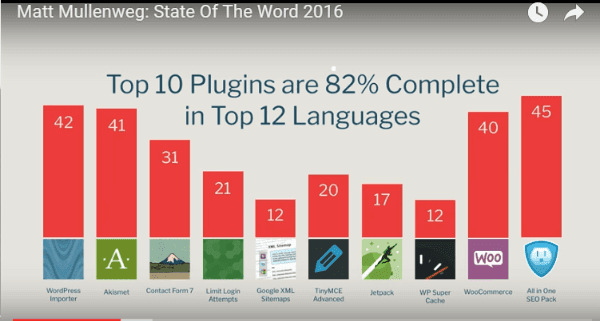 He ties this to the growth of WordPress in countries where translations were previously lacking.
WordPress Growth Council
Matt talked about the idea of a WordPress Growth Council to help WordPress maintain its market share against competitors like Squarespace and others. This is to combat the approximately $320 million in advertising being levied against WordPress by proprietary content management systems.
I was surprised at the scale of the advertising dollars being levied against WordPress. The Growth Council is definitely a great idea taking this into consideration.
WordPress and PHP7
WordPress.com is now 100% run on PHP7 according to Matt. WordPress.org now officially recommends PHP7 as well. And Matt shared an interesting graph of the massive improvements WordPress saw after switching to PHP7.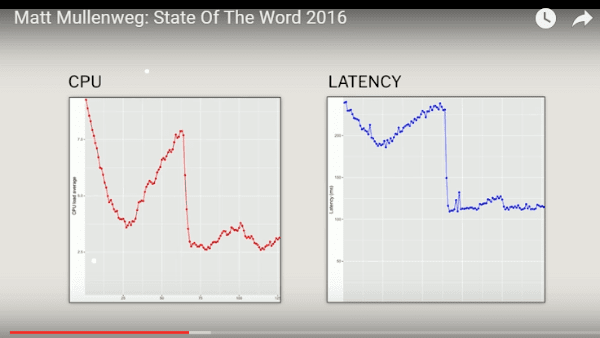 Calypso wp-admin
Matt says that 68% of WordPress.com posts are now written in Calypso, which dwarfs those written on mobile or wp-admin: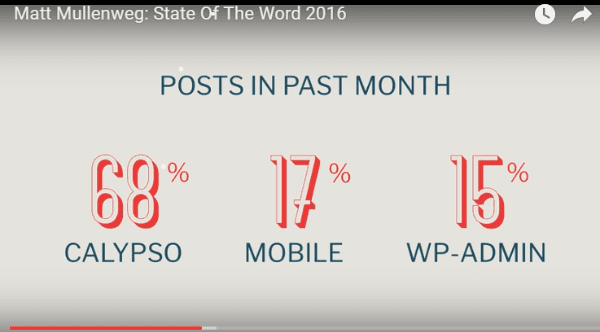 WordPress 4.7 Discussion
Matt and Helen also spent some time discussing the WordPress 4.7 release which occurred right around WordCamp. Rather than summarizing everything he said, I'll direct you to our summary of all of the new WordPress 4.7 features as there's a good deal of overlap.
Matt also discussed some of the older releases, which aren't really relevant at this point!
What's the Focus Going Forward?
After discussing everything that happened over the past year, Matt moved on to discussing where WordPress is going in 2017 (and beyond).
He talked about how "what got WordPress here" won't "get WordPress there." So WordPress has to make some changes to continue its growth going forward.
As part of this, he's proposing a new standard for WordPress releases. He wants to have "design lead the way" for releases, rather than discussion.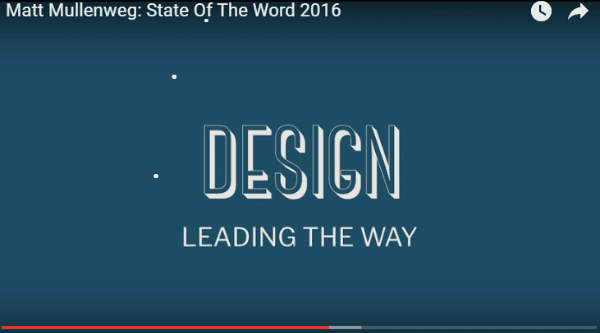 As a result, there will be no set releases in 2017.
Rather than time-based releases, releases will be focused on three areas:
REST API – wp-admin will start to use the REST API and Matt is focused on generally increasing the REST API's adoption.
The WordPress Editor – He called the Editor his "white whale" and wants to create a more streamlined Editor.
The WordPress Customizer – Matt's routinely highlighted how he believes the Customizer will be crucial to WordPress' success going forward. WYSIWYG is the future going forward, and Matt wants to improve that in future releases.
How These Focuses Affect Release Dates
To replace the defunct time-based releases, Matt says that releases will be timed to coincide with the completion of each major project. He acknowledged there might be some stumbling points by saying "we can't learn to walk until we learn to fall." But long term, I hope that the new release schedule leads to bigger and better releases.
A Poetic Conclusion
Matt wrapped up his address by reading a poem from Elizabeth Alexander. He then spent ~40 minutes answering questions in a Q&A. You can see the full Q&A in the video I linked at the beginning of the post.
Final Thoughts on State of the Word 2016
Overall, I'm very excited about the increasing focus on the WordPress Editor and Customizer. Both of these focuses make life easier for beginners and advanced users alike. I think they will go a long way towards helping WordPress compete with SquareSpace and others.
I'm also excited for the new release schedule. While 4.7 brought some nice new features, I thought 4.6 was a fairly underwhelming release. By moving towards feature-based releases rather than time-based releases, I hope that each release becomes more meaningful and brings bigger changes.
Overall, it will be an interesting year and I'm excited to see where WordPress goes in 2017.
What was your favorite part of State of the Word 2016? Is there anything you're especially excited for?
Article thumbnail image by pixome / shutterstock.com