There are few things as satisfying as watching your email list grow. That is, until you discover the percentage of users who stop opening your mail as time goes by. It happens to everyone, but that doesn't make it any less troublesome.
Fortunately for us, 'dead' email subscribers can be brought back to life with a little work. There are plenty of ways to re-engage dead email subscribers, and in this article, we'll explore six methods to re-ignite their interest. Let's begin with the simplest.
1. Focus on Relevant Content
People may enjoy purchasing things, but they definitely don't like feeling pressured into making purchases. That same maxim applies to mailing lists. A good one will focus on much more than just trying to sell subscribers on a new product or service.
Arguably, the primary purpose behind a mailing list is to build a following that is more susceptible to conversions. However, that doesn't mean the best way to go about it is to continuously pitch new offers to them. While the approach might reward you with conversions in the short term, it will also increase your rate of dead email subscribers.
Ultimately, what keeps users interested in your mailing list is the type of content it provides. To begin thinking about this, ask yourself: Do my emails help subscribers solve problems, or provide them with the information they need? If not, you need to switch things around and focus on writing more relevant content.
The first step to creating more relevant (and engaging) content is to analyze your headlines. If they're boring, users won't open your emails in the first place. For example, consider the different between the following headlines:
6 Strategies to Re-Engage Dead Email Subscribers
The Guide to Re-Capturing Inactive Subscribers.
Imagine those are the titles of two email campaigns dealing with the same subject. In the case of the former, the title tells you exactly what the email will cover, and how many strategies are included – which makes it more engaging – whereas the former doesn't offer nearly enough in the way of captivation.
If you need help building better titles, we recommend that you check out CoSchedule's Headline Analyzer. It provides you with a score for your headlines, and offers tips on how to improve them drawing from the best converting examples:

Once you've gotten the hang of a great headline, the next step is to review your body copy. While there are plenty of ways do enhance your writing, the main two pieces of advice we can give you to improve yours is to be concise, and avoid pushing too hard when it comes to sales. One of our favorite tools to help keep our copy lean is the Hemingway App. It keeps track of a multitude of criteria to improve your writing, which will ultimately help you remain on topic: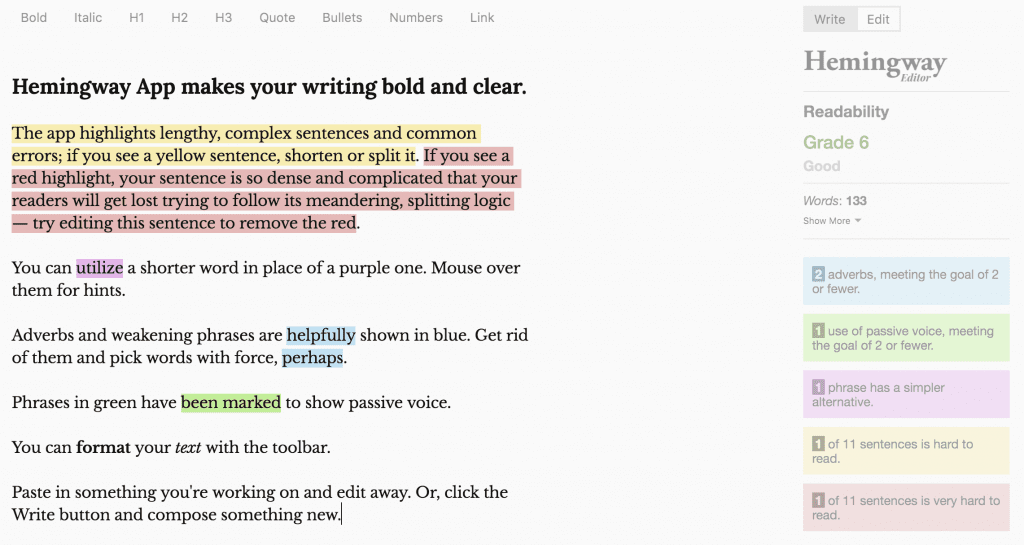 Finally, we come to sounding 'salesy'. It's something that depends entirely on your personal style of writing, but many are arguably turned off by the style. Our advice is to make a mental note each time it happens, and keep those occurrences few and far between.
2. Reward Your Subscribers
Improving your headlines and body copy are worthwhile steps, but often won't be enough to re-engage dead email subscribers. In that case, you might want to try using rewards as incentives. The possibility of a reward will often be enough to get subscribers to open your emails again, enabling you to hook them in with your improved copy.
Taking a web design blog as an example, you could offer readers the following: "Remember that X lucky email subscribers will receive a complete copy of our web design course on November 30th. We'll send out an email on that date with the names of all the winners – remember to be on the lookout for it!"
The reward can be anything valuable to the reader, as long as you're sure that your subscribers will be interested in it. The key is to make the reward attractive enough to make your subscribers pay attention when your message arrives. However, offering constant rewards can be unsustainable, so save this technique for when you need to break out the big guns.
You don't need any special tools to offer rewards to your email subscribers either. Simply take your collated names and pick one or more at random, similarly to picking names out of a hat. However, if you are interested in running a more complex rewards system or contest, you should check out KickoffLabs:

The platform enables you to run both giveaways and regular contests, and the website even offers a complete guide to running a successful one – including some user case studies. What's more, you can also connect your KickoffLabs account to MailChimp and use their templates to launch a contest.
3. Obtain User Feedback Through Surveys
Sometimes, the best way to capture the attention of those email subscribers is to ask them outright what they think about your messages. Surveys are perfect for this, and they enable email subscribers to voice their opinions without messaging you directly. It's beneficial for two reasons. Firstly, people enjoy giving their input, and secondly, you get to peek into the minds of your subscribers. However, while every opinion counts, remember to focus on your dead email subscribers here. If you can turn your emails around using their input, your overall engagement will inevitably rise.
Most available email campaign tools enable you to target dead or inactive subscribers and engage them directly – for example, MailChimp has a comprehensive guide on the subject. Once you've done that, you can use a simple tool such as Google Forms to create your survey: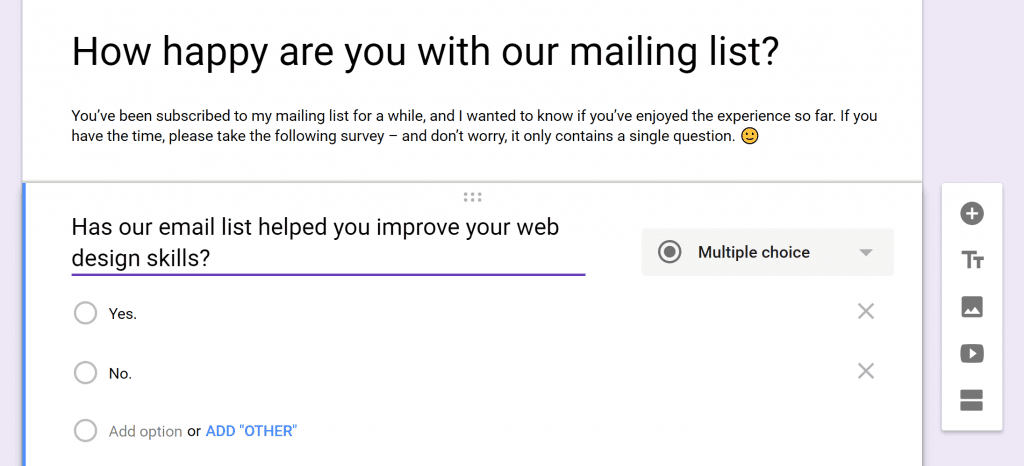 For an alternative, check out SurveyNuts. It's a free service that shares most of the same functionality of Google Forms, and also enables you to send surveys via social media. In addition, you get access to helpful analytics to track your performance: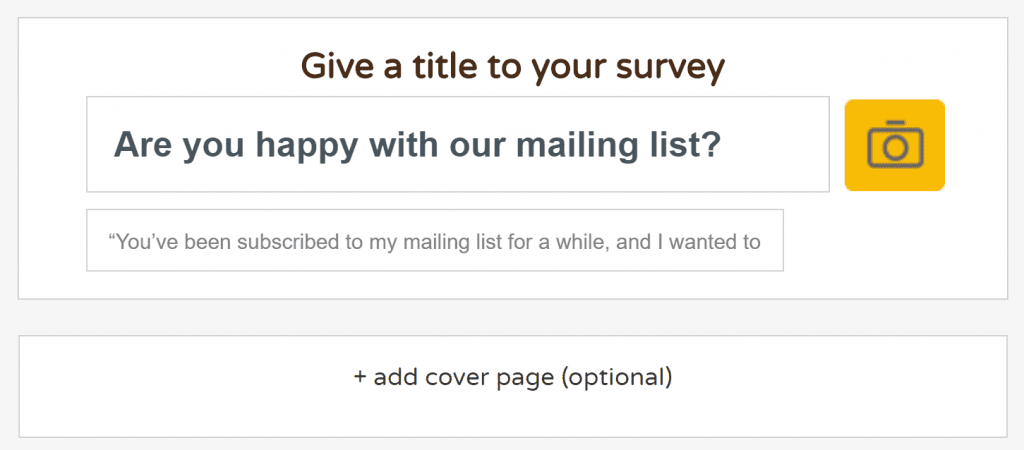 Regardless of which tool you pick, make sure you brush up on the fundamentals of an effective survey before your start – otherwise your efforts could all be for nothing.
4. Remind People Why They've Subscribed
So far, we've only talked about how to re-engage subscribers who have lost interest in your content, but those aren't the only type of dead email subscribers out there. To be blunt, another section of this group of users could have simply forgotten why they subscribed in the first place.
Don't take it personally. Most people these days juggle dozens of accounts and subscriptions through their emails, and some of them are bound to fall by the wayside. It doesn't necessarily mean that your content isn't engaging.
The good news is that targeting these types of users is remarkably simple. Simply create and fire off an email to your inactive subscribers reminding them that you exist, and explaining how you can benefit them. For example:
"3 Ways a Subscription to X Can Benefit You
You've been with us for a while, so we wanted to take a few moments to remind you about the benefits of our mailing list:
You're the first to know when a new article or theme goes live.
You're first in line when it comes to new guides or tutorials to improve your design chops.
We dole out discounts regularly for our faithful subscribers."
This example is a bit simple, but there's one main takeaway. When looking to remind people why they subscribed in the first place, focus on the benefits your mailing list provides. Simply telling them that you write about a topic is not enough, you need to spell out how you can help them. Once you've outlined this, you're en-route to a loyal base of email subscribers.
5. Provide Alternative Engagement Methods
Email remains king when it comes to building a user base and maximizing conversions. However, it's important to remember that many people spend a lot of time on social media. Furthermore, they may feel more inclined to share content with their friends using social media rather than email.
The simple key to reaching these types of users is to make yourself available on social media, and let email subscribers know. For example, we have profiles available on Twitter, Facebook, Dribble, and Google+, which you can find prominently displayed on our site.
Given its popularity, you probably already have some sort of social media presence, so introducing dead email subscribers to them is simple. It's an addition that could be incorporated into our four previous strategies, and any of the examples we've outlined so far could easily include links to your social media profiles.
If you're using a tool such as MailChimp, most of their email templates include social media links already. Here's an example of an email blast from The Onion, built using MailChimp. Note the links to their social media profiles at the top right corner of the message:

If your particular email marketing method doesn't include social linking options, you can easily add social follow buttons to your messages using a tool such as AddThis:

With the options at your disposal, this strategy is really a no-brainer – and it's simple to do, to boot!
6. Say Goodbye (Once All Other Options Are Exhausted)
Despite all of your efforts, sometimes email subscribers will permanently lose interest in your services. If you've been investing time into turning their minds around for a while and are getting nowhere fast, perhaps it's time to cut your losses.
Every email list has to deal with dead subscribers sooner or later, so don't take it personally. If you've tried everything, yet still have a few stragglers, it's best to part ways amicably. That way, you can focus your efforts on subscribers who enjoy your campaigns. You can also work on improving your content for future subscribers.
All we need to do here is to identify our inactive users, and create a suitable 'goodbye email'. The key here is to target those inactive subscribers who haven't responded to your latest campaigns (i.e. those who have resisted all of our previous efforts to re-engage). For example, MailChimp enables you to remove subscribers based on your latest email campaigns and their engagement rates.
However, bear in mind that removing inactive subscribers will have a near-immediate impact on your metrics. Removing the dead wood will almost immediately affect your rate of non-engaging email subscribers. While those numbers might look good, remember that they won't necessarily correlate to higher engagement. If you want to keep your metrics permanently high, you'll need to invest time into raising your engagement rates. This should prevent your inactive email subscribers rate from climbing up again.
Conclusion
Losing your hard earned email subscribers can be a punch to the gut, but it happens to all of us. As long as you focus on keeping the quality of your email newsletters high, your subscriber list should still flourish over time.
Re-engaging dead email subscribers isn't hard, although it may seem that way. Let's recap the six steps we've outlined in this post quickly:
Always provide relevant content.
Reward your subscribers for their loyalty.
Use surveys to incentivize subscriber feedback.
Remind people why they've subscribed to you in the first place.
Consider engaging users through different platforms.
If all else fails, learn to say goodbye to your dead email subscribers.
What's your favorite strategy for re-engaging dead email subscribers? Subscribe and share your methods with us in the comments section below!
Article thumbnail image by gst / shutterstock.com.