The WordPress dashboard is a great place to put useful tools and information. Many plugins add things in this space, giving you quick access to their information. What if you wanted to create your own dashboard page using the Divi Builder? That's what Divi Dashboard Welcome, from Tim Strifler of DiviLife.com, does.
Divi Dashboard Welcome adds a new area to your current dashboard that displays a page you make using the Divi Builder. The dashboard welcome page is added above all of the other dashboard information in the most prominent area of the screen.
There are lots of ways to use this plugin. In this article I highlight its features and I'll build a few dashboard welcome screens of my own.
Who it's For
This is ideal for:
Developers who want to provide links and information for their clients, up-sale products, provide videos for training, affiliate links, insert blog content, etc.
Admins of sites with multiple users that want to supply links and information for their contributors, a to-do list, create an FAQ, a troubleshooting list for users to follow for support, etc.
Anyone that wants to create a welcome screen that's customized for their own needs, such as notes for image sizes, links to download resources, calendar, to-do list, etc.
Tim provides tutorials for using the plugin at his website. Tutorials include:
It also works with Extra or any theme using the Divi Builder plugin, so Divi isn't required for you, your team, or your clients to benefit from it.
Installation
The download is a zipped file that includes several files within it. Files include:
Start Here – an HTML link to the installation instructions. I recommend reading the installation instructions. You can read the PDF or watch the video.
Install this first – XML document. This uses the WordPress import plugin.
Divi Dashboard Welcome Layouts – JSON file. Import this into your Divi Layouts.
Plugin – zipped file
Unzip the download package and import the files before uploading the plugin. Divi Dashboard Welcome includes some Divi theme files. Import the files according to the instructions. If you've ever imported Divi theme files you'll be familiar with this process.
Layouts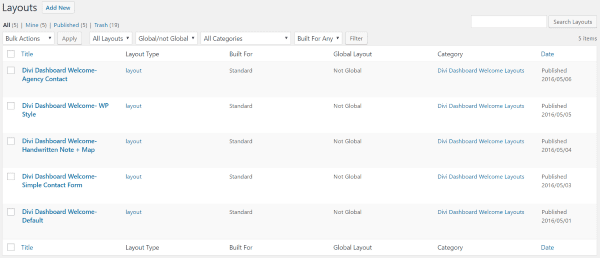 The plugin includes five layouts that can be loaded into the Divi Builder. Layouts include:
Agency Contact
WP Style
Handwritten Note + Map
Simple Contact Form
Default
The layouts are uploaded the same way any Divi theme files are uploaded. This means it's possible to share your layouts with others.
Dashboard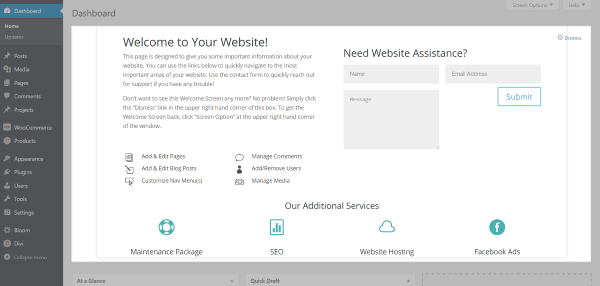 Once the plugin and theme files are installed you'll see a dashboard screen that looks like the one above. This is a private page called Divi Dashboard Welcome Screen. The dashboard screen itself is a window that maintains its size. The content of the page will fit horizontally within the window. If your content is larger vertically then the window will be scrollable.
The Divi Dashboard Welcome Page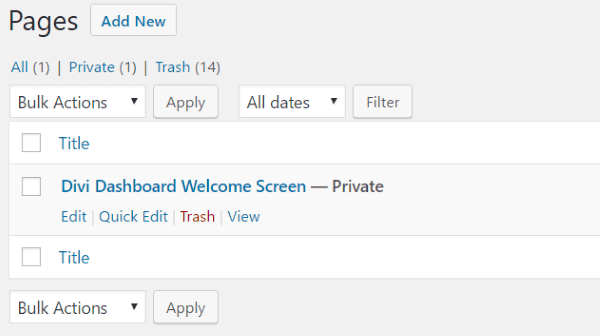 The dashboard welcome screen is actually a private page made with the Divi builder that can be edited just like any page. Since it's a private page it won't be indexed by search engines and can't be viewed by your readers. Tim has even protected the page against being deleted. Users have to uninstall the plugin before the page can be deleted. To create your own dashboard screen you'll need to edit this page.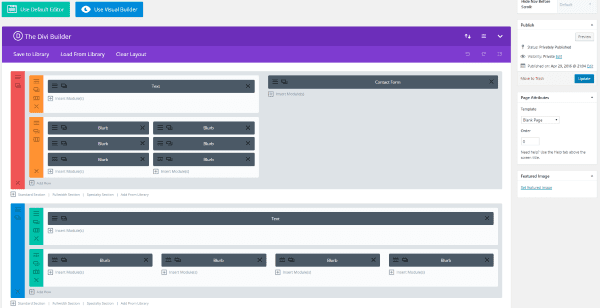 Use the Divi Builder to create any layout you want including modules, rows, sections, styles, code, layouts, shortcodes, etc. Everything you place in this page will display in your dashboard screen. Select Preview to see the page. The page was created using the Blank Page template, so it won't show the header or footer of your website.
Visual Builder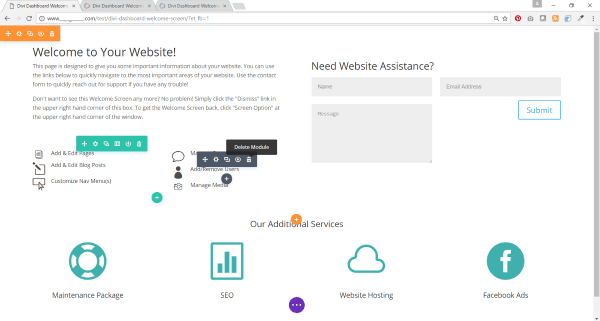 The dashboard page can also be edited using the Visual Builder. All of the elements work as they normally do except it doesn't display the WordPress menu across the top of the screen. Once I made my changes and saved them I clicked the back arrow to return to the back end. The changes appeared in the Divi Builder and had no issues.
The Included Layouts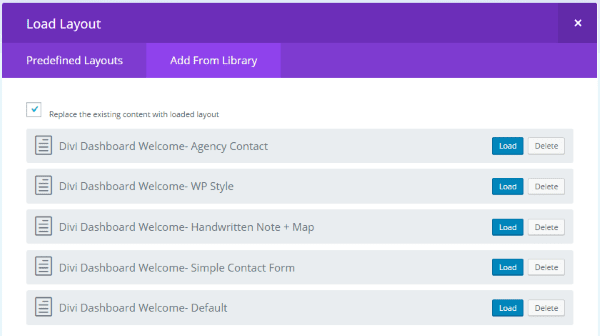 To load the layouts into the Divi Dashboard Welcome Screen page click Load From Library in the Divi Builder and then select Add From Library. Here you'll see the five layouts that come with the plugin. You can also create or upload your own.
Here's a look at each layout.
Agency Contact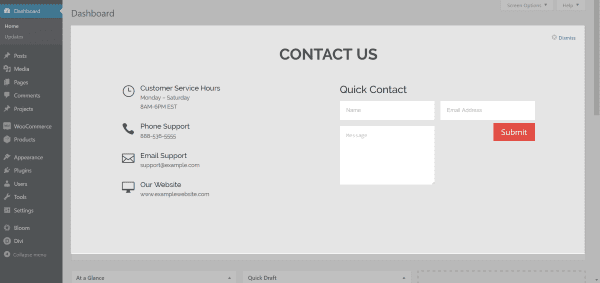 Agency Contact includes all of the contact information that your clients need to contact you including your opening hours, phone number, email, website, and a simply contact form. In this form only the submit button is clickable (which will send the message to your email) but you can make the others clickable if you want.
WP Style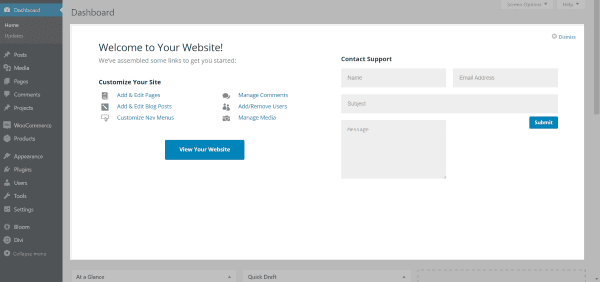 WP Style is a simple screen that uses the WordPress styling to blend in. It includes clickable links to create new or edit pages and posts, customize menus, manage comments, add or remove users, and manage media. Easily view your website by clicking a button. It also includes a support contact form.
These clickable links are internal, meaning they keep you inside your WordPress back end. You can have them link to somewhere else in the admin panel by using the parent link attribute (target="_parent"). Leave off the link attribute if you want to open the link within the dashboard window. If you want external links simply supply the link as normal.
Handwritten Note + Map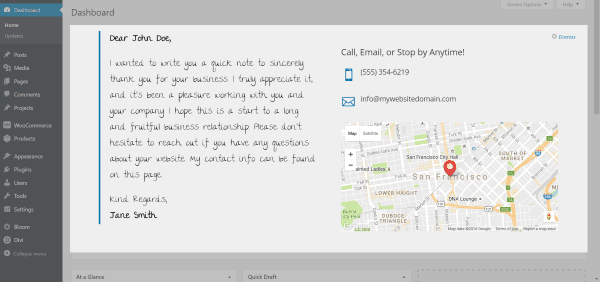 Handwritten Note + Map includes a note area with a handwritten font (The Girl Next Door, in case you're wondering) so you can leave a special note to your clients. There's also a contact area that includes your phone number, email address, and a Google Map with pin in case you want to give them directions to your office or event. This can also be used to tell your team about an event and provide them with the time and location.
Simple Contact Form
Simple Contact Form is exactly that – just a simple contact form so your clients or team can send a message. This one clears out the clutter, providing just this one tool with nothing else getting in the way.
Default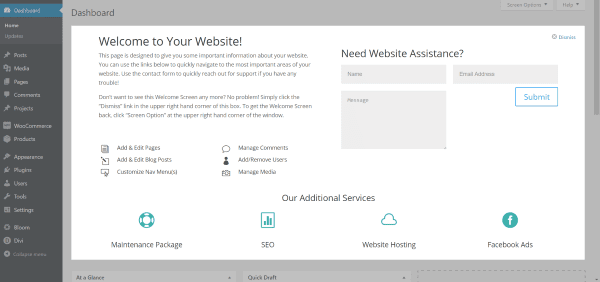 The default dashboard provides a welcome message, internal links to create pages, posts, and manage menus, comments, users, and media, a contact form, and links to additional services that you provide for your clients. This is a clean layout with usable tools to ensure users will actually use it while at the same time providing simple links to up-sale your services.
Dismissing the Screen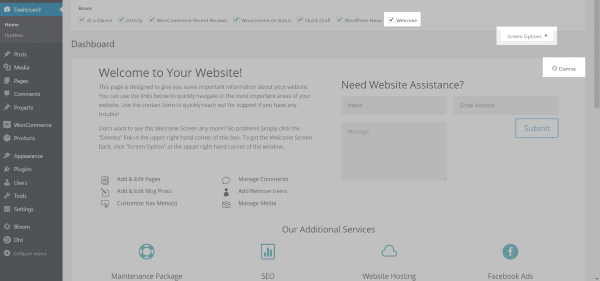 If you or your clients want to dismiss the welcome screen click the x Dismiss in the upper right corner. If you want it back just click Screen Options and select Welcome from your choices. This is helpful if you use a welcome screen that only has a thank you message or a contact form that clients won't need to see all the time.
Creating My Own Custom Dashboard Welcome Screen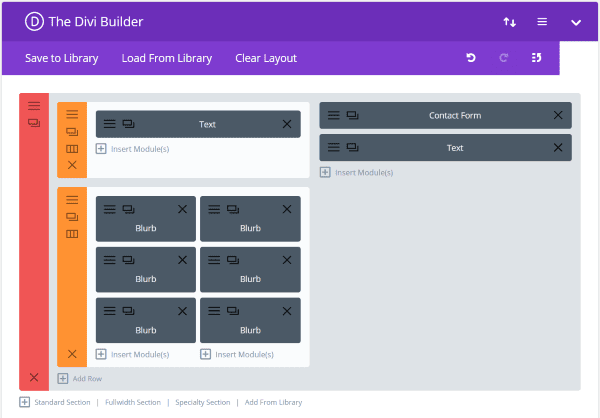 Rather than create a welcome screen for clients I wanted to create a welcome screen for contributors to my website. When contributors log in they will see this screen and they'll have the information they need for creating and publishing content for the website.
I wanted to include information and links such as:
Guideline overview with information such as word counts, image sizes, file types, etc.
PDF download link to writer's guidelines
Links to sources for images
Pre-publishing checklist
Approved titles and topic ideas
Link to team discussion group
Contact form
I wanted to keep the form simple and clean, but still provide the information I needed. For this I started with the Default layout and created my own layout. The WP Style layout would have also worked as a template.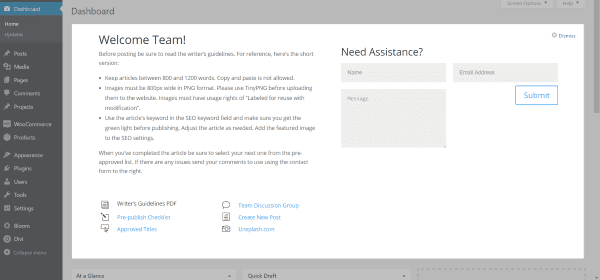 Here's the first version of the welcome screen. This just took a few minutes to create using the layout.
Using the Visual Builder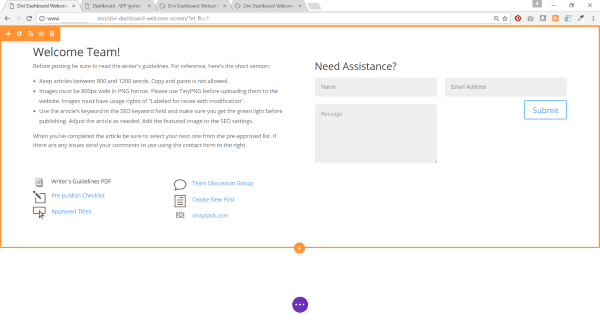 I wanted to give it a little more visual pizazz so I loaded the page with the Visual Builder to make my changes.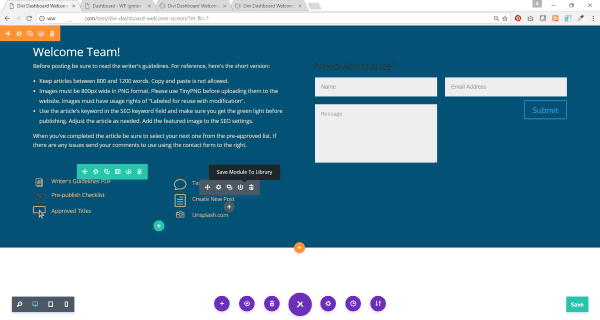 I mostly changed colors. I also added a new text module to include a motivational saying in the empty space below the contact form.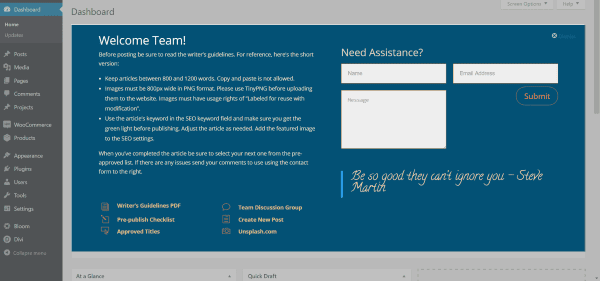 Now my dashboard is customized with my branded colors. Almost all of the styling was done from the front end. I saved this one to my library so I can reuse it.
A Personalized Custom Dashboard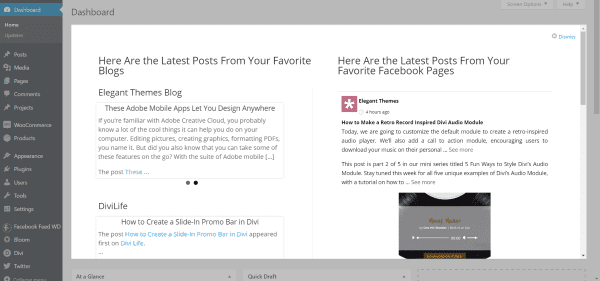 For the next one I wanted to create a dashboard where all of the latest posts of my favorite websites, YouTube channels, and Facebook pages would appear – essentially creating my own personal network right into my dashboard so I can see their content when I log into my website without having to go anywhere else.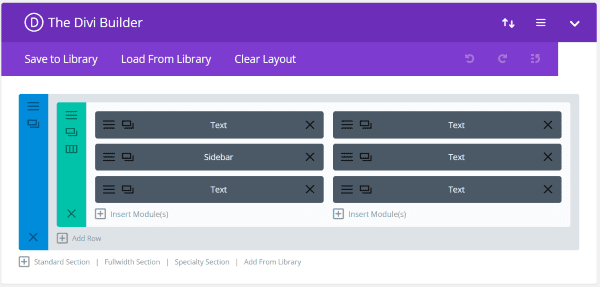 To create this I used three free plugins:
For the blog posts I created a new widget area called Dashboard RSS, placed an RSS Feed Widget for each blog feed I wanted to display the dashboard, and pasted in the URL's of the feeds I wanted into the widget. In the Divi Builder I placed a sidebar module and selected my new widget area. If I wanted to display them side-by-side I would use multiple widget areas and multiple sidebar modules. Clicking on the RSS feeds within the dashboard brings the article to my dashboard where I can read it without leaving my website.
For the YouTube videos I wanted to show the latest videos from both Elegant Themes and Divi Life. The YouTube Embed plugin makes it easy to add Elegant Theme's and Divi Life's YouTube channels into a textbox as embedded links, which then displays the videos. I can place the feeds from the channel as a gallery or as a playlist. I selected playlist. I can watch the videos directly from the dashboard without having to leave my website.
For the Facebook feeds I created the links in the plugin and then placed the shortcodes in text modules. I could have created a single module, but this way I can easily drag and drop them if I want to modify the layout. I can see the latest Facebook posts in my dashboard without having to go to Facebook first and risk getting sucked into the void.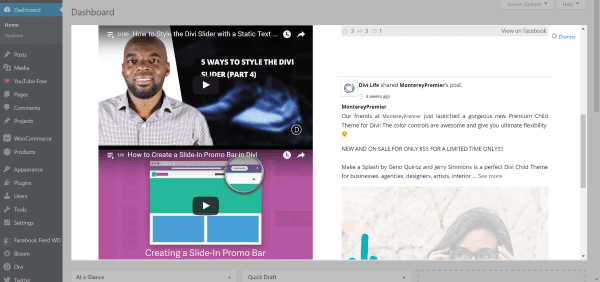 All of this content will refresh and update all on its own (according to the settings within each plugin) with no further input from me. Some plugins may require refreshing the screen.
License
Divi Dashboard Welcome has unlimited usage for life for your own sites as well as sites for clients.
Final Thoughts
Divi Dashboard Welcome is an excellent tool for creating custom dashboard screens using the Divi Builder. Developers can supply information and up-sale for clients, and admins can create tools for their team, and bloggers can provide themselves an easy access point for their tools. There are lots of ways to use this plugin and you're only limited by the Divi Builder and your imagination. Just like anything created in Divi, the layouts can be saved, reused, and shared.
Have you tried Divi Dashboard Welcome? If so, we'd love to read your thoughts below.
Featured Image by print10 / shutterstock.com