Vector graphics are one of the most versatile items in any designer's toolbox. They enable your designs to scale up or down while remaining crisp and readable – that's any designer's dream come true!
However, finding the perfect vector art for your projects can be a challenge due to the many low-quality resources out there. With that in mind, we've decided to weed out the weaker sources ourselves. In this piece, we've put together a list of the 30 best websites to find free vector art online.
The 30 Best Resources for Free Vector Art Online
We pride ourselves in selecting only the best resources when sharing roundup articles on Elegant Themes. However, when you look at some of the websites featuring free vector art, you'd be forgiven for thinking that their collections are a little subpar.
A lot of these sites have clunky layouts and outdated designs, but the quality of the vectors they provide is solid. Keep an open mind (and your ad blocker handy!), and the reward will be well worth the journey.

Vecteezy is part of Eezy Inc's portfolio of resources for web designers, including a brush repository, stock footage (including 4K videos), and a collection of website templates. You can browse through a massive catalog of free vector art divided into multiple categories such as backgrounds, icons, patterns, and clip art. There are also a few niche categories such military and plants.
Each vector includes a brief description (although the images mostly speak for themselves) and categories enabling you to continue your search for related graphics. While most of them are completely free to use, Vecteezy also offers premium graphics, which costs $14 per month in exchange for unlimited downloads.

Freepik features a collection of almost 15,000 vectors for both personal and commercial use. Their files encompass an impressive number of niche categories such as music and ornaments. They also host a fantastic collection of infographic vectors – perfect for designers who want to translate data into a highly-engaging format.
Most of their files are free to use but require attribution to the original author – unless you subscribe to their premium plan, which starts from $7.50 per month.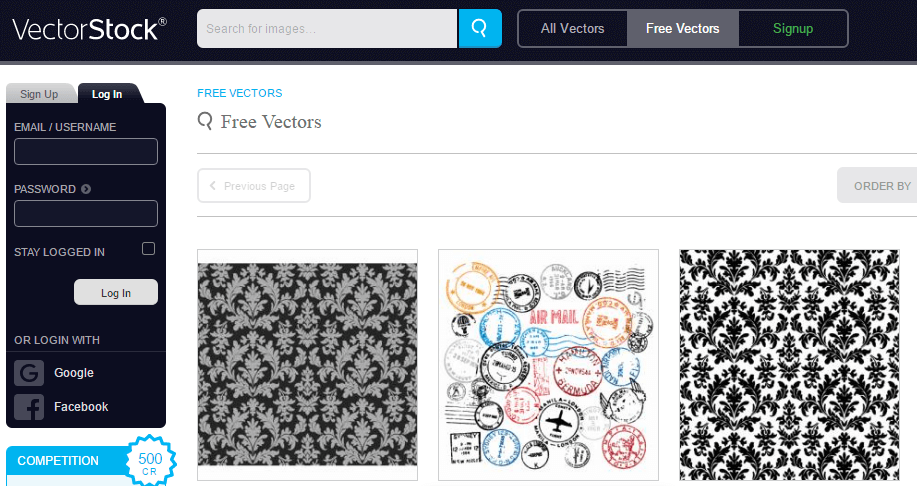 Despite lacking a category search option, VectorStock is still a fantastic resource of over 39,000 free vectors. Each comes with a selection of keywords to find related vectors, and a section showcasing other similar graphics.
VectorStock also tells you exactly which types of file formats come with each vector, including options for EPS, AI, PDF, and high-resolution JPEGs.

Vector4Free is a modest website with a sizable collection of free vectors encompassing a wide variety of categories. They can be sorted using their tag cloud function, and it's a fantastic resource for designers looking for colorful vector graphics.

Free Vector's layout is similar to Vecteezy, but its collection is entirely original. You can check out a small sampling of featured vectors on its front page, or jump right into their latest additions.
Vectors appear by category, and each of them includes related keywords and details about the type of license they fall under.

Vector Portal's collection comprises a mix of their own designs, and those of other artists wishing to share their work with a larger audience. Any designer is free to submit vectors created by themselves to the site.
Every graphic falls under one of ten categories. These include simple designs such as symbols and maps, and more intricate examples such as coats of arms and sports logos.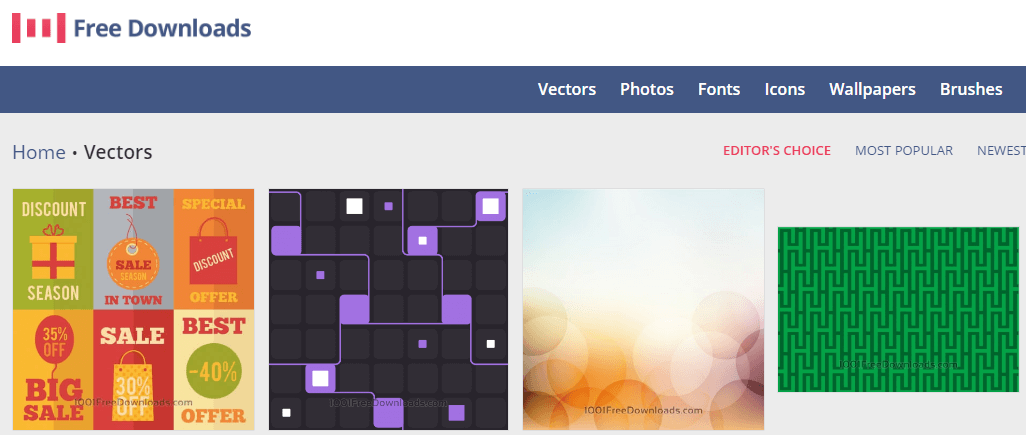 Despite its name, 1001 Free Downloads boasts far more than 1001 free vector files. This repository also hosts free stock photos, fonts, icons, wallpapers, brushes, and patterns.
Its massive vector collection comes with detailed licensing information and multiple file types, including AI, EPS, and high-resolution JPEGs.

Freedesignfile is the home of a staggering 60,000+ graphics, making the biggest repository on our list so far. Its web design may be outdated, but each of its vectors comes with all the essentials including different licenses and file formats.
On top of vector files, Freedesignfile also offers Photoshop resources, icons, and fonts.

FreeVectors.net doesn't feature the most extensive collection in this roundup, but it does have a nice community feeling that other vector resources lack.
The website accepts open submissions, and a lot of the graphics come with user ratings to help indicate their overall quality.Furthermore, each vector includes a brief description of which type of use it supports.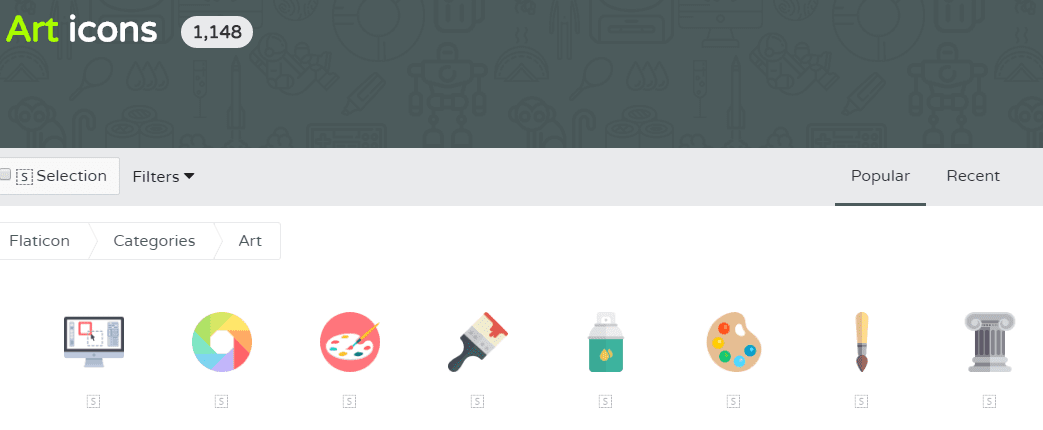 Art Icons offers a collection of vector icons that is modest in quantity, but high in quality. The site enables you to add icons to a personalized collection that you can download when you're done browsing, meaning you don't have to download multiple files individually.
You can also preview icons as you're browsing, and check out which file types are available. Most icons include PNG, EPS, PSD, and Scalable Vector Graphics (SVG) files.
If SVGs sound exciting, you may want to take a look at our guide to creating animated logos by combining them with CSS.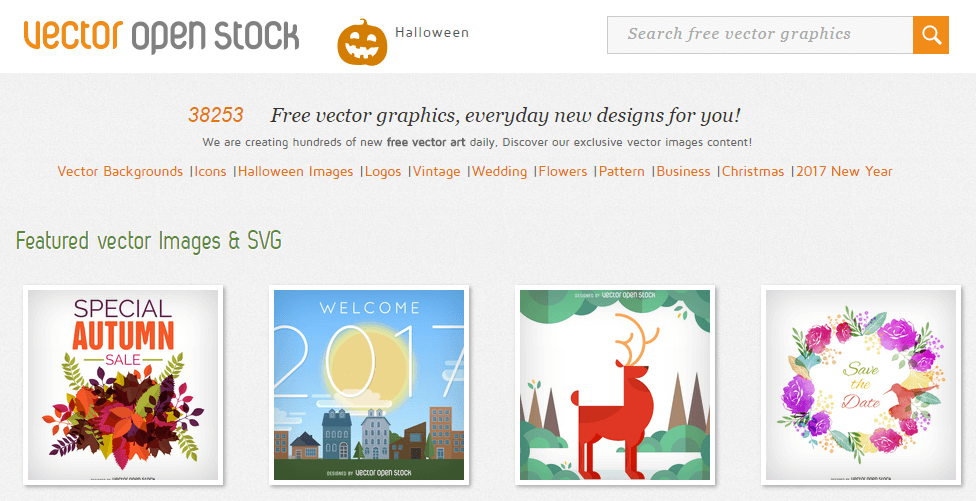 This vector repository features both regular files and SVGs, and it's remarkably simple to browse. It includes over fifty basic categories, as well as currently trending files.
In addition, it also updates its catalog regularly to keep up with major holidays, which makes it perfect for season-specific designs.

123 FreeVectors is an archive of over 7,000 vector files, as well as Photoshop brushes. This archive has a penchant for abstract vectors, although they don't highlight that fact. This makes it an excellent resource for designers looking for background or pattern graphics.

As its name implies, this collection features only public domain graphics. It also features the most thorough sorting system of any website we've seen so far, including filtering by downloads, dates, and formats. Although it shouldn't be a featured positive, given that many sites lack user-friendly design, it's a definite plus point.

Free Vector Archive includes much of the same advanced search functionality as our last entry, although the site itself is more cluttered than we'd like to see.
Each vector includes author information, ratings, licensing instructions, and even color information to help you choose.

Pixabay is one of the web's premier archive of free stock photos, and its vector section doesn't disappoint either. Every graphic includes detailed information including resolutions, file types, and number of downloads. Registered users can also save files as favorites to keep track of them for future use.

DryIcons features a vast collection of vector graphics and icon sets. They're all created by the site with the express purpose of giving them away for free. While you can purchase Regular or Extended licenses, given the proper attribution all graphics are free to use.
Vector.me may not feature the most modern design, but it is the proud home of an astounding 280,000+ vector files. This archive is so large that it requires an enormous number of categories to browse, including niches such as abstract vectors and silhouettes.

StockUnlimited features a modern and attractive design, as well as a robust collection of vector graphics. You're free to download specific file types for any vector you choose, and preview the resolution information.
The only downside is that StockUnlimited doesn't include any specific categories. It makes browsing through the site a bit of a slog, unless you search for the right keywords.

Free-Vectors hosts almost 200 pages of vector graphics, making it a collection numbering in the thousands. The site is open to submissions and also includes a section for premium vector art.
The file pages are lacking a little in information (which is a downside), but we still consider it a great source for free vectors – especially if you're looking for textures.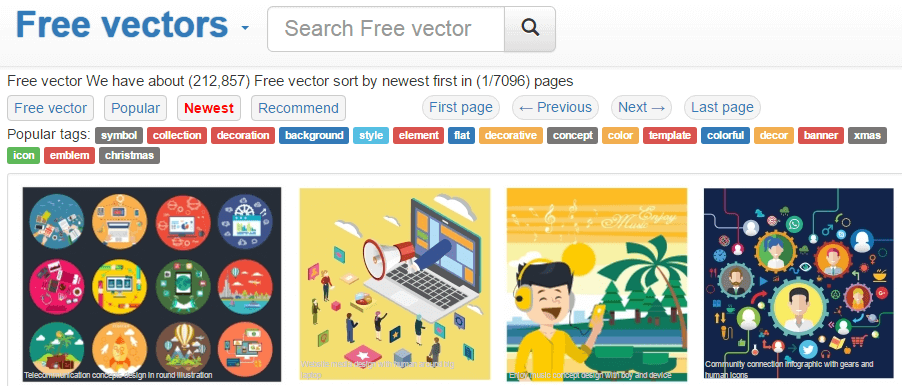 All-free-download's cluttered design may be a turnoff for some, but it's still a worthwhile resource for free vector art. It hosts over 212,000 vector files, and features Popular and Recommended sections for designers who need some inspiration.
The site also offers you options to either purchase a commercial license for any vector, or donate money directly to its authors.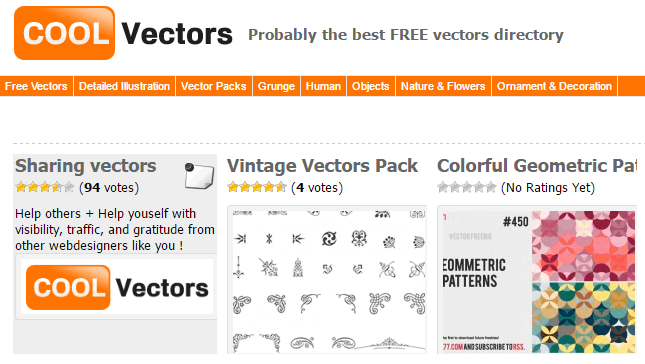 Cool Vectors is one of the most popular vector repositories around, which is highlighted by the volume of ratings many of the files have received. However, the site comes with a huge downside – most of the vectors listed are actually hosted on other sites. All of them are still free to use, but the experience leaves a lot to be desired.

No relation to its .net rival above, FreeVectors.com is a straightforward vector archive that doesn't include much beyond the graphics themselves. In fact, the entire site is made up of the collection of vectors, a simple contact page, and the terms of service. Quite frankly, it's all you need.
The vector pages themselves are equally sparse, including only a large preview, a list of related files, and a prominent download button.

Vector EPS's design is incredibly busy, but the site does feature an impressive collection of long form vectors, such as infographic and User Interface (UI) templates.
Each vector features unique descriptions, and it's clear that some effort went into these, since they're a cut above the placeholder text that most free vector sites use.

Pixeden is an outlier in comparison with most of our other picks. Their free vector collection barely numbers three pages, yet each of them has thousands of downloads. We can only attribute their popularity to the high-quality of each free vector pack on their site, as well as their helpful full preview option – this helps you assess each pack in full without having to waste time setting it up.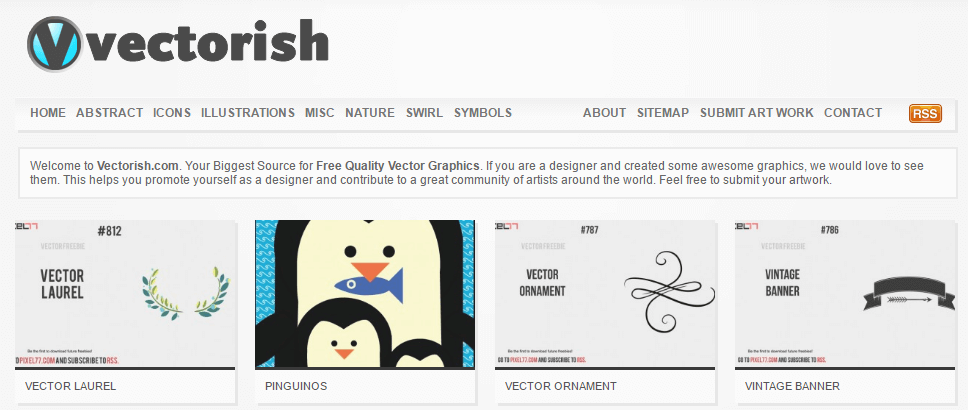 Vectorish offers a varied collection of vector files grouped into several categories such as abstract, symbols, nature, and icons. Anyone is free to submit vector files to their site as long as they adhere to Vectorish's quality standards.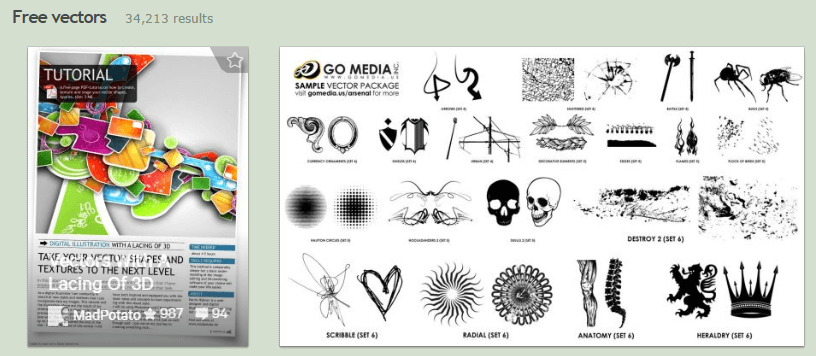 DeviantArt is the most popular website on this list by far. It's been around since August 2000, and it still attracts millions of unique visitors per month. It's not strictly a dedicated archive for free vector art, but it does host over 30,000 vector graphics to choose from.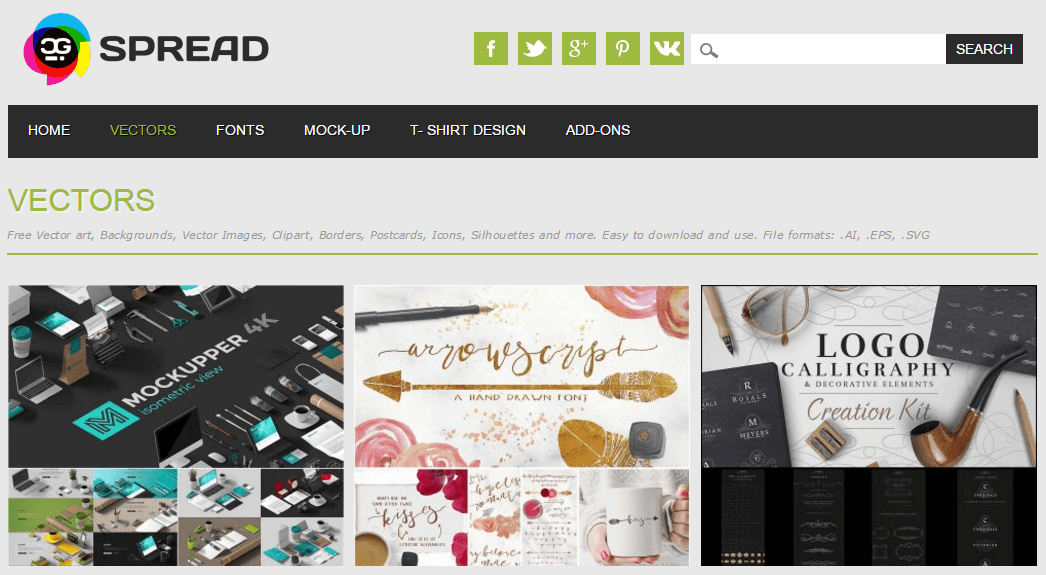 Spread is a goldmine for web designers. It offers fonts, mockups, t-shirt designs, and of course, free vector art. It's a particularly good resource of assets to help you to mock up websites faster.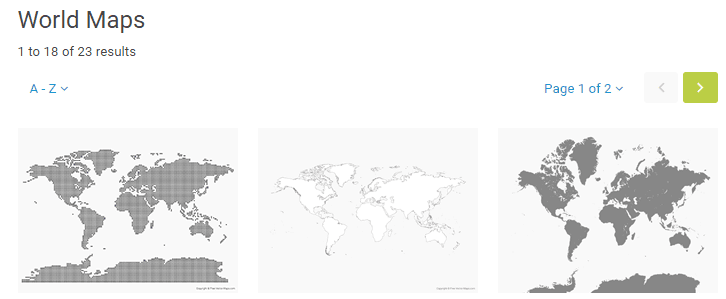 Free Vector Maps is the most specialized resource in this roundup by a long shot. It provides a collection of high-quality monochromatic and color vector world maps, which could come in handy at some point down the line. If one of your designs ever calls for a map, you'll thank us!

While some inclusions within Vectors4All's collection of free vector art are low-quality, it still features a massive collection of higher-quality pieces that this list wouldn't be complete without. However, the site reuses the same canned text descriptions for most of its files – finding the right vectors here might take some extra work, but there are plenty of diamonds in the rough waiting to be found.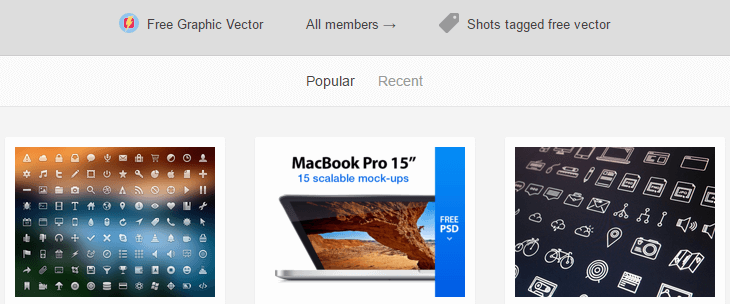 Dribbble is a place where all manner of designers can showcase their work for prospective clients, but it's also a great spot to look for design resources. Case in point, the site includes a healthy collection of free vector art available to download, all thanks to the creative professionals that call Dribbble home.
Conclusion
Finding the right vector art for your projects can be difficult (and the design of some of these sites doesn't help matters), but a little patience always pays off when looking for free web design resources.
However, it's important to note that while they're useful, vectors may not be perfect for every design. We're a step ahead of you though, which is why we've also scoured the web to find more free, high-quality resources to make your life easier:
Do you employ vector art in your web designs? Subscribe and tell us how they make your life easier in the comments section below!
Article thumbnail image by 2kawaiiiness / shutterstock.com.