Welcome to Day 93 of our Divi 100 Marathon. Keep tuning in for 100 days in a row of awesome Divi resources as we count down to the amazing release of Divi 3.0 on the final day of the series!
---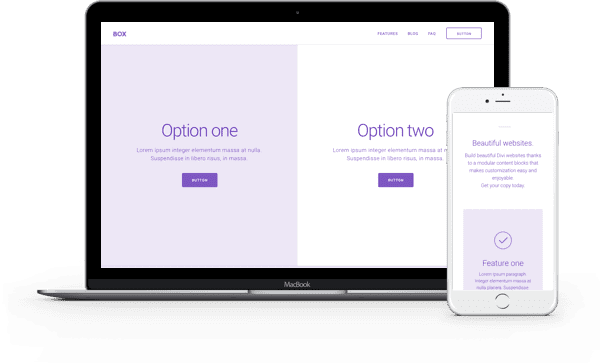 In today's post we are excited to share the third volume of our Free Divi Wireframe Kit. On Monday we published a tutorial showing exactly how you can take a layout created with this kit from concept to final design. Today, we expand the number of layouts you're able to create with twenty new wireframe sections.
Downloading & Using the Free Divi Wireframe Kit Vol. 3
To use the Free Divi Wireframe Kit Vol. 3 on your own Divi website you will first need to download it using the button below. Next, locate the file divi-100-wireframe-kit-vol-3.zip in your downloads folder and unzip it. Then, navigate in your WordPress admin to Divi > Divi Library and click the "Import & Export" button at the top of the page.
When the portability modal pops up go to the import tab. Click the "choose file" button and select the All.json file or any of the individual files you want. Then click the blue "Import Divi Builder Layout" button and wait for the import to complete.
Once the import has finished you will now have the ability to load your new Divi Wireframe Kit Vol. 3 sections on any builder powered page by using the Load From Library option in the in-line section controls of the Divi Builder. You can also use the new homepage layout included in this kit by going to the Load From Library > Add From Library options at the top of the Divi Builder.
Subscribe To Download For Free
The Free Divi Wireframe Kit Vol. 3
The latest addition to our Wireframe kit includes an "All.json" file, a new homepage layout, and twenty individual sections. Here you can see a preview of the new homepage layout.

The New Wireframe Kit Vol. 3 Sections
In this volume you will have the ability to load any one of these individual sections by utilizing the inline "Add From Library" control in the Divi Builder.
Tomorrow: The Freedom of Freelancing – A Divi Story Featuring Geno Quiroz
Tomorrow we will be debuting the first of a series of Divi stories/testimonials we have been recording with various members of the Divi Community. This first video features prominent Divi Community member Geno Quiroz and it tells an updated version of his Divi story and what using Divi has meant for him. See you there!
Be sure to subscribe to our email newsletter and YouTube channel so that you never miss a big announcement, useful tip, or Divi freebie!