Starting a new business venture is no easy feat – especially if you don't have a solid website already set up to capture leads, guide new customers to your doorstep or sell products and services directly.
There are a lot of multipurpose and business themes available online for WordPress users and many of them deserve your attention. In this roundup we've taken the liberty of compiling a list of 17 of the best corporate themes for businesses available today.
Some of the following themes are suited to specific business niches while others can pretty much cover all bases. We've highlighted the primary use case for each theme alongside its name, so that you can quickly spot which themes will be of interest to you.
Let's get cracking!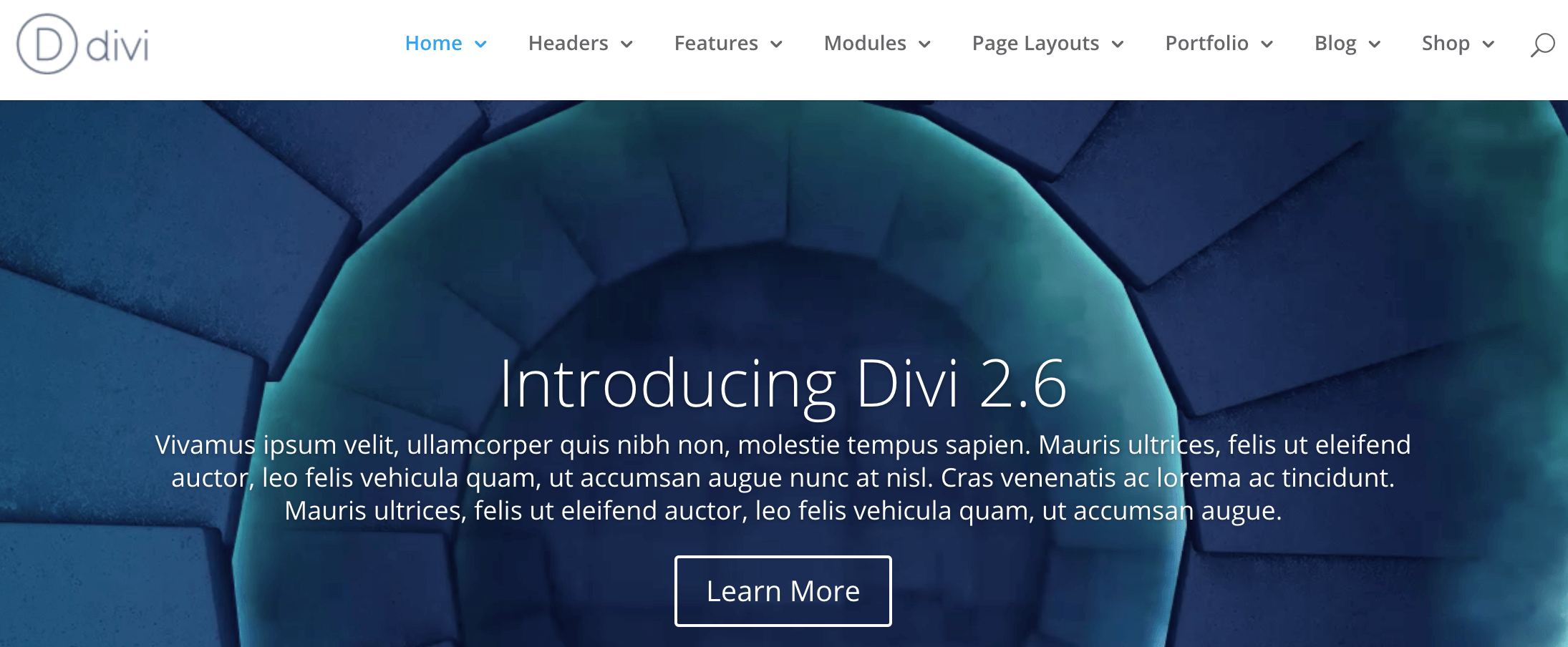 Divi is our own multipurpose theme. It features over 20 premade layouts based on diverse business (or personal) sites and comes with full support for WooCommerce integration.
If by any chance you don't find what you're looking for among the included premade layouts, you can always turn to the drag-and-drop Divi builder, which easily lets you put together sites with complex features thanks to its wide array of customization options.
The Divi theme is also fully responsive, available in 32 different languages, and was awarded the Sucuri 'Seal of Security' thanks to passing their audit with flying colors, making it ideal for building a secure business website.
Try out the Divi demo.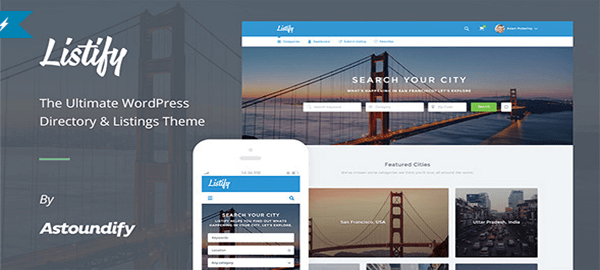 WithListify you can easily create directories of any kind of business. For example, its demo includes listings for arts events, bars, spas, restaurants, travel, and many other categories. Each individual listing can be customized with a list of features (including custom icons), owner information, links to social profiles, photos, operating hours, and details regarding special deals.
The theme is ready for integration with WooCommerce, which enables you to handle bookings and reservations directly from within your directory using WooCommerce Bookings, and also includes support for OpenTable, Resurva and Guestful.
Integrating WooCommerce also opens the door for you to transform your Listify site into a variety of businesses, such as a gift certificate directory, or a membership site with special deals. There are plenty of creative applications.
Try out the Listify demo.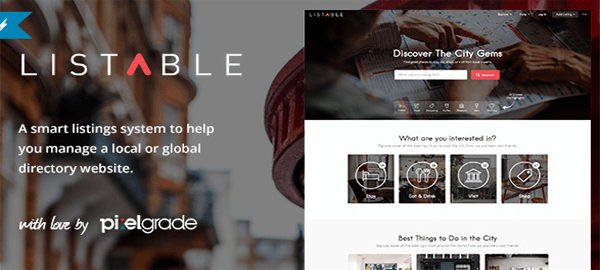 Listable offers many of the same features as Listify, while adding a few of its own. Its design is based on cards, and individual listings are more focused on photos of the locale in question. Information about each listing is also shown in a more compact fashion, with prominent calls to action for individual purchases unique to each.
Naturally, it's fully compatible with WooCommerce, which enables you to monetize your directory in a number of ways. You could, for example, charge for users to add individual listings, take fees for reservations made through your site, or offer a subscription service for people wishing to add their businesses.
Try out the Listable demo.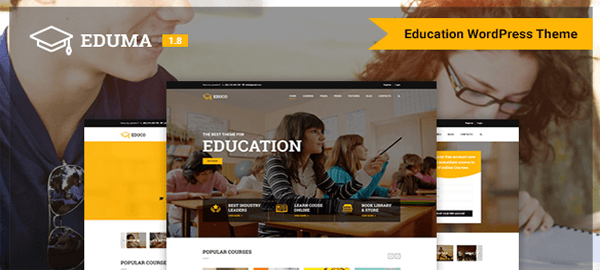 This unique theme enables you to create and monetize online courses as well as integrate an online shop (with WooCommerce) to sell additional materials. The theme itself includes seven unique demos ready to be set up for different kinds of courses, and is integrated with the LearnPress WordPress LMS Plugin, which provides the functionality for the courses themselves.
The LearnPress plugin is able to create sorting choice question types, random quizzes, content drips, give out certificates, reward points (through the myCRED premium plugin, which also comes with the theme), supports multiple instructors, and can also manage payments via Stripe.
On top of these core functions, Education WP also supports bbPress and BuddyPress integration, which enables you to create support forums for your students to obtain additional guidance or share tips between each other.
Try out the Education WP demo.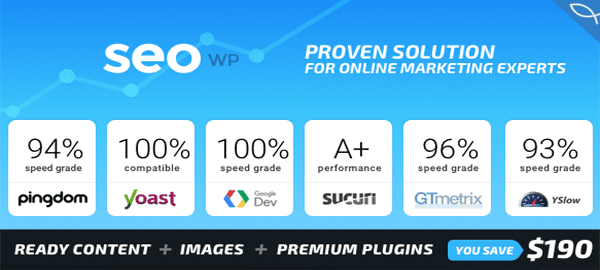 The SEO WP theme is meant to be used by SEO companies, digital marketing agencies, and social media specialists. It comes prepackaged with the Live Composer plugin as well as drag-and-drop builders for forms, footers, and Google Maps.
The images seen in the SEO WP demo are also fully available to be used as part of your finished websites, which means you can use their one-click import function and have a fully functional website live in a matter of minutes (aside from adding your own content, of course).
Purchasing the theme also gets you access to a variety of premium plugins such as Rankie, Mega Main Menu, Master Slider, Easy Social Share Buttons, NEX-Forms, Simplified Google Maps, WPFW and WordPress Fresh Favicon.
Finally, the theme was designed from the ground up to comply with the latest site performance best practices both for regular and mobile use, achieving almost perfect scores across the board in various popular site performance metric tools (as seen on the image above).
Try out the SEO WP demo.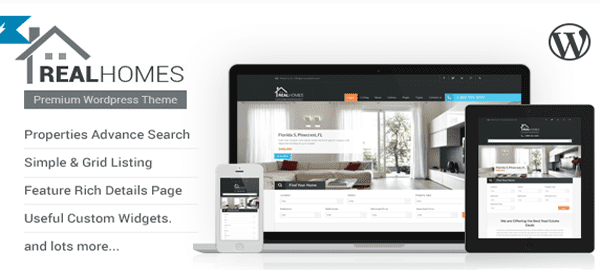 Real Homes is a powerful real estate listing theme which provides agencies with all the features they need to take their operations online. It features advanced property searches, Google Maps integration, user login and registration, and payment integration via PayPal.
Individual listings contain a wide variety of meta boxes with the basic presets for house and apartments (i.e. sale or rent price, the size of the property, number of bedrooms, etc.) which can be added to depending on the needs of individual agents or agencies.
Real Homes can also be used to power directories; you can even charge users to submit properties through an automated process.
Last but not least, this theme comes bundled with two premium plugins, Visual Composer, and Revolution Slider.
Try out the Real Homes demo.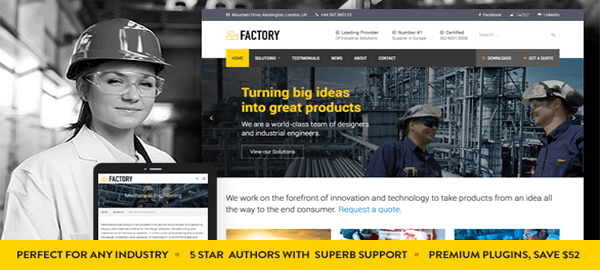 Factory is an theme intended for industrial operations ranging across fields such as engineering, research, and manufacturing. It's intended to be set up quickly and includes demos with real content to illustrate what a finished website would look like, and comes with a narrated installation video to guide you through proceedings.
The design here was built with effectiveness in mind, which is to say, conveying the maximum amount of information across each page without overwhelming viewers and with intuitive, no-frills layouts.
It comes bundled with Visual Composer and LayerSlider.
Try out the Factory demo.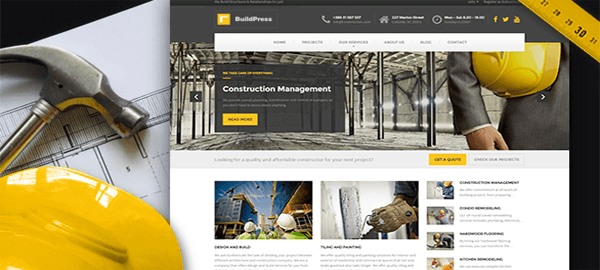 BuildPress is a no-nonsense theme for construction businesses. Much like Factory, it's all about providing a solid foundation for informational websites, only in this case targeting the construction niche.
In order to provide a product tailor-made for the field, the team behind BuildPress researched the market and came up with a variety of prebuilt layouts, including unique pages for custom construction services, project portfolios, and all the other basic pages a construction business would need (with all the pertinent information front and center).
The theme is also compatible with WooCommerce, in case you want to incorporate an online store, and comes packaged with the Essential Grid Gallery Plugin to power project portfolios.
Try out the BuildPress demo.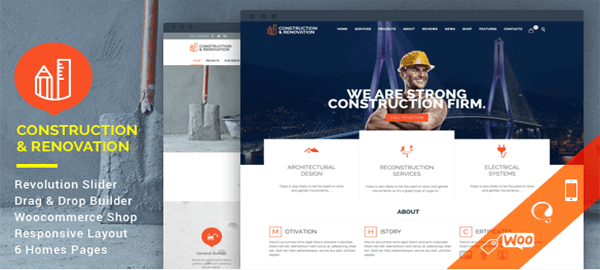 Builder offers a wide variety of features which make it perfect for all the business types it references (from building to cleaning). Its pre-made layouts display opening hours, appointment forms, case results, FAQs, and individual pages for team members.
The theme includes CSS animation options for most of its elements, a simple parallax builder, and a one-click installer for its demo content, in case you want to get your service site up and running in no time. It also comes packaged alongside the Revolution Slider plugin and a premium set of icons at no additional cost.
Try out the Builder Construction Architect Renovation demo.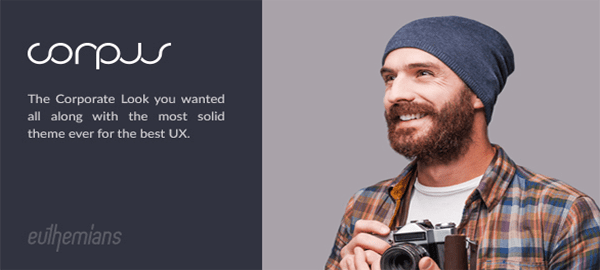 Corpus is all about that sleek, elegant corporate look which makes users feel at ease about the prospect of handing their money to strangers over the internet. On top of its sleek design, the theme also features some great UX design, with integrated animations which don't feel thrown in just for the fun of it, and incredible attention to detail.
Thanks to its WooCommerce integration, Corpus is well suited for online shops and service companies, although it's flexible enough to power quite a wide variety of businesses. It comes with the Visual Composer plugin for easy customization, the Revolution Slider plugin, a wide variety of prebuilt pages (including one-page designs), great navigational menus, and as we mentioned earlier, plenty of CSS animations.
Try out the Corpus demo.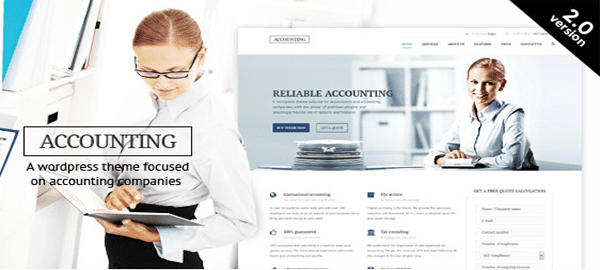 If you're only reading this article to find the perfect theme for your accounting business then boy, do we have some good news for you!
Accounting may not be the flashiest of themes, but it does include the solid framework you need to set up a simple and thorough site for accounting businesses, or pretty much any other niche that requires an informational website. By far its best feature is the front and center form to obtain a free quote, which is included alongside the prebuilt theme demo.
The theme is packaged with the Visual Composer and Revolution Slider plugins, is fully ready for WPML localization, and features a one-click install function for its demo content.
Try out the Accounting demo.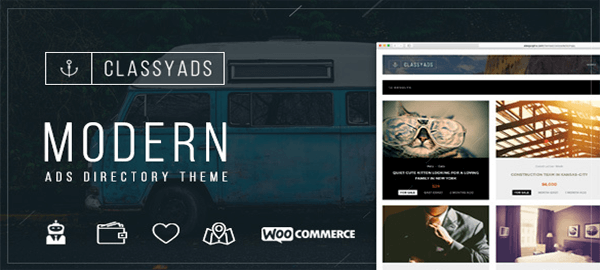 By far the classiest theme featured in our list (sorry), ClassyAds is a recently released classifieds theme that hasn't received much attention yet, but you should definitely check it out.
It features modern listing pages with prominent headers, plenty of custom details, a convenient navigational system, and contact forms to get in touch with the owner of each offer.
The theme is fully compatible with WooCommerce in order to handle payments for listings, and the ads functionality is based on the WP Job Manager plugin (which is not included alongside the theme).
Try out the ClassyAds demo.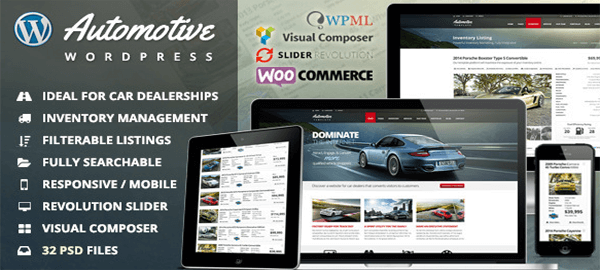 Automotive enables you to setup a gorgeous and fully functional car dealership website. Its main feature is the inclusion of a thorough (and fully searchable) inventory system, which gives your customers the ability to look through all your offerings with the use of multiple filters, and the possibility of comparing multiple vehicles at once to find their dream ride.
It also includes a Similar Vehicles widget, a financing calculator, and layouts for printable brochures in PDF format, as well as all the base Photoshop PSD files used during the design process. As for free plugins, it comes with Visual Composer and Revolution Slider, and is fully compatible with WooCommerce in case you want to add payment options to your online dealership.
Try out the Automotive Car Dealership Business demo.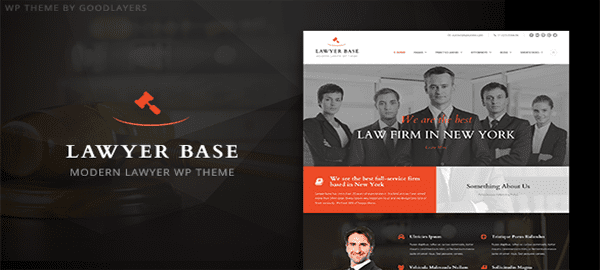 If the previously mentioned Accounting didn't convince you there's a WordPress theme for every conceivable niche, Lawyer Base should put those doubts to rest.
This theme was custom built with law firms in mind, and to that effect, it features a modern, professional design which inspires confidence without descending into cookie cutter corporate territory. Its prebuilt layouts include individual pages for different kinds of law areas, testimonials, recent firm news, and individual attorney profiles which can be easily customized.
The theme uses the custom GoodLayers page builder (from the same team who developed this theme), includes the Master Slider plugin, and is fully compatible with WooCommerce as well as WPML.
Try out the Lawyer Base demo.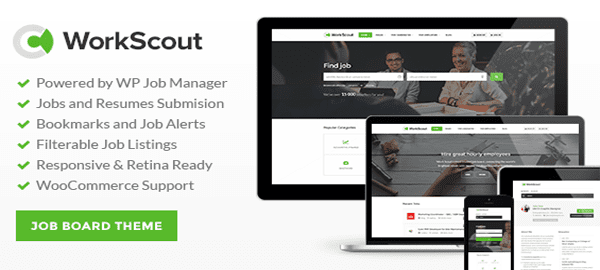 WorkScout is a recently launched job board theme with plenty of functionality to back up its solid design, although many of its more advanced features require separately sold premium plugins.
Using the theme alongside the free WP Job Manager plugin, you'll be able to set up a working job directory to which users can upload listings separated by different categories such as freelance, full-time, internship, part-time and temp. The theme was also developed with more advanced functions in mind, covering everything from uploading resumes, application management (which could be seen from an employer dashboard), new job alerts, and bookmarked jobs.
All of these functions are supported by the theme and included in the design but require the purchase of add-ons, which may be a turnoff for some.
Try out the WorkScout demo.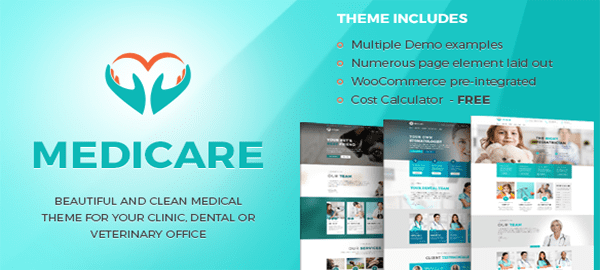 Medicare is a custom-built theme for medical practitioners which includes prebuilt layouts for several specific fields such as clinics, dentist and veterinary offices.
Its designs are simple yet include smart details such as custom animations, and are intended to be packed with important medical information in an easy to digest fashion. The theme also features a built-in cost calculator plugin, the RapidComposer plugin, is fully ready for translation, and includes support for WooCommerce as well as being ready for child theming.
Try out the Medicare demo.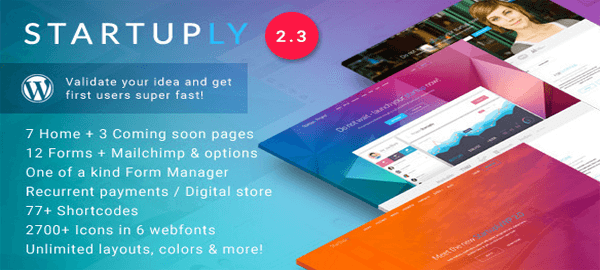 Last but not least, Startuply is meant to fulfill the crucial functions needed by a startup on the rise. It doesn't matter if your product or service hasn't gone live yet – this theme will help you start compiling user information for your waiting list or advance sign-ups.
Startuply comes with seven prebuilt layouts to get your startup page up and running in no time, and comes prepackaged with a few premium plugins including Revolution Slider, Visual Composer, and Templatera.
Try out the Startuply demo.
Conclusion
You're on your way to kickstarting or boosting your business' online presence, but simply choosing a theme isn't enough to get you there. A great theme will, however, include all the features you require as well as provide you with enough flexibility to grow over time.
But what if you're not quite sure how to pick the right theme for you even after going over the list? Just follow these steps:
Go back over our picks and select the theme which comes the closest to fulfilling your requirements.
Don't rush into anything. Every theme will offer you live previews and demos so you can see them in action. We've included links to them alongside each of them.
Purchase your business theme and get to work!
What is your favorite corporate WordPress theme for businesses? Share your picks with us in the comments section below!
Article thumbnail image by David-Teamen / shutterstock.com