There are thousands of WordPress themes available for pretty much any kind of website. So many in fact, that sorting through all of them to find the perfect one for yourself or your clients becomes nearly impossible. This leads designers to end up picking the most popular ones on occasion just to save time.
Sometimes these themes may offer exactly what you're looking for and sometimes you'll have to look beyond the big names in order to find a hidden gem. This could mean checking out recently published themes, which could offer you unexpected advantages such as more dedicated support or lower prices.
In order to make your life easier, we've compiled a list of some of the best designed themes from the last few years (and some even younger) for you to build beautiful websites with. Let's start with some heavy hitters before moving onto some up-and-comers.
1. Divi (Multipurpose)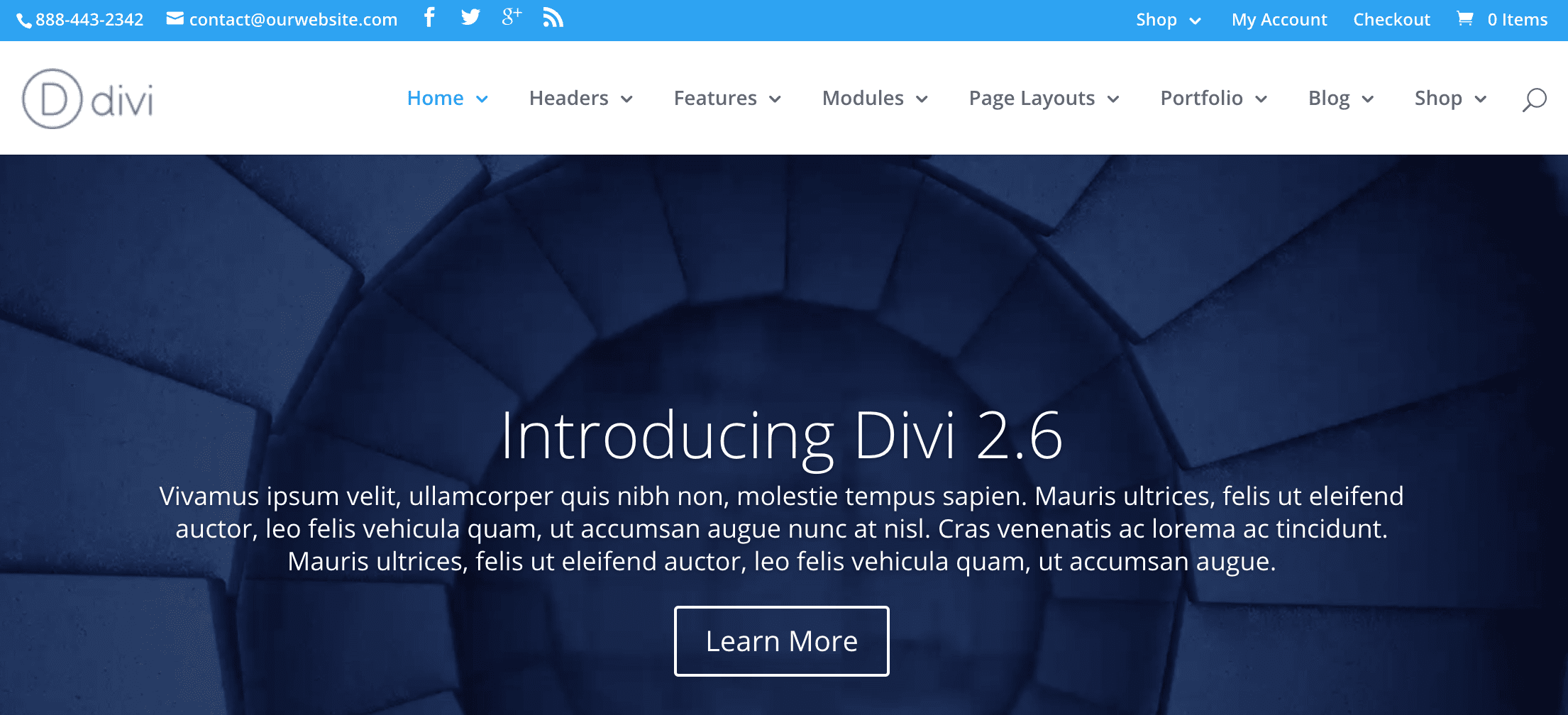 If you're not quite sure where to start looking, you should check out Divi. Our own multipurpose theme includes several advanced features such as a unique drag-and-drop page builder, is fully responsive, comes with premium support, and 18 premade layouts.
All of Divi's premade layouts and building blocks were designed following best practices, look elegant and are highly engaging. The theme is well-suited for sites ranging from simple blogs, to portfolios, e-commerce sites, creative galleries, and pretty much anything else you can think of.
Features
Divi drag-and-drop builder.
Fully responsive ready.
18 premade layouts.
Advanced design customization options.
Multiple headers options right out of the box.
Fully translated into over 32 languages.
2. Avada (Multipurpose)

Avada bills itself as the number one selling WordPress theme of all time and takes pride in including such intuitive design tools that coding knowledge isn't necessary to set up a website using their product.
From a design standpoint, Avada is incredibly flexible. It offers in-depth customization options for all its components such as various header and menu options, customizable content layouts, over ten custom widgets, and more than 40 shortcodes with hundreds of options between them.
Their premade layouts are modern looking, with an emphasis on clean lines, good use of whitespace and great use of color. It's perfect for portfolios and blogs.
Features
Support for WooCommerce integration.
In-depth design customization options.
Fully responsive right out of the box.
Includes multiple premium sliders with the purchase of the main theme.
Optimized for Search Engine Optimization (SEO) following best practices.
3. X (Multipurpose)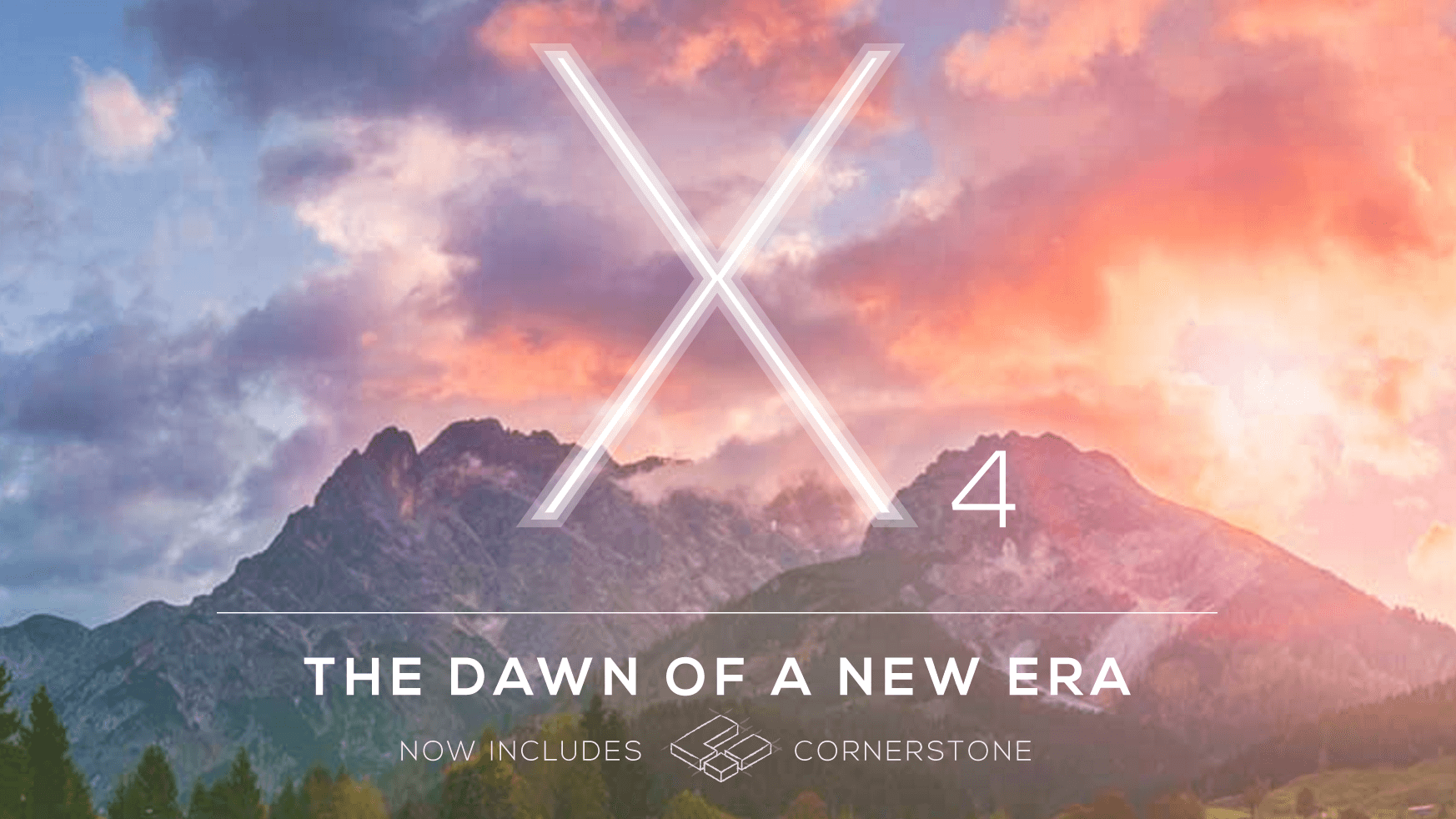 X offers its users four different design styles within their premade demos, Integrity, Renew, Icon, and Ethos. The developers refer to each of these as a Stack, and combined, they offer 32 designs ready for you to choose from and use right away.
On top of that, the theme also offers something called Expanded Demos, which are simply put, fully made websites for several specific niches which can be easily customized and be ready to go live incredibly quickly.
Features
Offers several designs styles for users to choose from.
Includes its own set of extensions, which are essentially plugins within the theme itself for specific features.
Comes with Photoshop Document (PSD) files for designers.
It's optimized for SEO following the latest best practices.
4. Enfold (Multipurpose)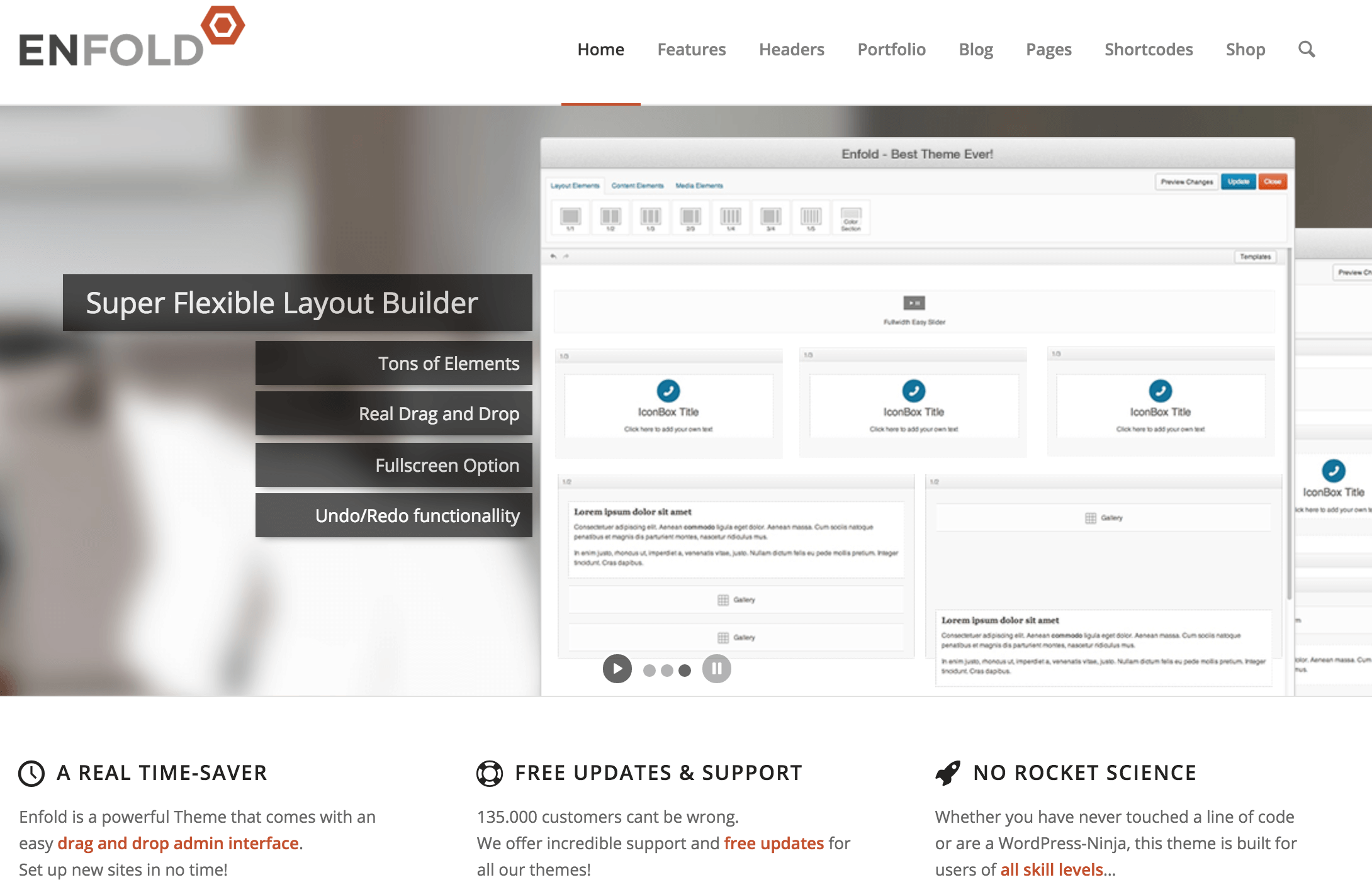 Enfold prides itself on being the most user-friendly WordPress theme ever made (in their own words). They offer multiple demos or premade layouts which are designed for miscellaneous use cases. If you're looking to set up a good-looking WordPress site quickly, this could be right up your alley.
Some use cases are pretty generic, but there are several niche-specific designs such as for photography portfolio sites, or for restaurants. The design here is very elegant and upscale-looking, with bold fonts, and subtle contrasts.
Features
Good choice if you're looking to set up a site in a short amount of time.
All layouts are fully responsive.
Dedicated support team.
Powerful customization options included in the admin panel.
Has fantastic documentation including video tutorials.
5. Soledad (Blogs and Magazines)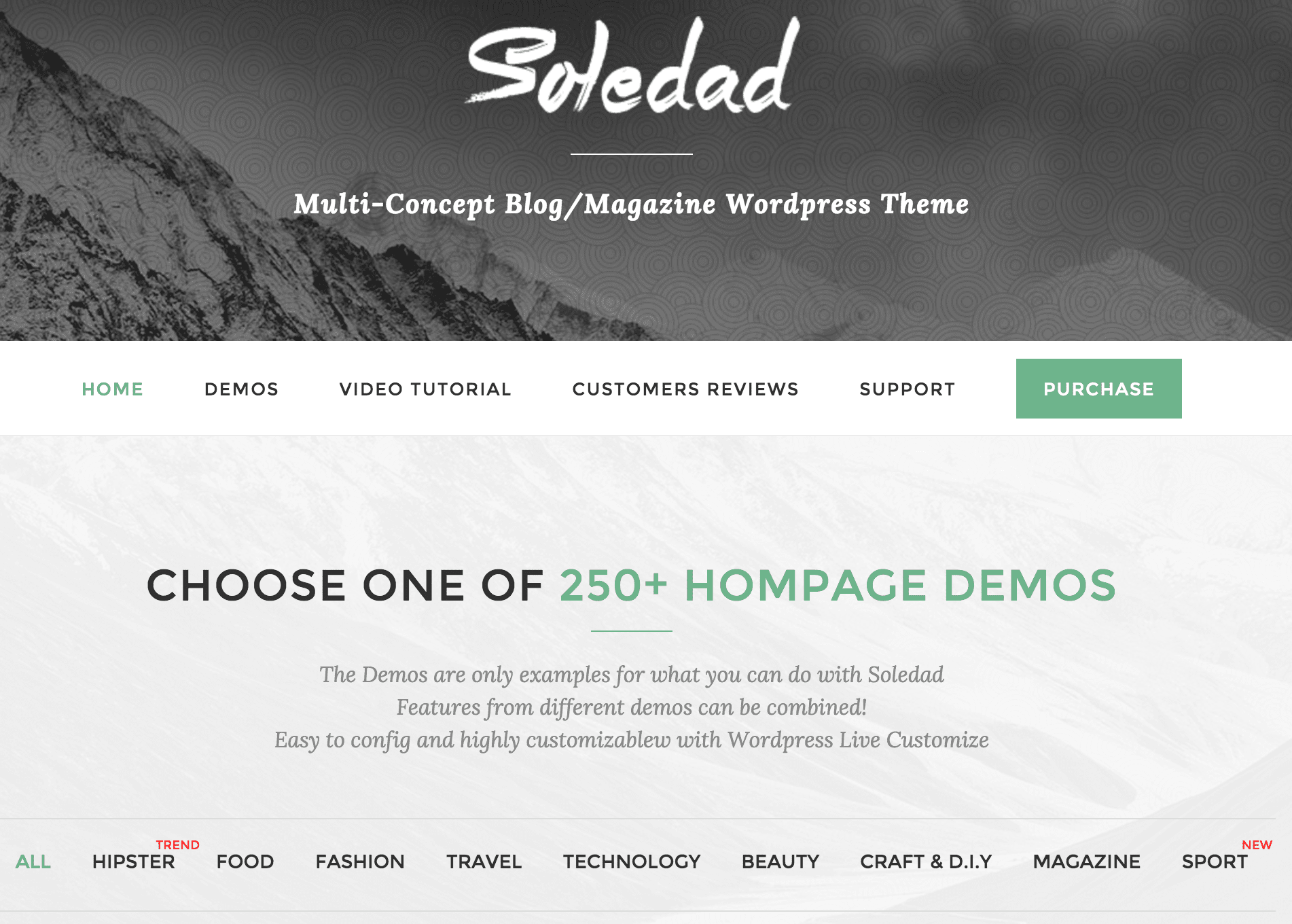 Soledad is a great theme for blogs and magazines, which offers a surprising amount of customization options. If you want to see it in action, they've gone above and beyond by offering a demo page which features over 250 layout combinations to show you how much can be accomplished with the theme.
Since it's mainly a blog and magazine theme, the design here is focused on clean layouts, good use of whitespace and an emphasis on thumbnails, featured images, and titles.
Features
Over 250 customization options and an instant preview feature.
Multiple slider combinations.
Three sidebars and five article layouts.
Six different portfolio styles.
6. Impreza (Multipurpose)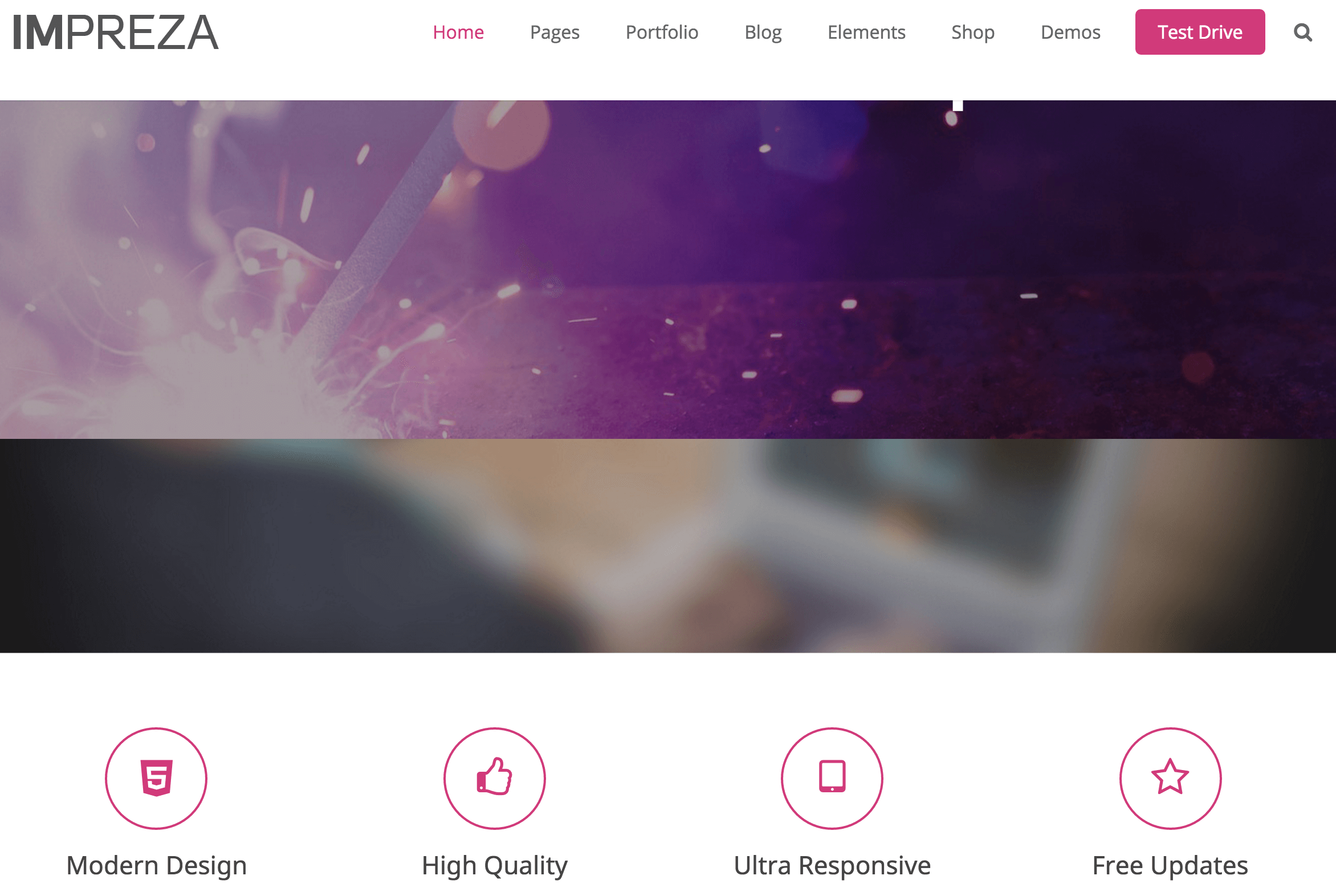 Impreza is a flexible theme with a team who's made an emphasis on every element of web design. Every placement, color, and animation included in their layouts were carefully chosen and they all look stunning.
Although this theme could work for all kinds of websites, it's especially well suited for creative agencies, portfolios, blogs, and landing pages.
Features
Ready for integration with WooCommerce and other popular plugins such as WPML, Gravity Forms, Contact Form 7, and bbPress.
One-click demo imports.
Drag-and-drop page builder.
Designed with best usability practices in mind.
Makes great use of CSS3 animations.
7. KLEO (Multipurpose)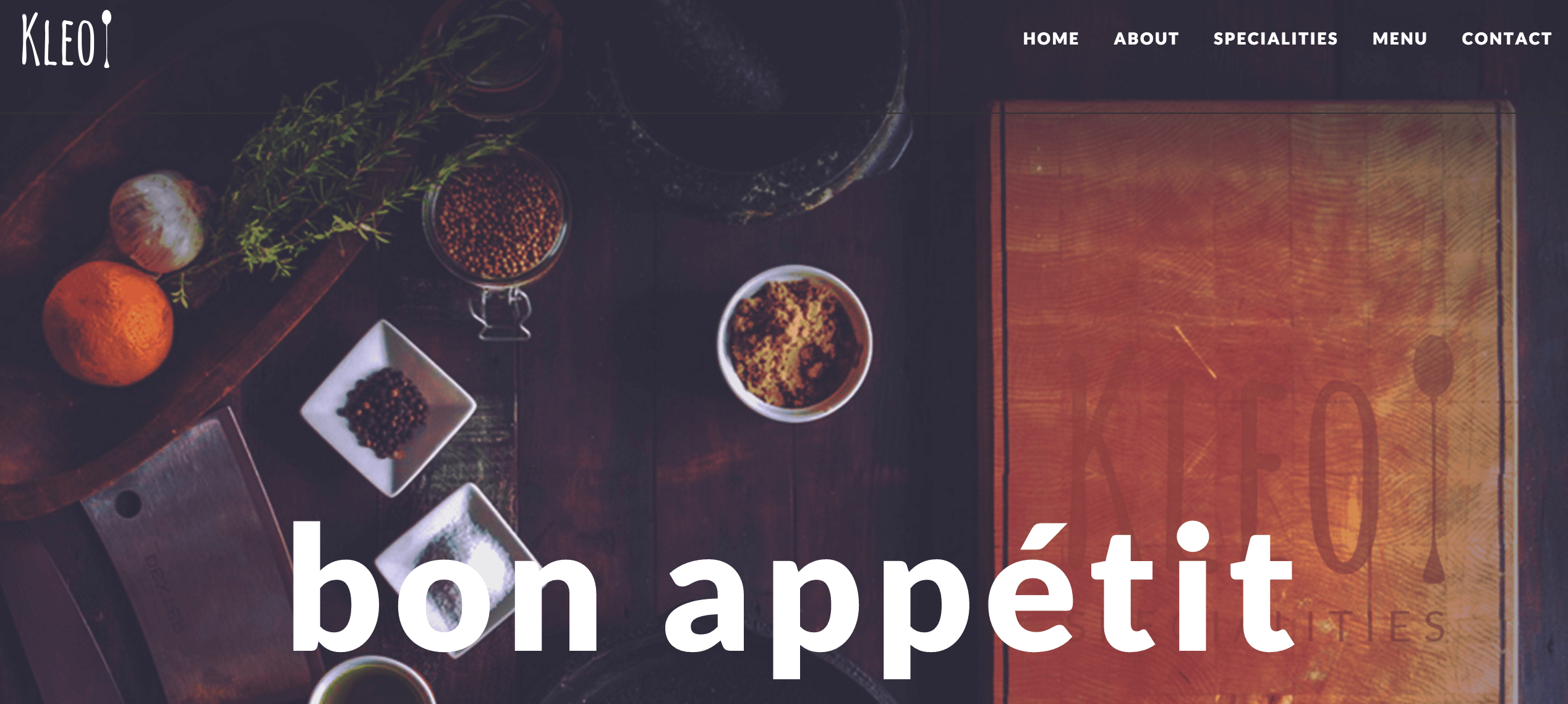 Although KLEO is a multipurpose theme, we've got to put emphasis on its outstanding support for community-based websites and tools like BuddyPress and bbPress. As far as design goes, it's got a very clean and simple look which is perfectly suited for business, corporate, and learning websites.
Features
Intuitive admin panel optimized for faster previews.
Comes with the Sensei plugin for designing online courses.
Supports AJAX live notifications.
Includes support for Facebook login right out of the box.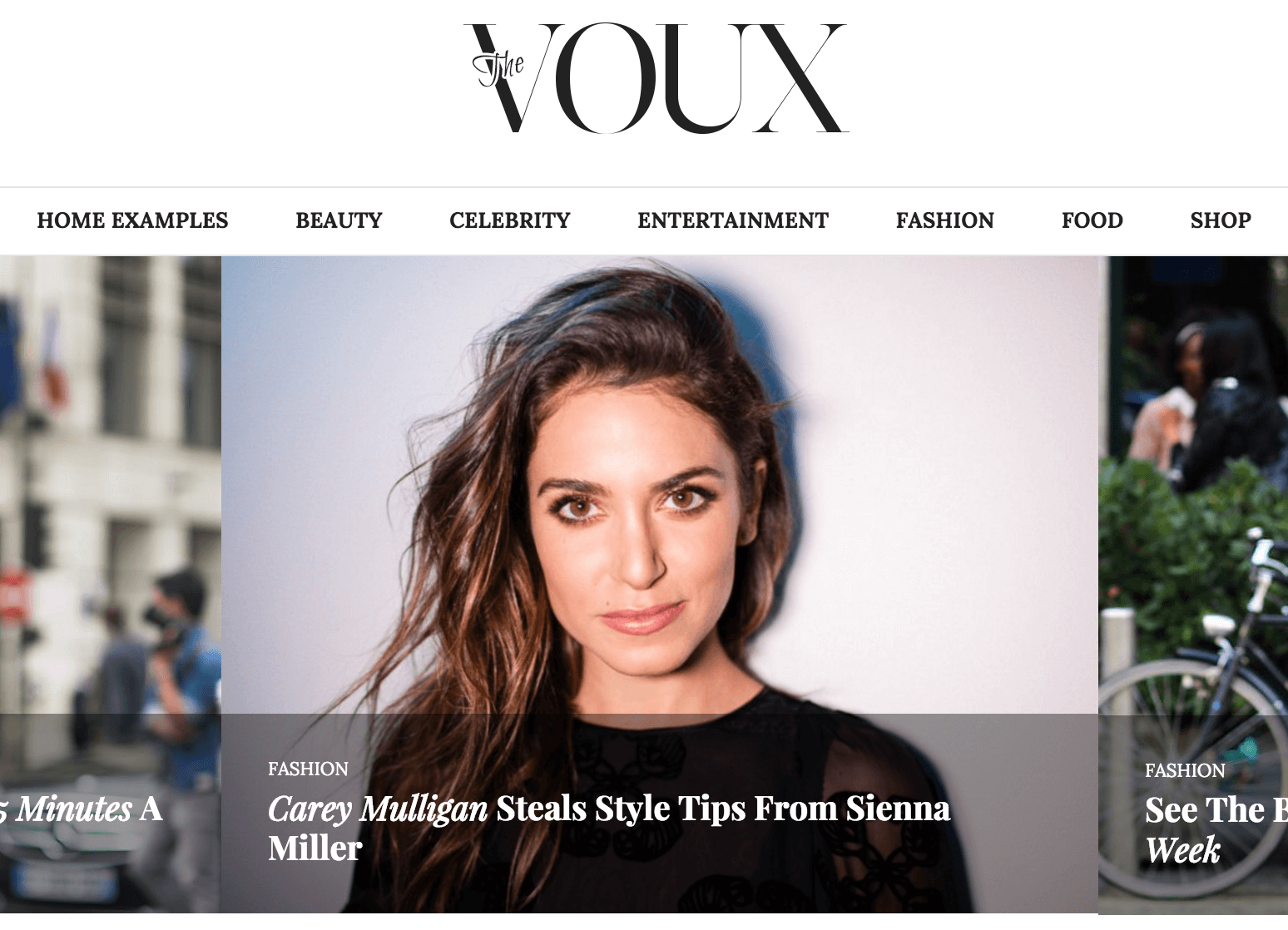 The name itself, Voux, sounds like a fashion magazine, which is exactly what this theme is going for. It's stylish but clean looking and perfect for magazine sites with a heavy emphasis on gorgeous imagery.
Features
Infinite scrolling so that your visitors will remain immersed in the visual experience.
User-friendly headers with customizable menus.
Easy to navigate full screen galleries.
Includes custom Sidekick tutorials.
9. Legenda (Multipurpose)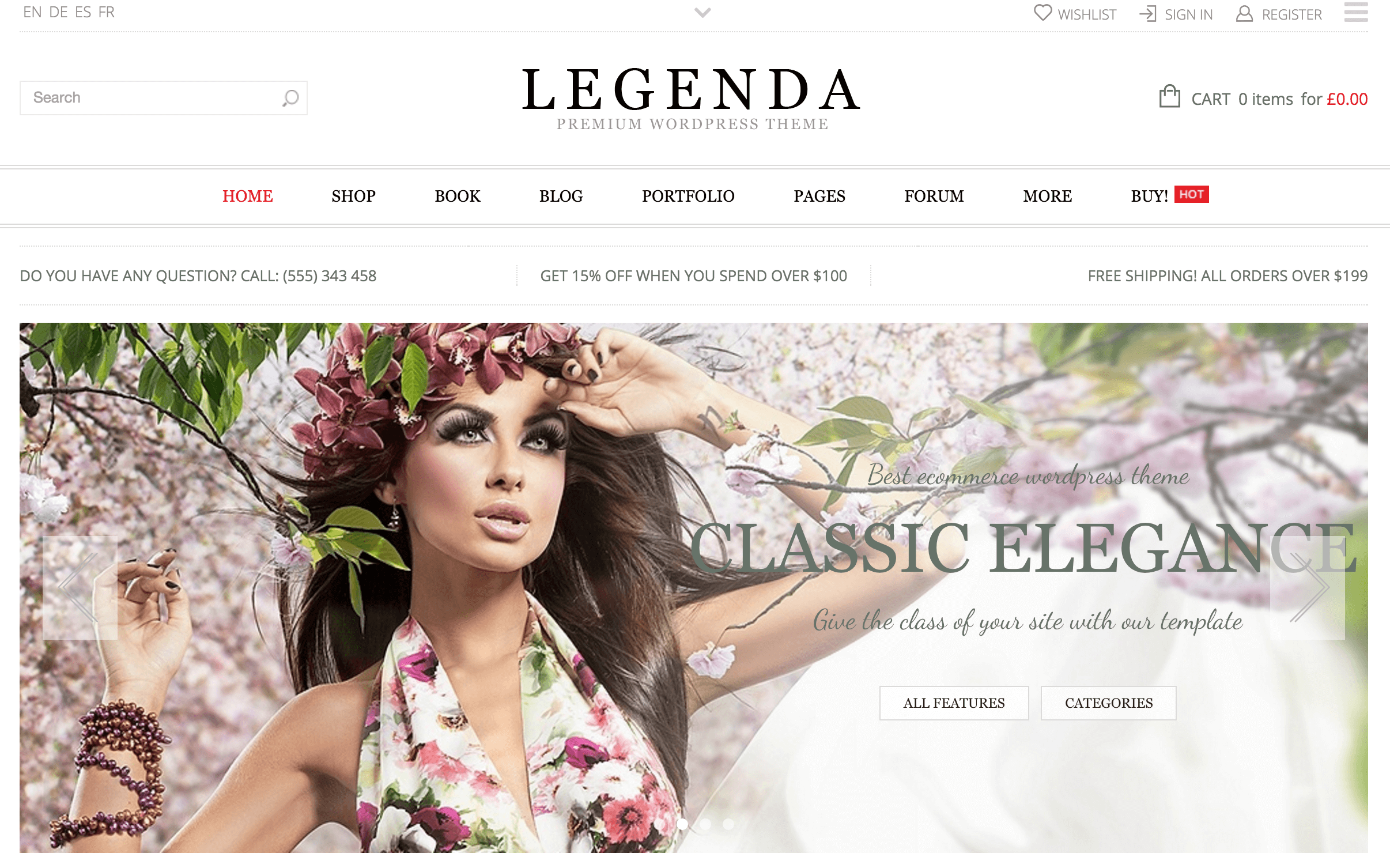 Legenda is a flexible theme with pre-designed layouts for over 11 business niches ranging from restaurants to e-commerce sites and even a couple of surprising choices, such as toy and car stores. It's designed so that users may be able to set up these layouts with a single click.
The included layouts are very modern and efficient, with in-depth customization but little frills. Perfect for clients who want a serious look and feel for their websites.
Features
Almost a dozen premade layouts available with a single-click installation option.
Includes over 50 PSD files for all kinds of subpages, which can be easily edited.
Bootstrap based design makes for perfectly responsive sites.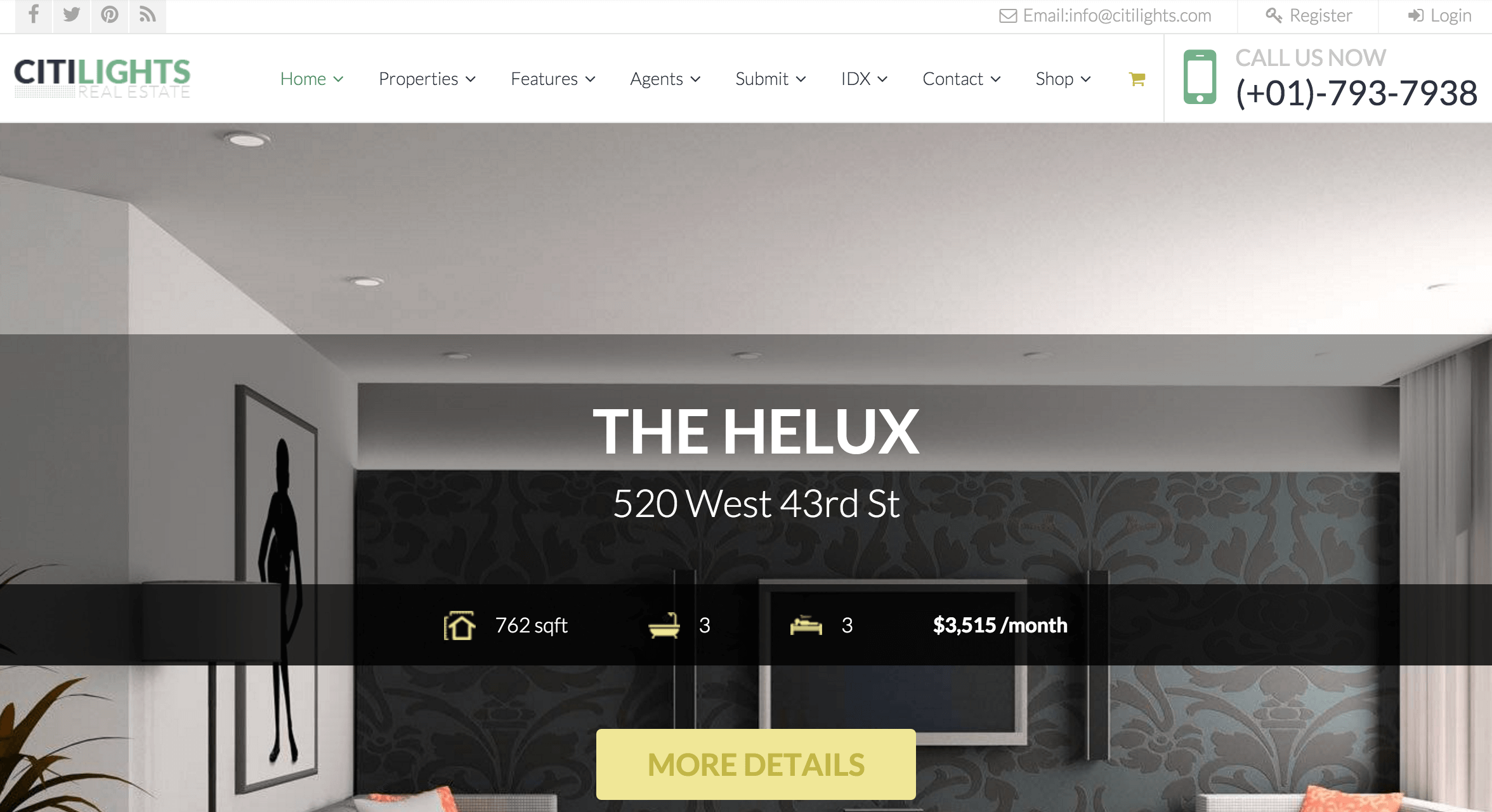 Now for a truly unique niche theme, CitiLights was custom built for real estate websites. To this effect, it enables agents to create their own profiles and list properties under them using an intuitive dashboard. Properties are shown using simple sliders, with an easy to peruse list of features and a great search function.
As far as design goes this theme is all about usability and a clean, uncluttered look, which makes it great for clients to look through.
Features
Fully responsive theme.
Designed with usability in mind.
Advanced search functions including Google Maps integration.
Redwood is a theme made for blogs with classic design features. It's perfect for clients who want a simply elegant look and yet contains enough customization options to give designers a lot of room to make each site unique.
Features
Multiple slider and promo boxes.
Five different blog layouts.
Enables you to include a full-width Instagram feed in the footer.
12. Oshine (Multipurpose)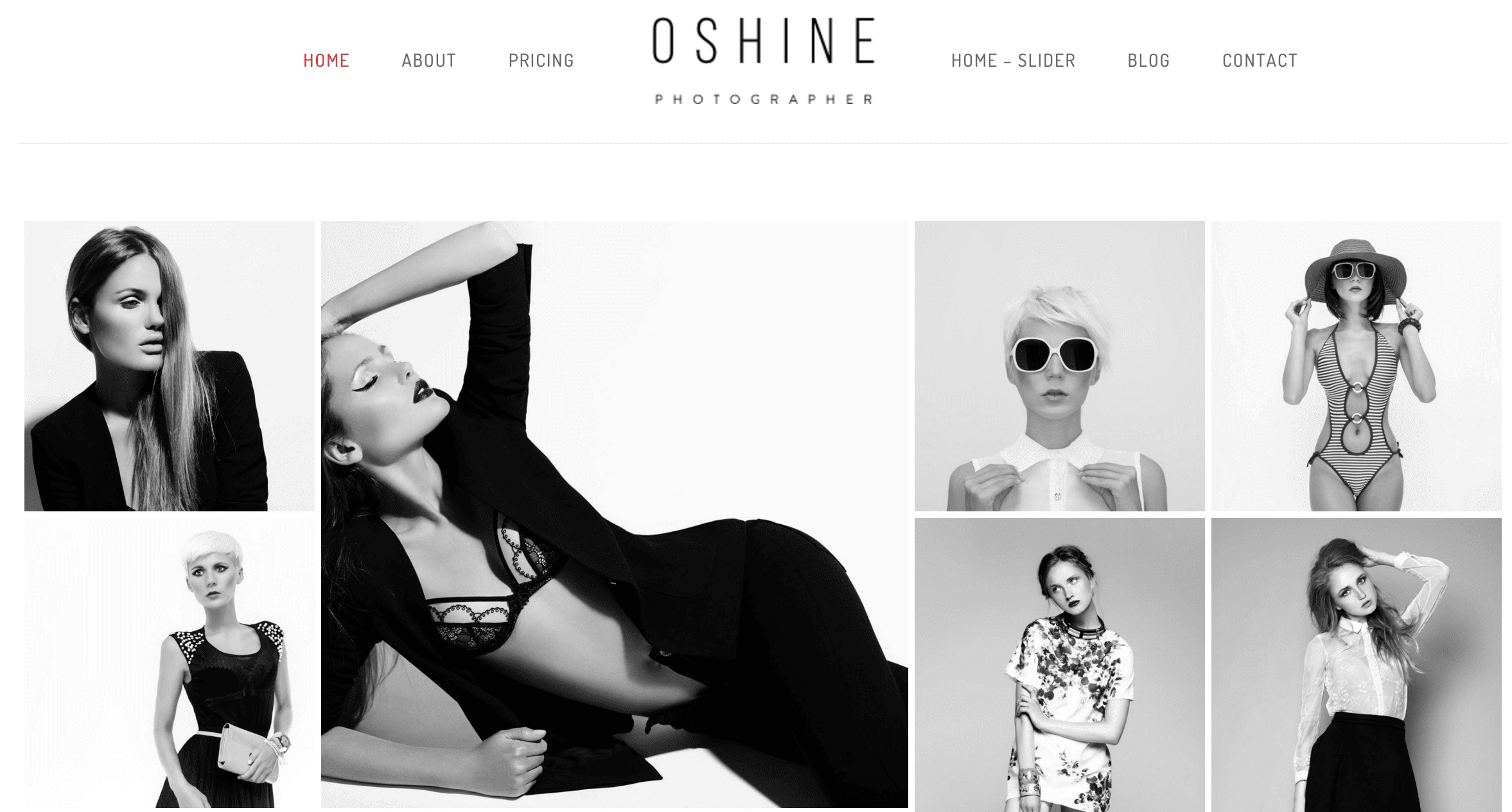 Oshine is a multipurpose theme with almost 20 unique layouts available. Although it's flexible enough to fit all kinds of websites (including e-commerce), its emphasis on stunning imagery makes it especially well suited for portfolio and blog sites.
Features
Custom drag-and-drop page builder.
Built with modern design aesthetics in mind, with an emphasis on functionality and typography.
Includes the Master Slider premium plugin.
13. Flow (Blogs)

This aptly named theme is designed to help you create blog sites, which well, flow on and on. To this effect, it includes three flow options: the classic masonry layout, a combination of vertical menus with the same masonry effect and finally a more toned-down look accompanied by a sidebar and transition animations.
Features
Fully responsive and retina ready.
Custom-designed posts ranging from the usual blog updates to audio, video, and galleries.
One-click setup for demo sites.
14. Mega (Multipurpose)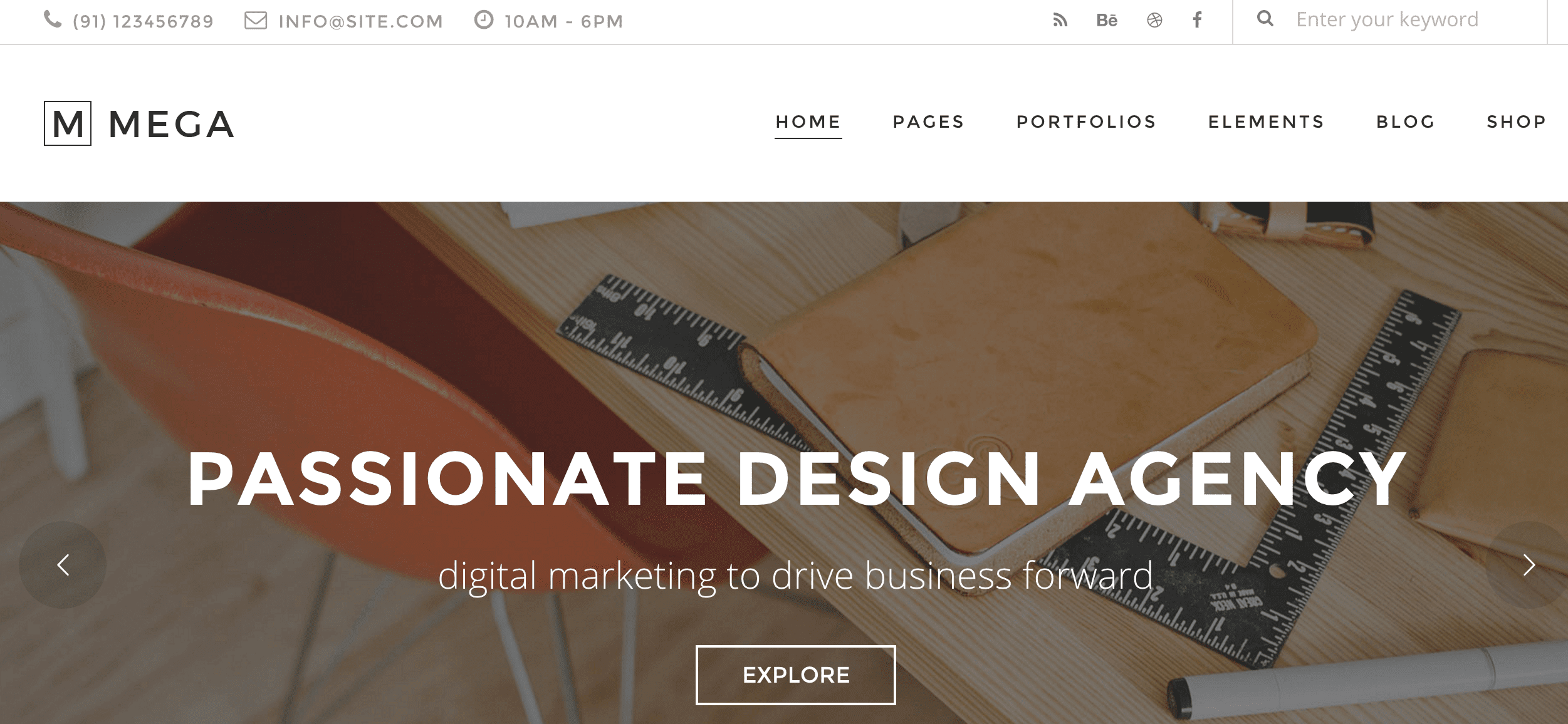 This newly-published theme is already making some waves. It was one of January's best sellers on ThemeForest and has accrued a lot of good reviews in the nearly two months since it was launched.
As far as design goes, Mega doesn't break the mold with its giant sliders and abundant use of white space, but what it does, it does well. This no-nonsense theme is perfect for sites without too many frills.
Features
Custom page builder with an intuitive interface.
Includes over 29 design elements with hundreds of combined options.
Optimized for fast loading speeds and keeping up with the latest SEO best practices.
15. Pitch (Freelancers and Agencies)

Pitch is a theme built with freelancers in mind. Not only is it perfect for portfolio websites, but it also includes some great case study templates, making it easy to guide customers through your creative process and woo them into hiring you for their future projects.
Features
Highly customizable design options.
Intuitive admin panel.
Comes with support for SVG graphics and SVG line drawing animations using the Select Slider.
16. Kalium (Creative Professionals)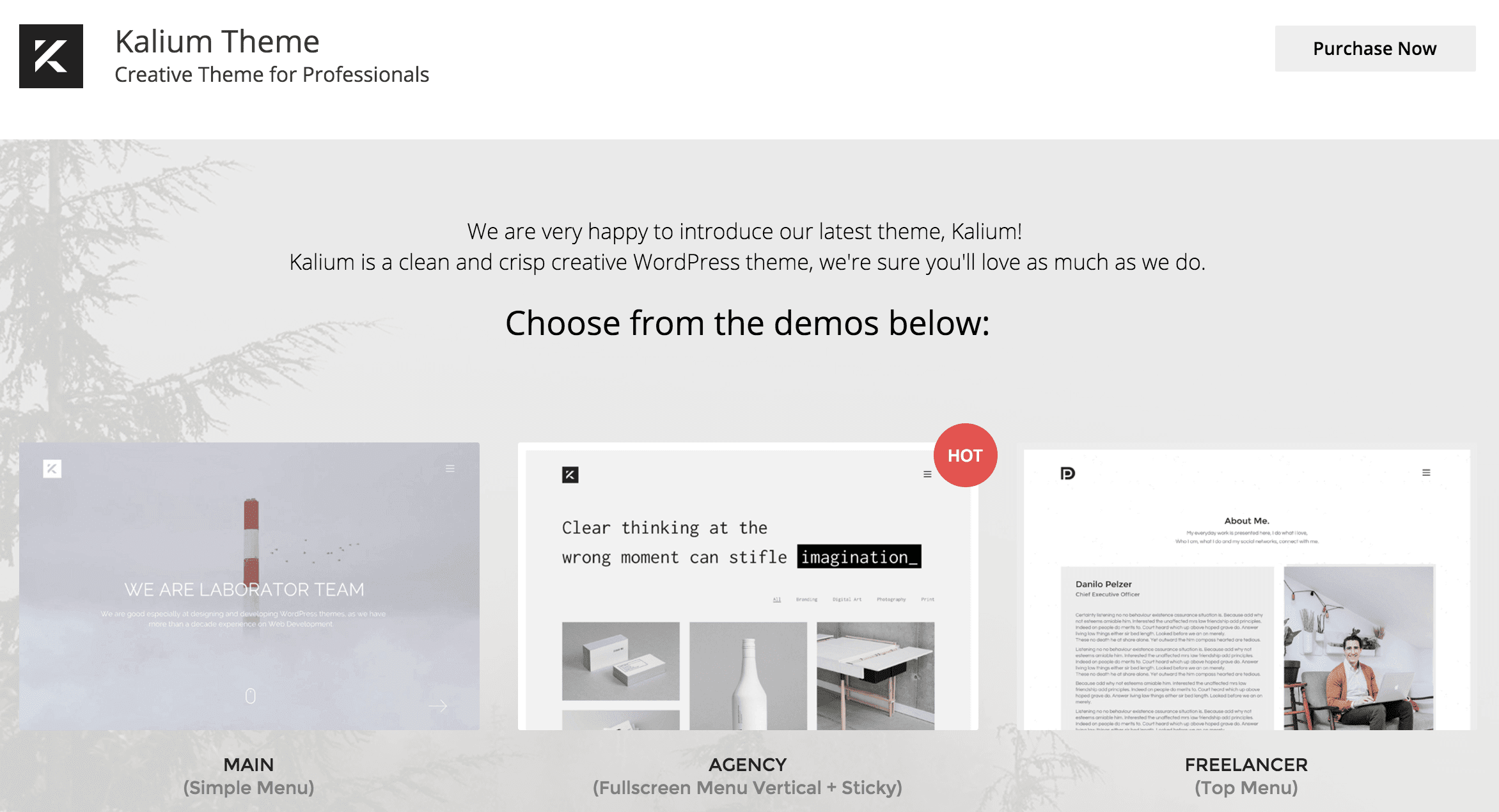 Kalium is a simple to use theme built with creative professionals in mind. It's especially great for portfolio or showcase sites, as well as blogs and it's got plenty of layout designs to make your life easier, on top of an intuitive builder.
Features
Custom drag-and-drop builder.
Includes custom Sidekick tutorials.
Eight unique demos which can be set up in a matter of minutes.
17. Kedavra (Multipurpose)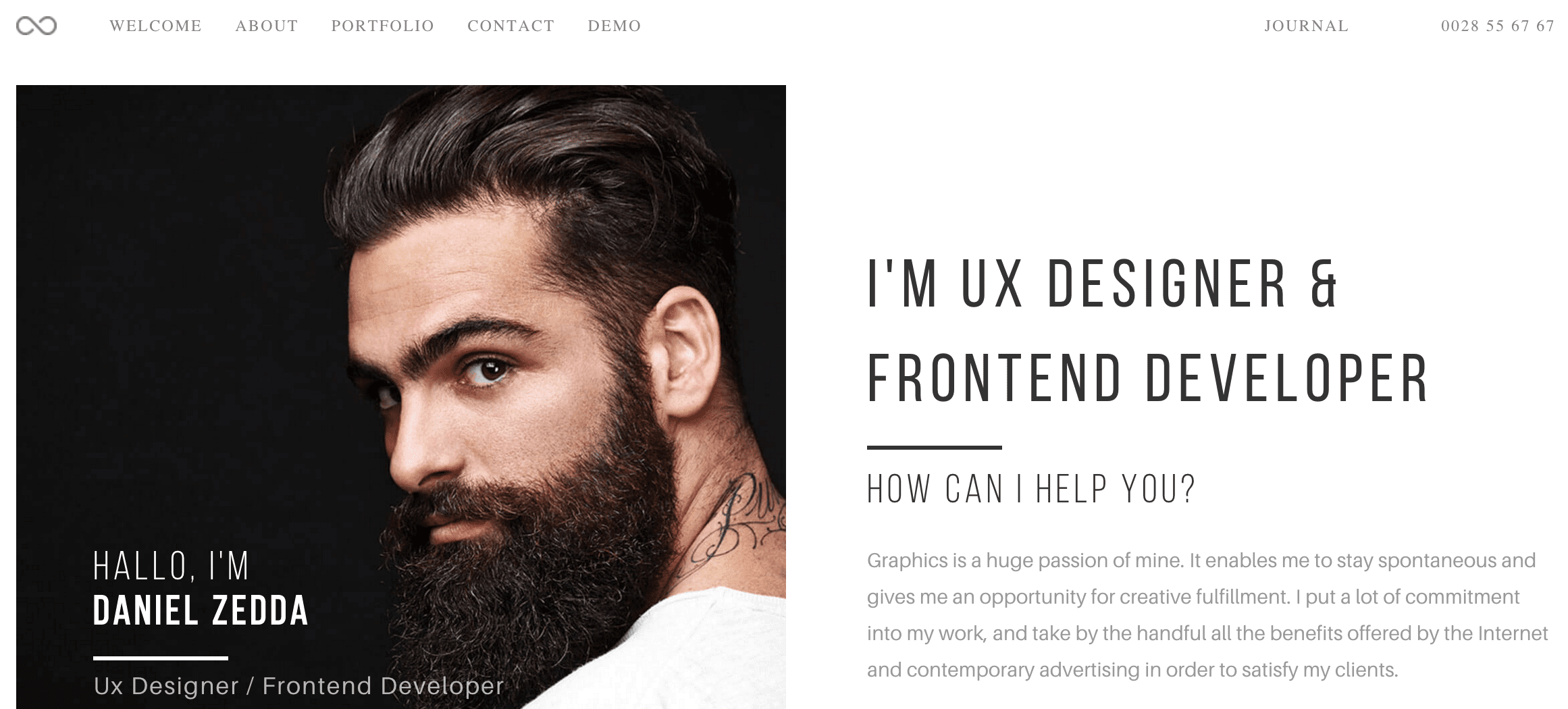 Sadly, no, this isn't a theme for Harry Potter websites. Kedavra was designed with professional websites in mind, using very clean and easy to navigate layouts as well as great menus.
Features
Comes integrated with the SiteOrigin Page Builder module.
Optimized live preview for easier customization.
Includes over 600 Google Fonts.
Thorough documentation to make your life easier.
18. Bloc (Minimalistic Portfolios)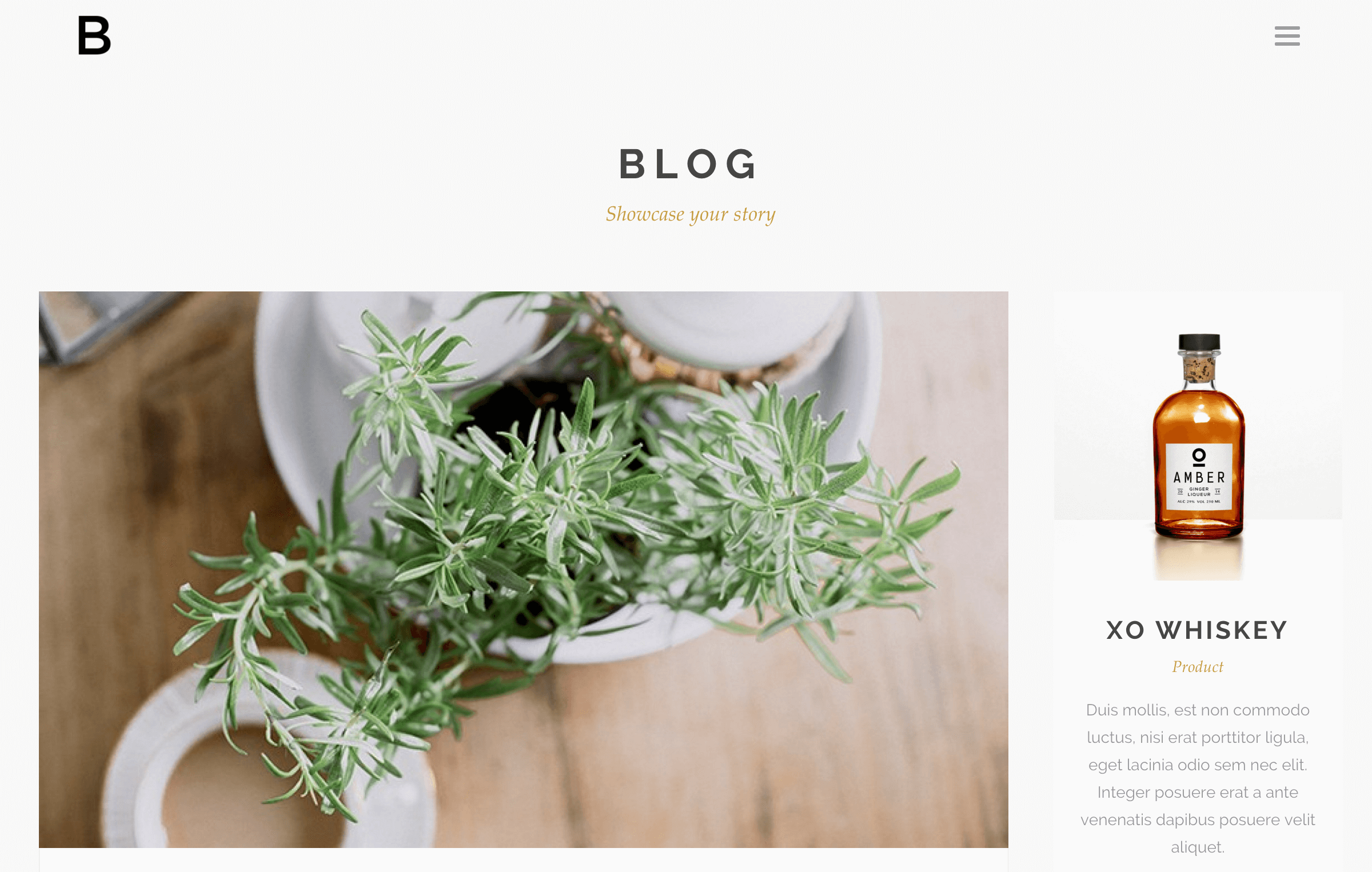 Bloc takes inspiration from minimalistic Swiss design, so if you're looking to stand out among other portfolio sites, look no further. It's also fully compatible with WooCommerce, so if a client wants to set up a minimalistic store, you know just where to look.
Features
In-depth customization options.
Intuitive admin interface.
Drag-and-drop galleries.
Comes with over 900 gorgeous icons to customize your posts.
19. Notio (Portfolios and E-commerce)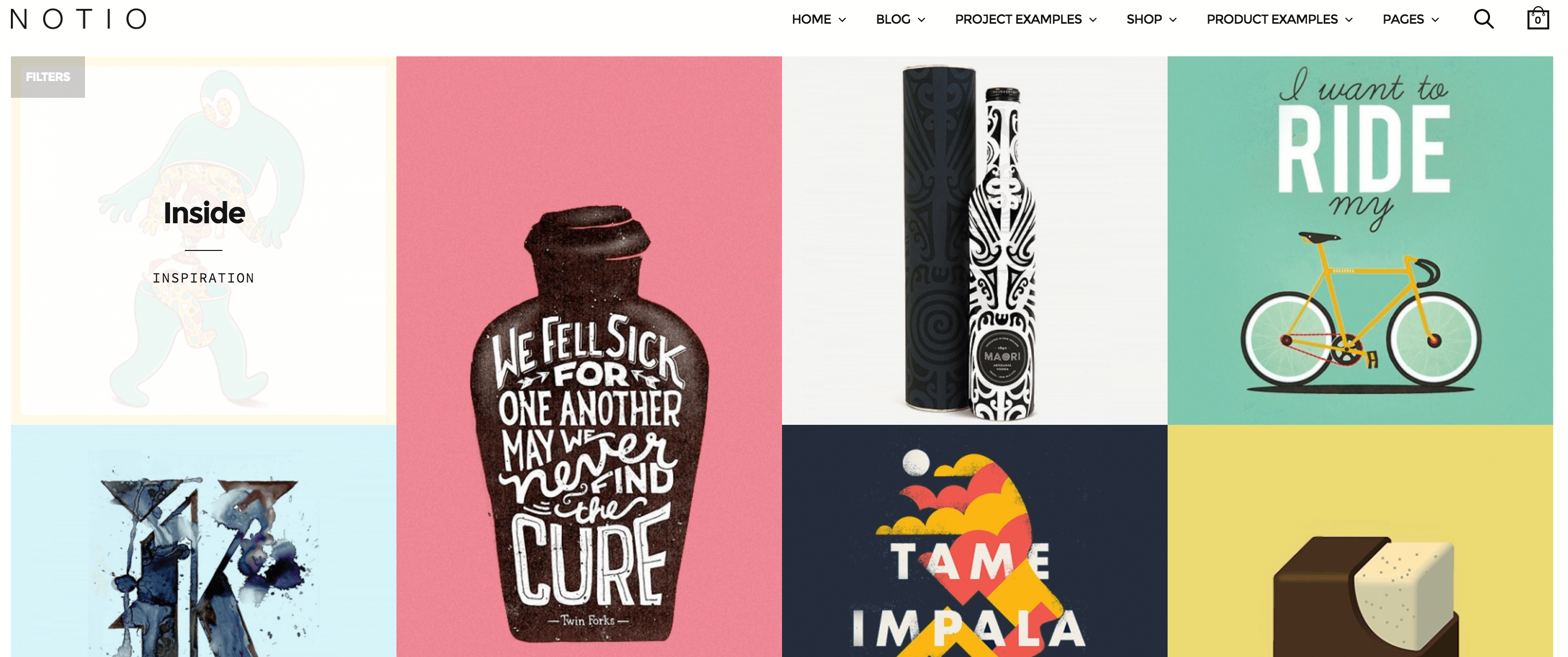 We already covered the minimalistic, so why not take a look at something on the other end of the spectrum for the most eclectic among you? Notio doesn't feature a gigantic amount of demos like many other themes. Instead, they've opted for ten wildly diverse showcases which feature unique designs and animations designed to work across all devices.
Features
On top of its ten portfolio layouts, it also includes eight showcase details pages which can be used for case studies.
Includes several animations which were designed to perform smoothly on all kinds of devices.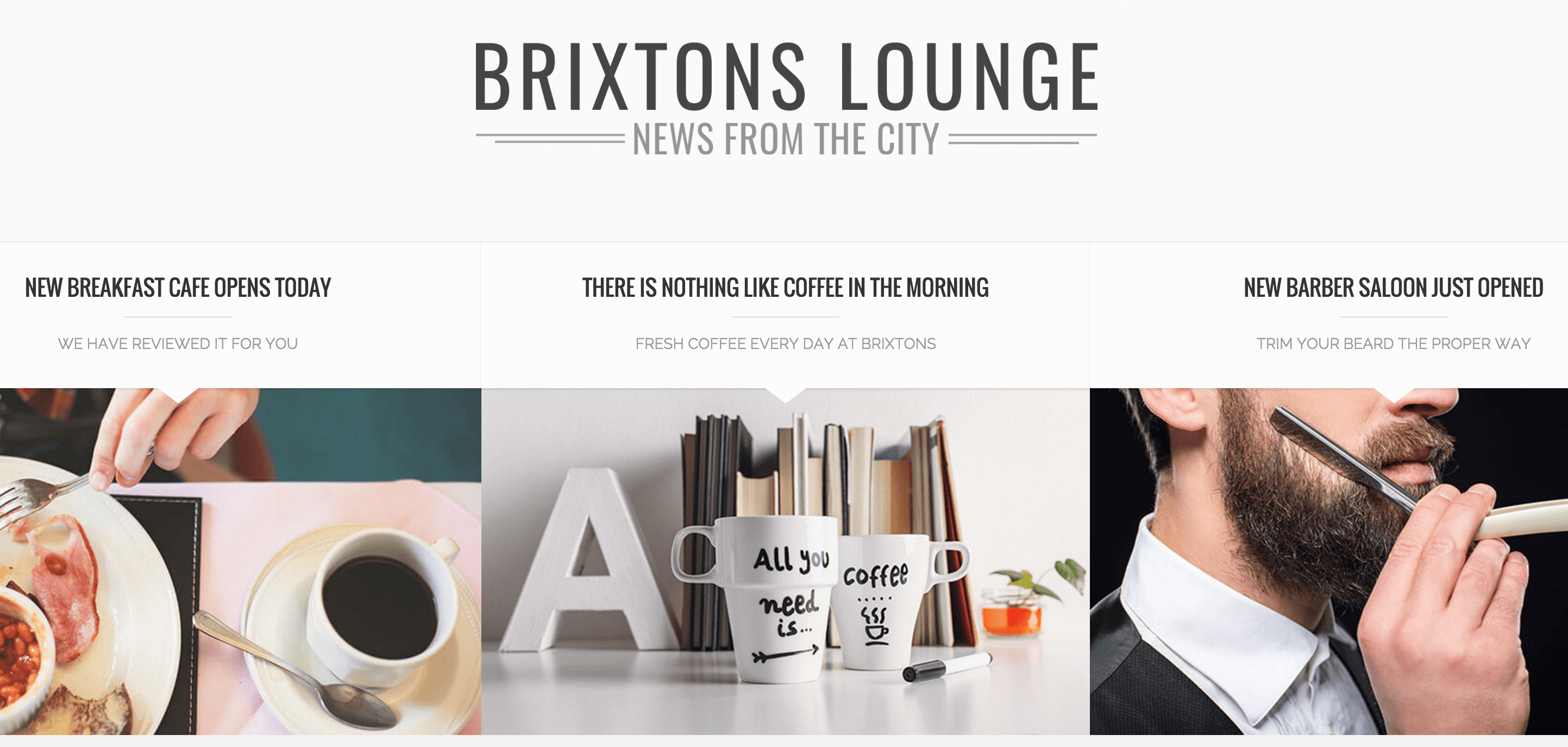 Brixton is all about blogging, which means it's all about storytelling with a nice visual component to keep readers interested (that's why we include so many shiny images!). It came in a respectable third in 2015 among all the blog themes on ThemeForest as far as sales went and it's also garnered some great reviews during that time.
As far as design goes there's a clear emphasis on whitespace, typography, and great use of contrast, which makes it great for readers and gives the demo pages a very authoritative look.
Features
Easy to customize and built for readability.
SEO optimized following the latest best practices.
Great documentation to make your life simpler.
Conclusion
Finding the right theme isn't going to solve all of your problems, but it can certainly make you life easier as a designer by providing a foundation upon which you can improve using your skills.
Through the course of this list, we've gone over which themes would be better suited to which kind of site depending on their needs. However, it's up to you to find the perfect fit for your clients and provide them with a design which meets their requirements and exceeds their expectations.
Article thumbnail image by David Darko / shutterstock.com