If you run a business in the real, brick-and-mortar world, success hinges on customers being able to find you. Customers won't spend forever trying to work out your location for themselves – it's your responsibility to do the heavy lifting for them. I'm talking, of course, about providing them with an interactive map.
Although the Google Maps API comes equipped with embedding code, many WordPress users will feel more comfortable using a dedicated map plugin. After all, a dedicated Google Map plugin offers more features, customizations, and settings.
And that's precisely the purpose of today's article: to introduce you to 13 of the best WordPress Google Maps plugins. To cater to all budgets, this collection includes both free and premium map plugins.
WP Google Maps (FREE)

Let's kick things off with one of the most popular map plugins, WP Google Maps. This is the free Lite version of the plugin, which currently boasts over 200,000 active installs.
WP Google Maps lets you add an unlimited number of markers to maps, letting you highlight locations of interest. To further draw visitors to a specific area of your map, you can add colorful polygons and polylines to them, too. Probably the best feature in this free plugin is the store locator – and also possibly the most valuable to you. Add pins to mark all your stores, and then let visitors use a helpful search function to find the nearest one.
You can also add a number of different layers to your website, depending on your needs. This includes bicycle, traffic, transit, and weather layers. The plugin is super-easy to use, too, with maps added to any post/page using a supplied shortcode. In fact, you can have your first map configured and live in a matter of seconds!
Google Maps Bank – Easy Google Maps (FREE)

Google Maps Bank is a plugin that blends usability with a quality set of features. To avoid inexperienced WordPress users from getting lost, the plugin comes equipped with a helpful 7-step wizard. The plugin also supports over 800 custom marker icons, a variety of Google Map types (road, terrain, satellite, etc.), and directions to your location.
The free version of this plugin is admittedly somewhat limited – you can only build two maps, add five markers, and use one polygon/polyline. If you want unrestricted usage, consider upgrading to the Pro version, which also boasts additional premium features like custom markers and pre-built themes. Prices for the Pro version start at $25.
5sec Google Maps ($12)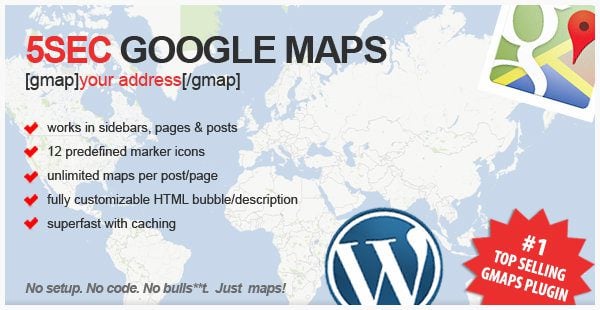 5sec Google Maps is one of the most popular premium map plugins among WordPress users – probably due to its cost effectiveness, ease of use, and neat range of features.
You can add maps anywhere on your website using shortcodes, plus the plugin ships with a dedicated map widget. You can also place an unlimited number of markers on your maps, with markers coming in 12 fun styles. You can add text boxes to your markers, too, a great way to provide potential visitors with more information about your locations. The plugin is available from CodeCanyon for just $12.
Maps Builder (FREE)

Maps Builder is one of the better free Google Maps plugins around. It lets you build and edit your map using an intuitive builder feature – the builder resembles the WordPress Customizer. The plugin makes it as easy as possible to add unlimited markers to your maps, adopting a 'point and click' system.
The plugin also comes with full control over an extensive set of default map options – such as zoom level, street view, and map style. You can integrate the plugin with Map Icons, too, giving you a wide range of marker options.
A premium version of the plugin is available for $58. Maps Builder Pro supports map mashups, layers, and custom markers, in addition to all the free features just outlined.
WP Google Maps PRO ($39)

This is the Pro version of the WP Google Maps plugin – as such, it features all of the Lite version's functionalities, plus a number of cool premium ones.
One of the main new features is custom markers – color and icon. You can also animate these markers, to command extra attention. When visitors click on one of the markers, a small pop-up displays additional information, plus an image of the location.
Another cool feature is the location 'carousel.' Visitors can scroll a rotating wheel of places, which they can click to jump to a specific spot on the map.
The store locator feature also includes advanced functionality – notably the ability to categorize your locations so that visitors can find a more exact one. The plugin can also provide street directions to the nearest store.
Comprehensive Google Map Plugin (FREE)

Next up, the ever-popular Comprehensive Google Map Plugin – an awesome free plugin with over 200k active installs. Why so popular, I hear you ask? This is largely down to the plugin's impressive feature set (especially for a free plugin), flexible customization options, and ease of use.
My favorite features include aggregated map 'mashups,' a choice of over 250 marker styles, and GPS location. This last one is particularly useful, allowing a visitor to find and plot the route from their current location to their desired destination with ease – ideal if you want more footfall in your brick-and-mortar store!
MapPress Pro ($30)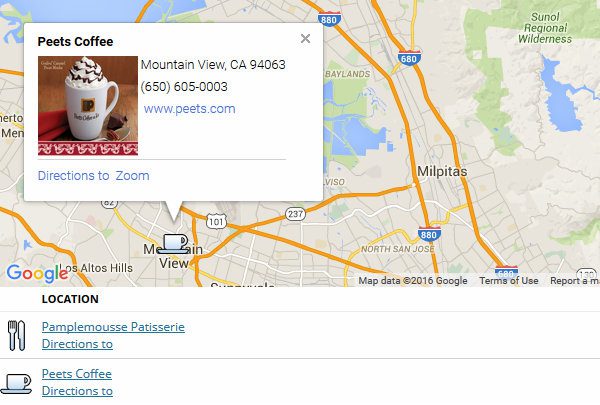 MapPress Pro is an awesome Google Maps plugin built by developer Chris Richardson. This premium plugin lets you add stylish maps to your WordPress website, with a selection of over 100 marker styles. You can also create cool map 'mashups,' combining multiple maps in one.
To help visitors find their bearings, you can also list your marked locations below the map (as seen in the screenshot above). Visitors can click on their preferred destination, which instantly jumps them to the relevant spot on the map. To further assist, the plugin can even display directions for getting there.
A free version of the plugin is also available – and very popular – with a more limited feature set. If you're working with a budget, the free version is well worth checking out.
Snazzy Maps (FREE)

Want to build the funkiest, most stylish maps possible? Look no further than Snazzy Maps – a free-to-use plugin for personal purposes, or available from $10 for businesses.
Snazzy Maps lets you apply user created 'styles' to your maps – similar to filters in photography. There are hundreds and hundreds of creations on the Snazzy Maps website – browse them here – with plenty of beautiful, distinct styles to pick from.
Best of all, Snazzy Maps integrates with the majority of popular Google Maps, meaning you can combine Snazzy Maps' style with another plugin's functionality. Awesome, right?
Mapify.it ($17)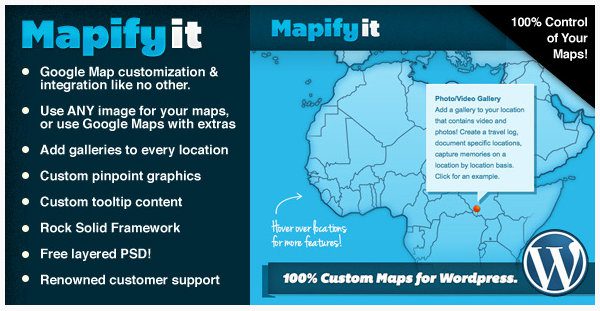 Mapify.it is one of the top map plugins available to WordPress users. Although fully compatible with Google Maps, it also allows you to upload your own custom maps while retaining Google Maps functionality – for example, the ability to pan and zoom. So, if you want a tailored, branded map to display directions to your business, this plugin is probably best-suited to your needs.
Mapify.it also lets you place custom markers for your destinations, complete with hover boxes. You can add text to these hover boxes, or, more impressively, entire image galleries. The plugin is available for just $17 from CodeCanyon, representing excellent value.
Google Maps Widget (FREE)

Looking to add Google Maps specifically to your widget areas? Many plugins offer this feature, but Google Maps Widget was built primarily as a widget. However, due to shortcode functionality, you can add maps to any post, page, or custom post type, too.
The plugin boasts plenty of customization options – zoom levels, size, map type, pin marker style, color, and text. If visitors want an expanded view of your map, they can also click to activate an expanded lightbox-version of your map.
Responsive Styled Google Maps ($16)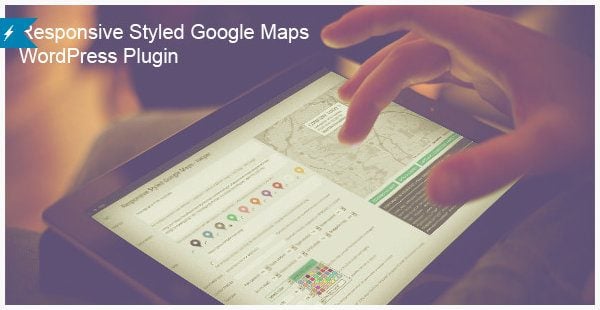 Another premium one now. Responsive Styled Google Maps is capable of producing some of the prettiest maps around. In fact, there are over 50 unique styles in total, with a further ten marker icons (or you can upload custom icons). Note: some of the map styles are courtesy of Snazzy Maps.
With map style the focal point, it's little surprise that this plugin ships with a handy 'live preview' option. This allows you to view the map you're building and the changes you make in real time. The plugin comes with extensive settings, letting you configure the map exactly to your specifications. Other features include marker pop-ups, clustering, and search functionality.
Intergeo WordPress Google Maps Plugin (FREE)

Next up, a powerful, feature-rich map plugin from the team at Theme Isle. The Intergeo WordPress Google Map Plugin's main draw is the 'map builder' functionality. This gives you full control over your maps' appearance, with a choice of default positioning, the opportunity to configure a stylish color scheme, and the ability to overlay a variety of marker styles on your maps.
The theme also supports a helpful 'cloning' tool – this allows you to duplicate the settings of your maps for speedier configurations in future. Most innovatively, though, the plugin features an awesome AdSense integration service, so you can even monetize your maps.
Geo Mashup (FREE)

So far, we've talked a lot about plugins that are targeted at the internet's most popular map service, Google Maps. But what if you want to use a different service? What are your options then?
Well, Geo Mashup gives you more flexibility than the average map plugin, with full integration with OpenStreetMap and Leaflet – as well as Google Maps, of course.
This plugin's coolest feature is the ability to 'map' content – in others words, assign your posts/pages/custom post types to a location on the map. This is a feature that could definitely appeal to travel bloggers, estate agents, and job boards. The plugin also supports a Geo Search widget, marker clustering, and the ability to connect markers.
Final Thoughts
And with that, we're done: a quick run through of 13 of the best Google Map plugins WordPress has to offer.
All plugins featured in this list are easy to use, offer a neat collection of features and functionalities, and are affordable – in fact, the majority of the plugins included today are free.
As always, this list doesn't include all Google Map plugin options. With this in mind, it's over to you: If you want to share your favorite map plugins, please do so in the comments section below!
Article thumbnail image by Delices / shutterstock.com