Many of us who work with WordPress work alone or with a small team, and in-person meetups don't happen every day. Working from home, as many in the WordPress community do, can be isolating. While you love your family (and pets), you may want to connect with more people who get what WordPress is.
Being part of a WordPress community can provide support for your work, tips on how to solve problems, and regular interaction with others who speak the same language. Real world meetups are great, and the WordPress community thrives with them, but online communities help to fill the gap in our networks.
Enter Facebook, which has a huge number of active WordPress-related groups.
This article will look at the best Facebook groups for WordPressers of all types, whether you are looking for something based on your knowledge level, centred around a specific topic, or just want some general WordPress conversation.
Let's get cracking!
How to Make the Best Use of WordPress Groups on Facebook
If you want to make Facebook groups a regular and useful part of your daily life, you will want to follow some general guidelines:
Do read the group's description first. Most groups will outline the purpose of the group in the description. Reading this first will help you determine if you're in the right place before you start participating.
Do check out the rules. Most groups will have some clearly laid out rules of the types of posts they don't allow. Many of these will relate to spam and self-promotional posts, and will also often indicate the type of behavior they don't want to encourage (for most groups, it's "don't be a jerk").
Do ask first. If you have any hesitation about whether your post meets the criteria for the group, send a message to one of the admins first. They will advise you on how to tweak it if necessary so that it follows the rules.
Don't cross-post in several groups. It seems like the best way to get a quick solution, but a large number of people are members in multiple groups, and it clutters their timeline to see the same post over and over again.
Now that you understand how to get started using a Facebook group, let's dive into the groups we think you should take a look at!
Credit goes to to Ivica Delic, administrator of the WordPress Speedup group featured below, who did a tremendous amount of work pulling together an impressive list of Facebook groups for WordPress that inspired and informed this list.
Choose the Right Facebook Group for Your WordPress Knowledge Level
When you are looking for help with a WordPress problem, it may seem like a good idea to post your request for help and tips in any WordPress group. But too often, a problem post goes unresolved because the group isn't the best for your question. Advanced users get frustrated answering simple questions over and over again, and those in a beginner group may not have the requisite skills to help with more advanced queries.
Ideally, the problems being posted should match the skill level of the group to get the best results. Of course, how do you know if you have an advanced problem? If you're not sure, start with a lower skill level group first. You will usually be referred up the ladder if no one there can help.
Let's look at the best Facebook groups based on WordPress knowledge level.
The WordPress Help for Beginners group is a great place to start. It is designed for beginner WordPress users to ask questions about anything related to WordPress. If you have come across a helpful article (like this one!) or a tip somewhere that you think would be useful for beginners, you are encouraged to share with the group as well.
To keep the discussions productive, they do ask members to Google their questions first and include what they have already tried to solve the problem. They don't allow affiliate links or spam posts, and ask that you declare any connection you have to products, companies or websites that you link to.
This group has over two thousand members and only two administrators, but they do appear to have spam and moderation well under control. There is a manageable frequency of posts, with one or two a day, so your timeline won't be flooded. Members tend to respond pretty quickly so your questions should get answered without much issue.
This group is pretty straightforward because they expect beginners to have questions about nearly everything. So feel free to ask away if you are new to WordPress. If you are using WordPress.com, they will still try to help, but you may want to start with WordPress.com support first.

If you consider yourself above beginner level but not yet an expert, Intermediate WordPress is the place for you. It is designed for intermediate level WordPress users to ask suitable WordPress-related questions, though they do welcome users of other knowledge levels.
The first rule in their list is to ensure that you have or are at least working on developing intermediate level knowledge in basic development topics such as PHP and JavaScript. Another big ask from the group administrators is that you make an effort to search both the wider web and the previous group posts before asking a question.
With over two thousand members, this group has ten administrators to help keep both spam posts and the group posts and discussions under control. With roughly one or two posts a day, this group offers a solid steady feed of quality posts and questions on your timeline. Most posts do get answered within a day, so you won't have much wait.
If you are having a problem with a theme or a plugin that is not easily solved by a quick search in Google, this is the group for you. You are expected to understand basic HTML and CSS, so avoid posts about simple styling. Looking through the rules, this group is better for you if you are already working on developing technical skills and need some help.
The name says it all with this WordPress group – if you really know what you're doing, head over to Advanced WordPress. It's a place for WordPress developers to share ideas and knowledge about the most advanced features and functionality in WordPress.
While they welcome users of all levels in the group, the administrators of this group have some serious rules in place to keep the level of the discussion high. The Community Rules page on the group's website has a pseudocode explanation of the rules for the group. If you avoid posting basic questions and make sure you search first, you will be on the right track.
A membership of over 17,000 people has made this group one of (if not the) largest WordPress-related group on Facebook. Thirty fantastic volunteer administrators help to keep the timeline as valuable as possible. With that many members of the group, it is no surprise that several posts are shared every single day. It is a very active group with a busy timeline, but well worth it.
Stick to this group is you are actively working in code on your websites, whether custom building themes or creating plugins from scratch. If you can show your work when you ask for help with a problem, you will be well received.
Facebook Groups for Specialized WordPress Topics
Sometimes you will have a problem that requires deep expertise in a certain area, or you will want to bounce ideas off people who are experts in a certain niche. For those occasions, you really need to look at a specialized group. You will be more likely to encounter people who not only know exactly what you're talking about, but know what solutions have worked in the past.
You can find a WordPress group to cover almost every topic, but we have whittled it down to the ones below. Check 'em out!

From the Advanced WordPress group sprung this next group around the topic of hosting for WordPress. Aptly titled WordPress Hosting, this group holds discussions around WordPress hosting, issues, tips, tricks and other topics related to how WordPress sites are hosted. They do try to avoid the "which is the best web host" question often asked by those starting out.
Anything that looks remotely spammy will be removed and the user banned. This means no promo codes and no affiliate links. The members of this group will report and subsequently ban all violators without warning, so consider yourself warned!
Over 2,000 members have claimed a spot in this group, of which six are administrators. Given the fairly stringent rules about spam, it is no wonder the timeline is as clean as it is. Several posts a day and a very responsive membership mean this group fosters some quick discussions about all things hosting.
If you're considering moving to a new host or creating a custom hosting solution, these are your people. You need to be beyond your basic hosting challenges and into more advanced stuff to feel at home in this group.

As you would reasonably expect, WordPress Speed Up is for people who want to learn more about website optimization for speed.
While the administrators do point out that only topics about speeding up your site are allowed, most of the rules focus on keeping the group free of spam and self-promotional posts. This is not the group to be trying to promote your plugin.
With just over 1,800 members, you can expect at least one post a day on average. Members of this group are very responsive, often replying within a short period of time to the questions posed.
If you have a particularly unique website arrangement that requires a solution involving more than simply activating a cache plugin, you are in the right place. Discussions about the best combination of tools and tips for speeding up WordPress under specific hosting configurations are also very typical of this group.

The WordPress Front End Developers group tries to create a space for WordPress front end developers to ask questions, share work and ideas, discuss trends, and collaborate. Whether you are very experienced or new to the arena, this group with help you figure out the front end aspects of your site.
The rules for this group are kept very simple: all experience levels are welcome, and posting affiliate links will get you kicked out. Check out our guidelines above for some additional tips that will help ensure that you stay on good terms with your new group buddies.
Over 1,000 members have already joined this group, and the number is growing steadily. With ten administrators, this group is pretty clear of spam postings. Most of the posts in this group get responses within a couple hours, so you won't have long to wait.
Jump into this group to get help with your CSS to troubleshoot bad layouts, or share something cool you created or want to create. The folks in here are all about the front end magic.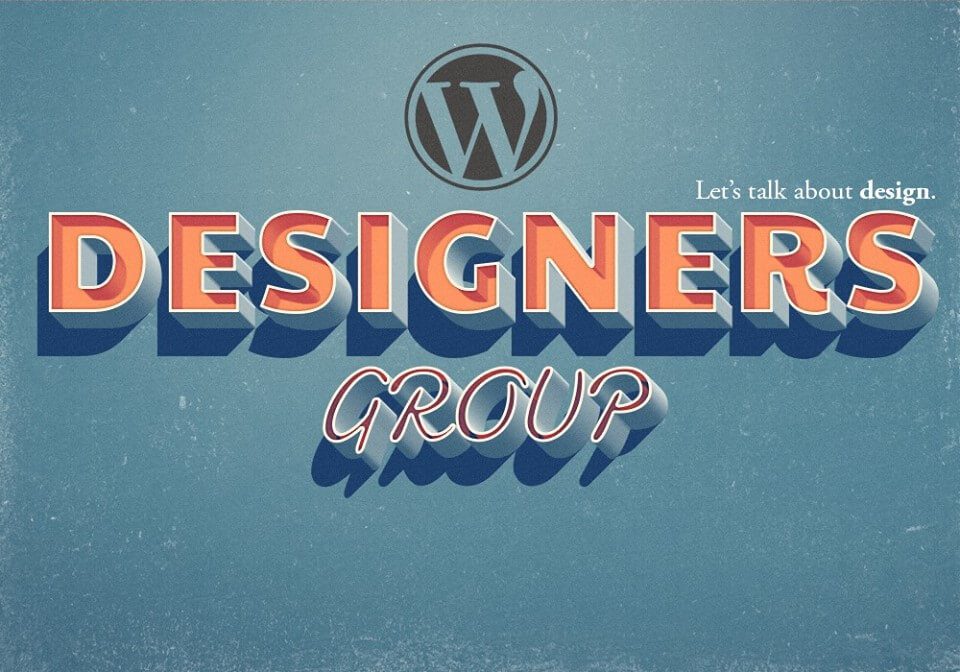 The slogan of this next group is "Let's talk about design." Of course, they mean WordPress design specifically, as the WordPress Designers Facebook group is a community for WordPress designers worldwide. The group wants to bring together custom website designers to chat about design, future trends, running a design business, and so on.
The group's administrators openly discourage members from posting questions or posts that show lack of initiative to search for information online before coming to the group with it.
With over 3,000 members in the group, it is very dynamic. New posts are shared up to a few times per day and responses can be generated within a couple hours in most case.
This is the perfect space for you if you want to talk and/or learn about design.
Facebook Groups for Help With Plugins
With over 42,000 free plugins in the WordPress plugin repository and many thousands of premium plugins available across the web, it can be extremely difficult to choose between the various options and find the right plugin for the job. With that in mind, below are two Facebook groups designed to help you navigate the world of plugins.
If you start asking for plugin suggestions in other groups listed here, many of them will direct you to the Plugin Suggestions group. As the name says, the aim of the group is to provide plugin suggestions for WordPress users, developers and designers. You explain what you are trying to accomplish and the group members will provide you with their opinions of the best plugin you should try.
The administrators for this group want to keep the discussions in the group around plugin solutions of value to the group. Linking to a plugin that you found or used, whether free or premium, is allowed, but this must be done with some description of how the plugin was used or how it may help others, and absolutely no affiliate links can be used. This is not a group for self-promotion or money-making. Users who disobey this rule will swiftly be banned.
This group has over 4,000 members, so it is an amazing resource when you need input about plugins to use. The six administrators manage to keep spam posting under control, so the quality of the posts in this group remains high. Posts are typically responded to quickly.

This next group is similar to the previous one, but WordPress Plugins has a much broader scope and allows discussion on anything related to WordPress plugins. The rules are likewise very permissive, and as long as you stick to posts (in English) about WordPress plugins, you should be fine. Promotional posts, unlike with the Plugin Suggestions group, are allowed – both self-promotional and affiliate links.
This group is even larger, with well over 6,000 members, but has only one administrator. That being said, the incidence of spam posts in this group is pretty low. Posts with questions do get more responses and usually within minutes.
If you are just looking for plugin suggestions, you may want to try the Plugin Suggestions group first, but this group can definitely help too. This group is particularly helpful with other scenarios, such as when you have a plugin and want some feedback, or if you are considering a plugin and want to know other people's experience with it.
Facebook Groups for Specific Plugins
If a plugin is useful enough, a community may develop around it, especially when the plugin covers several usage scenarios and custom implementations. For those instances, you want a group specific to that plugin. We're share two of the largest built around use of two very popular plugins below.

WooCommerce is the most popular e-commerce plugin for WordPress, and it has a large community of users. The WooCommerce Help & Share group was established to be the unofficial Facebook group (that is, not run by the WooThemes team) for WooCommerce. It is designed to enable users to discuss all things WooCommerce.
The two major aims of the rules set by the administrator of this group are to promote active participation in the group and keep the group as welcoming as possible to all members. Spam is of course not allowed, but you can promote your own WooCommerce products and services occasionally if you are an active member of the group. Other rules focus on keeping the communications clean and respectful.
With over 4,000 members, this group does generate several posts per day and responses tend to be very quick. Despite having only one administrator, spam moderation is not a huge problem and the posts are typically high value if you are in the WooCommerce space.
This group is really for all things WooCommerce, so if you need help with implementing a particular feature or troubleshooting a problem, you can get assistance. If you want to share something cool you've created or an interesting WooCommerce plugin, it will be appreciated. Alternatively, if you just want to find out how people have used WooCommerce and related plugins to implement their stores, you will get lots of input.

Like WooCommerce, Advanced Custom Fields (ACF) is a massively popular plugin, in this case, for customizing and creating flexible content management functionality in WordPress. The WordPress ACF Users group was created to enable users of the ACF plugin to share knowledge, tips and other useful information about the plugin.
The rules of this group are simple and are designed to keep the discussions relevant and focused. Members are asked to report any posts that are not ACF-focused or that link to posts and articles "without insight." In this way, posts are encouraged to provide value to other members. Additionally, the group does not allow affiliate links and promo codes to be shared.
This group is significantly smaller than the WooCommerce group, with just under 700 members. The posting frequency is quite manageable, with just one or two posts at most in a day, but members are very responsive, quickly providing feedback and insights.
If you have used or are considering using ACF, this group is a good place to start to get some inside information on the plugin being used in the real world. If you need help figuring how to create the perfect custom solution using ACF, you have definitely come to the right place.
A Facebook Group for Your WordPress Theme of Choice
Several of the larger WordPress themes develop their own following and community, with blogs and tutorial sites springing up to support users. It should come as no surprise then that Facebook is home to large groups specific to some of the more popular WordPress themes out there. Below we will highlight some of the most active groups that you may want to consider if you are a user of those themes.

We will, of course, start with our own Divi theme. Elegant Themes users are very passionate, and those that use our Divi theme arguably even more so. The presence of several active Facebook groups is testament to the community that surrounds our products. The largest of them is the Divi Theme Users group, which is designed for users of the Divi theme to share information and post both questions and solutions about Divi.
The primary rule in this group is no direct affiliate links or email acquisition schemes. The administrators ask that if you do have a product or service you are launching that may be relevant to Divi users, you reach out to them first before posting it to the group.
With over 9,000 members, this group is maybe the largest theme-focused groups on Facebook, and it is very active. Several posts are shared every day and there is a lot of interaction in the comments. A response can be obtained often within minutes of asking a question.
This is a great group for all things Divi, from sharing cool sites made with our theme, to getting help on how to achieve a particular look, to tips on customization of Divi modules.
While this group is the largest, there are two other Divi groups that you can check out as well: Elegant Themes – Divi Users
and Divi Theme | Extra Theme | Help & Share, plus another more general Elegant Themes group that we think is pretty great, even if we do say so ourselves!.

Another passionate user community, the Genesis WordPress group describes itself as a place for the Genesis WordPress community to connect. This is reflected in their rules, or lack thereof.
That said, there are likely implied rules about keeping the discussion on Genesis-related topics and not spamming members. A review of the group timeline shows that despite having nearly 4,000 members and very active posting, the administrators and the community do keep the group very focused without much visible spam or obnoxious self-promotion.
If you are a Genesis enthusiast, this is the group for you to connect with like-minded souls. You can ask for feedback on sites you are working on and help with tricky tweaks or suggestions for plugins that will work well in your project.

X Theme from Themeco sprung to popularity on Theme Forest, swiftly becoming one of their most popular multi-purpose themes. The community that surrounds it has also grown, and there is now a Facebook group for X Theme Users. The group describes itself as being for all X Theme users (whether developers, designers, beginners or experts) to share, learn, help and showcase.
Though they have no way to verify, the group does start by asking that only people who have purchased X Theme join the group. Like most other groups, they ask members to keep posts relevant to X Theme.
What is particularly interesting is that they have created hashtags for members to use to guide the discussions and make it easier to find relevant posts. With over 4,000 members, it is a very active group with several posts daily.
This group is open to all topics related to the X Theme, so feel free to share what you are working on or showcase projects you have launched using X Theme. If you need help getting something to work or look right then you can expect swift responses from the more advanced users in the group, but they do encourage you to participate in the official user support forum for direct theme support.

The Avada Theme from Theme Fusion is another very popular multi-purpose theme on Theme Forest. As with the X Theme, that popularity has grown into a passionate user community, who have the Avada Users Group on Facebook to call their home.
The focus of the group is Avada and the rules are designed to keep it that way. Posts about other themes or unrelated advertising are frowned upon and users disobeying risk being banned. Members are allowed to share products that will be helpful, but affiliate links should not be posted publicly on the group's timeline.
As we write this, the group has nearly 3,000 members. Similarly to the other theme groups we have covered, this group sees several posts a day and lots of interaction in the comments. Questions posted here are likely to receive a response within hours.
If you use Avada for your site(s), this group will be a good place for you to get support beyond the official channels. Typical posts include tips on customizing the look of the theme, help with specific child themes, and requests for plugin suggestions that work well with Avada.
Facebook Groups for General WordPress Discussion
If none of these groups listed above feel like the right fit for what you need, there are several groups with a more general purpose that may suit you. We share five of the most active WordPress groups below.

Originally created by Clifton Hatfield to provide general support to readers of his blog, the WordPress, SEO, & Internet Questions group has grown into a community of people with a common goal of making the internet a better place for everyone by providing support and education. As WordPress is now a large part of the internet, they are naturally aligned with helping others use WordPress well.
Most of the rules for this group (more like guidelines) are focused on ensuring that the communication within the group is civil, helpful and inclusive. They do encourage being as descriptive as possible, including visuals when necessary, and marking your post as resolved to help others.
This is definitely one of the largest WordPress groups on Facebook, with nearly 14,000 members. As is to be expected with a group of that size, there are several posts a day on the timeline, and responses often come within minutes.
Despite the name, there is not a large focus on SEO topics, but you will likely still be able to get help in that area if you need it. If you need troubleshooting assistance but don't know where the problem lies, this group may be helpful.
With a stated goal of encouraging discussion of WordPress-related topics, the All About WordPress group is geared towards WordPress users, designers and developers. Topics covered include blogging, SEO, web design, and resources for WordPress site owners.
The administrators for this group have put a lot of thought into ensuring that the group remains on topic and valuable to its members. They will actively remove anything that isn't WordPress-related and do not allow selling of any kind (including promo and affiliate links). They do allow users to self-promote their own links on Wednesdays, which is also the only time giveaways are allowed (although they must be vetted by the administrator).
This groups has well over 7,000 members and has a very active timeline, so the vigilance of the eight administrators is understandable. They have done an excellent job at keeping the group focused, and it is a valuable space for broader WordPress topics of interest.
If you just want tips relating to WordPress, this group will be a good addition to your Facebook timeline. You can also get quite a bit of assistance with problems you are having as there are many experienced members who are happy to help.

The aim of the WordPress Help and Share group is to create a "community of WordPress help and great tips". We'll ignore that they don't capitalize the "P" in WordPress 😉
The rules are simple and designed to foster the usefulness of the group. Spamming with advertising will initiate an immediate ban. Self-promotion is only allowed in the context of helping others, so if you wrote a blog post that answers a question being asked, feel free to share that. Members are also asked to update posts once they find a solution, so that others can benefit.
This is another group with over 7,000 members so, the timeline is constantly updated with posts and their associated comments over the course of any given day. Most queries are responded to within hours by the helpful community.
This is a great place to start if you just want a simple answer to a quick question, especially if you are interested in building a community of people helping each other. Flagging your query and solved and closed is an easy way to help them create a repository of tips for others to search through.

The (unofficial) WordPress group (again, non-capitalized "P" ignored) is an open group welcome to all WordPress users. This group particularly invites small business owners who need to create or maintain their own WordPress website, and people who can provide assistance to them through their blogs, advice, hints and tips.
This group focuses on helping others, so members are encouraged to actually discuss how they can help or the solution they are suggesting, rather than just leaving a link in a comment. Spam and advertising is not allowed, and self-promotion (of helpful articles) is restricted to Saturdays.
This group has over 4,000 members and frequently sees multiple new posts per day. Many posts are responded to within minutes, so if you are a small business owner looking for help, this is a good group to be a part of.

WordPress Help was formed to help people find answers to general WordPress questions and is open to all knowledge levels (beginners, intermediate and advanced). They have included the words "Ad Free" in their name to make it perfectly clear that promotional posts and advertising are not part of what they do.
Besides the obvious rule mentioned above, this group also discourages using the group to hire someone to work on your WordPress site, or asking for free support for paid themes and plugins, as legitimately purchased ones typically come with support included. Links to your own site should only be posted when asking for help with the site.
With just under 3,000 members, this is the smallest group we have listed in this category, but it still sees a few posts a day. Most posts get responses within a day so it is still a great place to seek assistance.
Conclusion
Facebook groups can be a great place for WordPress community members, and if you follow our general guidelines you should fit in just fine. Whether you need help for the level you are at currently, solve problems related to a specific area of concern, or just want general WordPress help, you should be able to find the perfect group in our list.
We know that there are many great Facebook groups out there, but we couldn't include them all. Feel free to comment below and share your experiences with these Facebook groups, or add any you feel we should have included!
Article thumbnail image by mayrum / shutterstock.com.