You can't easily run a successful website without knowing what your users care about, what they think about certain issues, and the kind of content that will keep them engaged in the future.
Don't be scared, though! There are plenty of ways to figure these things out, such as market research and analytics. Or you could just, you know, go up to your users and ask them: "Hey, how do you feel about this issue?"
Enter polls. Not only are polls straightforward and easy to interpret, they also make users feel more invested in your website.
Today we will be going over our favorite picks of the best WordPress poll plugins (both free and paid) and their unique features in order to help you narrow down which will earn a spot on your website.
The Best Free WordPress Poll Plugins

With the Poll & Quiz Tools plugin, you can design and add polling functions to your website or Facebook page. Their site showcases popular quizzes such as "Your One-Minute Career Advisor", "How Familiar Are You With Classical Music?", and "What is Your Most Dominant Trait?", which exemplify the sort of content you can create using the plugin.
OpinionStage, the company behind this plugin, has helped several top brands such as the BBC, Reader's Digest, and IBM with polling solutions for their specific needs.
Features:
Manage all of your polls and quizzes from a single dashboard.
Easy setup options for your polls, which makes the process intuitive.
Includes a variety of preset poll styles.
Enables you to identify visitors through their Facebook IDs and emails, or allow them to remain anonymous.
Obtain in-depth demographic info from those participants who use their Facebook profiles to vote.
Check the engagement levels of your polls.
Enable participants to share their results via social media.
Ads can be integrated into your polls and quizzes in order to monetize them.
Can also be used to run contests or sweepstakes.
All polls are fully responsive.
OpinionStage also offers two premium plans for those who want more advanced customization options or in-depth reports.

WP-Polls is a no-frills, pure polling plugin for WordPress websites. From the get-go, it enables you to set up simple and clean-looking polls which can be extensively customized using templates and CSS styles.
This is an open-source plugin created and maintained by Lester Chan (and a few other contributors). You can find an extensive changelog as well as a compilation of the most frequently asked questions regarding the plugin at its GitHub repository.
Features:
Simple polling system with in-depth customization features.
Users can choose more than a single answer.
Enables you to keep logs of which users vote in your polls.
Maintain an archive of your past polls.
Polls can be scheduled.
Powered by AJAX.
Fully open-source.
Thorough documentation available at the plugin's homepage and GitHub repository.

YOP Poll is an all-in-one polling and survey solution for those looking to integrate these functions into their websites.
This plugin excels in its attention to detail, enabling you to create all kinds of polls with dozens of settings, sorting options, choose what to hide or show, and even control access to the polls themselves.
Features:
Simple poll set-up screen, which includes a cloning option.
Enables you to schedule polls.
Polls can be added to any page either through shortcodes or as widgets.
Flexible results display enables you to decide exactly which data to show users (i.e. raw vote numbers, percentages, the number of voters, etc.).
Enables you to add custom fields to your polls, whose data can then be exported in order to be analyzed.
Polls can be restarted at any time.
Access to polls can be filtered depending on whether they're registered or not, or by individual usernames and IP addresses.

Democracy Poll is by far the most recently-launched offering in our list, having just gone live in April 2015, but it's come a long way in that brief window of time.
This AJAX-powered polling plugin is a good option for those who want a simple solution without missing out on customization options.
Features:
Customizable poll themes (which can be modified with CSS styles), buttons, and icons.
Enables you to decide whether users are able to select a single or multiple answers.
Includes a function called "Democracy" which allows users to input their own unique answers.
Developed from the ground up to play nice with cache plugins such as W3 Total Cache and WP Super Cache.
The Best Premium WordPress Poll Plugins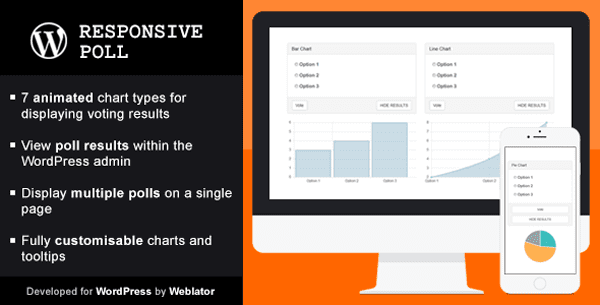 Responsive Poll, a plugin powered by Twitter Bootstrap 3, was developed from the ground up to work seamlessly across all popular devices.
While it shares the same polling functions as most other plugins in its category, Responsive Poll stands out thanks to its inclusion of eye-catching animated charts to display results.
Features:
Seven different kinds of animated charts (pie, bar, donut, line, radar, polar, and progress) which can be included alongside polls to display results.
Multiple polls can be shown per page.
Fully customizable poll styles.
Enables you to choose between several different options for displaying results.
A regular license for Responsive Poll will set you back $15. If you want to see the plugin in action, you can check out several test polls here.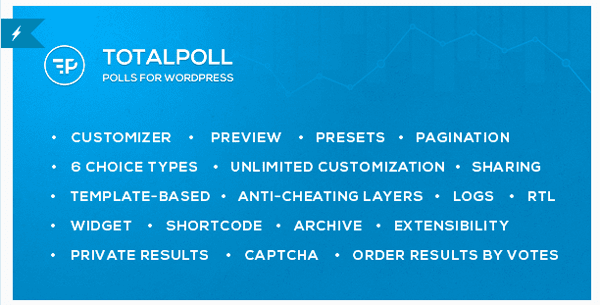 TotalPoll Pro is a powerful and user-friendly polling solution for WordPress websites, with a wide variety of features, an active development team, and top-notch support.
Features:
Enables you to create several types of polls (i.e. regular polls. photo contests, opinion polls, etc.).
Comes with an in-depth customizer (including previews) to tweak the style of your polls.
Includes a variety of anti-cheating measures to prevent polls from "shenanigans" such as captchas, IP restrictions, and shuffling the order of questions amongst others.
Fully integrated with Google Analytics.
Polls can be inserted into pages either via widgets or shortcodes.
Community forums and support tickets attended by the developers.
A TotalPro regular license will cost you $18 and you can check out a demo here. You can also apply to become a part of their beta tester team and gain access to future versions of TotalPoll Pro before everyone else through this form.
Choosing the Best Polling Plugin for You
When used correctly, polls are powerful tools that can help you get to know your users better and boost engagement. They're also, however, a great way for users to simply have a bit fun in your website. Keep all of this in mind while considering which polling plugin would be best suited for your needs.
To start things off, if you're looking for a well-rounded solution that can handle anything you throw at it, your best bets would be either Poll & Quiz Tools by OpinionStage, YOP Poll, or TotalPoll Pro. Out of these, only TotalPoll Pro isn't free, but it makes up for its price tag thanks to its Google Analytics integration, extensive security features that will protect your polls from getting hijacked, and a dedicated support team.
If you go with Poll & Quiz Tools by OpinionStage, you'll be able to get to know your users better via their social media profiles and thus gather demographic information. Finally, YOP Poll gets an edge thanks to its custom fields feature, which allows you to get raw data in an export-ready format for in-depth analysis.
If you have no need for lots of fancy features and simply want to get a few polls up and going, you might opt instead for WP-Polls or Democracy Poll. The choice here is a bit trickier since they're both perfectly functional plugins, but WP-Polls might be preferable if you're the kind of person who prefers open-source plugins. On the other hand, Democracy Poll does produce better-looking polls right out of the box, whereas WP-Polls requires you to play around with CSS styles.
Speaking of better-looking polls. If your main concern is the visual appeal element, the choice undoubtedly falls between Responsive Poll and TotalPoll Pro. Responsive Poll is pure eye candy for the kind of people who like to look at graphs (no judgment here, graphs are cool) and its polls can be fully customized to fit the style of your page, whereas TotalPoll Pro is more of a one-size fits all option.
The choice is ultimately up to you. Size up the features of our listed plugins and figure out which works best for you.
Conclusion
Figuring out what your audience really cares about is a problem that webmasters have been dealing with ever since the first personal websites went up in the early 90s. Thankfully, these days we have many more tools available to point us in the right direction than those bold web pioneers did.
All you need to get started is to figure out which these plugins gives you the features you need in order to engage your own unique audience. Then it's a simple matter of brainstorming questions. You can even make polls fun rather than informative if you want your users to get a kick out of them.
Do you have any experience with polling your users? Let us know in the comments!
Article thumbnail image by Wissanu / shutterstock.com