In this episode of Divi Nation we sit down with WordPress designer and front end developer SJ James to talk about his approach to creating websites with Divi. Specifically, we delve into his philosophy of focusing on the last 5% (and the first 5%, as it turns out) of the design and development process that are often skipped or glossed over by others. It is this extra time and attention to detail that, he claims, can often take a merely good website and make it great.
Divi Nation Episode 04: Mastering the Final 5%: Taking Your Website from Good to Great with SJ James
[powerpress]
Whether you like to watch or listen to Divi Nation, I hope you'll join SJ and I for our fourth episode. I was incredibly impressed with SJ's ability to intelligently discuss some of the most crucial aspects of putting out top quality Divi websites.
If you enjoy today's show and would like to come back for future episodes, make sure to subscribe via your preferred method below. One of our goals with Divi Nation is to put our content where you can get the most out of it, in your own time.
Subscribe To Our Youtube Channel
All Subscription Options:
This Week in WordPress 03
This Week in WordPress our guest host SJ James and myself talk about three WordPress related articles on three very different subjects: planning, blogging, and the recent release of Divi 2.5.
Articles We Discussed:
Mastering the Final 5% with SJ James
In this interview I talk with WordPress Designer and front end developer SJ James about what he does to take his web projects from good to great.
Links Mentioned:
Divi Footer Design Challenge: Top 3 Submissions
In this video I announce our top three picks from the Divi Footer Design Challenge submissions. Again, I want to thank everyone who submitted a design. If you'd like to participate in the future, please keep an eye out for more Divi Design Challenges or Divi Site Makeovers.
Lauren K. Stein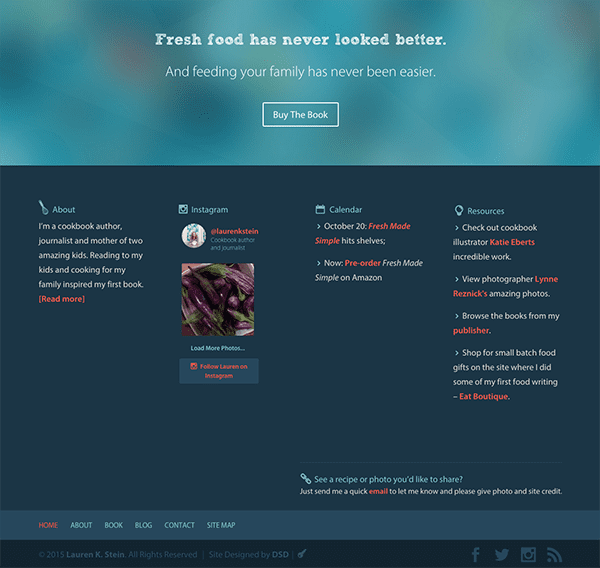 I chose this footer because I thought they did a good job providing a lot of information in an organized manner while maintaining an aesthetic that blended very well with the rest of the site.
KR Digital Solutions
I chose this footer because they went off the beaten path of standard or default divi design and created something all their own.
Natural Instinct Healing

Finally, this footer design made the cut because not only did they do something non-standard to divi but they also did a great job of extending the mood/feel of the rest of their design/branding down into the footer in an attractive way.
(We decided not to include this link because it was to a dev/staging site. However, to give her credit, this footer was created by Madeleine Lamou.)
Production Notes
Once again, not a lot changed from last episode to this episode in terms of production. We used all of the same gear that I've listed before. However, for those who haven't seen that list before, I'll include it below:
I'm looking forward to upgrading the gear in the weeks to come but for now my biggest point of focus in simply getting a tight show put together each week in the time I have to make it.
While I loved putting together longer segments in some of the previous episodes, such as the video essay on long-form storytelling last week, I have quickly realized that those longer segments should probably be back-burner projects that get released separately. That way the longer segment doesn't take valuable production time away from the rest of that week's episode. I wasn't unhappy with last week's episode by any means, but I thought the subject matter was so rich that I could have easily spent more time on the video essay than I had available to me.
In the weeks to come I'm hoping to re-focus on the quality of the interviews themselves and make them as good as I possibly can. Then, when the new gear arrives, improve the production quality. After those things are established I may start to experiment with a wider variety of segments.
As always, your thoughts and suggestions are welcome in the comments below.
Want To Star In The Show?
We are looking for Divi enthusiasts to co-host Divi Nation each week. If you are interested in sharing your experience with the Divi community, be sure to submit your application below so that we can get in touch! We can't wait to hear from you.
Apply To Co-host The Divi Nation Podcast