Making the leap from written content to video on your website can feel like a scary proposition. But there is no getting around the fact that the use of video is becoming more the rule than the exception. What was once only possible using expensive high-end equipment has now become commonplace, with virtually everyone with a smartphone being able to create beautiful HD videos.
It has become increasingly easy to upload, edit and embed videos in WordPress over the past few years. But do you really need to include HD video – or for that matter, any video – on your website? Isn't it just easier to stick with good old-fashioned text and images?
In many ways, yes, it is easier. But easier isn't always better. Visitors to your website have come to expect an interactive experience, and it's up to you to deliver it. Plus, if you look around at some of your competition, you'll probably find at least a few examples where video is being used effectively. If by some small stroke of luck you notice that your competitors haven't jumped on the video bandwagon, you've found yourself a great way to stand out from the crowd.
In this post, we're going to focus on the importance of using HD video on your website, then explore several hosting options.
A Brief History of Video on the Web
We've come a long way since Severe Tire Damage was first performed live on the Internet back in 1993. Rumor has it their brief performance, which relied on "new" multicast technology, required one-half of the Internet's total available bandwidth. Can you imagine?
Fast forwarding just over 12 years, in 2005, we saw the official debut of YouTube along with co-founder Jawed Karim's first video taken at the San Diego Zoo. From this point onward, the popularity of online video has soared beyond what anyone ever expected. Back in 2008, The Telegraph reported that the internet might actually grind to a halt under the pressure of demand for online video. Thankfully, that never happened.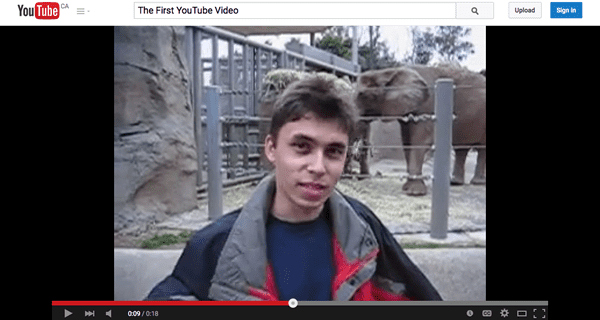 comScore recently reported that 192 million Americans watched online videos via desktop computer in November 2014. But how does that affect your business? A report on Reach Engine states that of over 1,000 people surveyed, six in ten adults will watch a video when visiting a company website, and four in ten prefer video over written content. It's a pretty convincing argument in favor of integrating HD video on your website, no?
Four Reasons Why You Should Consider Using HD Video
There are many reasons you should consider making video a part of your website. The four reasons below focus on things that are going to help you build your business. It's not about flashiness or becoming the next YouTube celebrity; it's about attracting more customers and communicating more effectively with the ones you already have.
1. Improved Email Click-Through Rates
eMarketer reports that in 2013, emails with links to videos resulted in:
55% increase in click-through rates
44% increase in the amount of time spent reading email
41% increase in the amount of sharing or forwarding of emails
Those are some pretty convincing statistics. It might be time to consider integrating links to video within your emails.
Another great idea, since actually playing a video within an email is not well supported, is to use an animated GIF within your message that links back to a relevant video. Dell saw a nice revenue lift after incorporating a short GIF into their email campaign that demonstrated the functionality of their tablet.
2. Your Engagement Goes Through the Roof
The Content Marketing Institute wrote a great article that discusses how your audience is ten times more likely to engage with video than other forms of content.
If you think about it, this makes perfect sense – especially if you appear in your videos. It gives you an opportunity to present yourself to customers and clients in a very personal way.
And, of course, there is always the off chance that with a little creativity, one of your videos could go viral. For example, Dollar Shave Club reportedly spent less than $5,000 on their promotional video that so far has received over 19 million views. Even more amazing is that within 48 hours of releasing the video, they had over 12,000 people sign up for the service.
3. You Can Say More in Less Time
Not only is video more engaging than text alone, using HD video on your website allows you to say more in less time. Plus, you'll reduce the chances of your visitor missing important information because they skimmed over it.
Don't make the mistake of thinking video has the ability to capture too much of your visitors time. Just because you have the opportunity to say more does not mean you should. After analyzing the top 50 YouTube videos, Adweek discovered that the average length was just two minutes and 54 seconds.
The message is clear: keep your videos short and sweet.
4. Better Search Engine Optimization
Creating videos for YouTube is a great way to improve your search visibility. Yes, you can use other video hosting platforms as well (which we'll touch on shortly), but YouTube remains the best option if your focus is on improving visibility. Phil Nottingham wrote a great post over on Moz.com that explains the relationship between YouTube and search engines. And you guessed it, there's an accompanying video that's worth watching as well.
Once you feel like you've got a handle on video production and editing, take some time to learn more about how to optimize your videos for search. You can bet that most of your competition won't bother with this step.
Hosting Your Videos
Deciding where to host your videos can present some confusing options. On the one hand, we have the 500lb gorilla – YouTube. On the other, we have some of the smaller, but often higher quality hosts such as Vimeo, Wistia, and SproutVideo.
But as a business owner, how do you decide which hosting service you should integrate with your WordPress site? Let's cover the options:
YouTube

YouTube is the player to beat in this space, and rightly so. They offer some distinct competitive advantages that deserve your attention.
With over one billion users and 300 hours of video being uploaded to YouTube every minute, the word 'massive' is an understatement. But that's a double-edged sword – with so many users and so many new videos, it's easy to for your business to become lost in the sea of new content.
However, keep in mind that more often than not, you'll be embedding videos on your website for visitors, rather than making them click through to your YouTube channel. So for you, this might be a moot point. On the other hand, if you're using YouTube as part of your SEO strategy,  you'll want to brush up on your knowledge tactics. Making your video stand out on the platform has some longer-term benefits as well.
Here are a few important points about YouTube:
It's free.
You don't own the platform or your channel.
You can advertise your content.
Competitors often show up right next to your videos.
You can easily embed your videos directly on your WordPress site.
The average quality of comments on is not likely something you want associated with your business.
Wistia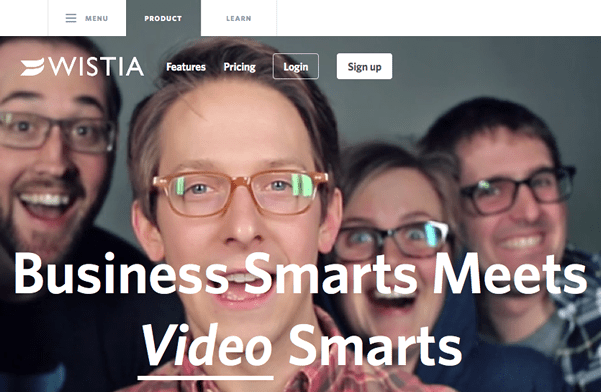 Wistia is a popular video platform for online marketers due to the user-friendly features they have built into their platform. Like Sprout (below), their paid plans start at $25/month, although you have to jump up to their $100/month plan if you want access to advanced analytics and lead generations tools. From a marketing perspective, those features are pretty critical if you're relying heavily on video.
More about Wistia:
Like the other platforms, it's compatible with all devices.
They automatically match bandwidth with video quality.
The player is highly customizable and unbranded.
Analytics and engagement data is readily available.
All videos are SEO friendly.
Vimeo

Vimeo provides an ad-free environment for a cost-effective fee of just $19/month. Yes, that's exactly $19 more than YouTube, but the lack of advertising alone can make that fee worth it. Vimeo, although nowhere near the same size as YouTube, provides a more professional feel and less competition.
Although Vimeo offers full SEO visibility, Google continues to favor displaying YouTube videos in the SERPs. Also be aware that if you require HTTPs, it appears that Vimeo is still dealing with some issues on this front.
A few key facts about Vimeo:
Their Pro plan costs a reasonable $19/month.
Their videos are fully embeddable on your WordPress site.
Videos are compatible on all devices.
You have the capability of selling your videos.
They support third-party video players.
They offer full workflow and video management tools.
SproutVideo
With plans starting at $25/month – reasonable for most small businesses – Sprout is another viable option for hosting your videos. They offer features that should keep most marketers happy. Long term, the biggest drawback is the fact that your storage is capped at 100GB. That said, if you've used up all that space, you're probably serious enough about video production that you can move up to the next tier.
Sprout also offers a bucket of other great features including:
Password protected videos.
The ability to make your videos playable only on your domain.
Full analytics (although limited with the basic plan).
Integrated Disqus comments.
An unbranded and customizable player.
Dozens more features including email opt-ins.
Conclusion
I think we've removed pretty much all doubt as to whether or not you should consider making HD video part of your website strategy. Adding regular video content to your WordPress site offers some major advantages over text alone. Despite the fact that you're seeing video everywhere, its use is still relatively uncommon amongst small businesses. It can be an easy way to set yourself apart from your local competition.
When it comes to hosting your videos, there is no perfect answer. You need to pick a service that is affordable for your business and that provides the features you require. YouTube offers some distinct visibility benefits, but consider the use of two platforms if the advertising becomes a concern.
My last piece of advice is to start small – even if that means sticking to a free plan, or just YouTube. As you get more comfortable with the medium, you can add features as required and increase your video production efforts.
If you've integrated HD video on your WordPress site, please share your challenges and results in the comments. 
Image Credit: T-Kot / Shutterstock.com