Type the keywords "WordPress Design Company" into a search engine and you just might be overwhelmed by all of the choices. You'll probably see over 75 million results. That's a lot of design companies.
Within those 75 million results are some WordPress superstars, superheroes, and maybe even a time lord or two. They are the top of the top. The leaders of the pack. But who are they? This article will take a look at who I think are the top WordPress web design companies. But before I tell you who they are, I'll tell you how I chose them.
How They Made the List
Before I give you the list, I want to discuss how these designers made the list in the first place.
The first thing I did was a Google search. I found as many web designers as I could. They had to be easy to find in a search engine. That doesn't mean they made the list just because I found them on the first page, and there may be some here that are harder to find, but that's a start.
I then checked their Alexa ranking. Why? This is an indication of how popular their site is. It's not the only indication of course, but it helps to narrow it down. For example, if one firm has an Alexa rank of 10,000,000 and the next one is 10,000, keeping in mind that lower is better… I went with the lower ranking. Now, this doesn't mean that every site here has the lowest Alexa ranking. There are a few that didn't make it to the next test.
The next thing I did was look at their site. It had to intrigue me. It had to load fast and it had to sparkle. If their own site didn't impress me then I didn't go any further. Of course sometimes less is more, so it couldn't be all shiny with no substance. It had to give me the information I wanted and it had to work well. It had to give me a good indication of the kind of work they do. I wanted cake with my icing.
Next I looked at their portfolios. They had to impress me. I wasn't necessarily looking for quantity. I wanted quality. One good sample is better than several bad samples. I approached from the standpoint of being a potential client.
The next thing I looked at is their client list. If they're really that good then they should have an impressive list of clients. Their clients should have names that we've all heard before. They wouldn't just impress me, but they would impress big names in the industry as well. I wanted names that I could recognize.
I also looked at their team. Not all companies tell this information, but it can be an indication of the skills the company has access to and can show how many projects they can handle at once. A team of just a few can produce some impressive work, but they would be limited in how many clients they can handle at any one time. Larger teams can either take on larger projects or more projects.
Finally I looked at what the company contributes back to the community. What do they do for the cause? Do they provide open source code for all to use? Do they provide training at conferences and schools? Do they donate their time to help develop the WordPress core? Do they have a blog with tutorials? A good company will give back and invest in others using the means they can.
These are leaders in the field of web design in the WordPress space. Who are they? Let's look and see…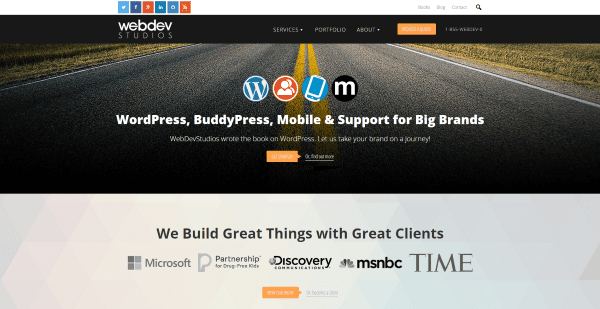 Founded in 2001, WebDevStudios is a team over 30 members that include programmers and authors. The team specializes in WordPress, BuddyPress, maintenance, and mobile applications. They do multisite, migration, and custom design. They pride themselves in their WordPress expertise. They contribute to WordPress and BuddyPress core development, develop plugins, and lead training sessions at WordPress conferences across the globe.
They've written 7 books about WordPress and WordPress. Titles include:
You may've heard of one of those.
Their client list includes:
Microsoft
Partnership for Drug-Free Kids
Discovery Communications
MSNBC
Time
Their portfolio shows 28 amazing projects that include simple personal blogs to news magazines to commercial sites. Each one gives details about the project and a link to the client's website.
You can use their contact page to inquire about projects and pricing.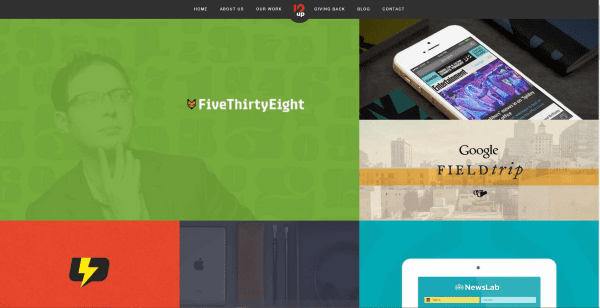 10up has a team of 108 that includes many engineers, managers, strategists, and designers. They provide ongoing WordPress development, testing, optimization, plugin development, and more. They donate their time to open source projects and platforms like WordPress, Vagrant, and jQuery. They have 21 free and active plugins for WordPress.
They volunteer, speak at, and organize industry events all around the world. They donate hundreds of thousands of dollars and hours every year through code, sponsorships, community organizing, their own projects, and sharing their expertise with others. Their blog includes tutorials.
Their long list of clients includes:
Google
Time
ESPN
Wired
Sales Force
Automattic
Variety
AT&T
Entertainment Weekly
Western Digital
Tech Crunch
Their portfolio contains 14 projects that includes a college, mobile apps, business websites, entertainment websites, blogs, etc.
You can discuss your project design and pricing through their contact page.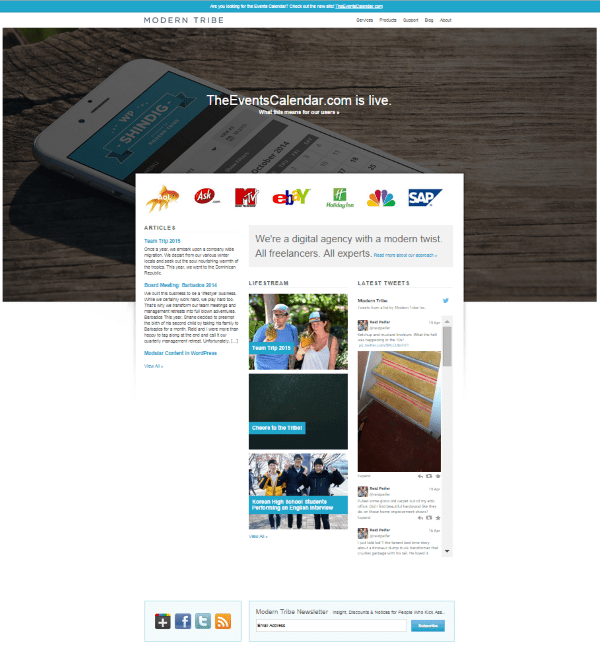 Tribe is a community of developers and designers that specialize in WordPress, mobile, and rapid prototyping. They have built over 400 sites that attract over a million visitors per month each. Some even have over 20 million unique visitors each month. They work with custom layouts, galleries, social media, community sites, event management, forum integrations, live streaming, and more. They've been in business for over 14 years and have a team of over 30 freelancers.
They've won 6 Webby Awards, 2 Interactive Media Awards, the Gov 2.0 Grand Prize, a Communicator Award, a W3 Award, and a few Mayoral Commendations. The founded the Freelance Camp, speak at conferences, an invested over $300,000 into WordPress and Chili open source projects.
Their client list includes:
eBay
Direct TV
CNN
BlackBerry
NBC
Holiday Inn
Boeing
Ask
Seagate
Verizon
Westinghouse
Motorola
And more
They show off their work through one of their 4 blogs (Articles, Technology, Lifestream, and Tribe News. You can subscribe to each one individually). This means that their portfolio can be a little difficult to find as you have to sort through job postings, awards, interviews, news, etc. Topics include updates to their own plugins, tutorials, interviews, etc.
You can talk to them about your design or development project through their contact page.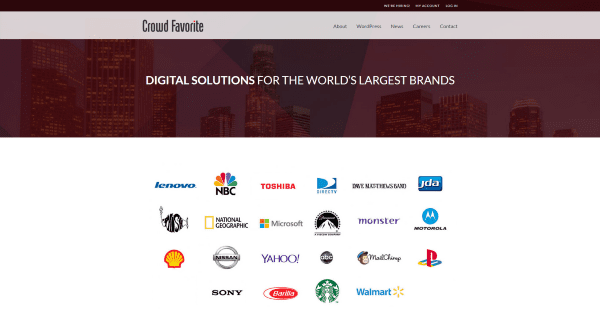 Rather than being just a design or development agency, Crowd Favorite sees themselves as a business partner. Their specialties include branding, design, user experience, development, integration, and maintenance. They work with BuddyPress, bbPress, and WooCommerce. They work with large enterprises and connect a variety of existing corporate systems. They perform heavy customization, data migration, software integration, and more.
Their team includes designers, developers, project managers, quality assurance specialists, and architects that specialize in all-things WordPress. They work from 6 different offices from around the globe.
The team teaches at WordCamps, they sponsor Junior Achievement, etc.
Clients include:
Direct TV
National Geographic
MailChimp
Mozilla
Disquis
NVIDIA
Yahoo!
Microsoft
Monster
Tech Crunch
Discovery Education
Starbucks
Walmart
And more
Their portfolio includes case studies from 7 select projects with more projects and information on their blog under a category called Case Studies. This includes projects for clients such as colleges, blogs, and websites of all sizes from large to small. They also have info about plugins and themes.
You can contact them about projects through their contact page.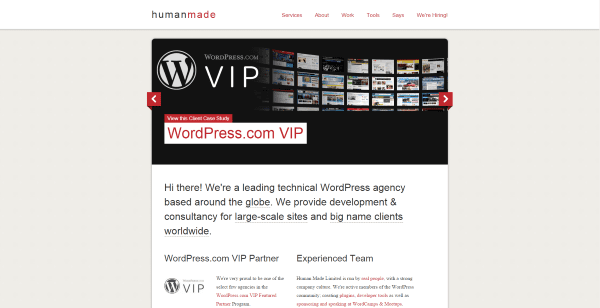 humanmade is a design agency that works with large-scale sites and big-name clients worldwide. They are part of the WordPress.com VIP Partner program. They provide strategy and consulting, code reviews, accessibility reviews, content migrations, and code and hosting management. They do full site builds, migrations, custom development, WordPress network development, maintenance, and more. They specialize in big projects with high traffic that are technical and tricky. They even provide sample prices on their site.
The team is active in the WordPress community by developing plugins, tools, and they speak at WordCamps and Meetups.
Clients include:
Skype
Sony
PayPal
Samsung
Clickbank
News Corp
Automattic
Digital Trends
And more
Their portfolio shows 29 samples that includes basic websites, news blogs, personal blogs, online magazines, etc.
You can contact them for information about projects through their services page.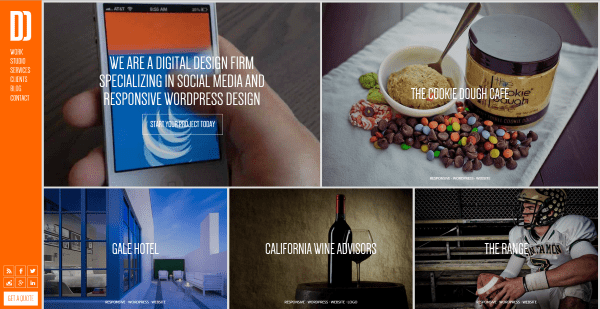 Daddy Design provides many online development services including WordPress. They can design and create a custom website or blog and make it SEO friendly. They can develop custom themes, plugins, widgets, layouts, and more. They like working with clients that are starting a business, branding their own merchandise, and bringing their businesses online. They strive to work at affordable prices for companies of all sizes.
They've been in business since 2006. Their team consists of programmers, designer, social media experts, copywriters, and WordPress experts.
Their blog includes web design tutorials. The tutorials include many topics about WordPress, plugins, handling custom code in themes, custom post types, adjusting settings in responsive sites, creating custom buttons, etc.
Clients include:
Nike
IBM
TNT
Universal
Spotify
Elle
VEVO
SanDisk
Wacom
Stanford
And more
Their portfolio shows 31 WordPress projects. Projects include blogs, news sites, magazines, restaurants, hotels, vacations, schools, e-stores, etc.
You can contact them for a free quote through the Request a Quote page.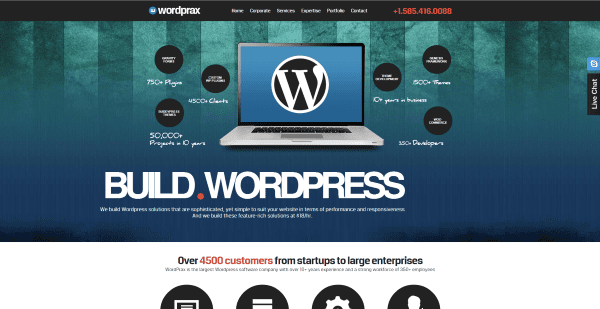 WordPrax works with clients from startups to established enterprises. They do custom WordPress development for $18 an hour. They develop custom plugins and themes, SEO optimization, perform site migrations, provide 24/7 tech support, and follow ISO 9001 processes.
They have over 350 WordPress professionals and they've done over 50,000 projects in the 10 years they've been in business. Clients choose the team structure and reporting procedures. They don't mention anything on their site about community activities, but I still included them in this list because of the client list and quality to price ratio is extremely high.
Clients include:
CNet
Popular Science
Kodak
Texaco
Cushman and Wakefield
Asos
Daa
Timr
And more
Their portfolio includes 15 projects ranging from schools to personal blogs to business. The projects are screenshots that open in a lightbox, giving you a close look at the client's homepage.
You can contact them about your project through their contact page.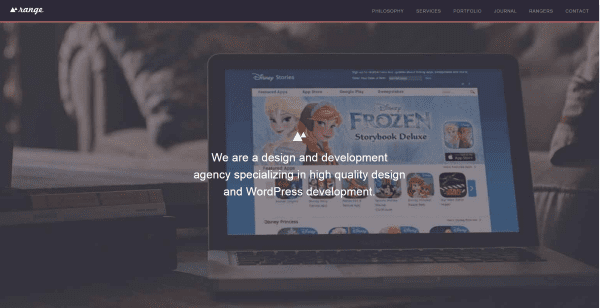 Range is a WordPress.com VIP partner that performs migrations, plugin development, code auditing, theme development and customizations, branding, UX design based on data, WordPress hosting, and website scaling.
They have a small team of 5 that consists of developers, designers, a project manager, and a creative director.
They love using open source tools in their development and they love giving back to the community. They're active in community development, they've provided free plugins and themes, contributed to WordPress core releases, taught 45 sessions to the global community, and they comment in repositories. They share their code and speak at international WordCamps. Their blog provides articles in web development concepts. There's even an article about photography.
Clients include:
Flickr
YouTube
Disney
Ooyala
And more
The portfolio includes 32 case studies which gives some information about each project with lots of photos of the finished work. Projects include personal blogs, e-stores, community multi-sites, magazines, schools, news sites, personal branding, etc.
You can contact them about a project through their contact page.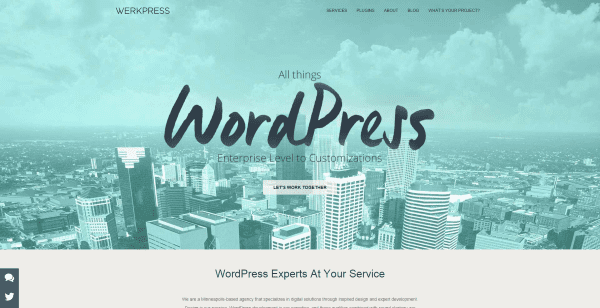 WerkPress develops WordPress websites from basic sites to enterprise-level. They will also customize your current website. They use their design process to:
Discover – learn about the client's culture, market, customers and competition
Create – use the talent's to solve problems visually and technologically
Evaluate – refine the work and evaluate it against the client's project goals
They have a team of 17 that specialize in WordPress design and development. The team consists of designers, UI/UX strategists, and creative directors. They regularly speak at and attend national WordPress events. They provide many articles about WordPress design on their blog.
Clients include:
NASA
Whirlpool
Flipboard
Glitter Guide
Boise State University
Traackr
Redline
Aveda
And more
Their portfolio is found at their parent division: WestWerk. The portfolio includes 12 samples that includes Boise State University, River Rush Brewer, Minnesota Opera, Pikes Peak Brewer, Marsh, KingSolutions, Essential, RN Construction, Sharper Management, Del Sol, Mien Kielo, and the United Nations.
You can contact them about a project through their contact page.
Wrapping Up
Well, that's a look at the top web design companies in the WordPress space. They all have some things in common: they provide high quality services, they have an impressive list of clients, they have a great-looking portfolio, and they all contribute to the community in one way or another.
Now I'd like to hear from you! Did I leave out your favorite? Do you disagree with one of my choices? Do you have a design company to add? Tell us about it in the comments below!
Article thumbnail image by Faberr Ink / shutterstock.com