Who today hasn't heard of Facebook? Facebook has now become the number one social network in the world and it has 665 million active users on average each day as was recorded on March 31st 2015 and disclosed by Facebook.
Every month, around 751 million people use Facebook from mobile devices alone. It has over 1.23 billion active users and is valued at $104 billion.
And that's just Facebook! There's Twitter, LinkedIn, Instagram, and many other social networks to consider too. But what's all this got to do with WordPress, you might be wondering?
An Incentive For You To Start Your Own Social Network?
Looking at the above figures, it definitely should make you feel motivated to start your own social network. Whether that's to dream big and get to the size of Facebook and the others, or simply to provide a network for your friendship, business, or volunteer group.
The good news is that you don't need to study to become a coding expert and neither do you need to have any technical skills if you want to start your own social network. You can start a really cool one all on your own, just by using the fantastic CMS that is WordPress.
WordPress is so simple to use, everyone from your neighbor in their 60s to your teenage niece are now using it to showcase their hobbies and also to start their own business ventures. You can easily create an interactive social network site, loaded with all kinds of features that you would see on existing ones.
To build a social network yourself, there are only really four WordPress plugins that you need to consider. They're easy to use, can be set up in no time, and are awesome!
The BuddyPress plugin has been referred to as "social networking in a box" and that's an apt description. There are a host of core features that you can build into your WordPress social networking website. Each of these can be turned on or off whenever you like, giving you full control over your site. Take a look:
Users can create their own profiles
Users can then start making friendships with other users and form specific groups
Groups can see their own activity streams
Users can private message each other
It's easy to set what notifications and email settings you receive

BuddyPress Can Do A Lot…
With the BuddyPress plugin, you can build just about any kind of social network that you dream of. For instance, you might want to build one for football fans, cricket lovers, bird watchers, or church members.
Your members will be able to contact each other and network, plus they will get the latest updates of all that is happening in the community you've built.
You can create user profiles, create groups, and create a system for private messages. There's so much more potential too as BuddyPress works with other WordPress plugins, such as site tracking and allowing attachments.
…And It's Free
Yes BuddyPress, which does superb things and supplies a total social networking package, is absolutely free.
On top of this, there's a large community of BuddyPress users. This means that if you have any doubts or questions, just post it in the (free) BuddyPress community and you will get an answer quickly. Plus, members of the BuddyPress community contribute new open source plugins to extend the BuddyPress platform and make it even better.
So by using the BuddyPress plugin, you'll be a part of an active community that grows rapidly, as well as add some really awesome features to your social network site. And to think that you can do all of this just by adding one simple plugin. Pretty cool, if you ask me.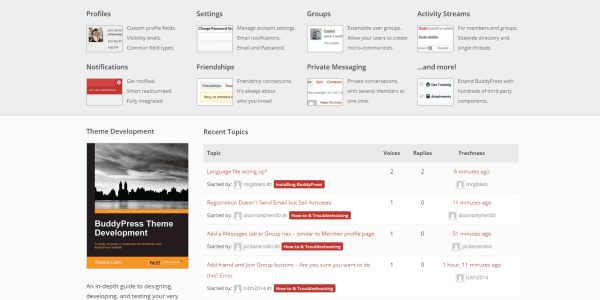 WP Symposium is a great alternative to using the BuddyPress plugin to build your WordPress social networking site.
The features of WP Symposium are:
Each user has their own profile with avatar, header image, activity description, and more
The community element allows you to join with friends, create groups, and send private messages
There's the option to build forums
You have the ability to add shortcodes to create widgets and change the layout
Also, the support that you get with WP Symposium is fantastic. Not only does the plugin have a very strong support community, it also has an expert Help Desk. Plus, there is a very helpful Wiki and support given for other plugins like Facebook Connect, Events, Gallery, Groups, and Mobile.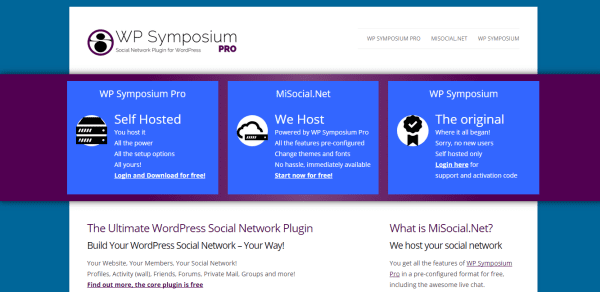 Do You Want a Multi-Lingual Social Networking Website?
If you plan on having a WordPress social network website that's multi-lingual, you'll find that WP Symposium can help.
There are options available that allow you to change the text that your members will see. And if you happen to be using the WPML (WordPress Multilingual) plugin, WP Symposium works very well with that too.
Customize As You Please
This is your very own social network site that you're building and as such, you'll probably want things to look just the way you want them to. This plugin makes customizing aspects of your site to meet your needs really easy, without having any technical knowledge at all.
Button labels, text, layout, or just about anything you want changed to the way you want it to look – you can do it all with ease, with the power of WP Symposium. Plus with the Pro version, there are lots of shortcodes with different options available.
WP Symposium is very compatible with various plugins and themes. Also, when you use the Pro version, there are various additional plugins available to enhance the looks and the features of your WordPress social network website.
Friends, profiles, groups, wall activity, private messaging, unlimited forums, email alerts, forum subscriptions, galleries, profile security, YouTube attachments, image attachments, chat lounge, choosing who to share activity with, and loads of other features all add up to making WP Symposium a great choice.
Build your social network for interest groups, a college community, a school hangout, a membership-based club, a dating portal, or a gaming community. Build a social site around whatever niche you want. Whether you have a hobby and you would like to unite with and talk to other people who share your hobby, or you want to build a worldwide social networking website for people to share news reports from all over the world; there's the option to do so with this plugin.
A very big plus to using WP Symposium is that it can be used with your current WordPress theme, so it'll feel as though it's part and parcel of your existing site.
Is WP Symposium Right For You?
Many plugins available today make you wait for long periods of time between major releases and bug fixes. But if you'd prefer frequent updates then WP Symposium is perfect.
WP Symposium has been labeled as "the ultimate social network plugin for WordPress." So go for this plugin to start creating the hottest social network of the future, all on your own.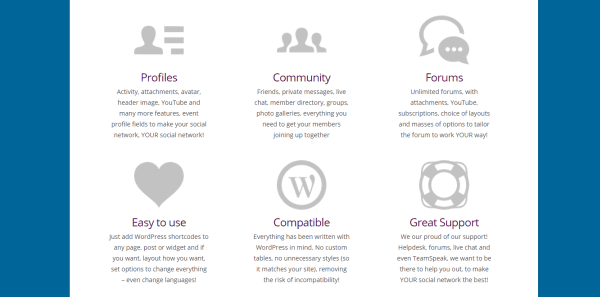 This is another cool, free plugin that will allow you to build a superior social network site – just by using WordPress.
When you use WP Mingle, your users won't see the Admin part or the WordPress login screen; it'll look like a separate, non-WordPress social networking site.
Awesome Features Of The WP Mingle Plugin
You can comment and create profile posts on friends profiles
You have the ability to opt in or out of user email notifications
Users will be able to upload custom avatars (Gravatar fallback is also present)
There are pages for friend activity
Pages are also available for user friending
By using @ followed by the name of the user, users on your WordPress social network site will be able to tag each other – Twitter style
As the admin, you'll be able to configure custom profile fields and also user profile pages
Your WordPress social network site will have a registration system, a lost password recovery system, a login and logout system and these will all be at the front end
There's a facility for users to indulge in private messaging
There are random and recent users widgets, plus login and navigation widgets
There are Pretty Profile URLs (this will help with Google Indexing as well as with memorability)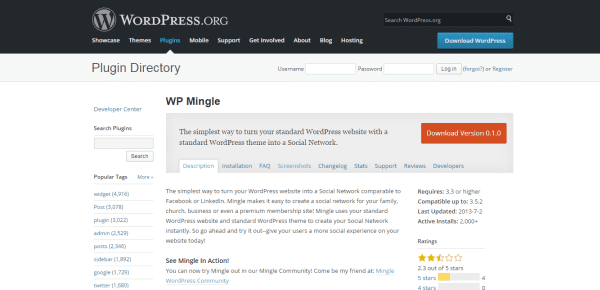 A Premium Membership Option
If you want your WordPress social network to be exclusive, you can do this too. The WP Mingle plugin has a premium membership option available and this works with Affiliate Royale and Wishlist Member.
An alternative option to these plugins is BBPress. This is a plugin that won't give you a fully fledged social networking site, but it will add forums onto your existing site. If you already have a large, regular readership and perhaps they have started to interact on comments, a great next step would be to introduce a forum.
Users can create their own profiles and either start or add to topics in the forums. It builds a community, which is particularly great if you have a niche site.
The plugin itself is really easy to use and as the administrator, it's simple to moderate the forums. Therefore, you won't need to spend all of your time making sure the forums are of the best quality for your users.
Also, setting up the plugin is a breeze. There are step-by-step instructions that go through your options as you set it up. Plus, many of the WordPress themes promote their ability to integrate with BBPress as a feature, so you're sure to get the website you want. With your account, you can oversee all of the activity in one place.
Having this plugin over the full social networking plugins is a lot easier to manage. You won't get all of the features of the others, but it'll certainly add to your users' experience.
Wrapping Up
There are many reasons why you'd want to build a social network site. You might want to be the next online billionaire, just like Mr. Zuckerburg. Or you might just want to build a small community of your own, where likeminded people can get together and share a certain interest.
No matter what your reason for wanting to build a social network, what's important to remember is that you don't need any technical skills to build one. All you need to do is use WordPress (which is extremely easy to use in itself) and any of the four awesome plugins listed above depending on your needs and hey presto, you could build one of the next big things in social networking.
Have you created a social network for your business, community, or niche before? If so, what tool(s) did you use? I'd love to hear about your process in the comments!
Article thumbnail image by Bloomua / shutterstock.com