Two of the most popular e-commerce platforms on the market today are WooCommerce and Magento. A source of many blogger debates, they both have their strengths and suitability for different needs. One is a standalone product, now owned by eBay, whereas the other is a plugin for WordPress. They have the backing of their own strong communities: WordPress users for WooCommerce and eBay advocates for Magento.
The debaters feel so strongly about their e-commerce platform of choice since they've seen success in their own businesses. Joining them is fairly easy because online businesses are a lucrative area to get into in this digital age. The e-commerce platforms are so easy to set up and use, and come with minimal set up costs, so the barriers to entry are low.
If you're thinking of setting up an online business, these two platforms will undoubtedly appear somewhere on your short list. So which should you go for?
The Similarities
Firstly, both WooCommerce and Magento are open source products. This means that the original code is freely available to anyone and they can build on it or modify it to create a product that works specifically for them.
One of the reasons WooCommerce and Magento have such large communities is because open source software creates an appreciation of sharing. Developers go on to share their own versions of the open source software to carry on this aspect of giving.
What this means for you as a new business owner is 1) the initial product is free to use and 2) you'll have an abundance of help from the community.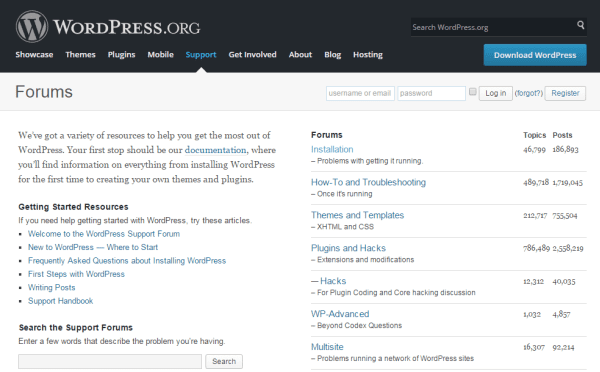 The way WooCommerce and Magento make their money is through the extras you'll likely need to purchase over time as your business grows. This "freemium" business model can catch the unaware, so consider your future needs.
For instance, you'll want to customize the branding of your website to your business and you'll need to unlock this ability through plugins or a developer's time. It's worth keeping in mind that being able to customize your site is only achievable because both WooCommerce and Magento are self-hosted.
If you opt for a hosted solution, for example through Shopify, you'll have the benefits of quickly building an online store through a few clicks of buttons, plus you won't need to worry about managing the security of your checkout. However, your customization options will be severely limited. Therefore, WooCommerce and Magento are both brilliant for making your e-commerce shop your own.
Finally, what's most important when building an online store is, of course, the products and communication with your customers. Both WooCommerce and Magento allow you to upload unlimited products and manage them effectively. You can also add a blog to add a friendly voice to your e-commerce site and help with SEO.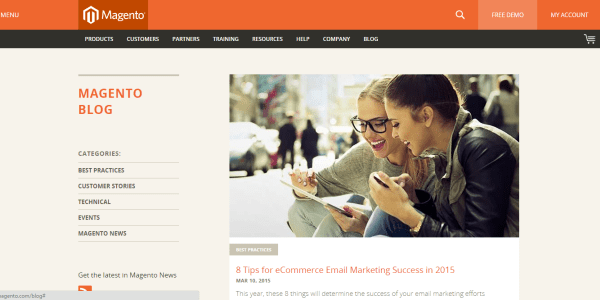 Differences
Setting Up
Starting up any business will come with hurdles but you don't want the e-commerce platform you choose to be one. Obviously if you're already a WordPress user and want to add an e-commerce element to your site, it makes sense to choose the e-commerce plugin, WooCommerce. Therefore you won't need to get used to another interface or migrate your site to another platform.
Even if you don't already have a WordPress site, WooCommerce is perfect for beginners. WordPress is so easy to use and WooCommerce is simply an extension of that. Customizing your site through WordPress is really simple due to the number of plugins available. Plus, WooCommerce has tutorial videos to help with the set up.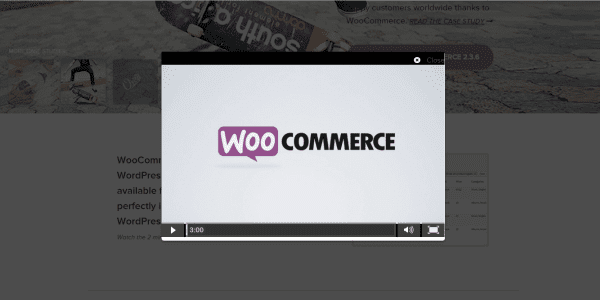 Magento's interface is also really easy to use and it comes with tutorial videos and documentation. It has a full installation wizard too. However, Magento's difficulty is increased when you want to start adding extensions to your site. In this instance, you might want to think about hiring a Magento-specialist developer.
Costs
This leads us nicely onto costs. Initially, both e-commerce platforms are free (although there is an Enterprise version of Magento). You can download them and get started on building your shop straight away. However, you'll find that certain things like a full range of payment options beyond just PayPal and bank transfers are essential if you are to grow your business. WooCommerce is limited on these basic options and the plugins and extensions that you buy will add up.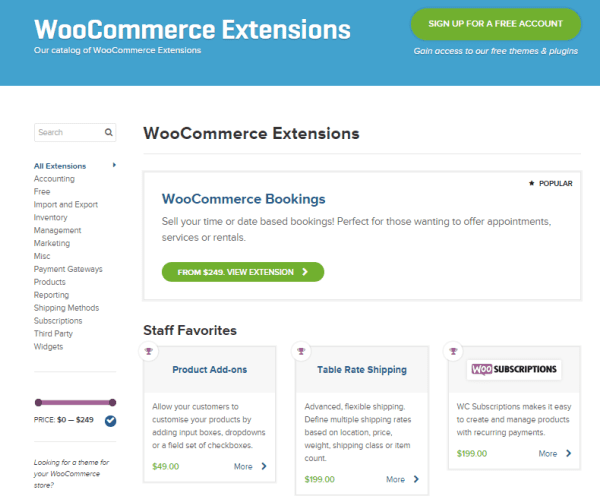 However, adding extensions to Magento is also a necessity as you grow and offer your customers a superior shopping experience, and you'll find that you'll need to fork out money with Magento too. Magento developers are harder to find than WordPress developers and you do really need one to install the extensions properly, so this is another cost that needs to be considered. WordPress is easier to use by individuals of varying experience, whereas it'd take you a long time to do it yourself through Magento.
A cost that you might not have considered is hosting. WooCommerce is fine to run using WordPress' hosting, whereas Magento is a little more complicated. You should use dedicated servers or a cloud plan of your own as your product portfolio grows, otherwise your website will run slowly. I know I get frustrated with slow websites when shopping, so think about the user experience of your customers.
Right from the beginning, you ought to be thinking about your long-term goal and your budget. The initial costs associated with setting up WooCommerce and Magento won't be your only costs, as we've already established. But you should also think about your needs – would the extra features that Magento provides over WooCommerce be wasted on you? Or if you predict that you'll need them, are you willing to put in extra budget now rather than spend the money migrating your site to Magento in the future?
Let's take a look at those features in more detail.
Features
With any e-commerce platform, you'll need to be able to have a shopping cart facility and upload infinite products and categorize them. You get these basic features with WooCommerce and Magento. But which allows you to further customize your shop and give your customers extra facilities when buying from you?
Magento wins on this point. You're able to cross-sell or up-sell your products, compare products, add discount codes, and use an advanced filter to navigate your products. Plus, if you have more than one store, you can view them all on the same account. This is great for creating localized versions of your store.
WooCommerce is simpler, which can be a good thing for those just starting out. You can rate products and feature best sellers or sale items through the available widgets, but anything else more complex will require an add-on. However, keep in mind that because WooCommerce is a WordPress plugin itself, it can work with an array of other WordPress plugins. The navigation is sophisticated, but not as much as Magento's since you can only filter by one attribute.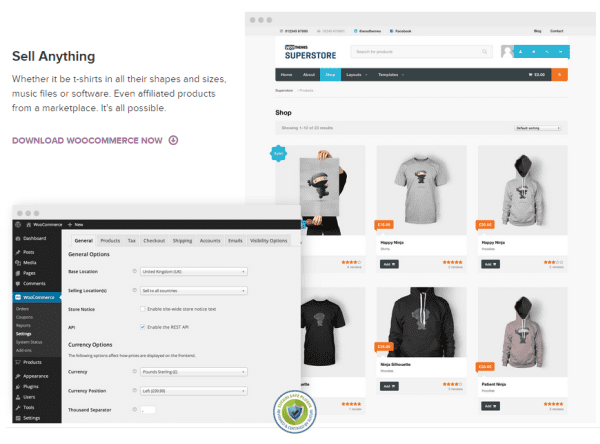 Either within Magento or as another WordPress plugin for WooCommerce, you're able to view Google Analytics for both platforms. This is important to see the success of your business as a whole, or for viewing individual items and using this to work out a strategy across your product portfolio.
So, to make a choice based purely on features, Magento comes with the better basics. However to improve on your site, you'll need to invest more. You have access to Magento Connect, which offers thousands of extensions to add to your site, but you'll need a developer to install them properly.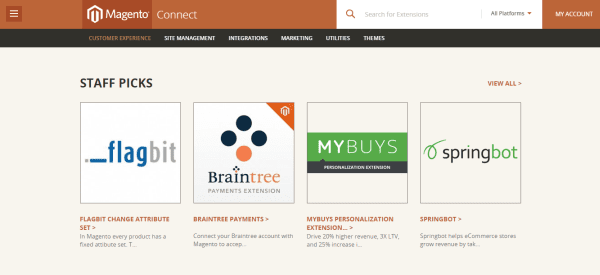 WooCommerce also offers extensions through the WordPress plugins, which are a lot easier to manage and some are even free. Examples of plugins include WordPress SEO by Yoast to help with your search engine rankings, Askimet to filter spam, and Gravity forms to provide a form solution.
The bottom line is cost. If you can afford to hire 3rd parties to improve your site, it's well worth expanding on the features of Magento. You can't really try to do it yourself and save money, since it's more of a steep learning curve with Magento.
Themes
What makes both WooCommerce and Magento attractive to both developers and online business owners alike is how customizable they are. With hosted products, you just don't get this flexibility. The first thing to choose when customizing is the theme of your site.
Within both WordPress and Magento, there are thousands of free and premium themes to choose from. They all come with their own features like responsive layouts across all device sizes and demo content that you can simply download and import into your own site. Many WordPress themes use their ability to integrate with WooCommerce as a selling point – the developers choose this e-commerce plugin themselves.
For instance at Elegant Themes, there are six  WordPress themes to choose from that focus on e-commerce. Looking specifically at eStore, it's an elegant design that you can configure easily and sell your products through WooCommerce. If you chose this theme for your online store, you'd benefit from a secure and valid code, browser compatibility across all popular browsers, and easy translation so you can localize your store. You'd also have fantastic support and you would be assured that you're always up to date since the themes are updated to the latest version of WordPress. It's incredibly easy to use – you simply design and manage your site through the page templates and ePanel, rather than messing around with code and PHP files. See the live theme demo here.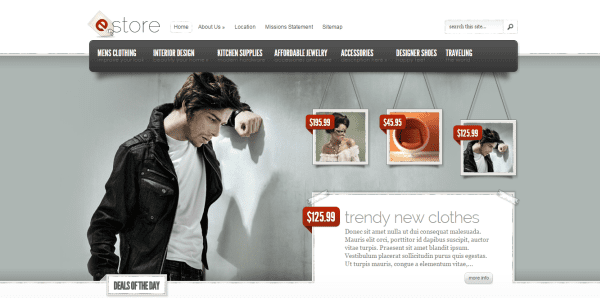 The Final Choice
Magento tends to be popular with larger businesses or agencies who manage e-commerce sites on behalf of clients. Magento is scalable, so it's perfect for those with grand plans or an existing successful online store. It has a few more basic features and once installed by a developer, the extensions are brilliant too. However, you'll need a big budget to set this kind of store up.
WooCommerce through WordPress is perfect for smaller businesses and those with less developing experience. It does the job of selling your products and as you grow, you can add the many plugins available to build a better experience for your customer. It's also the best solution if you're used to the WordPress interface or already have a domain set up and you now want to make products available to buy through your site.
One thing to remember is that Magento was designed specifically for e-commerce stores. However, that doesn't make the plugins and extensions to a WordPress site any less effective. WooCommerce isn't a standalone CMS, but it works within WordPress, and as a WordPress enthusiast, that makes it an even better choice for me!
Article thumbnail image by IdeaGU / shutterstock.com