Sold to the highest bidder! Since the beginning of time, man has been auctioning off his stuff. Okay, it may not have been from the actual beginning of time. It might have been a few days later. As popular as the auction system is, it was a natural progression for auctions to make their way online. Anyone with a WordPress site and a plugin can have their very own auction site.
With the existence of eBay, why would you want an auction platform integrated into your WordPress website? For the same reason you might want your own specialized social network. You can buy baseball cards on eBay, but there isn't a community surrounding the auctions. They're just there, mixed in with everything else from Pyrex bowls to diapers to iPod knockoffs.
It's like comparing that major shopping outlet or mall to that small specialized store that only has the topic you're looking for. The people there know the product. They can talk the talk. The major shopping outlet might have what you're looking for, but you might spend a week finding it and the information the workers have is usually generic at best.
Building an auction platform into your WordPress website gives you and your community the opportunity to sale to the community. People on eBay might not know enough about baseball cards to give a proper description, but the community based around your baseball card website does. And they know what something is worth too. Of course that's not 100% of them, but is it the majority. They're interested in the product and topic and not just trying to sell what they can because anything sales on the big marketplace. It's a niche, and niches work.
You want another reason? Fees. Fees for eBay have gone up and many users want a better platform that has a better effect on their bottom line and gives them a better ROI. As the auctioneer, you get to set the fees and you get to take a chunk for yourself. You get a commission of every sale. If you have an auction platform that allows users to post items for sale, you get a portion of every sale through the auction platform.
Of course, there is another option: you host your own auctions on your own site. With this type of auction, you are the only person posting items for bid and your visitors can bid on them. This allows you to sale through an auction platform without making your visitors find you on a separate site and you don't have to share with anyone other than the bank (PayPal, etc.). You can even auction off your services. Both types of auctions allow you to build a community of buyers, and possibly sellers on your site.
Creating Your Auction Site Using Plugins
There are several ways to make an auction site using WordPress. You can get one of the many themes that are available, but what if you want to change themes, or what you already have the theme you want? A better solution is to use plugins. This way it doesn't matter which theme you use. There are several plugins that will give you the core functions of an auction. You can expand these functions by upgrading to the premium edition, which in most cases I recommend.
What the Plugin Needs to Provide
There are two basic types of auction plugins: those that allow your users to post items for sale, and those that only you post items for sale. Here are some of the features that you might need to look for in a good auction plugin:
Let users create accounts to bid on or list items for sale
Show multiple images and detailed descriptions
Item search
Buy it now option
Send email notifications
Private messaging
Integrate with payment gateways
Charge fees for listing items
Relist items
Reviews
Let's take a look at a few of the better plugins that are available.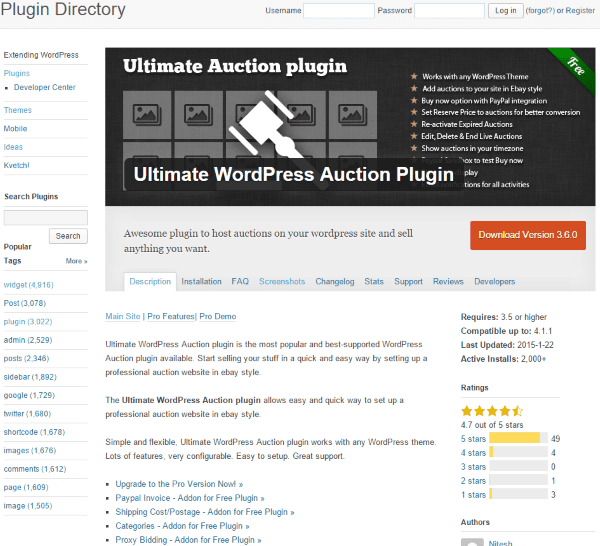 This is the most popular auction plugin for WordPress. It is fully featured, so you can allow your users to post items for sale just like eBay. It works with any theme. Users can set up an account, post items, bid on items, buy it now, etc. So all the features you expect from an online auction site like eBay are here. You can also set up auctions from the dashboard if you want. The free version lets you post, and the pro version lets your users post.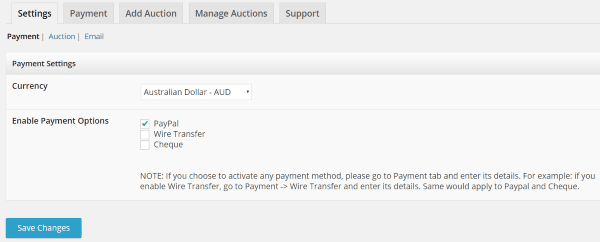 With the free edition, users can only place bids on your items. You can upload images and video, with up to four per item. You can also set a thumbnail, which can be an image or a video. It even has a lightbox feature for the images. You can set the opening bid, the lowest amount that you will accept, the incremental value, the ending date, the buy it now price, and the payment method. Payment methods include PayPal, wire transfer, and check (or cheque). It will send email notifications regarding the auction listings, so users can know the status of something they're bidding on.
The auction page is created using a shortcode. You can also set the URL, registration, and login pages. You can allow for comments and private messages.
I set this one up and gave it a test drive. The system is easy to set up and manage. You do have to go through all the settings, such as setting up your payment methods, but they don't take that long. To get a more complete auction system you will want the pro edition.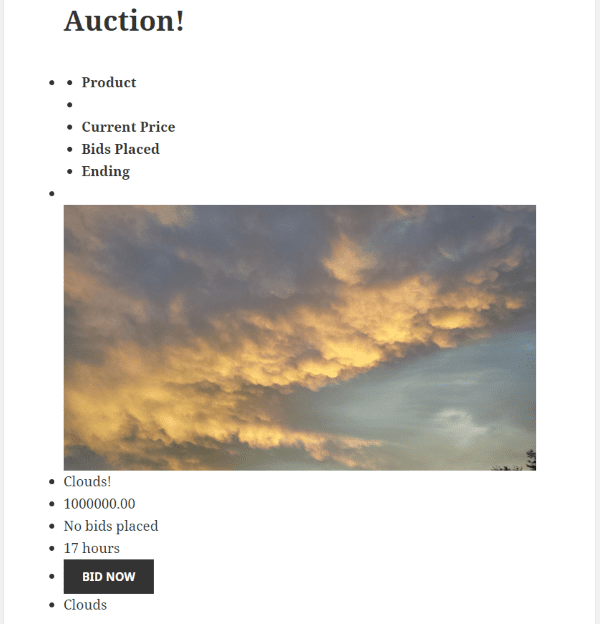 I can see why this is the most popular auction plugin for WordPress. Everything I wanted an auction to do is here and it's free. Of course there are additional features you might want to consider adding to your auction site that are found in the Pro edition. You'll need the pro edition if you want to allow visitors to post their own auctions and manage them. It adds four more pictures or videos, and a watch feature. You can also set categories, add shipping and postage fees, bulk importing, a widget, an automatic extension to keep users from sniping, and more, making your auctions more eBay-ish. It costs $79 for a single site and $119 for unlimited sites.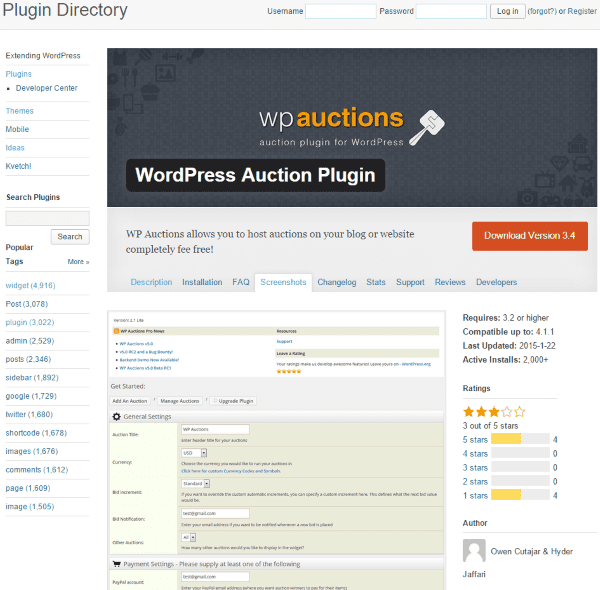 This one allows you to hold your own auctions on your own site. It has both a free and a pro version. It has a widget that you can place in your sidebar or any widget-ready area in your theme. The free edition will display your own auctions. You can let anyone bid, or choose to only allow registered user to bid.
You can add a picture, description, end date, bidding increments, starting bid, and more. You can set up payments through PayPal, direct deposit, and check or money order. There are also graphical styles that you can set. Users can follow the bidding via RSS. It only allows for one image. You can set up your text using its built in visual or text editor.
Setting it up was straightforward. I added a product to the auction and placed the widget. I did have issues with getting the product's auction to display. I found that the auctions were ending in 1970, which of course is before I posted them.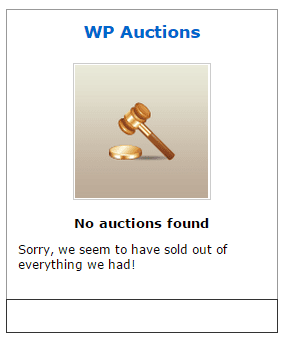 There is also a Pro version that expands the features. It adds three bidding engines, reserve prices, buy it now, custom colors, and more. The Instant Download is $39 and is for use on a single domain. It includes the full feature set and documentation, and one email support ticket. You can also get a yearly subscription. It's $99 for a single site and adds forum support and plugin updates. For $199 per year you can use it on 3 domains and it includes all the add-ons (which are bought separately with the other plans). Add-ons include a list widget for $19 and a bulk uploader for $35. If you decide to use this one I do recommend that you get the pro version so you have access to support as there have been some users with a few problems getting it to work properly.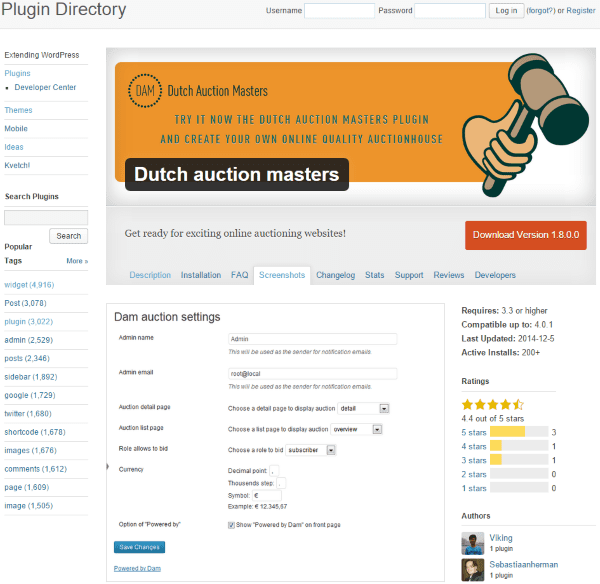 This free plugin comes with a great list of features for adding your own auctions to your site. Setting it up is fast and easy. Adding an auction is a lot like creating a post. You use the same tools, but there's an extra set of choices for prices, dates, etc. You use the same categories, tags, excerpt, media, comments, etc. You place two shortcodes: one for the page for the listing and one page for the details. It adds the shortcodes to your visual editor so you can add a single listing or all listings to any page or post you want. It also includes a few widgets so you can place the individual or lists of auctions in your sidebars. It's very easy to use.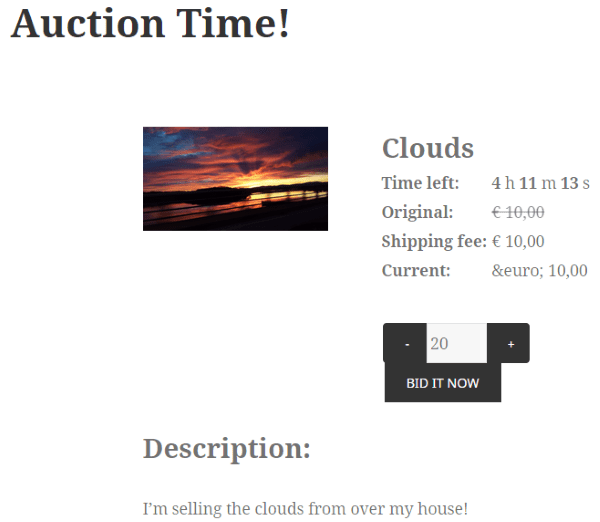 One really cool feature that I like about this one is you can mouse over the image and you see part of the image in a popup that zooms in. as you move the mouse, the portion of the image that appears in the popup moves. This works exactly like eBay.
There is also a Paid version that adds lots of new features including a new category feature, auction search, support for multiple images, customized properties, payment options, shipping options, and a My Auctions page so users can view the auctions they've won. Pro is 99 EUR and adds categories and payment options, and Premium is 199 EUR and adds bid notifications, relisting, and more.
There are lots of modules that you can buy. Prices are given in Euros. Modules include:
Capability – 30 EUR
Email Templates – 10 EUR
Ideal Payment – 20 EUR
Multiple Images – 10 EUR
Payment Method – 15 EUR
Pro Modules – 45 EUR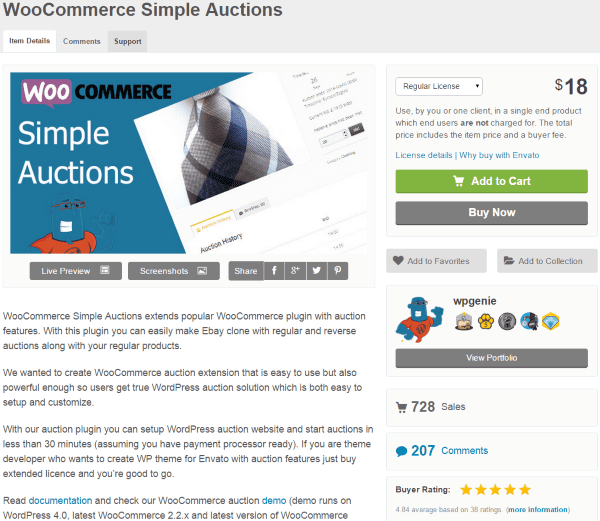 WooCommerce is one of, or perhaps the most, popular WordPress plugins for eCommerce. One really interesting thing about WooCommerce is that third party developers can create extensions. There are many extensions available to create your own auction site using WordPress and WooCommerce. By far the most impressive and cost effective auction plugin for WooCommerce is WooCommerce Simple Auctions.
This plugin has a long list of impressive features.
It allows users to submit their own auctions.
Integrates with WooCommerce
Adds new WooCommerce product type called Auction
Normal or reverse auctions
Proxy and auto bidding
Define the starting price, price increments, the reserve price, and the buy it now price
Set the start and end time for each auction
Control how to display auctions (with other items or on separate page)
Widgets
Email notifications
Auction icon on thumbnail of product
Item shows winning badge on thumbnail if the user is winning
New page for "Auction History"
My auctions shows users' history
And lots more. All of the checkout and shipping features come from the WooCommerce integration, so you don't need multiple eCommerce platforms.
The sample page looks top notch: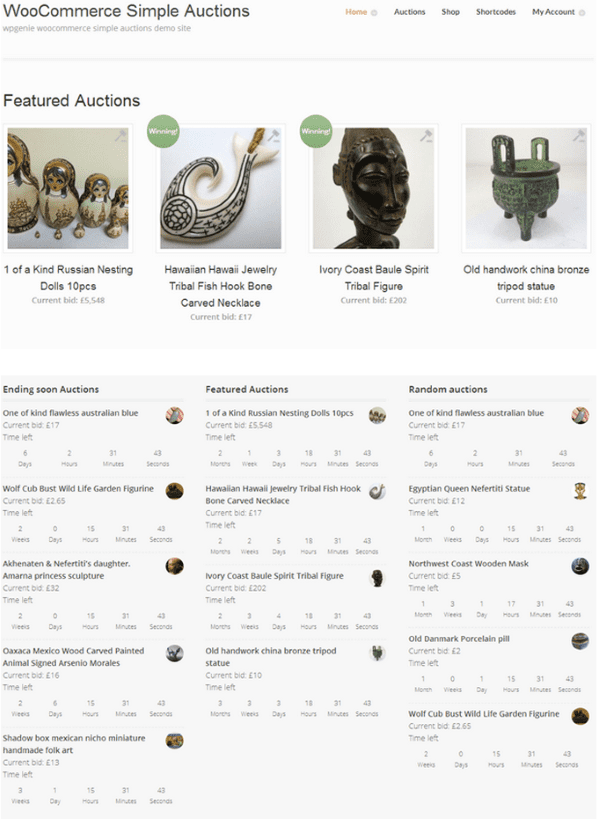 It integrates into the WooCommerce dashboard and adds an auction tab. Here's a look at the dashboard:
If you're already a WooCommerce user this is a great way to go because it integrates with your existing commerce system and you don't have to handle and learn multiple systems.
This one is a premium plugin. It costs $18 for use on a single site that end users are not charged for and $90 for a single site that users are charged for.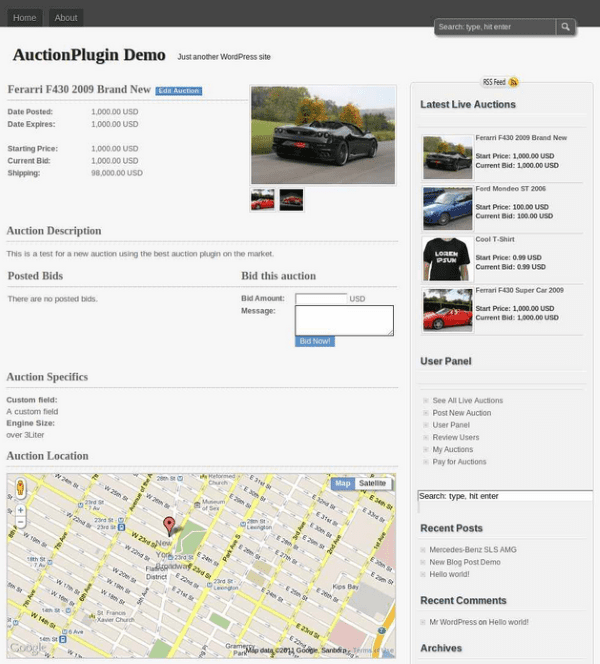 This one is a premium plugin with a series of widgets and tons of features that will integrate with any WordPress theme. Auctions are set up using a custom post type, so they don't interrupt the rest of your blog or other custom post types. It has a credit system that allows your visitors to buy credits through PayPal to use for bids. You set the value of the credits. It includes the auction basics that you expect, and a few that you don't expect:
Listing fees
Email notifications
Listing fees
Auction expiration
Rating system
Featured auctions
Multi user
Multi-currency
Google Maps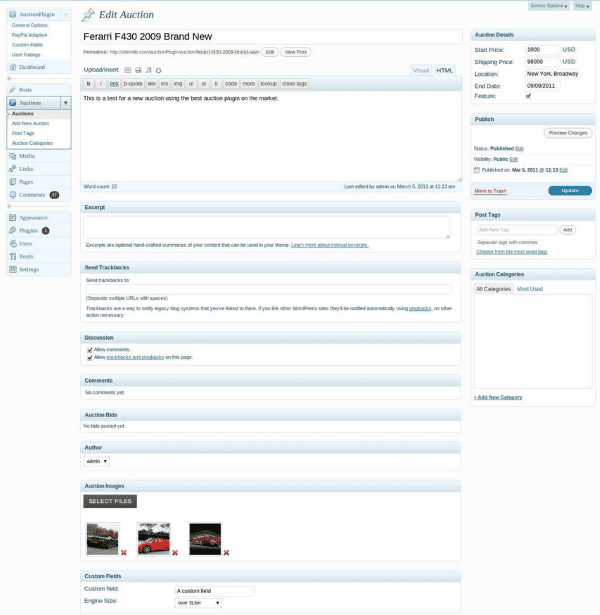 Creating an auction works the same as creating a post, only it has specialized options such as pricing, start and end date, location, etc.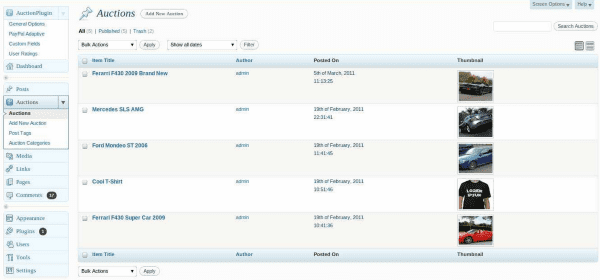 The dashboard looks intuitive and easy to manage. The Google Maps integration is a handy feature for those that sell items that are difficult to ship (like cars and land), so buyers can pick up the items themselves. This adds a localized aspect to the bidding frenzy.
This is a premium plugin. The Single License costs $49 for use on a single site. The Developers License costs $99 for use on an unlimited number of sites.
Legal Things to Consider
Be careful when allowing others to sell through your site. Create an agreement (I'm not pretending to be a lawyer here, so get real legal advice before starting) that your users will sign or agree to before bidding or selling. Also, create a page that discusses proper auction activities. You will have to decide who is responsible if your users get burned on a sale and how these issues will be handled. Do your research concerning legal issues in your area. Keep good standard business practices.
Wrapping Up
WordPress is a great platform for any type of eCommerce, and that even includes creating your very own auction site. Whether you want your own platform that you can sell from or build a platform that others can sell from, one of these plugins is sure to meet your auction needs.
Your turn! Have you added an auction to your WordPress website? Did you use one of the plugins here or did you use another solution? Did I leave out your favorite? I'd like to hear about it in the comments below!
Article thumbnail image by Oxy_gen/ shutterstock.com