E-commerce is a big part of the world wide web. Pretty much anybody can now do business online and getting a store online is easier and cheaper than it has ever been. Online stores today look and work great. With the many choices we have for platforms, choosing which one to use can be a daunting task.
There are a lot of things to consider when choosing an e-commerce platform: store management, inventory management, shopping cart systems, social networking, blogging, SEO, security, ease of use, expandability, and costs all play a big role in this decision.
In this post, I make a comparison between two of the most popular e-commerce platforms: WooCommerce and Shopify. And without further ado…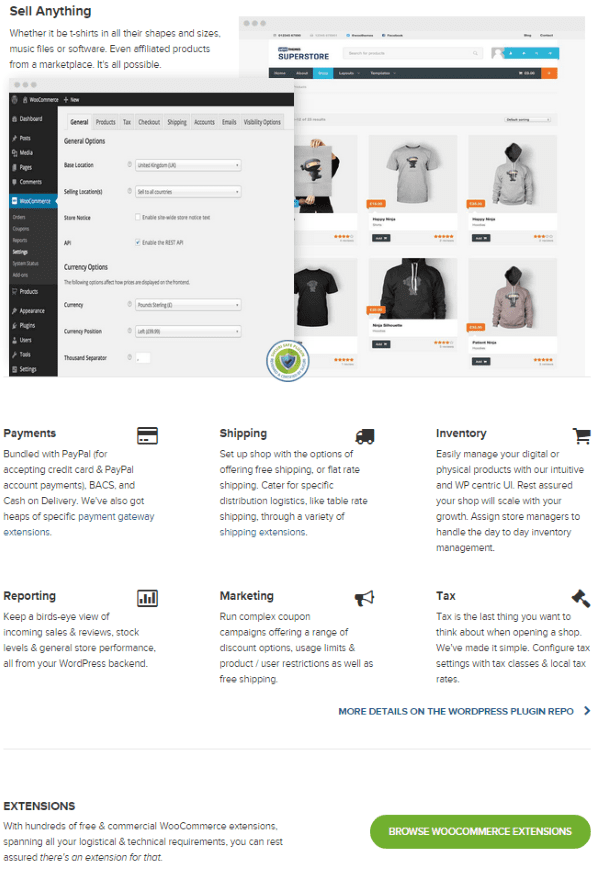 WooCommerce is a WordPress plugin that lets you turn your WordPress site into a full-featured online store. It gives you an easy way to handle inventory, payments, shipping, and more. It gives you reports on customers and products and it works with practically any theme and doesn't get in the way of your website. It can be easily integrated into an existing site as well.
Features include:
Works with virtually any WordPress theme
Unlimited products
Payment methods
Shipping methods
Inventory management
Reports
Marketing
Tax
Coupons
Themes
There are many themes available for WordPress that are compatible with e-commerce plugins such as WooCommerce. Here is a quick look at just a few, starting with a free one from WooThemes designed specifically for WooCommerce.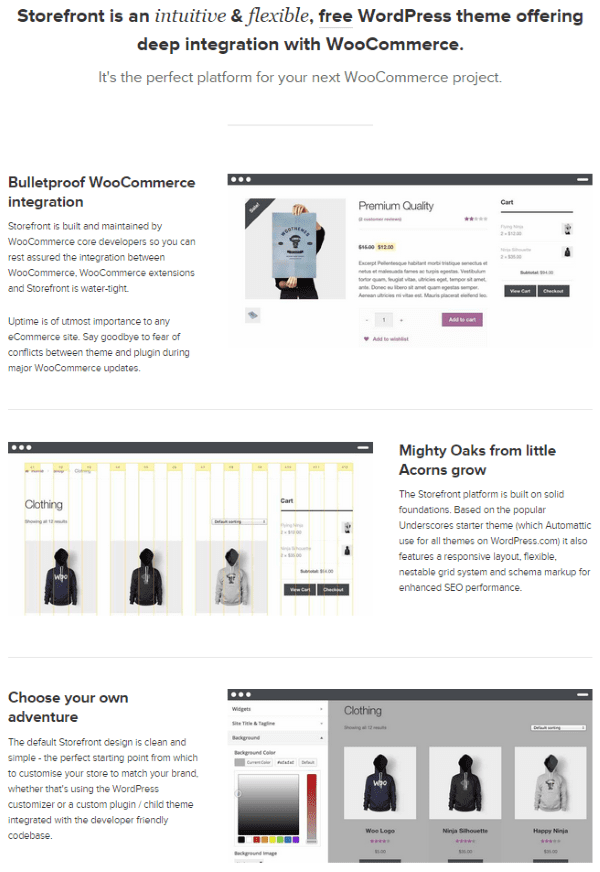 StoreFront is a free responsive WordPress theme from WooThemes that integrates with WooCommerce to build a sharp online store.There are no built-in sliders, shortcodes, or page builders, allowing you to choose your own through plugins. It has multiple widget areas, a flexible CSS grid, and can be expanded through the StoreFront Designer extension. It is built on Automattic's Underscore's theme.
StyleShop is one of our own themes that was developed specifically for e-commerce, including WooCommerce. It is responsive and includes theme options to manage the layout, advertisements, colors, and so forth. It has page templates for galleries, contact pages, site maps, blog feeds, and more. It has shortcodes so you can create complex layouts without having to program them. It integrates fully with the WooCommerce plugin. StyleShop is available in the Personal plan for $69 per year.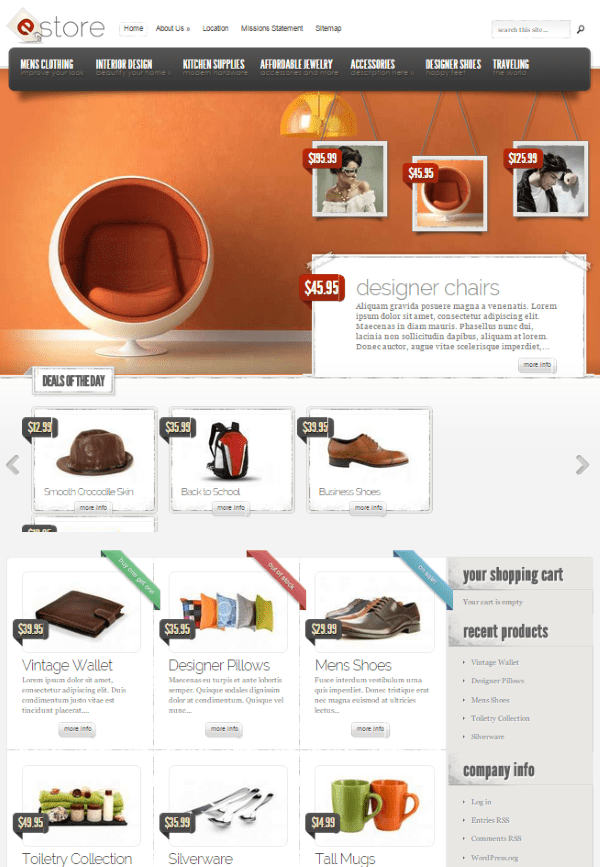 eStore was developed specifically for e-commerce sites. It comes with several free e-commerce plugins that include eShop and PayPal. WooCommerce is highly recommended for use with this theme. You can display deals of the day, choose how many to display and the category, and can even include WooCommerce products as a category. It has five different color choices, theme options, shortcodes, and page templates. eStore is also available in the Personal plan for $69 per year.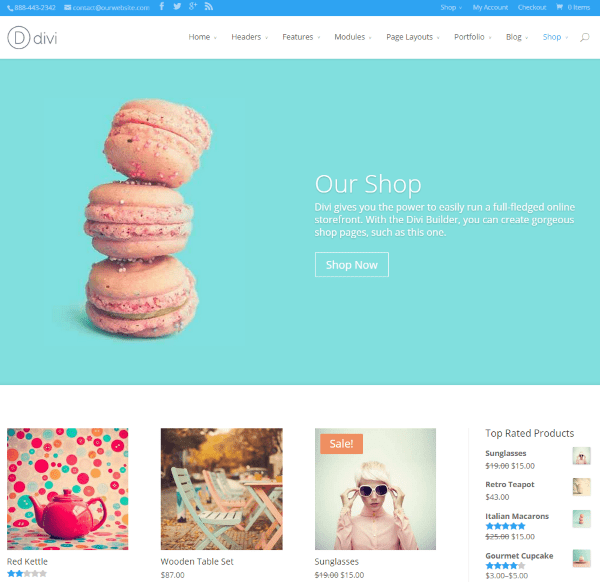 Divi was designed to be compatible with the latest WooCommerce plugin. It includes a module called eCommerce that integrates fully with WooCommerce. You can use the WooCommerce plugin with or without the builder and you can create pages for the shopping cart, checkout, and more. You can use WooCommerce categories and WooCommerce shortcodes within a text module. The eCommerce module's settings let you choose to display by type, how many to display, how many columns to display, and has an order by function (popularity, rating, date, price low to high, price high to low).
Divi is available in the Personal plan for $69 per year.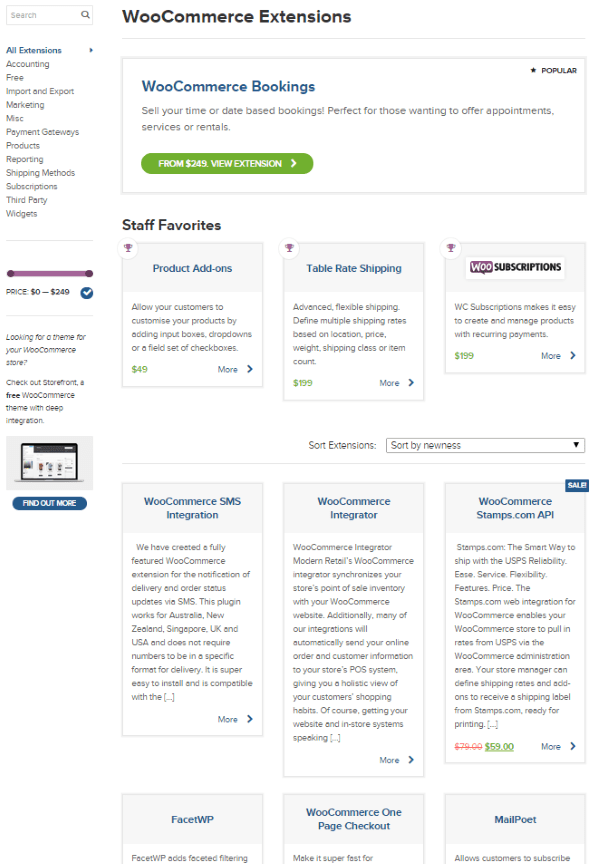 There are 320 extensions available to expand the functionality of WooCommerce such as product search, recommendations, 360 degree image, future pay, antifraud, coupon campaigns, affiliate software, and more. Prices range from free to $249.
Categories include:
Accounting
Import and export
Marketing
Misc.
Payment gateways
Products
Reporting
Shipping methods
Subscriptions
Third party
Widgets
Managing Your Store
Getting started with WooCommerce is as simple as uploading the plugin to your WordPress site, adjusting any settings you want to change (for example, set it to US dollars), and then start uploading your items to fill your inventory.
Uploading products is exactly like creating a post and adding pictures. You can then set the product description, enter prices, set stock status, choose a product category, link or group to other products, set product attributes, and enable or disable reviews. You can add gallery images and set the featured image. You use your regular WordPress SEO for each product, so you would set it just like you would any post. For shipping info you can set the weight and dimensions of each product.
You can handle orders through the dashboard. It shows you the customer's info along with the products they've bought. You can set the order as Processing or Complete and you can view the order's details. You can also add orders manually if you want.
Now, you can choose to allow WooCommerce to handle your inventory levels or you can turn it off and handle it manually if you prefer. Inventory management is handled in each product's settings. You can set the inventory level, choose to allow back orders, show stock status, choose if only one can be purchased per order, and set if the product is virtual or physical.
There's also the ability to set shipping options, such as free shipping and flat rate, and you can add more shipping methods and features through extensions (some of the extensions cost extra and costs vary depending on the features you want).
The Reports will show your orders by date (with selectable ranges), by product, by category, and it will show coupons. It gives you easy to use graphs and the data can be exported as CSV files. You can also view your customer's info and your inventory levels.
Since your store is built into your WordPress site, you can manage your store from anywhere you want, including your smartphone. This is great for managing your store and interacting with your customers while on the go.
Prices
The WooCommerce plugin is free. WooCommerce does not offer a complete online storefront, so you'll have to find your own URL, hosting, theme, etc. You will also have to provide your own security and maintenance. It will integrate with many free themes and with themes from Elegant Themes, keeping the price low.
For transactions, there are a lot of choices of payment gateways that include services such as PayPal, Amazon, and Stripe. PayPal is $79 for a single site, takes major credit cards, provides security, and provides nice shopping cart features. Amazon is free and connects to your Amazon seller account. Each provider has their own transaction fees. For example, Stripe has no monthly fee and charges 2.9% + $0.30 per transaction.
Pros
Plugin is free
Expandable through extensions
WordPress platform
Complete ownership (You provide your own hosting and domain)
Highly customizable
Choice of payment gateways
Cons
You're responsible for your own site's security and maintenance
Customizations can be more difficult than Shopify
Bottom Line
WooCommerce lets you have complete ownership of your site. It integrates seamlessly into many WordPress themes and can easily be added to your current site. The plugin is free and provides powerful tools to manage your inventory, turning your site into a complete online store.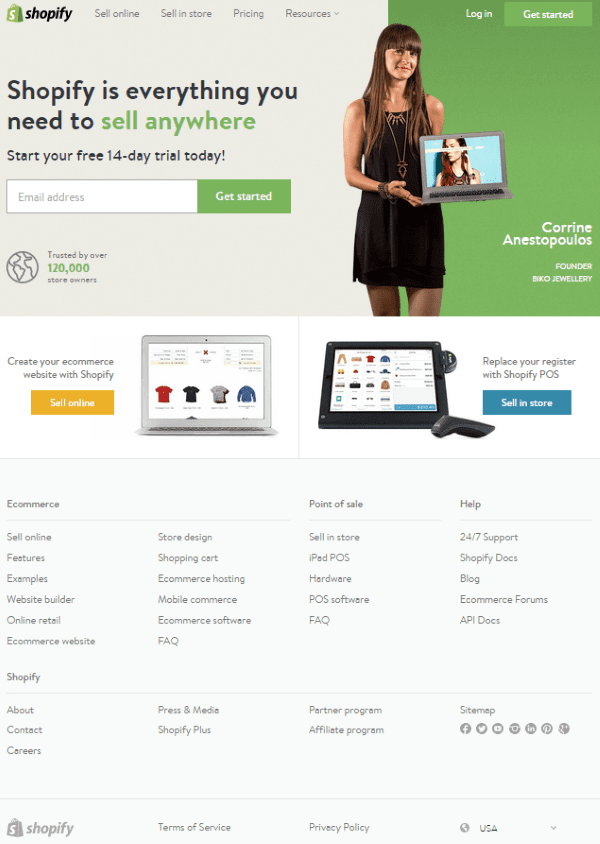 Shopify is an e-commerce platform where you can create your own online storefront and customize it without having to know anything about web development. It has over 100 store templates, or you can build your own if you wish. Shopify is a complete WYSIWYG CMS. You have control over your navigation, pages, and design. It has a blogging platform where you can interact with your customers through comments, too.
The platform has a nice set of features:
Your own URL
Website builder
Customizable
Blog
Responsive
Unlimited bandwidth
Unlimited products
Over 70 international payment methods
Global tax support
Gift card support
Shipping options
Full store management
Analytics
Built in Search Engine Optimization
24/7 support
There are both free and paid themes for Shopify. Prices for the paid themes range from $80 to $180. Most themes are over $100 and the most popular themes are $140. Just like WordPress, you can also get themes from third party developers.
Not all themes contain all features. Features in Shopify's theme store include:
Drop down menus
Newsletter integration
Single product themes
Subcategories
Zoom in product images
Responsive
The themes are created for specific industries, which include:
Art and photography
Clothing and fashion
Jewelry and accessories
Electronics
Food and drink
Home and garden
Furniture
Health and beauty
Sports and recreation
Toys and games
Other
Let's take a quick look at a few of the most popular themes.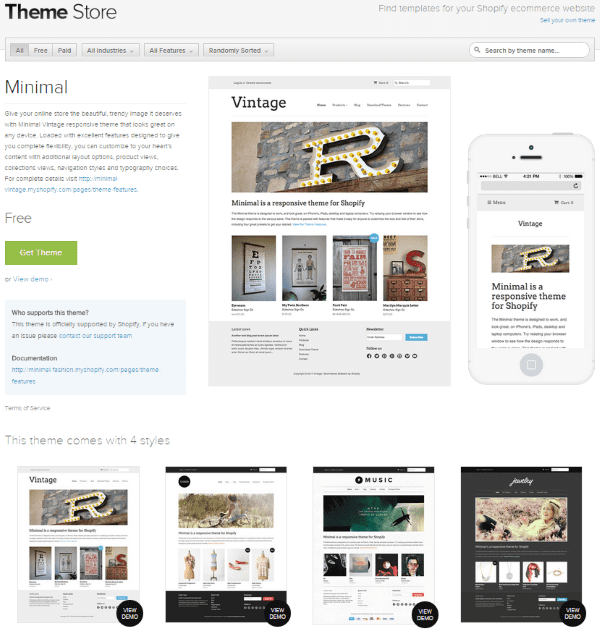 Vintage is the current most popular free theme (and most popular overall). It's responsive, has different layout options, product views, collections views, navigation styles, and typography choices. You can set the home page, footer, header, etc., and adjust the colors and fonts for each. It's available in four different styles.
The current most popular paid theme is San Francisco. It is one of the four styles of a theme called Responsive (and it is responsive). You can adjust all background colors, fonts, styles, etc. It includes a slideshow, gallery, currency convertor, shipping rates calculator, Back in Stock notification request form, featured collections, customizable sidebar, social media sharing, and more. It also includes support for MailChimp, Disqus, Gravitar, and more. It costs $140.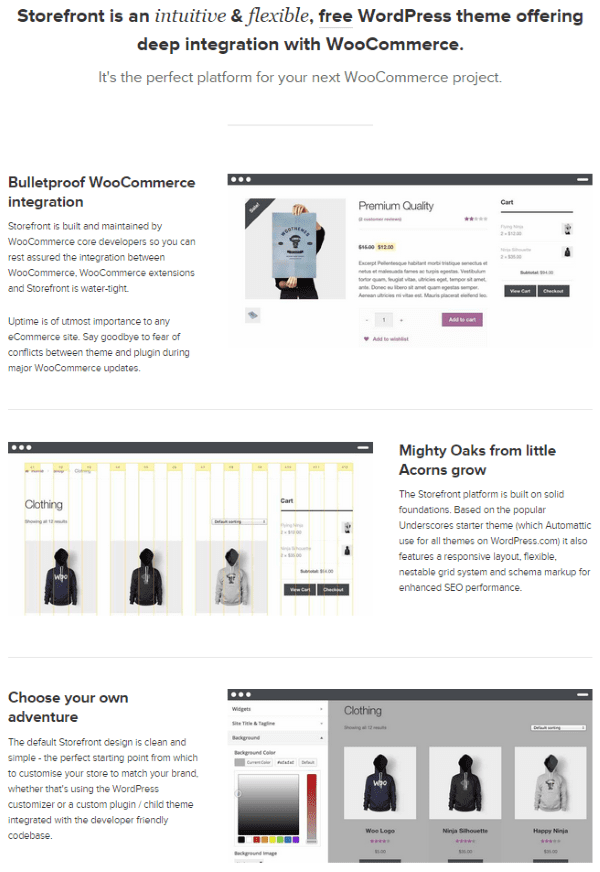 This one from ThemeForest is one of the most impressive themes for Shopify. This responsive theme was written in HTML5 and CSS3, and has over 100 settings. It's e-commerce ready, has a dual product slider, newsletter subscription form, dynamic collection drop down menu that's touch friendly, a Twitter feed, and a layered PSD file.
This is a premium theme with several buying options. It costs $53 for use by a single client and a single end product which users are not charged for. It costs $2650 for use by a single client and a single end product which users are charged for.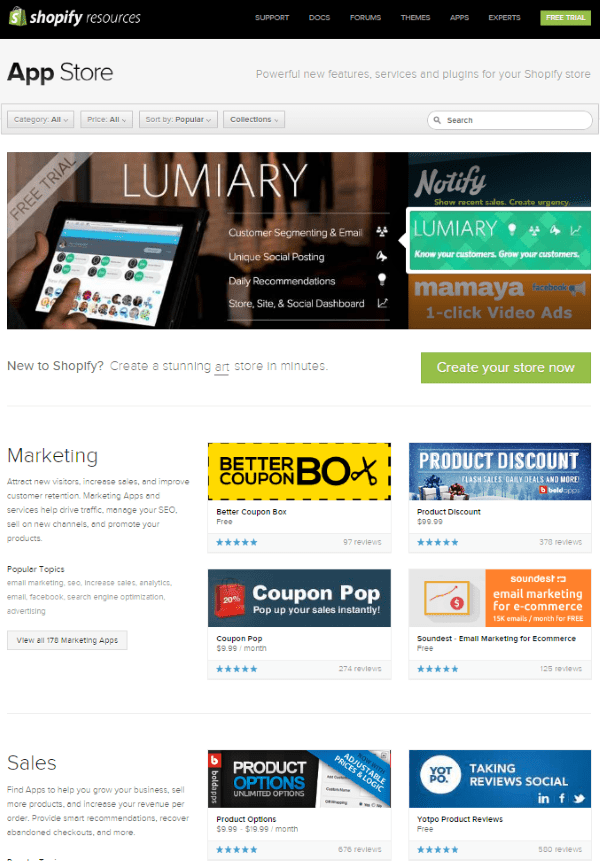 There are 912 apps in the app store. They add features and services to your store such as social login, email builder, store locator, order printer, sale rack, and much more. They range from free to $450 per month (or higher for enterprise apps). There are a lot of free apps. Most paid apps are between $10 and $50 per month. The apps are reviewed, so you can make good decisions about what you choose.
Categories include:
Marketing
Sales
Social Media
Shipping
Inventory
Customer service
Accounting
Tools
Reporting
The apps are also divided into collections. Collections include:
Launch your shop
Grow your business
Manage your enterprise
Made by Shopify
Integrations
Managing Your Store
Getting your store started is as simple as choosing your plan, choosing a template, and uploading your items. This is a fast and easy way to get a store up and running. You can then start blogging, start building your email list, or start modifying your store's look.
You can handle order fulfilment, refunds, drop-shipping, and more from the back end. For order fulfillment, you can connect your site to Amazon, Webgistix, Shipwire, or set up a custom fulfilment system. For drop-shipping you can connect to Ordoro, Inventory Source, and eCommHub.
Your inventory is managed completely in the back end of Shopify. It will track your inventory levels and automatically show that something is out of stock so that you don't keep selling something you don't have in stock. You can offer product variations such as sizes, colors, materials, etc. You can also set the price, weight, SKU, and inventory amounts for each variation independently. Plus, it's easy to organize your inventory by category, type, sale, season, and so forth then sort by vendor, price, and inventory level. Each item can have multiple images. You can also offer digital products through downloads. Your inventory files can be imported and exported with CVS files or with a Shopify app.
Your dashboard also shows you your site's analytics. You can use the built in reports to understand what your customers liked or didn't like. You can track your product sales, orders, and payments. This shows you what sells and what doesn't. You can see the reports on a monthly comparison and export it to share with others. You can choose the type of information you want, so you don't have to see everything in a report unless you want to. This lets you share only the information you deem important. The reports can also be filtered to make them easier to read. It also gives you the option to connect to Google Analytics so you can analyze your traffic.
You can see profiles about each customer, including all contact info and order history. This way you can learn their shopping habits. Group customers by location, purchase history, cart abandonment, and so on.
You can even manage your store from your phone while on the go if you want. You get a mobile dashboard where you can track your sales and inventory, handle orders, and interact with customers. You also get a free card reader so you can take credit cards in person using your smartphone.
Prices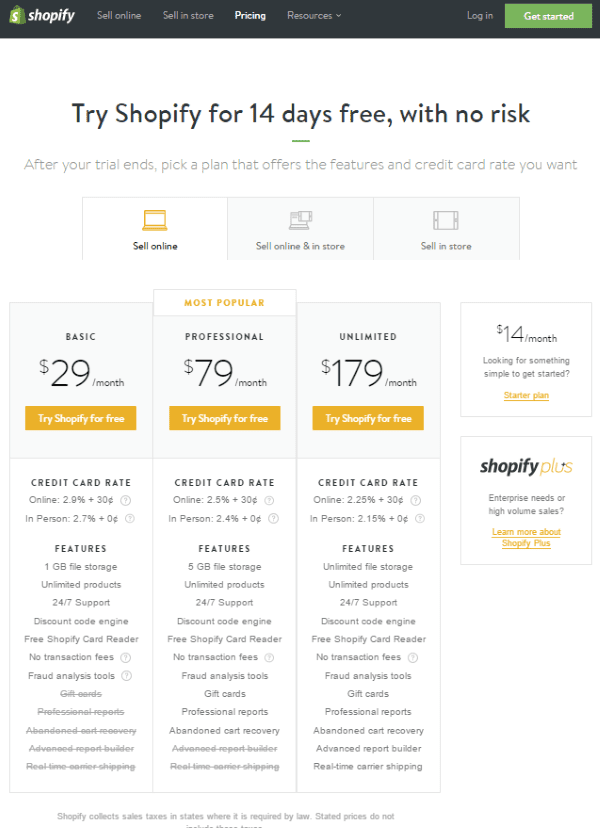 Shopify is a premium service with several plans to choose from.
The Starter plan is $14 per month. It includes 2.9% + $0.30 credit card rate, 25 products, 1 GB storage, unlimited bandwidth, and chat and email support. You can use Shopify payments without a transaction fee.
The Basic plan can also be used for Point of Sale, so you can use it for a brick-and-mortar store as well as online. It costs $29 per month and adds POS rate is 2.7% + no credit card fee, unlimited products, 24/7 support, discount codes, a free card reader, and fraud analysis tools.
The Professional plan is $79 per month and brings the online rate down to 2.5% + $0.30 and the in person rate to 2.4%. It has 5 GB of storage and adds gift cards, professional reports, and abandoned cart recovery.
The Unlimited plan is $179 per month and takes the credit card rate to 2.25% and the in person rate to 2.15%. It has unlimited storage and adds an advanced report builder and real time carrier shipping.
If you really want to kick it up and go Enterprise, you can get Shopify Plus. This is for high volume business and it adds a lot of services. It has a 0% transaction fee, dedicated priority support, dedicated SSL, multipass/SSO API, early access to new features, special prices on select apps, and much more. You must contact them for pricing.
Pros
Simple to use
Get started fast
Security and updates handled by Shopify
Expandable through apps
Cons
Only one host
You don't own your site
Can get expensive over time
Bottom Line
For getting a store online fast and easy, Shopify delivers. It's easy to use and you don't have to worry about maintenance. You don't own the site and the cost of hosting and apps can get expensive over time. Although you can do a lot with Shopify you're more limited than you are with WooCommerce.
Which is Better?
Which would be better for you depends on what you want from your site. Do you want a store only? Do you want to have a powerful blogging platform? Do you want to own your site and have more control? Do you want to not have to worry about site maintenance?
If you want an online store that's easy to deal with and you're willing to pay whatever it costs, Shopify is a good choice. It's simple, looks great, has excellent e-commerce features, and hosting and maintenance are taken care of. Support is easy to get if you need it and you can expand your store's features and functions with tons of add-ons. The blogging platform has basic functions. You can blog there, but it's weak at best. It can't be expanded like a WordPress site can and if you decide you want to move it, you will have to copy and paste  or use a plugin that requires lots of work setting up every post. It's a good choice for just a store, but it's not a good choice for a website or a blog that includes a store. It can be pricey, but the cost is clear and up front.
If you want to choose your own host, have more control over your site, own the site—and you don't mind the extra work of running a WordPress site—WooCommerce is the clear choice. A WordPress site powered by WooCommerce will be cheaper and give you more control. The WooCommerce plugin is free and you can choose from literally thousands of themes, both free and premium, that integrate nicely with WooCommerce. It can be added seamlessly to your current WordPress site. Support for your site is not always that easy because it's an integration of several systems. If you already have a site, no new site is required. If you want blogging to be a big part of your site, then WordPress again is the clear winner. Even though the plugin is free, extensions can cost money and you still have the expense of running a WordPress site, and the total cost is not so clear.
Wrapping Up
Shopify and WooCommerce are both great choices that serve different purposes and audiences. Shopify is easy to use and maintenance is taken care of, but it is more limited and gets expensive. WooCommerce is free and flexible, and integrates easily into your WordPress site, which you are completely responsible for. The best choice will depend on the needs of your business.
How about you? Have you tried Shopify or WooCommerce? What has your experience been like? I'd like to hear about it in the comments below!
Article thumbnail image by Max Griboedov / shutterstock.com