Editor's Note: This post was last updated on May 10, 2018
---
Whether you run a hair salon, work as a consultant or manage a hotel, being able to make and book appointments is undoubtedly essential for business. And if you have a staff to manage, too, you need more than a simple address book or calendar.
Honestly, the main reason you'd want to use a WordPress booking plugin is to make your life and the lives of your customers easier. Choosing the right tool makes all the difference because you want one that gives your clients a quick-and-easy way to make their own appointments, automates reminders and paperwork, and lets you work with your employees and locations to make the complicated business you run become a little simpler and less hectic.
The last thing any host or event planner wants is an incorrect reservation, and with any one of these plugins below, you can rest assured that your guests' reservations are being handled the best way possible.
Subscribe To Our Youtube Channel
1. The Events Calendar

The Events Calendar is kind of a one-stop-shop for your WordPress booking plugin needs. Whether you need a free-and-functional solution or a robust, feature-rich platform, The Events Calendar can probably do what you need.
Key Features:
Free version that actually works
Premium upgrade to Pro that actually feels premium
Import from Facebook, Google Calendar, iCal, CSV, and more
Google Calendar and iCal export
Hooks and filters for devs
Event ticketing
WP REST API support
Event search and taxonomies
Translated into multiple languages
Multiple stylesheets and themes
WooCommerce and Easy Digital Downloads integration
And more
While the sheer amount of options that come with The Events Calendar may be overwhelming, once you sit down and look through what you have available, you may be amazed at what you can accomplish for your business. The Pro version gives you options like recurring events, widgets, more filterable options, and you can also integrate with the company's other plugins like Event Tickets or Community Events to put together the full appointment suite you need no matter what your business model.
Price: FREE with Pro upgrade starting at $89/year | More Information
2. Checkfront Online Booking System

Checkfront is by far one of the most comprehensive premium booking and management softwares around. The software streamlines a lot of the tasks that come with managing reservations by compiling a vast majority of your day-to-day business information under one easy-to-manage roof. Take that power and add a WordPress plugin, and you're well on your way to smoother workflow.
Checkfront is pretty unique in the WordPress booking plugin environment because it is one of the few built on a platform that specifically has enterprise-grade business in mind. While it certainly does work for smaller businesses, it was really built for the accommodations and hospitality industry industry (tour and event companies, rental management, hotels, etc.)
Key Features:
Accept online bookings (via your website, or even Facebook)
Manage your business availability
Automate payments and invoices
Send automated email reminders
Create coupons for your customers to use
Take secure online payments
Get over 50 free integrations along with a mobile app to let you manage things while you're on the go or away from a computer
Though it's not the most important features, it is worth mentioning that the user interface is beautiful, too. That makes a big difference in the accommodations industry. The Checkfront WordPress booking plugin is premium software, and the pricing tiers start at $49 per month for 1,200 bookings made per year and it goes up to $199 per month for 6,000 bookings made per year. However, Checkfront does offer a 21-day free trial where you can test things out before you buy.
As impressive Checkfront is, the price when compared to some of the other options available may be a bit more than one can afford or need. Thankfully, there are other options out there that still offer WordPress integration and that may be closer to what you're looking for.
Price: Starts at $49/month | More Information
3. Appointments+ by WPMU DEV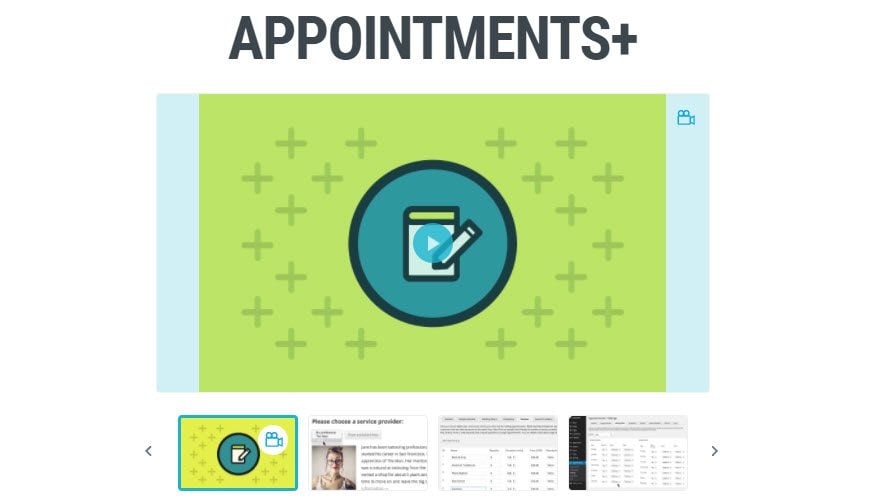 If you're looking for something a little less pricey than Checkfront, Appointments+ by WPMU DEV might be more your style. Appointments+ has just about all functions you need for making appointments directly from your WordPress site, but comes as a part of a monthly membership to WPMU DEV.
Your customers can schedule appointments with you in as little as three mouse-clicks. The Appointments+ plugin has a wide array of features that makes it perfect for small-to-medium businesses, and it is simple enough for your clients to quickly understand and use in order to make an appointment.
Key Features:
Allows customers to make appointments themselves directly from your WordPress site
You can make appointments for clients using the plugin
Social logins for Twitter, Facebook, Google, and WordPress
Manage all you client contact info
Uses MarketPress for payment gateways
Sync appointments with Google Calendar and update things weather appointments are made on your site or on your calendar
Create blackout dates so that you're not working on days your business is closed or days that you or your employee's have off
Schedule appointments as far out as a year
Send out emails to remind or confirm appointments with you customers
Create unlimited services or service providers from your admin dashboard (perfect for businesses like salons that have multiple people working within the establishment)
Another feature worth mentioning about the plugin is that you can customize each profile you create within it. For example, if a photography studio has more than one employee, the plugin comes with the functionality to customize the names, qualifications or skills, and time slots that each photographer would be available for. Additionally, you can set appointments for bookings at 4 different locations you may do business, and tie specific services or employees to those locations by Google Maps.
The one possible downside to Appointments+ is that the visual end result is something that some may think is lacking. However, that's fixable if you're willing to spend some time with it and customize it by CSS.
Price: $49/month for WPMU DEV Membership | More Information
4. Team Booking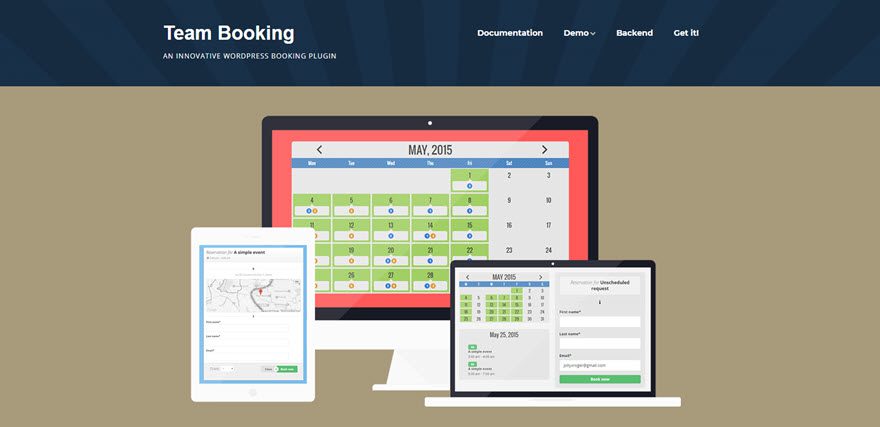 Team Booking is both simple and powerful. Not only is it easy to use, but it has better aesthetics to it than some other more expensive booking plugin options. And like I said, that matters for people. They do judge a booking by its cover.
Key Features:
Fully manage your availability through Google Calendar
Syncs with Google Calendar and vice versa so things are always up to date
PayPal or Stripe as payment gateways
Create different services or products available at your business
Let your team members, or employees to have their own personal availability slots
Notify and/or confirm appointments with customers using customized emails
Multiple team members with separate schedules
Custom API for developers
The author looks to be quick respond to questions and pretty great on the customer service side of things. That, along with the features and price, means its worth checking out. And even though it's a premium plugin, you can check out some live demos on the developer's website.
Price: $24 at CodeCanyon | More Information
5. Bookly – Appointment Booking and Scheduling Software System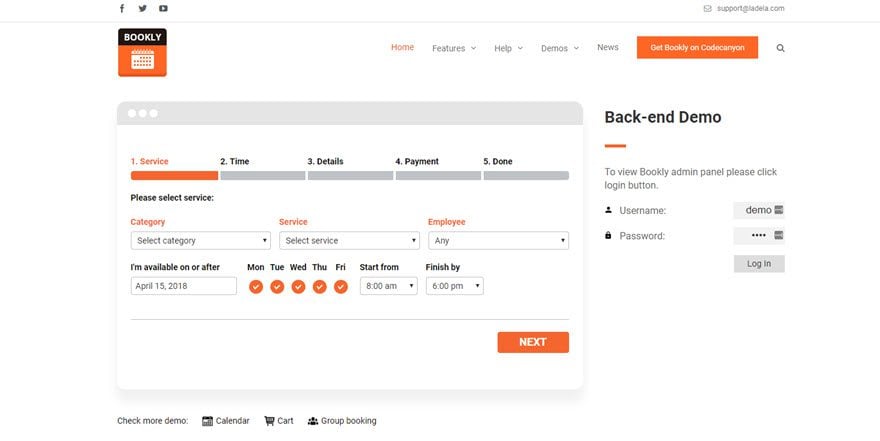 Bookly is quite possibly the most impressive WordPress booking plugin because of the ridiculous amount of extensibility it offers. Available throug CodeCanyon, the plugin and its various addons are not free, but the only option that even comes near the amount of features you can get here is The Events Calendar.
Key Features:
Syncs with Google Calendar
Responsive layout for great user experience while booking via mobile device
Add and edit unlimited staff member details: add member details, services offered (you can personalize the prices for services offered), days they work and days they have off
Add an unlimited number of services that can be color coded to create an easy to read backend calendar
Send email notification directly from WordPress dashboards
Edit the colors of the front-end booking calendar to match your site colors
Edit the text of the front-end calendar
WooCommerce integration
Configure a payment report to see payments you've collected
Export your appointment list to a CSV
In-depth documentation to help you get things up and running quickly
Simple, easy-to-use back-end
Clean, attractive front-end
The back-end admin features on this plugin are so robust and easy-to-use use that it could easily rival even the most expensive booking options out there. And the fact that you can customize the front-end colors to match your site colors takes the plugin a step further. You don't get full CSS customization, really, but Bookly is easy enough on the eyes, you kind of have to look at it.
Price: $89 at CodeCanyon | More Information
6. WP Booking Calendar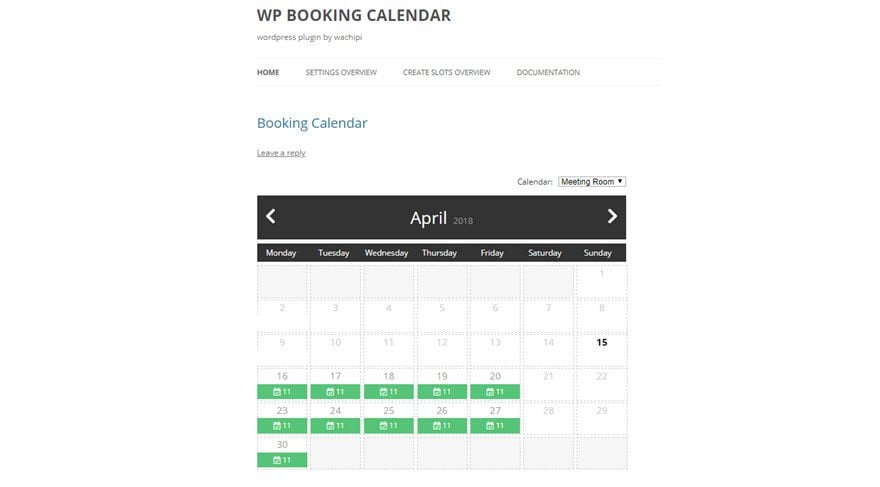 This is yet another premium plugin available on CodeCanyon — sorry, but most of the best appointment booking plugins aren't free. You do get what you pay for most of the time. WP Booking Calendar is slightly different than the other mentioned above, though: this one is made for non-technical back-end users. Everything is handled from within the WordPress dashboard, so it feels like a native part of Core.
Key Features:
Compatible with WPML Plugin
Unlimited number of calendars, each with its own settings
Multiple choice of reservations
Unlimited number of timeslots that can vary a far as length
Enable or disable a CAPTCHA form to lower spam
PayPal integration
Easy to use interface
Nice roll-over modals
Though this plugin has fewer options and features than the others listed above, the features it does have are still pretty powerful. The easy-to-use interface alone is enough to make it worth considering. While some of the other options on the list can be overwhelming to set up, WP Booking Calendar makes setting appointments as simple and easy as posting a new blog. That's saying something.
Price: $18 | More Information
In Conclusion
And these 6 aren't even scratching the surface of what's out there in terms of WordPress booking plugins. There are tons of options out there, whether you need a free option, an enterprise option, a freemium option, or a nearly-native plugin. Whatever it is, someone has you covered. You're busy, and these developers know that you need a solution that is reliable and solves more problems than it causes.
Any of these 6 will work for that, I think. Or hey, you know what? Make that 7 and check out our review of the vCita Meeting Scheduler plugin. It's pretty cool, too. See? There are tons of them out there.
What has been the best solution for your booking needs? Let us know in the comments!
Article featured image by PureSolution / shutterstock.com