In April, I spoke at greath length about Why Your Website Needs An Email Newsletter. Email marketing is, without doubt, the most effective form of marketing a business online. Social media is obviously effective too; though there is no substitute to delivering your message directly into someone's inbox as most people check their inbox every day.
One of the most effective ways of increasing sign up rates to your email newsletter is to display a pop up message to visitors. These can be displayed immediately, or after a specified period of time, such as a certain number of page views or a certain number of seconds.
In this article, I would like to share with you some great WordPress plugins that can help you display a pop up banner on your page with your newsletter sign up form.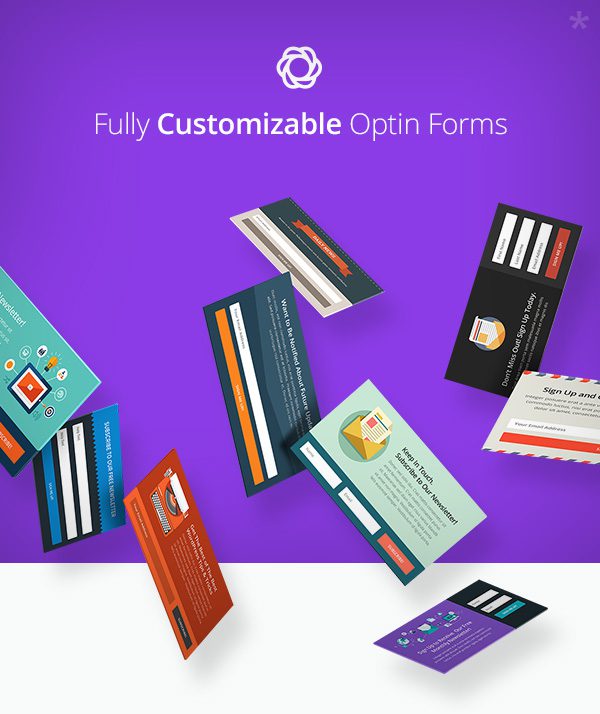 First of all, we would be remiss if we did not mentioned our very own email opt-in plugin Bloom. If you are already an Elegant Themes member, then you can download this plugin for free! We have spent months building what we think is the ultimate email opt-in plugin for WordPress. Not only does Bloom come with email popups, it also includes 5 other integration types. Capture your visitor's attention with beautiful fly-in boxes, inline optins, opt-in shortcodes, or even requires visitors to sign up to your newsletter before accessing premium content using the Bloom locked content opt-in form.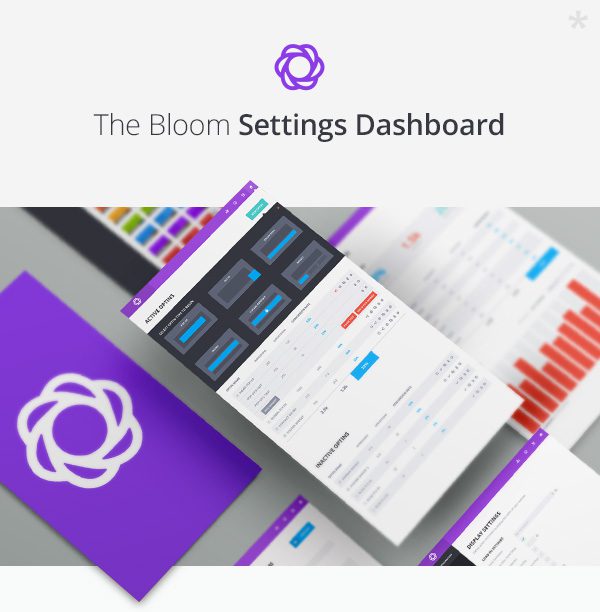 Not only is Bloom incredible comprehensive, it's also an absolute pleasure to use. We have built a custom administration panel that makes it easy to build opt-in forms and place them anywhere on your website. You have completely control over where each popup appears (down to the individual post and page level), as well as how each popup is triggered. You can utilize custom triggers to control when your popup is shown to your visitors. Show popups automatically using a time delay, only after they reach the bottom of your post, or even after they comment or purchase a product. With such a precise level of targeting, you can improve your conversion rates like never before. Bloom also comes with a complete A/B testing system so you can figure out which triggers and designs work the best.
Dreamgrow Scroll Triggered Box is a free WordPress plugin that will display a box on your page once the reader has scrolled down the page. The box will disappear if the user scrolls back up the page.
It offers a huge amount of customization. You can display the box on the left, right, or middle of the page. You can also adjust the height in which the box is displayed, the width of the box, and the number of days the box stays hidden if a visitor closes it. The box can be shown on posts, pages, and/or the home page.
In the settings area, you can enter the content that is displayed in the box. You are not restricted to display a newsletter sign up form. You could also use it to display a banner or a simple message to readers. Social media sharing buttons can be enabled in the box through the settings page and there are four different colour schemes available too. Alternatively, you can style the box using custom CSS.
Cliftons Lightbox was designed to allow you to display a lightbox to visitors. It was specifically geared towards generating sign ups to a newsletter.
The layout of the message is fixed. You can display a description, up to five bullet points, and either an image or a YouTube video. The newsletter sign up fields are displayed underneath. While the plugin does not come with any additional styles, it does allow you to specify a delay in seconds until the lightbox is loaded. You can also link to a privacy statement and choose the length of the lightbox cookie so that it is not displayed to visitors every time.
ITRO Popup Plugin can be used to display a pop up message to your visitors. It allows you to create your message using the WordPress visual editor. This makes it easy to create and style a good looking message. It also lets you easily integrate images, header tags, YouTube videos, and much more.
The settings area offers a lot of customization options. You can adjust the height and width of the pop up, the background color, borders, padding, and margin. You can also upload a background image for the box and there is an option to select what pages the pop up is displayed.
Developed by Satollo, their pop up extension plugin integrates with their Newsletter plugin. The pop up message can be configured using the WordPress visual editor and the settings page lets you change the size and dimensions of the pop up.
Rules can be defined for when a pop up is displayed. For example, you can display the pop up after a set number of views and after a set number of seconds. There is also an option to reset this after a defined number of days so that the message can be displayed again.
Icegram is a versatile free WordPress plugin that was launched recently. It allows you to promote your newsletter via a pop up, a notification bar at the top of the page, a small box at the bottom of the page, or a pop up message that displays a message in the same way a social media messaging system would pop up a chat box at the bottom of a page.
Every element of the message can be changed through the settings area. You can modify the title, target link, and position. The main body of the message can be entered using the WordPress visual editor; which gives you the freedom to create high quality banners and forms in seconds.
Messages can also be targeted. You can choose whether messages are displayed across your website or on selected pages. They can also be restricted to specific posts and pages by inserting a short code into a page. You can also schedule messages to be displayed between certain dates and target logged in users and visitors who are viewing your website with a specific device. One of the best newsletter pop up solutions available.
YITH Newsletter Popup is a free WordPress plugin that can display a floating newsletter form on your website. I really liked the simple way that the plugin is set up. There are two pages in the plugin settings area. One page controls the general settings of the plugin and the other controls the design of the newsletter.
In the general settings page you can define your title, image, and message. You can also choose the background color, custom CSS, and the typography and color of fonts. In the newsletter settings page, you can choose more colors and configure your newsletter form. There is no native support for email marketing services such as Aweber and MailChimp, therefore you have to define fields such as the newsletter action URL yourself.
There is no way to change where each images and content are positioned either, however the default layout looks great, so this should not be an issue for most people.
WordPress PopUp is a useful pop up plugin from WPMUDev that lets you create unique pop ups using the WordPress visual editor. This allows you to easily insert forms, text, images, and more. The plugin lets you decide whether a pop up is displayed under one of nine conditions. For example, you can display a pop up to a visitor that has never commented or a visitor that came to the page via a search engine. You can also ensure it is not displayed to those that have seen the pop up a defined number of times.
The size, position, and colors of the pop up, can all be modified. You can also make the pop up appear after a set number of seconds and choose whether visitors can dismiss your pop up forever. A pro version of the plugin is available for $19 that allows you to target specific geographic locations.
Optin Revolution is a fantastic pop up plugin that lets you change everything through its newsletter pop up builder including the size, colors, padding, and margins. It has native support for Aweber, iContact, GetResponse, MailChimp, Constant Contact, and Wysija. All you need to do is select your email provider and enter your form code. The plugin will do the rest.
Optin Revolution Pro is available for $47. It offers split testing, A/B split testing, and analytical data. It also allows you to integrate videos directly into your form.
Popup Domination is a premium newsletter pop up solution that has support for all email marketing services and custom HTML form scripts. The plugin configuration options takes the pain out of designing your pop up form. It comes with 12 different layouts and color schemes, bullet lists, promotional images, custom bullets, security messages, and more.
The plugin also includes A/B split testing, statistics about clicks and conversions, support for exit pop ups, and lots of targeting options that lets you decide who sees the pop up, and who does not. There is also an option to force a visitor to subscribe to your newsletter before they can view the content of the page.
A basic license for Popup Domination retails at $47 and allows it to be used on one website. Three websites will cost you $77, while their $99 pro plan will allow use of the plugin on an unlimited number of websites.
Subscribers Magnet is certainly one of the most versatile premium newsletter plugin solutions available to WordPress users. In addition to promoting your newsletter in a pop up, you can add forms inside blog posts, sidebars, the comment area, exit popups, footer bars, header notification bars, and more. There is support for Facebook connect so that logged in Facebook users can have their details entered into your newsletter form. The optin form can also be hidden once someone subscribes.
Analytical data is provided for all sign up forms and all form options are optimized for mobile devices. The plugin can also display forms on specific posts and pages. A single license for Subscribers Magnet costs $37 and a multi site license will set you back $97.
I used Ninja Popups for a long time on my personal blog. It is a great plugin that supports all major email marketing services. Eight professional looking layouts are included with the plugin and the color scheme of each one can be customized through the settings area. Pop ups can be displayed on your home page, posts, pages, and categories. You can also display your pop up when the visitor leaves the page.
There is an option to lock a page's content until the visitor has shared the page via social media or subscribed to your newsletter. A/B split testing has recently been added to the plugin too. Everything is simple to configure and the output is mobile friendly.
Even though Ninja Popups offers the same features as other premium newsletter solutions, it retails for only $18. An additional themes pack can be purchased for only $5 more that adds five additional stylish form designs.
Optin Monster is a recently released premium newsletter plugin solution that allows you to promote your newsletter using pop up messages, sidebar forms, forms after posts and pages, floating bars, and more. The plugin supports every major email marketing service and it supports custom HTML newsletter forms too. It features A/B testing, statistics about conversions, and an option to target individual pages. There is little it cannot do.
A basic license for Optin Monster allows use on one website and costs $49 per year for support and updates. A license for three websites costs $99 per year and an unlimited license will cost you $199 per year. The unlimited website option is also available as a one off fee of $349. Please note that the plugin can be used indefinitely once a license has expired, but you will not be eligible for support or plugin updates.
The unlimited website licenses also adds support for exit pop ups and additional fields such as discount codes, multiple fields, and buttons.
Pippity ($49 Per Year)
Pippity is a premium newsletter pop up plugin that comes with twelve unique designs. It features an innovative system that allows you to see what your pop up message looks like as you edit it. Bullets, images, and content, can all be added to pop ups easily through the pop up creator.
Pop ups can be be displayed once a visitors has viewed your content, after a specified number of page views, only on defined pages, and even once the visitor has closed the page. There is a lot of statistical data provided including clicks, impressions, and conversions. I used Pippity on my websites for more than a year. The plugin does have many great features, however I found to be a little buggy and the statistics never seemed to be accurate. It has been a year or so since I have used Pippity on a live website, therefore I am unsure whether these issues have been addressed.
A license for Pippity costs $49 per year for use on one website, $87 for five websites, and $164 for use on unlimited websites. All plans include support and updates while your license is still active.
WP Subscribers is an interesting premium newsletter solution for WordPress that has native support for all major email marketing services. It even supports Google Feedburner. It can be used to add a lightbox powered pop up newsletter sign up form on your website. It also lets you display a subscription form in a footer bar, inside the post and page content area, in sidebars, and in exit pop up messages. There is an option to add a subscribe option to the comment form and to your user registration form too.
Eleven unique designs and eight color schemes are available for the pop up form. The plugin shows you statistics on how many times a form has been displayed and how many times the form has been completed. There is also a unique referral system that awards points to those who refer others to subscribe. As far as I know, it is the only solution online that lets subscribers refer others and lets you track who is doing it. It could be a useful feature for hosting a competition and increasing your subscription rate significantly.
A single license for WP Subscribers retails at $47, while an unlimited license retails at $77. Both plans come with lifetime updates and a 60 day money back guarantee, though only the unlimited plan comes with priority support.
PopupPress is a simple pop up plugin that lets you display newsletter sign up forms, videos, audio, banners, content, and more. The pop up can be displayed using a lightbox or displayed via a slider, and there is support for image, video, and audio galleries. PDF files are also supported and there are many different ways to style and customize your pop up.
While PopupPress does not have any direct support for email marketing services, you can insert your newsletter sign up form directly using HTML. A license for the plugin retails for only $15 from CodeCanyon.
Multi Events Subscription Pop is a newsletter pop up plugin for WordPress that has support for MailChimp, Aweber, GetResponse, iContact, Campaign Monitor, and the WordPress newsletter plugin MyMail. It allows you to export data to other newsletter systems via a CSV file.
Your pop up message can be displayed because of one of seven events, including opening a page, scrolling down a page to a particular point, or after a defined period of inactivity from the user. You can also display the pop up on your whole website or limit it to selected pages.
Multi Events Subscription Pop allows you to create the content of a pop up using the WordPress visual editor. This means that pop ups can be as simple, or as complex, as you would like. The plugin can be purchased for only $14 from CodeCanyon.
40Nuggets is an online marketing service that aims to improve your lead conversions. Their plugin is listed in the WordPress.org directory, however their service is not free and the plugin is not technically a true WordPress plugin. When you install the plugin, you will see a 40Nuggets menu and sub menu items to add a new pop up, manage your existing pop ups, and check stats. However, all of these menu links lead you directly to the 40Nuggets website.
There are many other WordPress plugins listed in the official WordPress plugin directory that are only used to connect to a particular service. I am not a big fan of this, but it can be excused if the service is good. Sadly, 40Nuggets does little to justify the cost of their $37 per month entry plan. The service does have some cool features such as Google Analytics integration and geo-targeting, however the design of their pop up is incredibly basic. While you can change their sign up form colors, there is no selection of skins on offer. As such, I cannot recommend 40Nuggets.
Another option you may want to check out is Optin Skin, which was designed by popular internet marketer Glen Allsopp of Viper Chill. Glen designed the plugin not to include pop ups as he believes they are intrusive (technically, the plugin should not be on this list, although I had to include it as the plugin is so good!). Instead, Optin Skin offers five embeddable form positions: At the bottom of blog posts, after the first paragraph, at the top of blog posts, floated at the right hand side of the second paragraph, and a custom location such as a widget, or in a post or page using a short code.
The plugin works with all major email marketing services and comes packaged with 18 different designs. It has some unique features such as an option to fade your form. It also features A/B split testing and many styling options for forms such as buttons, eBook graphics, colors, and more. It also provides more accurate statistics than many other newsletter plugins as it only counts a form impression when the form can be seen; not when the page has been loaded.
A license for Optin Skin retails at $67 for use on one website and $97 for use on an unlimited number of websites. Both options come with support and a 60 day money back guarantee.
Love them or hate them, pop ups are one of the most effective ways of increasing sign up rates to a newsletter. Most of the plugins listed in this article have an option to only display a pop up on certain pages, or after a certain period of time or certain number of page views. There is usually an additional option to stop the pop up being displayed again if a visitor has dismissed it in the past. I recommend using these targeting options to ensure you do not frustrate visitors.
Alternatively, you may want to use one of the other message options that some newsletter plugins offer, such as a header bar, footer bar, or sidebar form. I have always found the area underneath an article to convert really well too. Boris Beo's free WordPress plugin Optin Forms is a great way to integrate a newsletter sign up form in this area. I recommend trying the plugin out if you want to add a newsletter sign up form there.
I hope you have enjoyed this look at good newsletter pop up plugins for WordPress. If you know of any other suitable newsletter pop up solutions for WordPress, please feel free to share them in the comment area below. Also, be sure to subscribe to Elegant Themes for updates of our latest articles 🙂
Article thumbnail image by Mauro Fabbro / shutterstock.com