Next week we will be raising our base subscription price from $39 to $69 for all new customers. We are raising the price because we believe that it will ultimately result in the best product and the best experience for our users. We are on a mission to create not only the most affordable themes around, but also to create the flat-out-most-awesome-themes you will ever use. This effort can be seen in the way we pushed the boundaries with our most recent theme Divi, and you will continue to see this type of innovation in our new products. We want to grow our team and dedicate even more time to achieving our goals. Even at $69 for complete access to our entire collection of themes, the price is still incredibly low when compared to our competition. This price change keeps our package very affordable, and at the same time helps make us more nimble and better equipped to innovate.
The Good News: This pricing change does not affect our Developer Subscription, which will remain at the current price of $89. The Developer package is our most popular option, which means this pricing change will not affect the majority of our new customers.
The Better News: This pricing change does not affect any of our current customers. We have never, and we will never, raise the price for people who have already signed up. In fact, we still have thousands of customers grandfathered in at our original price of $19.95 – now that's a steal! For those of you who haven't signed up yet and want to get locked in at the current price of $39, now's your chance 😉
How We Compare
Even though our prices are increasing, we are still providing the most affordable themes around by a substantial margin. At $69 per year, our package is around 80% cheaper than the average price of our competitors. Below is a quick comparison of the cost of complete access to themes and support for one year from theme shops that offer a similar package.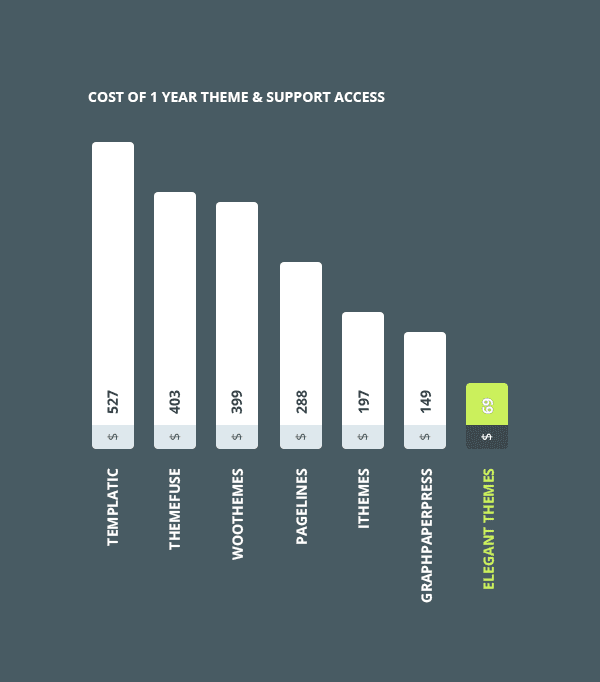 Why Raise Our Prices Now?
We are raising our prices to ensure sustainability and efficiency. In raising the price we will be improving the Employee to Customer ratio, which means that all of our users will be getting more attention from our team. If you haven't heard, Elegant Themes Is Hiring. In fact, we have already brought a new developer on board, and we are still looking to grow the team. This will lead to better tech support and a faster turnaround on bug fixes and theme improvements. While the standard membership will be a bit more expensive, I believe that the increase in value for all of our customers will greatly outweigh price change. Our goal is to create the best themes around and to give our customers the best value out of their purchase.
Three years ago, we decided on the price point of $39. At that time we had a small team of 4 people and a collection of 44 themes. Since then we have grown our team to 27 people, nearly doubled our theme collection, built several awesome plugins and updated our older themes with a ton of improvements. The value of our product has seen a tremendous increase. I am excited about the future of the Elegant Themes community, and I am eager to move forward in a way that ensures it will be bright and long-lasting 🙂