Starting with version 3.7, WordPress began a new distributed development process that promises a faster and more nimble release schedule. New features are broken up into separate plugins and worked on individually until being integrated into core. This gives the community a unique opportunity to explore these updates in plugin form, and to participate and speculate about what features will be included in 3.8. In fact, you can download the plugins right now and play with them before the next WordPress release candidate has even been announced! I would not recommend installing these plugins on your production website. Below are the plugins that have been pitched for 3.8, and we can expect that most of them will make their way into future versions of WordPress in some form or another.
A Re-Designed Dashboard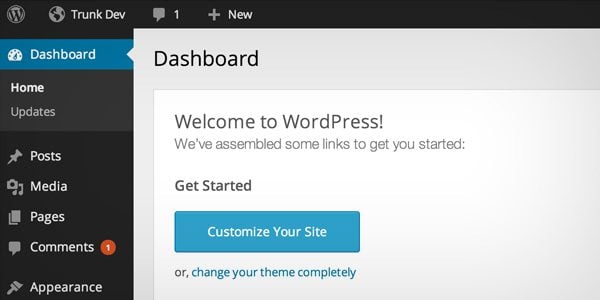 The MP6 project, which has long been in development under the "top secret" MP6 plugin (No, it's not really top secret!) introduces a complete overhaul of the WordPress Dashboard design. The plugin is a move towards modernity, the main goals of which are to improve readability, employ modern aesthetics, and replace out-dated technology with techniques that are future-forward. Unnecessary design elements have been removed. Images have been replaced with vector icons. The design is responsive and tired font set has been replaced with the modern Open Sans. What do you think of the new design? Is it an improvement over the current version in your opinion?
Widget Area Chooser Ditches Drag & Drop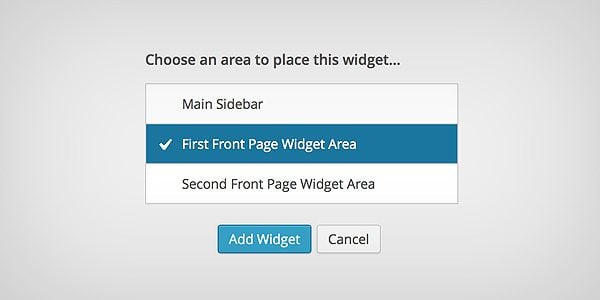 The Widget Area Chooser seeks to solve various problems with the widget selection process. One of the main issues occurs when you have many widget ready areas and you are forced to drag a widget below the fold. The plugin solves this by ditching the drag & drop system in favor of a simple selection menu and button. This also makes widgets a lot easier to manage on mobile devices, for which the drag and drop system was not built for. Some of the author's work has already been integrated into the MP6 plugin, while additional features are still under review. I think that often times, Drag & Drop techniques are employed when they are not entirely necessary. In this case, it's clear that this modern layout-building technique actually hurts usability in certain situations.
Re-Imagining The Theme Section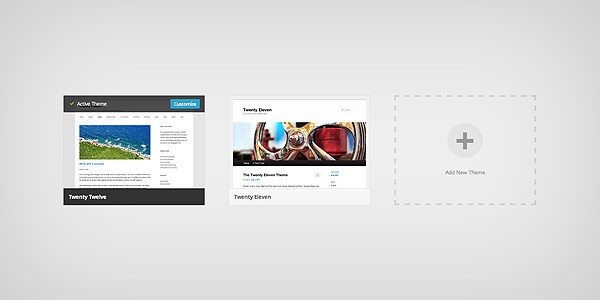 The THX38 plugin revamps the Appearances > Themes section of the WordPress Dashboard. The goal of this plugin is to replace a text-heavy page with something that is more appropriately visual. The plugin also brings focus to the Theme Customizer, which can be easy to overlook in the current design. For themes that support it, the customizer should be used as the main interface for managing it. Perhaps in the future, a version of the Customizer will become the unifying "theme options" page for all themes.
Global Admin Search
The OmniSearch plugins wants to remove the disparate search systems within the dashboard. In it's current form, if you want to search comments then you first need to navigate to the comments tab. The same goes for posts, pages and media. The Omnisearch combines these results and makes it possible to search them all at once.
A New Dashboard Structure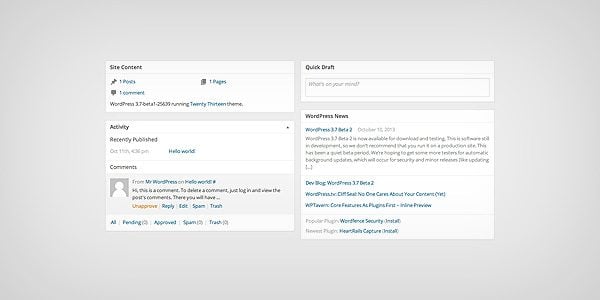 The WP-Dash plugin removes clutter and consolidates information to create a more streamlined and less-bloated greeting page when you log in to your WordPress Dashboard. It also makes the widgets on the first page responsive. It's funny how much information is on the Dashboard's homepage, but how rarely I actually use it. Perhaps by removing clutter, this "overview" of your website will be much more approachable. In almost every situation, removing clutter is a good thing, and I look forward to a cleaner Dashboard.
What Do You Think?
After reading through these proposed changes, what do you think about possibilities for WordPress 3.8? We would love to hear your opinions!