Convertible is a new take on the classic sales page. Landing pages are useful for marketers who have a single product to sell and need to create a page to pitch it to their visitors. Our landing page theme comes with tons of easy-to-use elements such as buttons, pricing tables, image sliders, tabs and more.
A landing page needs to be versatile and customizable, which is why we devised an entirely new way of managing your pages. Convertible includes a custom Drag and Drop page builder that allows you to completely customize your landing page without ever having to touch a line of code. I am confident that anyone who uses the new builder will soon wish they could use the same functions on their other websites as well, which is why we will be developing the builder technology into its own plugin in the near future to be used with any theme!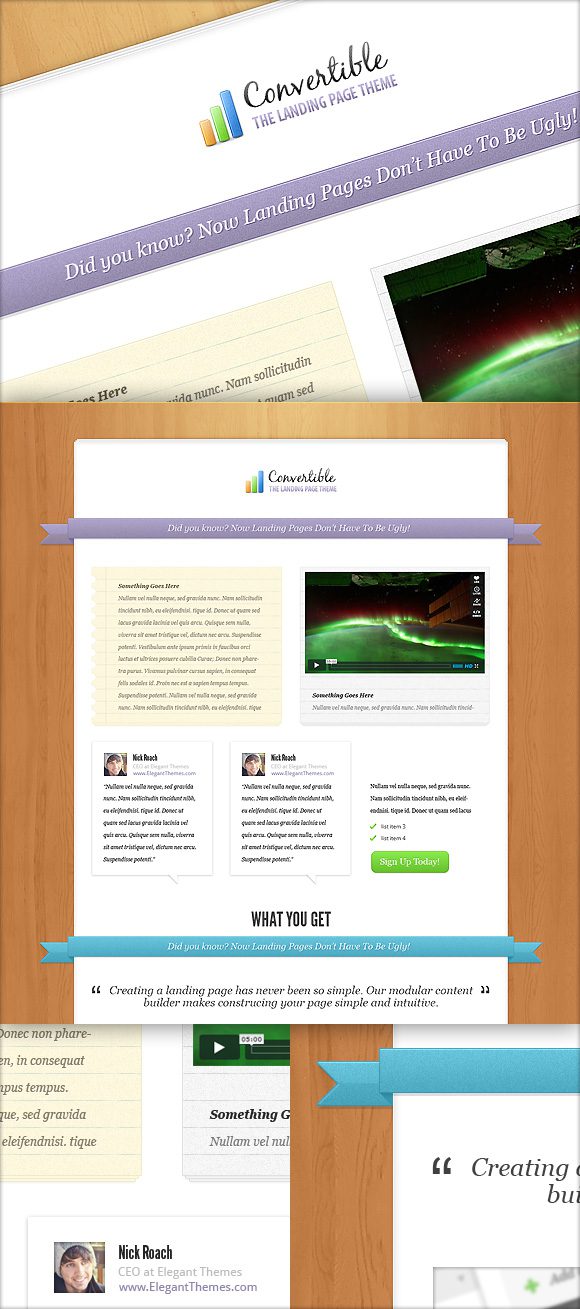 With Convertible comes the most advanced feature we have ever packaged with a theme. Your page is no longer built using the standard page editor, but instead with our custom drag and drop builder. No longer do you need to use HTML or Shortcodes to create advanced layouts, which often lead to WYSIWYG conflicts and headaches.
The builder works using what we call "Modules." Modules can be whatever we want them to be, and in this case, are various elements that we thought would be useful on a landing page. These modules include Tabs, Toggles, Image Sliders, Buttons, Testimonials, Pricing Tables, Boxes, Lists, Videos, Images and more. These modules are stacked onto a visual canvas like building blocks, allowing you to intuitively structure your page without ever having to touch a line of code or get lost in a sea of excessive shortcodes.
Drag and Drop Modules Onto Your Canvas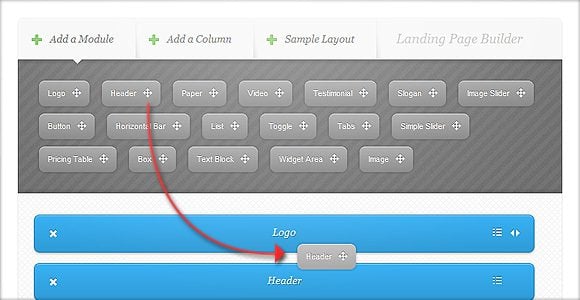 To add a module to your page, simply drag it from the list of available modules and drop it onto your canvas. Once dropped, your module can be edited, rearranged, re-sized or deleted. You can have an unlimited number of modules of your page, allowing for infinite possibilities.
Rearrange Modules On The Page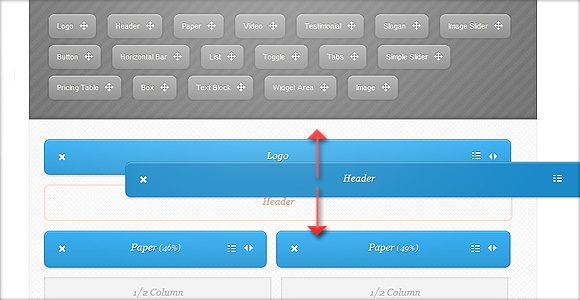 Once a stack of modules have been added to your page, they can easily be re-arranged by dragging and dropping them around the canvas to change their order.
Re-size Modules With The Drag Of Your Mouse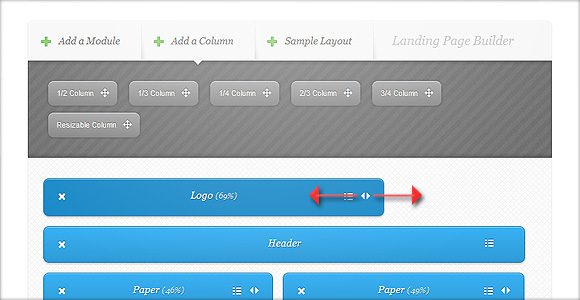 Any module can also be re-sized on the fly. Simply drag the edge of the module with your mouse to adjust it's size. The size is % based, so the visualization in the builder gives you a good idea of how big your module will be in relation to your other modules. A % value is also displayed as your re-size your modules. Modules also float and re-stack themselves. For example, if two modules with a width of 50% are set next to each other, they will float onto a single line creating a single 100% row that contains both modules.
Create Advanced Column Layouts and Nested Modules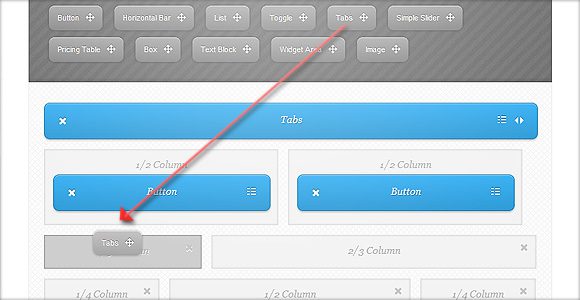 If you would rather have a more exact approach to structuring your modules, you can next them inside columns. Like modules, columns can be dragged onto your canvas. Modules can then by dragged inside this columns. You can add multiple modules to any single column.
All Modules Are Also Shortcodes!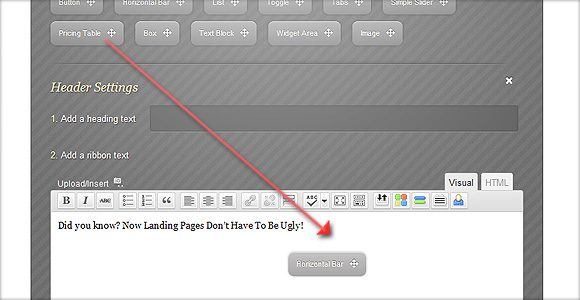 One really cool thing we have done is  make all of our modules function as shortcodes as well. This means that any module that contains text can nest modules as shortcodes within themselves, allowing you to create modules with multiple tiers. If you drag a modules into the WordPress text editor, the shortcode markup for the module is added automatically.
Add Widgets and Sidebars Anywhere On Your Page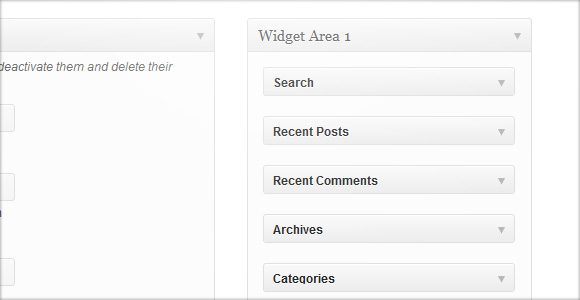 Widget-ready-areas have been turned into modules as well. This means that you can drag and drop new "sidebars" onto your canvas and place them anywhere on your page. Anywhere that you can add a module you can also add a sidebar, allowing you to integrate your plugins and widgets anywhere in the theme.
I hope everyone puts the theme to good use. I can't wait to see what you create! Let us know what you think of the new builder 🙂