After creating the Portfolio page template for our recently released theme, Envisioned, we decided that it would be great to add the same portfolio functionality to all themes. As of today, all themes have been updated with the new Portfolio page template. We have also gone through and replaced all instances of FancyBox with PrettyPhoto to add improved lightbox functions.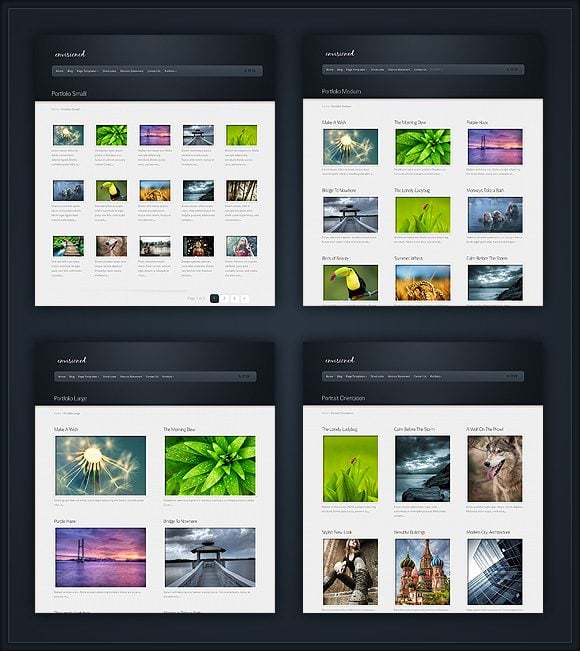 Portfolio Variations
Portfolio Small – The small gallery displayed your thumbnails in columns of 5, allowing you to add dozens of projects to a single page without creating too much clutter.
Portfolio Medium – The medium gallery displays your projects in columns of 3. This style is ideal if you plan to include titles/descriptions in the gallery (which can be turned on and off).
Portfolio Large – The large gallery displays your photos in columns of two. If you only have a few projects to display, the large gallery is probably your best choice.
Portrait Orientation – The Portfolio Page Template has an option to auto-detect the aspect ratio of your photos, and display them accordingly in either Landscape or Portfolio mode. In this example, you can see that portrait photos were used.
Portfolio With Sidebar – You can also choose whether or not you want to display a sidebar in the gallery. Each variation comes with full width/sidebar options.
Portfolio Without Text – Finally, you can choose whether or not you want to display titles/descriptions. These can be turned off interdependently. In this example you can see that both titles/descriptions have been removed.
Portfolio Features
Improved Lightbox – We have updated all themes with a new lightbox script that allows for more advanced features.
Video Support – Unlike our Gallery Page Template, the Portfolio template supports video integration. By simply adding the link to your video in a custom field, the video will display in the lightbox when clicked.