Today I am excited to release something a bit different than our normal theme release. Anticipate is a maintenance mode plugin that allows you to serve your visitors an alternate "coming soon" page while you work on building your real website in the background. Once activated, all of your visitors will be sent to the Anticipate landing page. When logged in as a WordPress Admin, however, your normal theme appears, allowing you to build your website seamlessly in the background without your visitors ever seeing your work in progress. This is also great way to establish an online presence and connect with your visitors before your website has even been released. To see the theme in action, check out the Live Demo. You can also take a look at the Features Page for more info.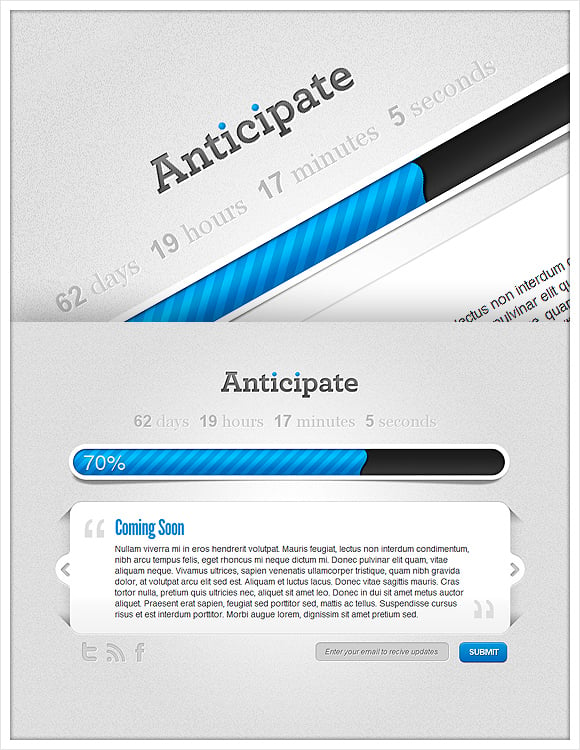 Anticipate Features
1. Intuitive Plugins Options – Anticipate comes with an easy to use options page that allows to you configure the plugin in minutes.
2. Progress Bar and Coutndown – Anticipate comes with an animated countdown and progress bar, helping you to build hype about your upcoming release before its even ready. Simply define a completion date from within the plugin options page, and Anticipate does the rest!
3. Email Collection Form – The plugins includes an email subscribe form that allows interested visitors to add their email address to an interest list. These emails are stored in the database, and can be exported from within the options page. These emails can therefore be easily added to any third-party mailing list program.
4. jQuery Slider – The slider allows you to add a few short blurbs to the page to tell your visitors what you are all about. While I chose to use some short blurbs in the demo, there is no limited to how much content can be added to each slide.
I hope everyone enjoys the plugin. Be sure to leave and comment letting us know what you think!