If you were wondering why the blog has been a bit quieter this month, it's because we have been busy integrated/localizing all themes and updating them for the new version of WordPress. Today I am pleased to announce that all of our themes have been updated for the release of WordPress 3.0. Any bugs that we have experienced have been ironed out, and we have also been sure to integrate 3.0's new features, such as the new Nav Menu system. I am also excited about what the additional of custom post types will mean for future themes, and will surely be creating some new and innovative designs in the near future! In fact, our next theme, LightBright, should put them to good use.
Nav Menu System
The new nav menu system added in 3.0 will make creating custom navigation menus quick and easy. It allows you to define custom orders to your links, add/remove links, and even link to external pages. When you install a theme, the pages/categories navigation bars will work just as they always have. These will automatically be populated with your pages/categories links, and they can be managed via the ePanel Theme Options page. However, if you decide to define a custom nav menu via the new nav menu feature, you can choose to replace your default nav bars with it. For each theme we have defined each "navigation area," which can be seen when you create a new nav menu.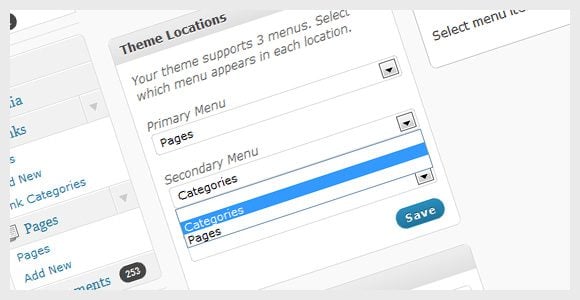 When you create a new menu, you will see different "Theme Locations" where you can place it. The above example is for TheSource, in which there are three possible areas to place your menu. The primary menu (the default pages links on the top of the page), secondary menu (the default categories bar), and the footer menu. Once you have finished making your navbar, simply choose where you want it to appear from the dropdown menu. You can delete your custom navigation bars at any time and your theme will revert back to their default pages/categories links.
ePanel Updates
Along with 3.0 changes we have made several improvements to ePanel. Most of them, however, are behind the scenes code changes that may go unnoticed visually, but I can assure you that we are always thinking about ways to improve ePanel's functionality.
Using Excerpts For Posts – One notable addition is the ability to define custom excerpts for each post. Until now, all post previews have been generated automatically. This makes things easy, and avoids potential problems, but also limits functionality. Now, you have the choice the define a post excerpt which, if available, will replace the automatic truncation. What this creates, however, is a responsibility on the user's part to create excerpts that make sense for the theme. For example, if default post previews are 200 characters long and all posts are uniform, then adding a 1000 character post excerpt would not be ideal. To use excerpts you must first enable the feature via ePanel, under the General Settings tab.