As I mentioned in my last few blog posts, I am planning some major updates to my existing themes collection. The first thing on the list, and probably the most ambitious, is to completely re-create the Theme Options Page, and in the process add new settings and a new userfriendly design. I have always been a designer at heart, however I also realize the importance of having a theme that is easy to use. I have been working hard for the past few weeks with Yuriy to create the foundation, and now that it is complete I can begin integration. The new options page and the functionality that it brings will be implemented into every theme, which should help level the playing field (in terms of functionality) between the newest and oldest of themes. Even though it isn't ready yet, I figured I would give everyone a sneak peek of what you can expect from this new options panel, aka ElegantPanel (ePanel).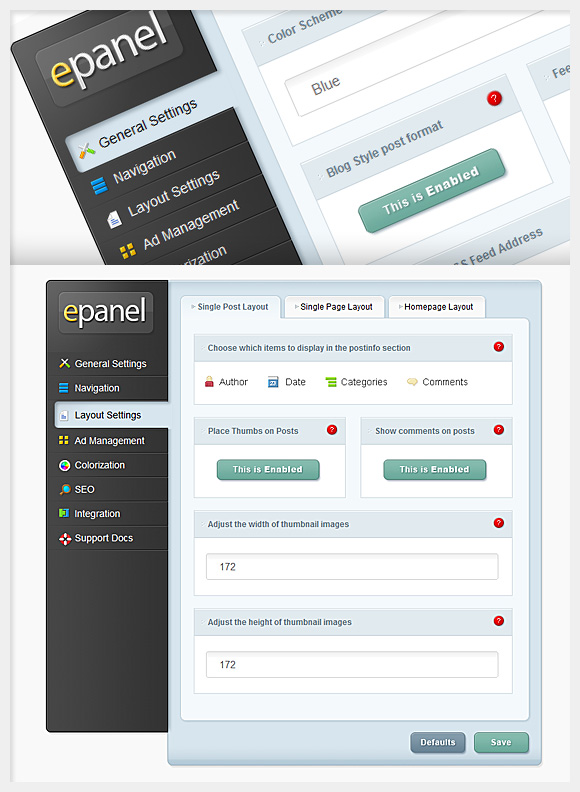 The first thing you will notice is the new design. I tried to organize the options as best as possible. You will find two levels of tabbed navigation powered by jQuery for quick access to all of the settings. My goal was to make things as userfriendly as possible, and you will notice some major changes to how some of the options work. For example, you will never have to look for a page/category ID number again! I have also done away with many of the unneeded dropdown menus for the simpler of settings. Information buttons have been added to every option that, when clicked, reveal a lightbox explanation of the setting and how to use it. I have also added a support documents section with easy access to theme installation instructions and troubleshooting guides.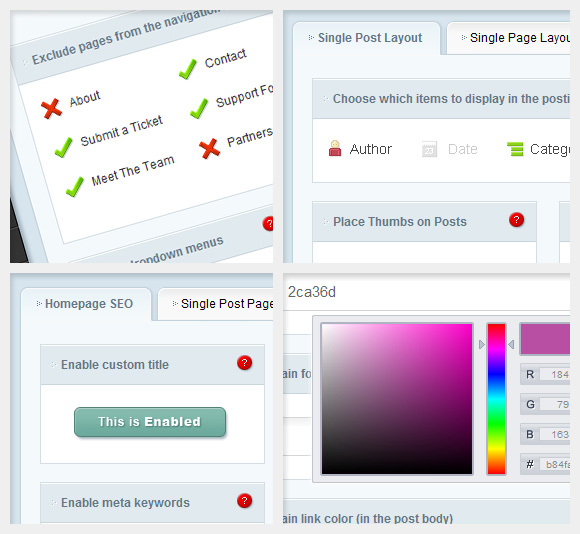 The next thing you will notice is the increase in available options. I have added a few new sections and beefed up the areas that were already there. I'm not going to go over them now, you'll just have to wait until it's released, but if you are curious here is an example of one of the tabs of the new SEO section.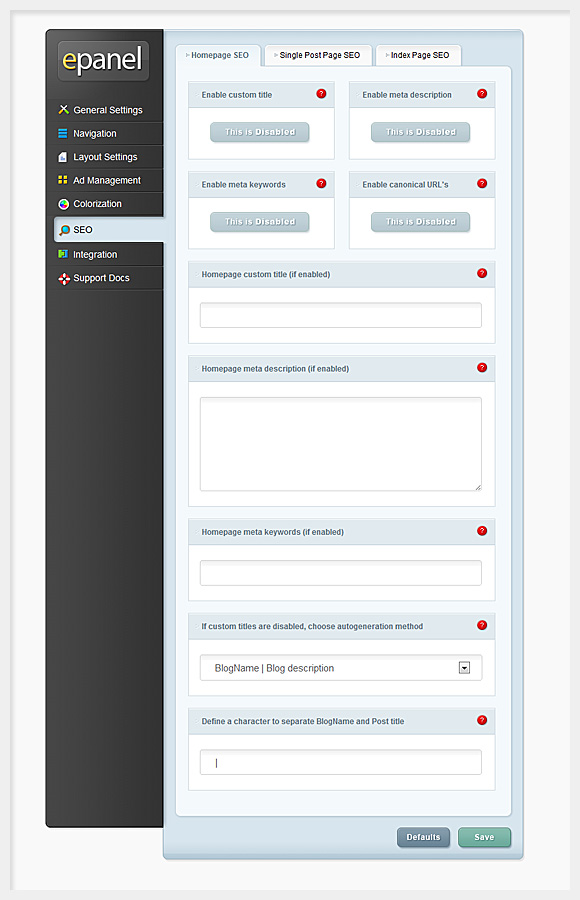 For the full picture you will need to wait until it has been released and you can test it for yourself. Overall I am excited to begin integrating the new options as I feel it is a big step in improving the quality of my themes, and something that will make it easier for me to improve theme functionality in the future.