I finished a new theme today which I have titled Bold. You can preview the theme here, as well as take a look at the gallery page for more info. I wanted to create something strong but also fun. This theme features a combination of bold typography, loose sketchy qualities and heavy textures.  I had a good time making this one, as I used my camera to hunt for textures and clouds and my bamboo tablet to inject a bit of playfulness.  I realize that it has been longer than usual since my last theme release, sorry about that! The delay was due to the release of ElegantThemes v2, as well as the fact that I have been working on both Bold and eNews at the same time. This means I already have a good head start on my next release 🙂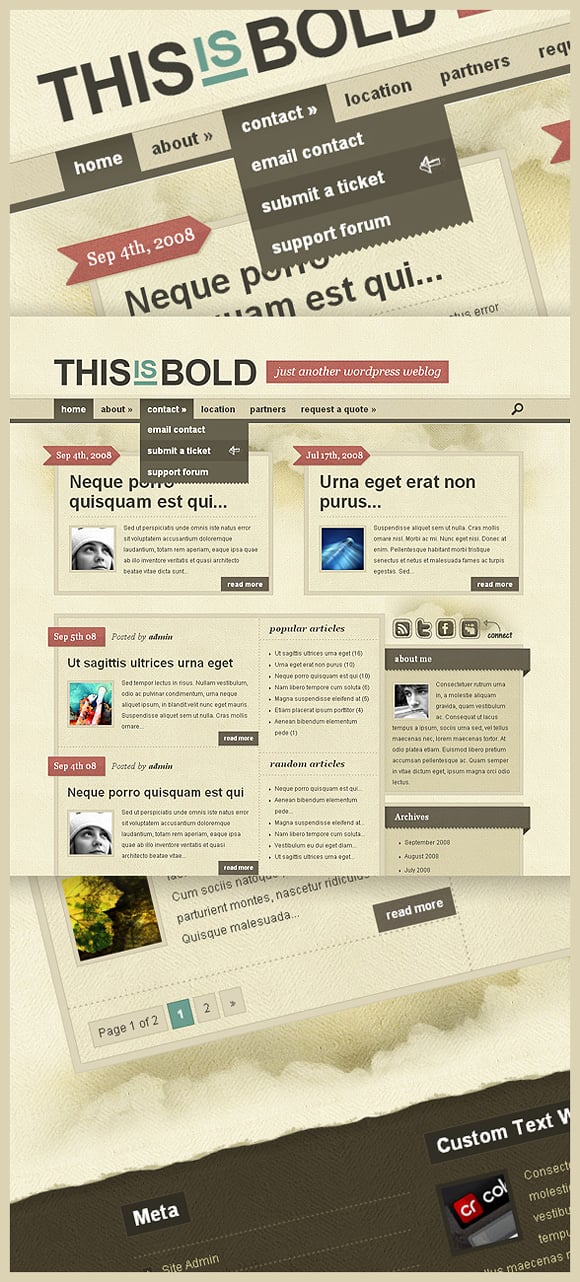 1. Three Widget Ready Areas – The theme comes with three widget ready areas, including the main sidebar, the homepage inside sidebar and the footer.
2. Five Unique Color Schemes – Bold comes with 5 color variations to choose from, including Red, Green, Blue, Purple and Turquoise. You can switch between color schemes at any time via the Bold Theme Options page.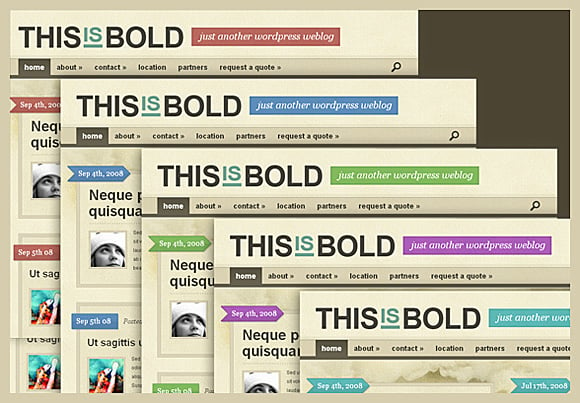 3. Optional Blog-style Post Layout – If you don't like the default layout, which automatically truncates posts and creates a preview, you can opt for the Blog-style post layout which displays your posts in full.
4. Theme Options – Bold includes a robust theme options page with all of the features you have come to expect from ElegnatThemes.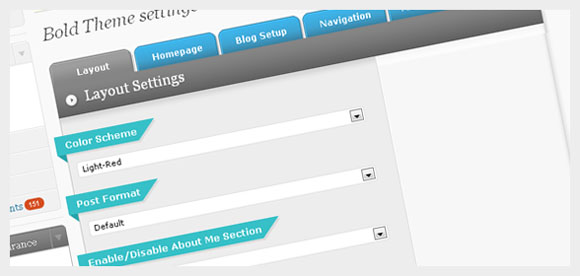 As I mentioned above, eNews is already under construction and should be released fairly soon. I think it's turning out great so far, and I am excited to continue working on it. Yuriy from the forums has been assisting me in the coding process to speed things up, and with two minds at work I am sure it will turn out great.
Speaking of the forums, I would also like to take this moment to welcome Mantas and Ben, our newest moderators, to the tech support team. It is my goal to continue to increase the level of support offered here at ElegantThemes. If you have questions be sure to stop by the forums, there are four people waiting to assist you 🙂
I hope everyone is doing well. Let me know what you think of BOLD!