I finished eBusiness today. For more information check out the Live Demo and Features page. You can also check out a live demo of the alternate skins Radiate and Smooth.  I know that this theme took a bit longer than usual to finish – sometimes it's hard to finalize something when everyone keeps commenting on the sneak peak post giving me new ideas! As I stated in my preview post, I titled this theme "eBusiness" due to its emphasis on utilizing a "page-based layout." This means that, in its essence, it was created to perform more as a CMS than a blog, however, you will see that you are also free to abandon the page-based structure and run a more traditional blog. You can also implement a blog section into your page-based website.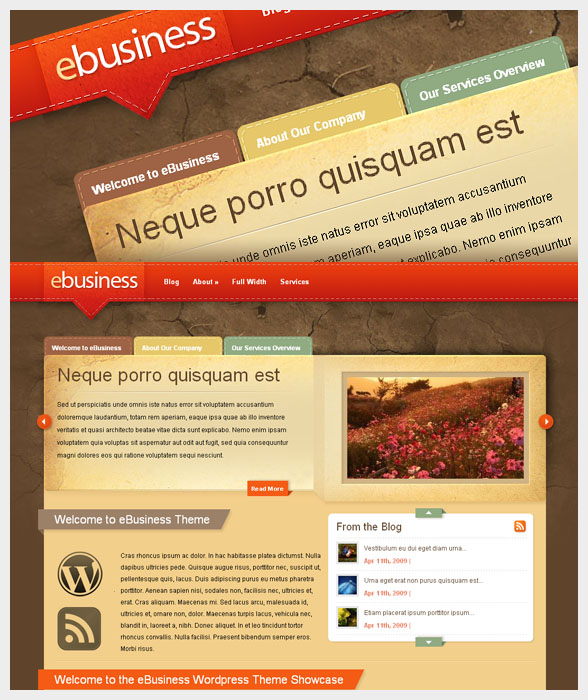 I have added several new options to the Theme Options page of eBusiness. Because of this it was getting rather annoying to navigate the page, having to scroll down an endless single column to edit and save your changes. For this reason I have completely revamped the options page, organizing its content into an easy-to-use two-tier tabbed menu. I get a lot of questions about how my themes work, and what exactly is offered in these "options pages." To help better illustrate exactly how this theme works I will try and give a written overview now.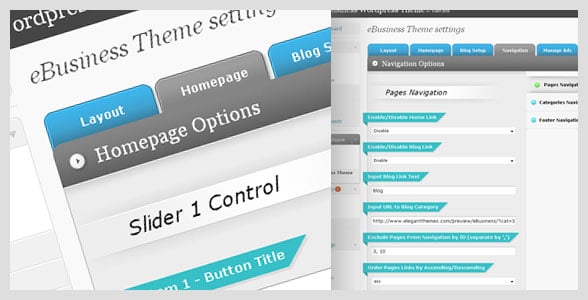 There are 5 main sections in the options page: Layout, Homepage, Blog Setup, Navigation, and Manage Ads. Each of these sections is divided into several sub tabs for your convenience. I will give you a brief overview about what each of these sections has to offer.
1. LAYOUT – The layout tab houses some of the major overlying options that effect the structure and appearance of your website.
Color Schemes

– eBusiness comes with three skins, and each skin comes in three colors. You can switch between these 9 different variations at any time from the dropdown menu.

Website Structure

– The essence of eBusiness is to act as a CMS, creating a page-based layout. I have, however, included the option to bypass the page-based homepage in favor of a normal blog layout. You can switch between Page Structure and Blog Structure at any time.

Footer Options

– You will notice that each page has a widgetized footer on the bottom. I realize that if you are using eBusiness as  CMS you may not have the need for standard widget items, which are usually blog related. This option allows you to turn off the footer completely if you don't intend to use it, or if you find yourself filling it with unnecessary text widgets and what-not to fill out the design.

About Me Section

– As with my other themes I have included an "About Me" widget that can be added to the sidebar. You can customize that here.
2. HOMEPAGE – The homepage tab allows you to manage your homepage. If you are using blog style then most of these options do not apply, but if you are using the Page-based system then you will have to use this area to set up your homepage.
Slider Control

– You will notice that the demo features 3 sliding elements on the top of the homepage. These are managed via the Homepage tab. Here you can customize the content text, the title of the tab, the text used in the button, the thumbnail image (which is automatically re-sized) and an optional read more link, which can be pointed anywhere. You can also choose how many sliding elements to display, between 1 and 3.

Pages Control

– The content on the homepage is made up of WordPress pages. You will create a page in wp-admin and then define the page to be used in the Homepage options tab. Simply input the page id of the pages you want to use and they will appear. You can also choose how many pages you want to use, anywhere from 1-4.

Blog Scroller

– Even if you are using the page-based system you can still have a blog area on your site. For this reason I have included a blogroll on the homepage with a link to your most recent posts. This can be turned off if you don't plan to have a blog section. You can choose how many recent posts to display. You can also customize the RSS link if you want to point it towards your feedburner account.
3. BLOG SETUP – If you are using the Blog Structure, or if you plan to include a blog within your Page-based website, you can customize your blog here. I tried to give a bit more control over various elements of the blog, inspired by the most common requests on the forum.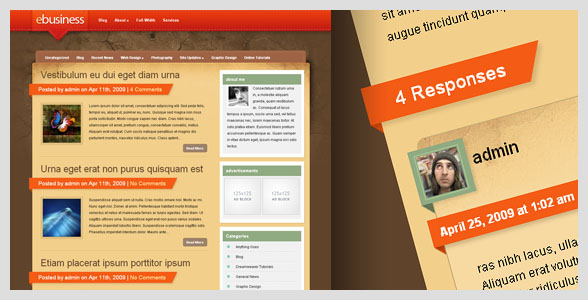 Post Format

– You can choose between "Blog Style" mode or "Default" mode. The Blog Style mode displays your posts in full on index pages, while Default mode automatically truncates the post to create a short preview with a "read more" link.  Unlike my other themes you can now customize how long your post preview is when using Default mode. Simply input the number of characters you would like to display. Another thing I added is the ability to use your post excerpt as the preview, instead of the automated truncation.

Categories Bar

– The categories bar, with links to your various blog categories, only appears on blog pages. However, if you are using the blog as simply a recent news section, and don't plan to have several categories, you can turn off this categories bar. I realize that having a large red bar that spans the width of the page with a single link pointing to the page you are already on would have been pointless!

Further Post Preview Control

– In addition to editing the length of the post previews you can also adjust the size of the thumbnail, as well as enable/disable the "read more" link and post info bar. Thanks to timthumb all thumbnails are automatically re-sized, cropped, and cached, which means you can change the size of your thumbnails instantly at the click of a button. You can also hide the thumbnails altogether if you don't want any. You can also adjust the quality of the thumbnails, raising/reducing it depending on how fast you want your load time to be.
4. NAVIGATION OPTIONS – The navigation options allow you to customize the navigation bar. You can use this to exclude pages from the navigation, adjust the order of the links, add a link to your Blog section (if you are using one) and so on. Both the categories and pages navigation bars can be edited here.
5. ADVERTISEMENT MANAGEMENT – As with the rest of my themes I have included a banner management system. You can add 125×125 and 468×60 banners here. Within the page I have added a banner preview for each field so that you can see what banner you want to edit more easily. I have also added the option to choose how many 125×125 banners you want to display. This was a very common request on the forums. You can now choose between 2-8 banners, all of which are editable in the theme options page. You can also choose where you want banners to be displayed. You can add them to your pages sidebar, blog sidebar or both. You also have the option to disable them completely.
1. EARTHEN – I realize that the default layout is very "niche" in its grungy appearances, and I wanted to be sure to include other options as well. eBusiness comes with three different skins, and each skin comes in three different color schemes for a total of nine choices. The first, which I like to call "Earthen," features a grungy naturalistic design. Earthen comes in three colors, including Red, Blue and Purple. You take a look at the live demo here.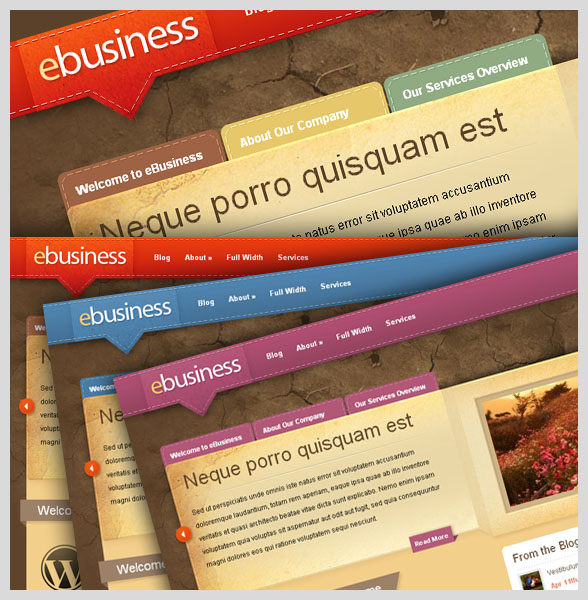 2. RADIATE – The second skin is called "Radiate," and features a more high-tech style with a professional twist. I wanted to create something flashy and exciting that wasn't necessarily tied to any specific type of website. This skin comes in three colors, including Blue, Green and Red. You can check out the live demo here.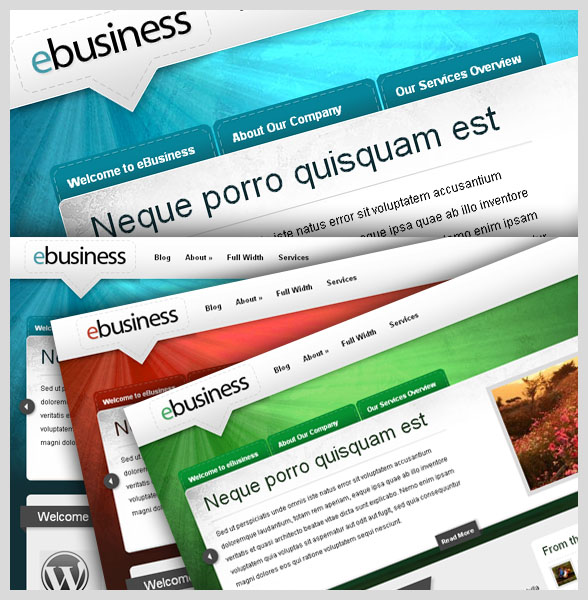 3. SMOOTH – After posting these two previews on twitter I received some concern that both layouts were too busy for some people's tastes. For this reason I created a third skin, titled "Smooth," that is a bit more modest in its approach. I hope that people who are looking for a more traditional business layout will find this skin usefull. Like the rest it comes in three colors, including Blue, Green and Pink. You can view the live demo here.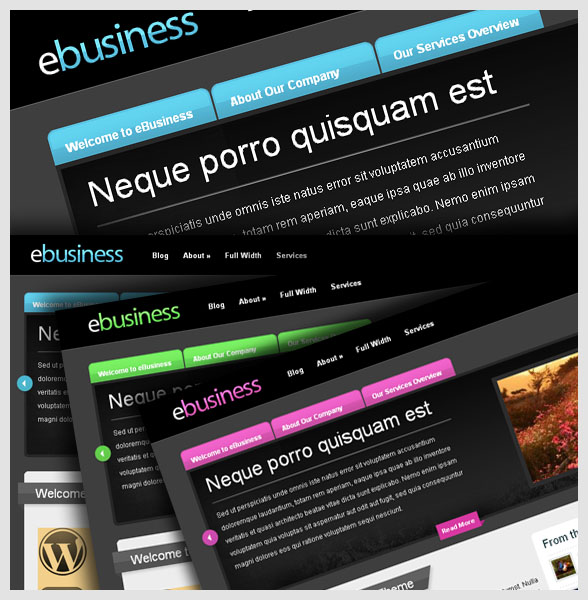 That just about sums in up. I hope that everyone is doing well, and I hope you find some good uses for the theme. Please post a comment and let me know what you do/don't like. I value your input 🙂
As always, stay tuned for more themes! Don't forget to follow me on twitter for the most recent updates on upcomming themes.